This easy recipe for Italian stuffed shells makes the perfect weeknight dish. With just a few budget friendly ingredients, this main dish can be made in under 45 minutes!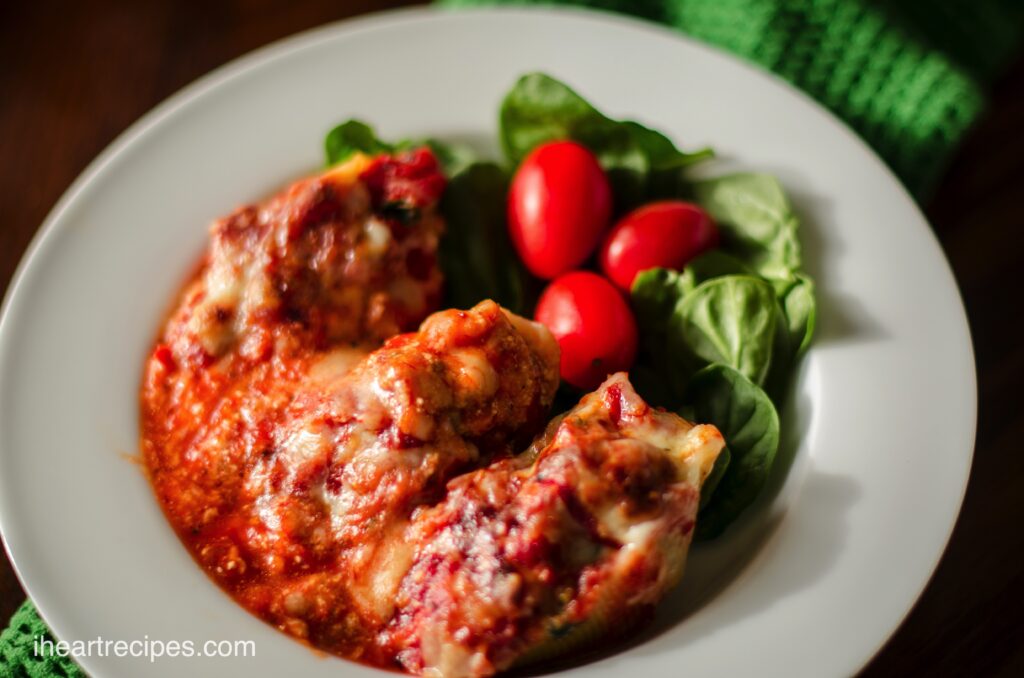 Hey cousins. In this post I'm going to share an recipe that I love making during my busy week. I'm talking about my Easy Baked Italian Stuffed Shells. This recipe is definitely a family favorite, and I love making it because it's quick, and easy. You only need a few ingredients to make this dish, so let me start off by breaking down the basics of this recipe.
Ingredients needed for these Easy Baked Italian Stuffed Shells.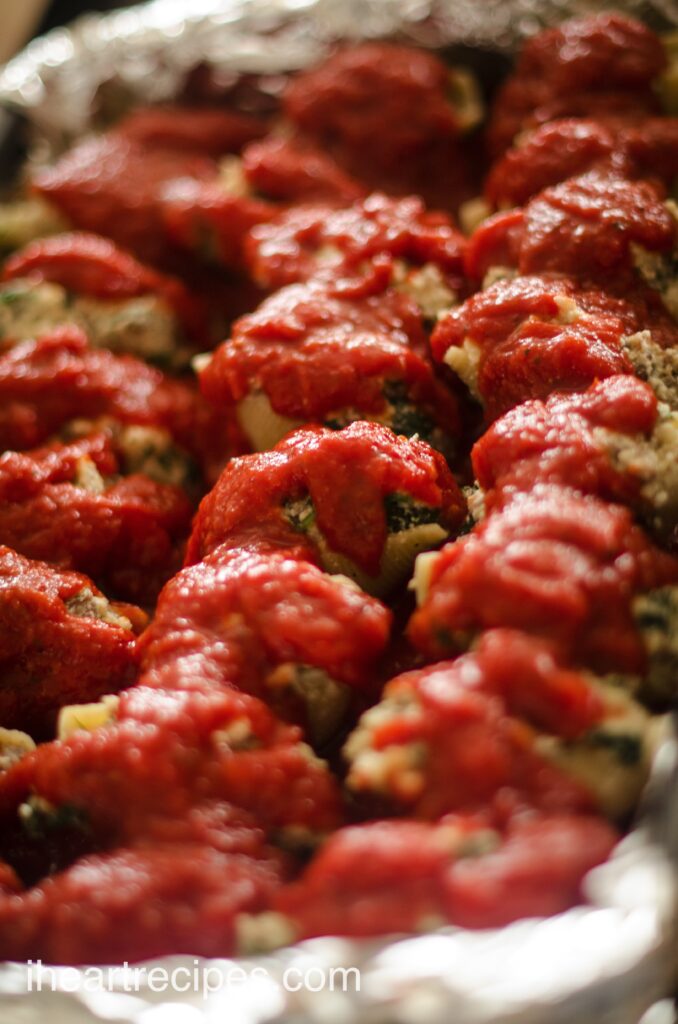 Jumbo Pasta Shells – Pasta shells are extremely easy to stuff. I like the Barilla pasta shells. This recipe calls for a 12 oz box of dry pasta shells. You can find Barilla Jumbo Pasta Shells at most of your local grocery stores.
Italian Mild Sausage – While a lot of Italian stuffed shells recipes call for ground beef, I prefer to use ground mild Italian sausage. If you like little heat, try using spicy Italian sausage.
Store bought spaghetti sauce – Using store bought sauce makes this recipe super easy, and saves a lot of time. The key to using store bought sauce is finding a good one. There are many brands out there, but not all are the same. Some are super watery, some a chunky, some lack flavor. When I use store bought sauces I lean towards a thicker sauce with chunks of tomatoes, lots of garlic, and herbs.
Italian seasoning – You absolutely need this ingredient for the Italian flavor.
Large egg – The egg works as a binder.
Rosamae Seasoning Salt (or your favorite seasoning salt) – because regular salt and pepper just won't do!
Ricotta Cheese – part of our stuffing for the shells
Spinach
Italian Cheese Blend – I use the Italian cheese blend by Sargento
Garlic
Supplies need to make this dish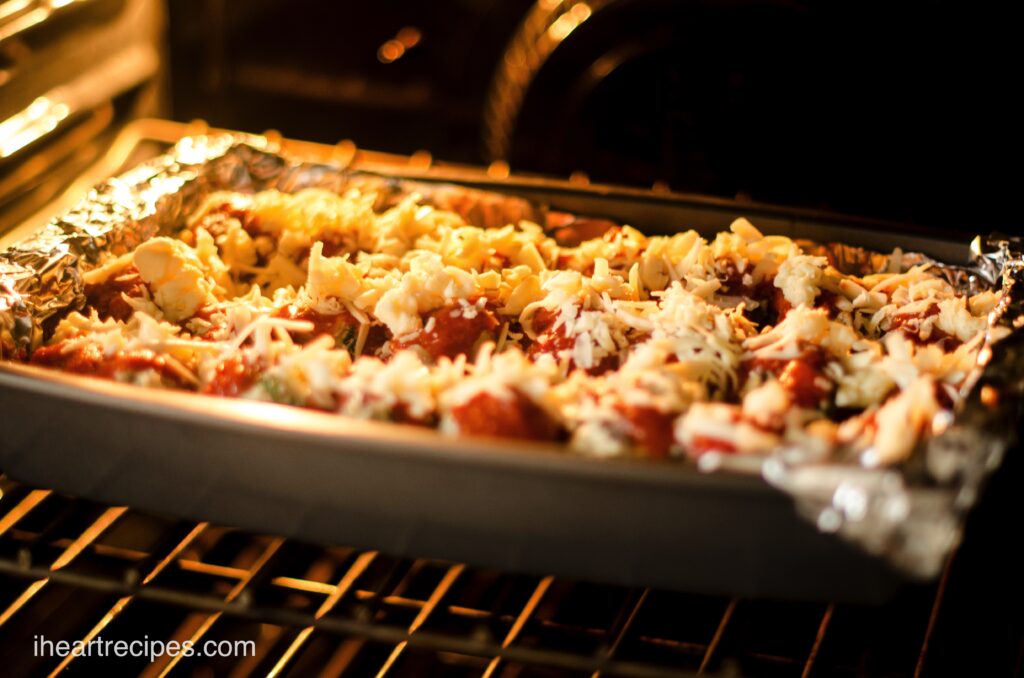 For this recipe you will need a medium sized pan to cook the ground mild Italian sausage. You will also need several mixing bowls, and a 9 x 13 baking dish . I also use foil to line the bake dish for easy cleaning. However the foil is completely optional.
Are manicotti and stuffed shells the same?
Manicotti and stuffed shells are not the same. Although the ingredients are very similar, the pastas are indeed different. Manicotti is a long tube like pasta. Pasta shells come in different sizes that range from small to jumbo. Pasta shells are shaped almost like seashells. Both pastas are usually stuffed when prepared.
Can you freeze Italian Stuffed Shells?
Yes. You can certainly freeze Italian Stuffed Shells. Simply, put them in a freezer safe airtight container. You can then freeze the Italian Stuffed Shells for several months.
How to store leftover Stuffed Shells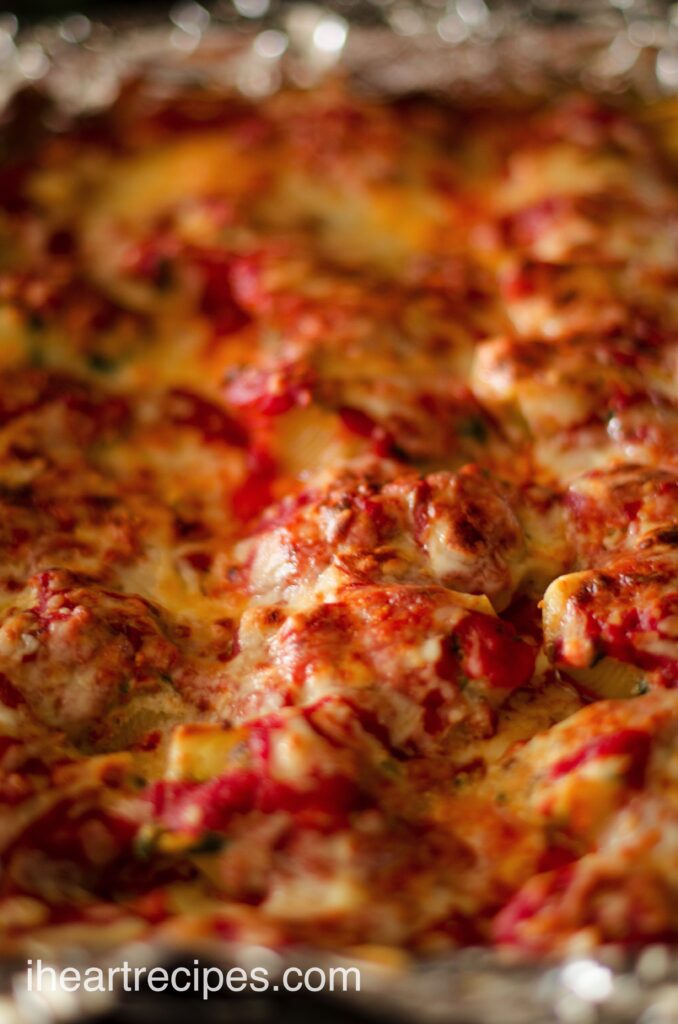 If you want to store leftover stuffed simply put the leftover in a airtight container. The stuffed shells will be good for several days.
What to serve with Italian Baked Shells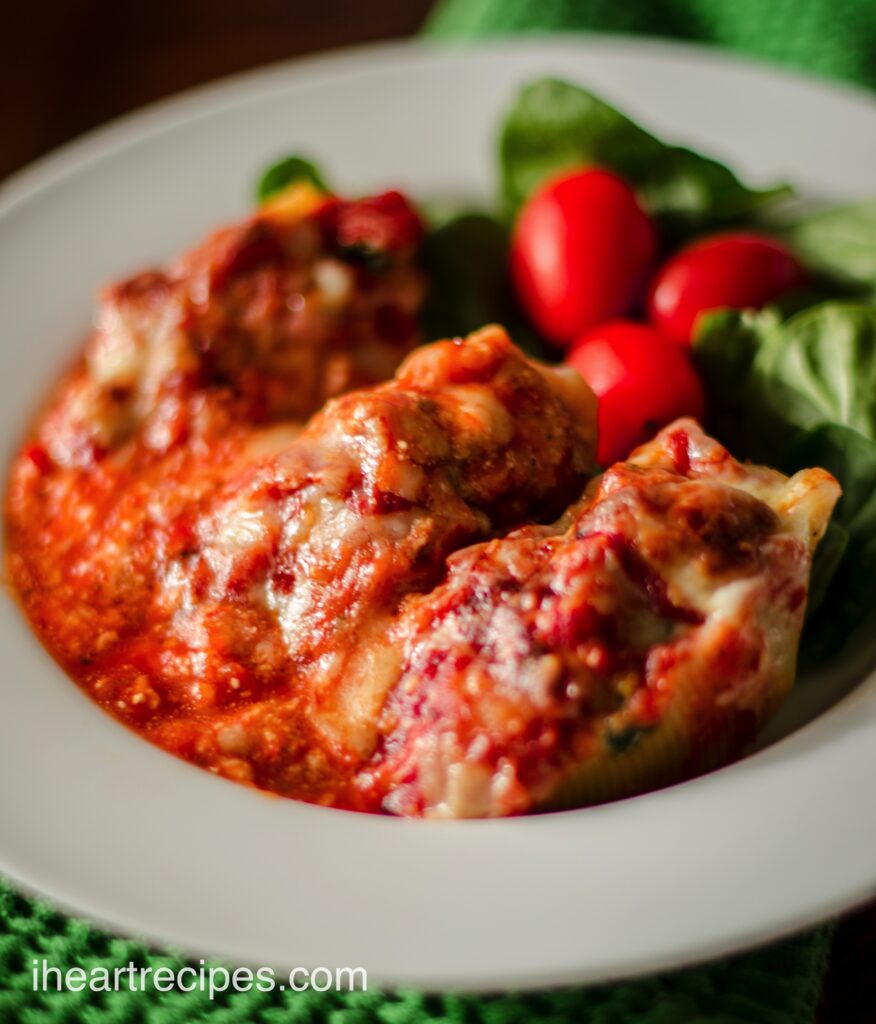 When I make these stuffed shells, I usually serve it with a green salad. This pasta dish pairs will with crusty garlic bread, breadsticks, or even plain sliced bread.
Print this recipe for later, and don't forget to share & PIN it on Pinterest!
Easy Baked Italian Stuffed Shells
Ingredients
12

oz

jumbo pasta shells

1 ½

lb

mild Italian sausage

4

cups

fresh spinach

24

oz

spaghetti sauce

1

tbsp

Italian seasoning

2 ½

tsp

seasoning salt

I used Rosamae of course

5

cloves

garlic

minced

1

medium sized onion

diced

15

oz

Ricotta cheese

1

large

egg

2 ½

cups

Mozzarella
Instructions
Preheat the oven to 350 F.

Boil the pasta shells until they are cooked, but still firm. Remove from the heat, but leave in the pot of water.

In a medium pan, cook the mild Italian sausage.

Toss in the onions, and cook for 5 minutes. Now add the garlic, and cook for 2 minutes before the next step.

Next, add in the spinach and cook for about 3 minutes. Turn the heat off then set to the side.

In a large mixing bowl add in the ricotta cheese, and 1 large egg, and mix well.

Add in the sausage, and spinach mixture. Sprinkle in the Italian seasoning, seasoning salt, and 1 ½ cups mozzarella, and mix well again.

Layer ½ cup to 1 cup of spaghetti sauce on bottom of 9 x 13 baking dish.

Take each shell individually and fill with a generous amount of sausage & ricotta mixture, then place all the shells into a baking dish on top of the sauce.

Pour over all of the remaining sauce to coat each shell in the baking dish.

Top with remaining mozzarella cheese.

Bake for 25 mins or until brown and bubbly.

Serve & Enjoy!!