This classic Southern potato salad recipe is the perfect combination of creamy, sweet, and tangy with a mayonnaise and mustard dressing, tender potatoes, eggs, relish, and onions!
Hey Cousins! If you're looking for a classic potato salad for family gatherings or backyard BBQs, I've got the recipe for you! Good old-fashioned Southern potato salad—sounds good, right?! I figured I'd get on here and share the one and only I Heart Recipes potato salad recipe with my fave people.
Believe it or not, I actually posted a potato salad recipe years ago. Since then, I've changed up a couple of classic ingredients and some of the preparation steps. Let me tell you how I make my delicious Southern potato salad!
What Is Southern Style Potato Salad?
Before we dive into how to make this creamy potato salad, let's talk about what makes it an iconic Southern side dish. Even though potato salad has European roots (hello, German potato salad!), it has a rich history in Southern families. So, what makes soul food potato salad truly Southern? The ingredients, of course!
The hallmark of a classic Southern potato salad recipe is the creamy dressing. Always made with mayonnaise, a hint of mustard, and sometimes sugar, sometimes vinegar, the dressing is rich, creamy, sweet, and tangy. From the very first bite, potato salad is bursting with flavor. Add in the texture of the potatoes (chunky vs. slightly mashed), the mix-ins (onions, bacon, and pickles in some form), and finally, the hard-boiled eggs, and you've got the classic side dish you see at most Black people get-togethers! Other types of potato salads feature dairy-based or vinegar-based dressings, so if you want that creamy, classic summertime dish, a Southern-style potato salad is your best bet.
Shopping List: Ingredients in Southern Potato Salad
So, what goes in potato salad? Well, every Southern family has their own recipe, and the beauty of that is that it comes down to your personal preference. Let me tell y'all what I use in the classic I Heart Recipes potato salad.
Russet Potatoes: trust me on this! Russet potatoes aren't just for baking and mashing, y'all!
Mayonnaise: I use Best Foods Mayonnaise, aka Hellman's, as my dressing base (but Duke's Mayonnaise is also popular).
Yellow Mustard: classic yellow mustard is a must! You could get fancy with Dijon mustard or even try honey mustard if you want some extra sweetness.
Hard-Boiled Eggs: I'm one of those people who won't touch potato salad unless it has eggs! A proper Southern & Soul Food-style potato salad has eggs… And lots of them!
Relish: use sweet relish, dill relish, or plain ol' dill pickles.
Onions and Celery: both add flavor and crunch to the creamy potato salad. I prefer green onions, but you can use white onion, yellow onion, or even sweet red onion if you prefer.
Seasonings: stick to the basics—onion powder, garlic powder, black pepper, and kosher salt. Sprinkle some paprika as an optional garnish.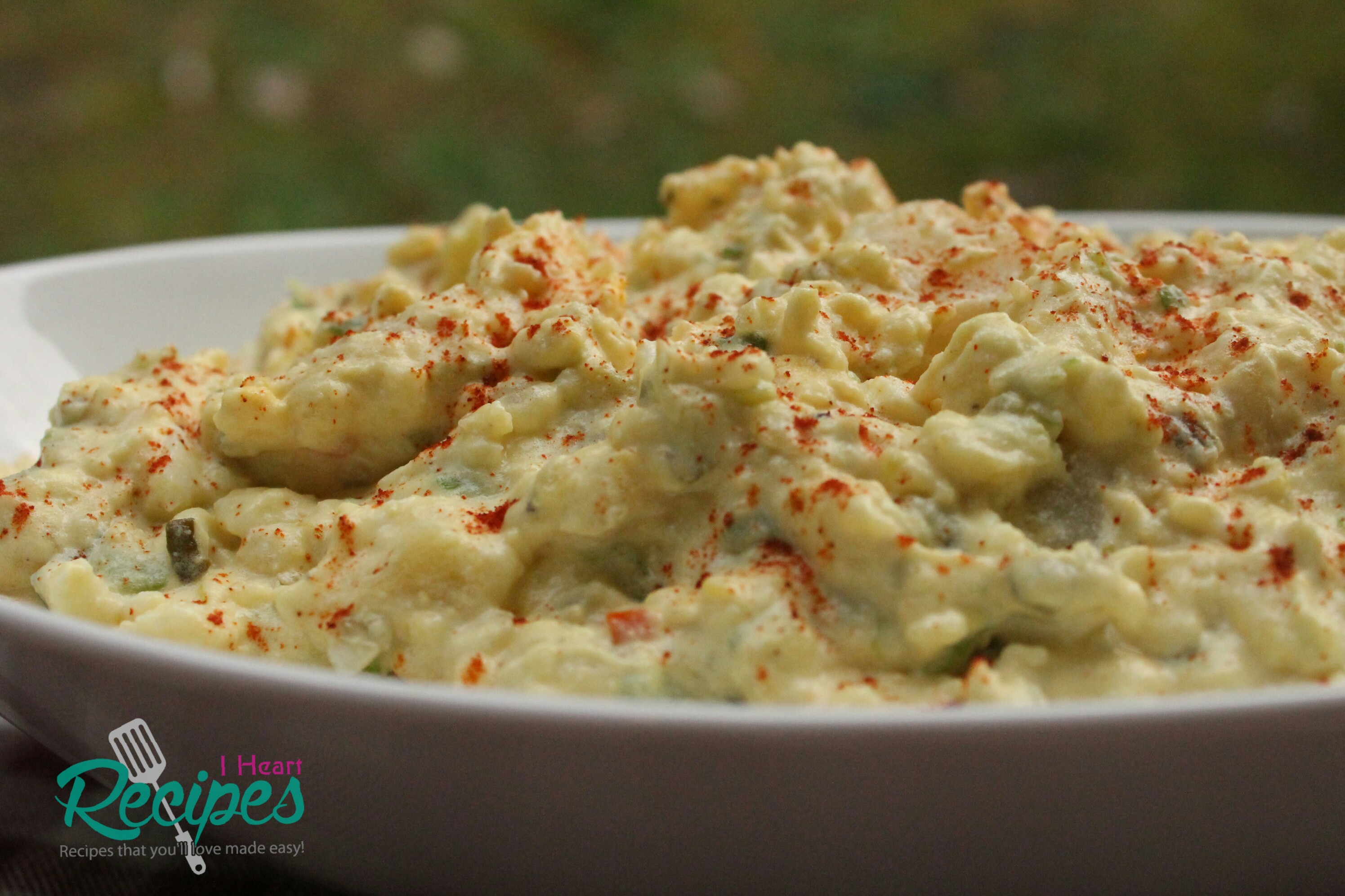 What kind of potatoes are best for Southern potato salad?
This is probably the most common question about potato salad—what's the best potato to use? I prefer regular Russet potatoes for my potato salad recipe. You may think that waxy potatoes like Yukon gold potatoes or red potatoes are the only acceptable kinds, but honey, that is far from true! My family and I have always used russet potatoes in our southern potato salad recipes, and we've never had a problem with taste, texture, or anything else.
The secret to getting perfectly tender potatoes that don't fall apart is to cook them until they are just fork-tender. You don't want to boil the potatoes for as long as you would for mashed potatoes. No, ma'am, you want these potatoes to be slightly firmer while still fully cooked. This way, the starchy potatoes won't fall apart in the creamy dressing. The other secret is to boil the potatoes whole, then peel and cube them. When you mix the potato salad, do so carefully so you don't mash them up. The result is a perfectly creamy, chunky potato salad with tons of flavor.
Pickles in Potato Salad: Dill, Sweet, or Relish?
The next ingredient question I always get is: what kind of relish should you use in Southern potato salad? I use a combination of dill relish and sweet pickle relish, but you can use either. Want to use diced-up dill pickles or sweet pickles instead? You do you, boo boo! My mom always used chopped dill pickles in her potato salad, so that's what I learned. As I got older, I started to use relish. It all depends on you and your tastes!
How to Make Delicious Southern Potato Salad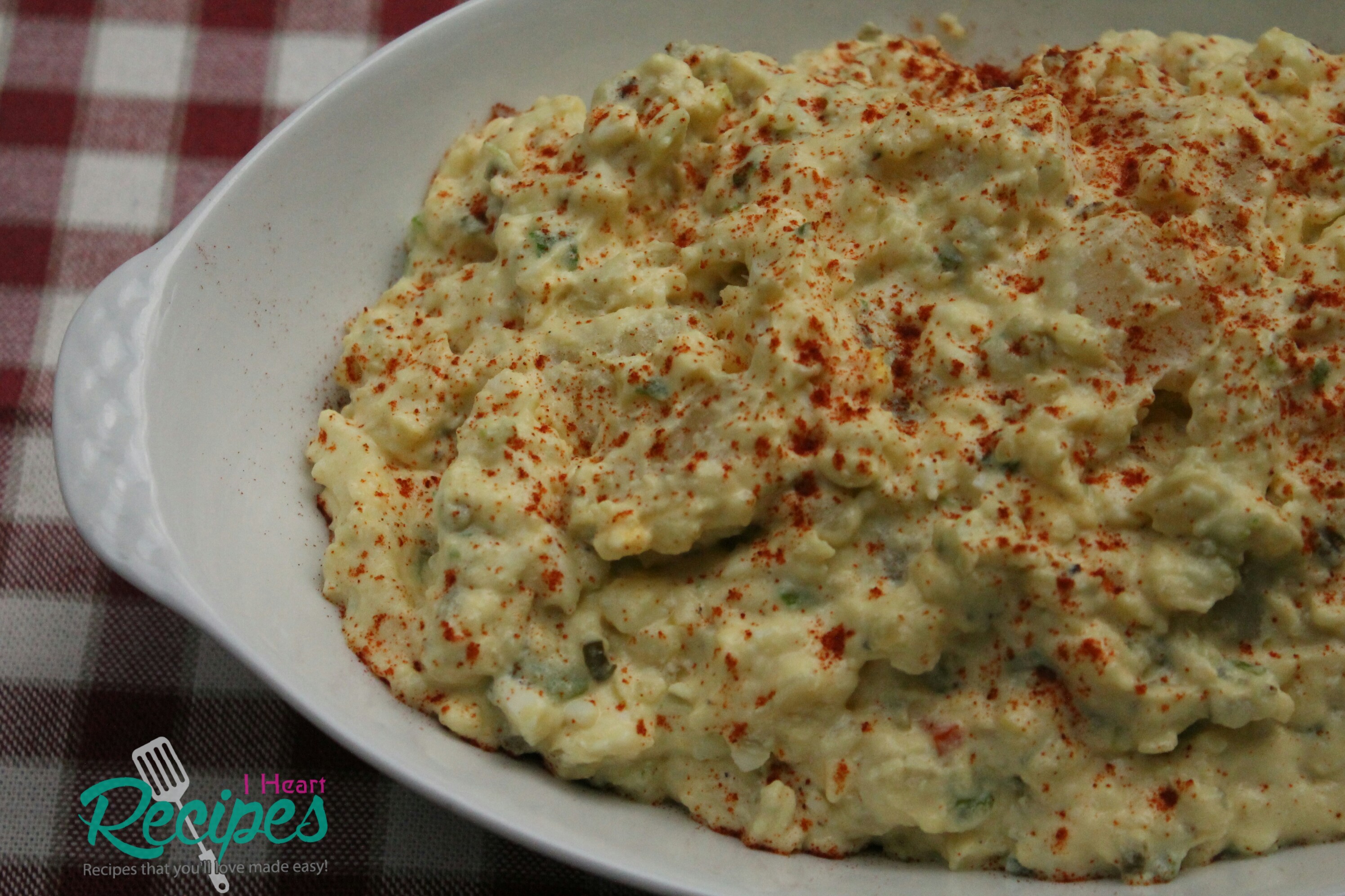 Alright, Cousins! It's time to learn how to make this delicious potato salad. It's really simple and can be ready in well under an hour from start to finish. Here's the main recipe—be sure to scroll on down to the recipe card for the full instructions!
Step 1: Cook the Potatoes
First, clean the potatoes under cold water. Then, fill a large pot with cold water just until the potatoes are covered. Boil them whole until just fork tender—about 10-15 minutes.
Next, drain the potatoes and allow them to cool off. Once they've cooled enough to touch, remove the potato skins.
Pro-Tip: to cook the potatoes faster, you can peel and cut them before cooking.
Step 2: Assemble
Rough chop the potatoes to your liking, then dump them into a large bowl.
Add the crumbled eggs, green onions, celery, and seasonings into the bowl with the potatoes. Set that bowl aside until the dressing is ready.
Step 3: Make the Creamy Dressing
In a separate mixing bowl, combine the mayonnaise, mustard, relish, and my super-secret ingredient: pickle juice. Stir until everything is combined.
Pro-Tip: if you want a sweeter dressing, add some sugar. Add some vinegar—like apple cider vinegar- if you want a tangier dressing. If you want to get your feelings hurt, use Miracle Whip! (I'm only kidding… kind of! 😉)
Once the dressing is ready, dump it on it with the potatoes and mix to combine. Don't overmix, or else the potatoes will become mushy!
There you have it! Once everything is mixed up, I refrigerate the Southern potato salad until it's nice and cold. It belongs on the table at family get-togethers, potlucks, or really… just about any occasion!
Southern Potato Salad Recipe Video Tutorial
Watch how I make my famous potato salad recipe below! If you're new to I Heart Recipes, be sure to subscribe to my YouTube channel to find a whole collection of recipe videos.
Southern-Style Potato Salad Recipe Tips
You can adjust some of the ingredients in this potato salad recipe to your liking. Don't love celery? Leave it out! Not a fan of green onions? Swap them out for diced sweet onion.
Add a dash of hot sauce to the dressing for a kick of heat—the creaminess of the dressing really helps balance any spice.
Toss in extra add-ins like bacon, bell peppers, or herbs like fresh dill.
Leftover potato salad (if there is any!) should be stored in an airtight container in the fridge and will be good for 3-4 days.
When you serve this potato salad, garnish the dish with some sliced hard-boiled eggs, a sprinkle of paprika, and parsley flakes for perfect presentation.
What to Serve with Southern Potato Salad
I usually serve this potato salad with barbecue dishes like my barbecue oxtails or my sweet and smokey pork spare ribs, but really, it pairs with countless Southern Soul Food recipes! Here are some more to try: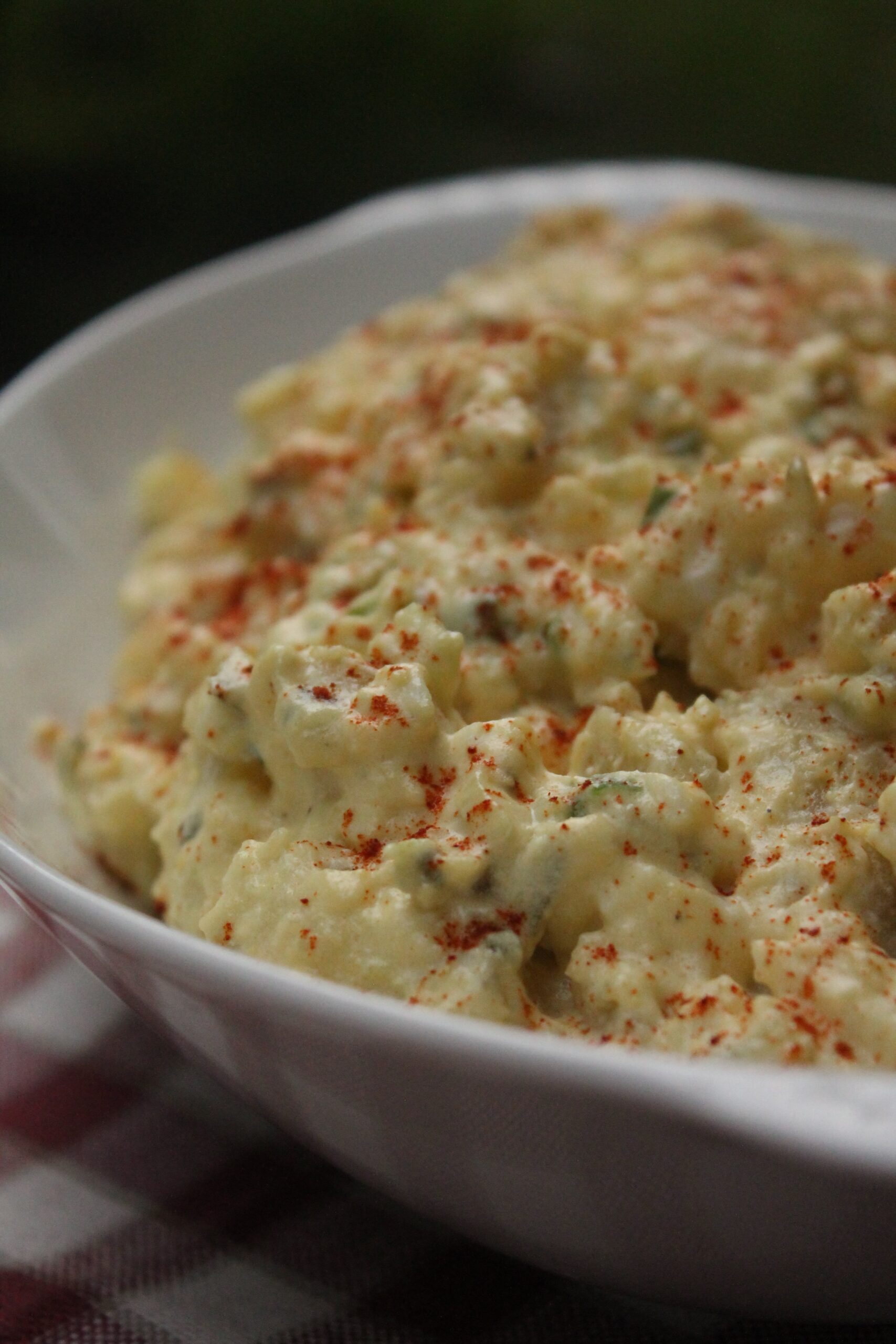 Loved this recipe? Don't forget to share + save on Pinterest! You can follow along with everything Rosie and I Heart Recipes on social media—you can find me on Facebook, Instagram, and Pinterest, and you can pre-order my next upcoming cookbook, A Cousin Rosie Holiday now!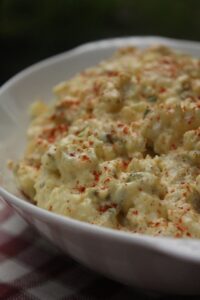 Southern Potato Salad Recipe
Creamy southern soul food style potato salad with mayonnaise, relish, celery, onion, and eggs.
Watch Video
Print Recipe
Pin Recipe
Instructions
Boil the potatoes until they are nice and fork-tender. Once done. drain the water and let the potatoes cool.

Peel the potato skin off, place them into a large bowl, then cut the potatoes into chunks.

Dice or crumble the boiled eggs, then add them to the bowl with the potatoes.

Next, toss in the celery and onion.

1/4 cup cup chopped green onion,

1/4 cup diced celery

Sprinkle in all of the seasonings, then set the bowl to the side.

1 tsp cracked black pepper,

1 1/2 tsp onion powder,

1 tsp salt,

1 tsp garlic powder

In a separate bowl, combine the mayonnaise, mustard, relish, and pickle juice.

1/2 cup mayonnaise,

2 tbsp yellow mustard,

1/4 cup sweet relish,

1/3 cup dill relish,

2 tbsp dill pickle juice

Mix until well combined, then add it with the other ingredients.

Fold all of the ingredients until they are well combined.

Cover and refrigerate until the potato salad is nice and cold.

Place the potato salad into a serving bowl, then sprinkle paprika on top (optional).

Serve and enjoy!
Video
If you loved this recipe,
leave me a review below
. This helps future recipe makers and ensures continued high-quality recipes for years to come!
© 2023 I Heart Recipes