The taste and moist texture of red velvet in dreamy cinnamon rolls with cream cheese icing! The presentation is stunning and it's a fun dessert to mix things up.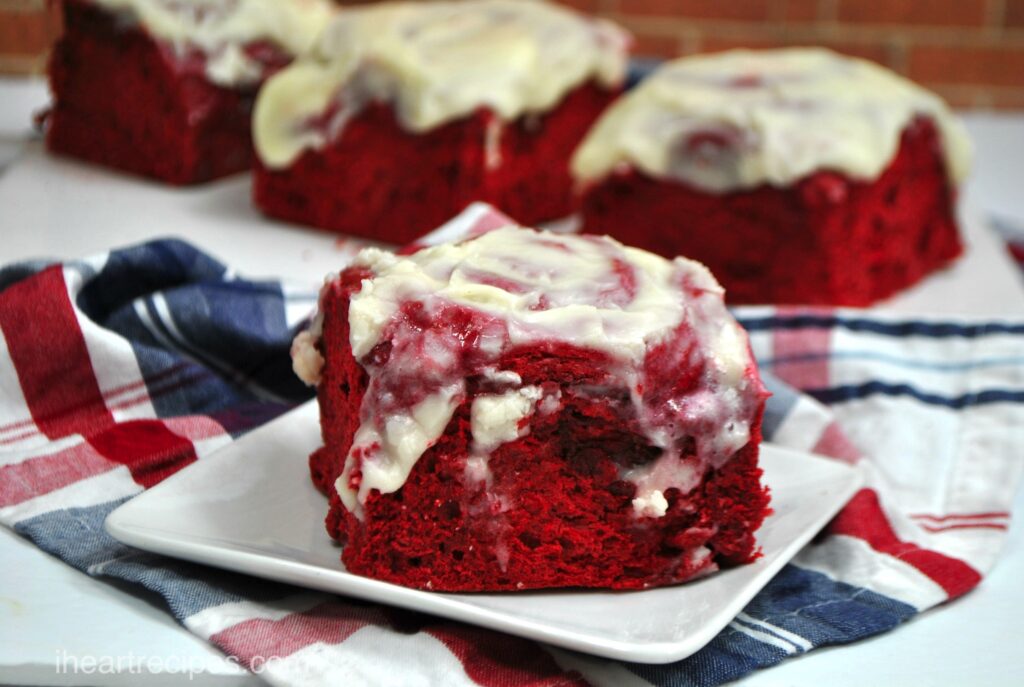 If you've been following me for a while cousin, you know I love to fuse classic desserts into fun 2-in-1 recipes—like these Red Velvet Cake Mix Cinnamon Rolls! As you'll see further below, I have a variety of red velvet and cinnamon roll variations that are an easy way to experiment with flavors you know and love.
A Juneteenth and Year-Round Favorite
Make no mistake, red velvet is perfect any time of the year but it's a Juneteenth favorite! While the earliest versions of cocoa-infused cake batter date back to Victorian times, the modern version of red velvet we know and love today were popularized in the states.
Read my Thrillist interview to learn more about red velvet cake's connection to Juneteenth!
Shopping List
Red Velvet Cake Mix—I prefer to use Duncan Hines.
White flour—2 1/2 cups of flour.
Water—warm tap water, just not too hot.
Yeast—2 1/2 teaspoons of activated yeast to make the cake batter dough rise.
Canola oil—1 tablespoon to add moisture without interfering with the flavor.
Unsalted sweet cream butter—there is salt in the cake mix so you don't need more.
Light brown sugar—1/2 cup packed brown sugar.
Cinnamon—we can't have cinnamon rolls without cinnamon!
Cream Cheese Icing
Unsalted sweet cream butter—sweeter than standard butter.
Powdered sugar—for a fluffy texture and added sweetness.
Cream cheese—half of a 4-ounce package, softened.
Vanilla—I prefer pure vanilla but use extract if that's all you have.
Whole milk—10 tablespoons thins the mixture out for a light icing layer.
Supplies
Large mixing bowl
Mixing spoons
Large glass bowl
Pastry brush
Rolling pin
Kitchen towel
Knife
Baking dish
Handheld or countertop mixer
Oven mitts
What makes Red Velvet red?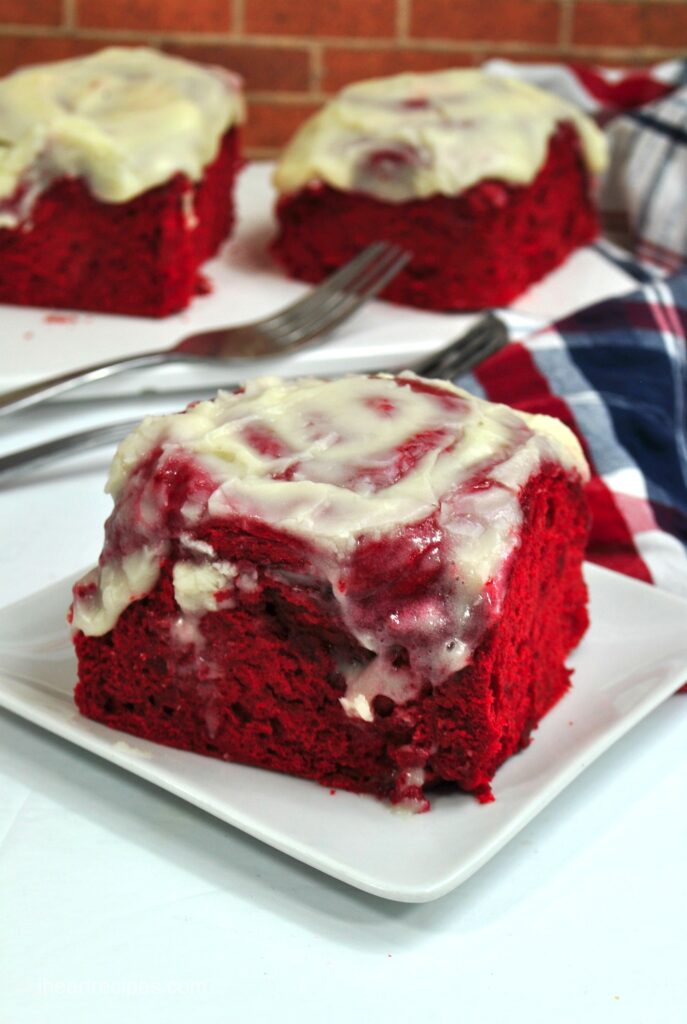 The cocoa naturally gives your Red Velvet Cake Mix Cinnamon Rolls a red color. To intensify the red, many recipes call for red food coloring or beet juice. Since we're using a cake mix, the red is already incorporated, so there's no need to intensify the color.
Why use a cake mix instead of baking from scratch?
It's faster and easier! I'm all for keeping things simple in the kitchen, and I often incorporate premade ingredients in my recipes. Many of my recipes are 100% from scratch, but I appreciate how busy you are—so premade ingredients save you time.
Why fuse Red Velvet and Cinnamon Rolls?
First and foremost, it's fun and delicious! I like this recipe because it's a brilliant red, the cake batter ensures your rolls are moist, and it has the cream cheese frosting flavor you crave with red velvet.
Why add milk to the cream cheese frosting?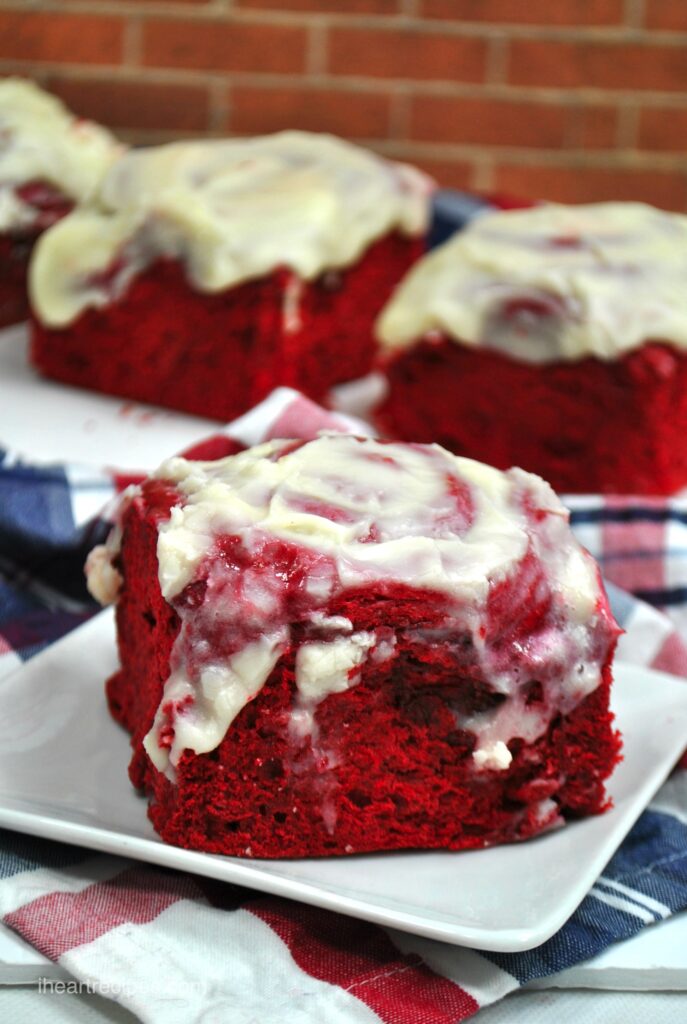 Traditional Cinnamon Rolls have a light icing layer made with powdered sugar, milk, and vanilla, for icing instead of frosting. But Red Velvet Cake calls for cream cheese!
Cream cheese frosting is thick, so I thin it out by adding milk. It's still creamy and has the flavor you expect when you bite into red velvet.
What if I don't have a rolling pin?
If you don't bake often you might not have a rolling pin. These substitutions will work in a pinch. Wrap them in saran wrap so that they don't contaminate your recipe.
Wine bottle
Large glass water bottle
Dowel rod
Modeling clay roller
Can't I just flatten the dough with my hands? Yes of course, it will take longer and won't be perfectly even, but once baked you won't notice the unevenness.
Can I use regular brown sugar?
Yes, if all you have in your pantry is standard brown sugar, go ahead and use it. If you're heading to the grocery store, buy a bag of light brown sugar.
There's a bit more molasses in dark brown sugar, so the taste is a bit more intense.
With less molasses, the flavor profile of light brown sugar is subtle, allowing the other flavors to shine through.
Using dark brown sugar will still taste amazing, but the flavors won't be quite as rich.
How to soften cream cheese fast?
Since we'll be thinning it out with milk, you only need half a package of cream cheese for this recipe. Aim to take it out of the fridge when you set the dough on the counter to rise. You want to serve these warm, so plan accordingly.
If you forget to take the cream cheese out of the fridge sooner, take it out when you pop the cinnamon rolls in the oven.
Cut it in half then cut the half into 1-inch cubes.
After 10 minutes, mix it with your blender for 3 minutes.
Let it sit for another 5 minutes, and it should be soft enough.
Prepare your frosting.
It may not need to be mixed as long as you've already whipped some air in.
How to store leftovers?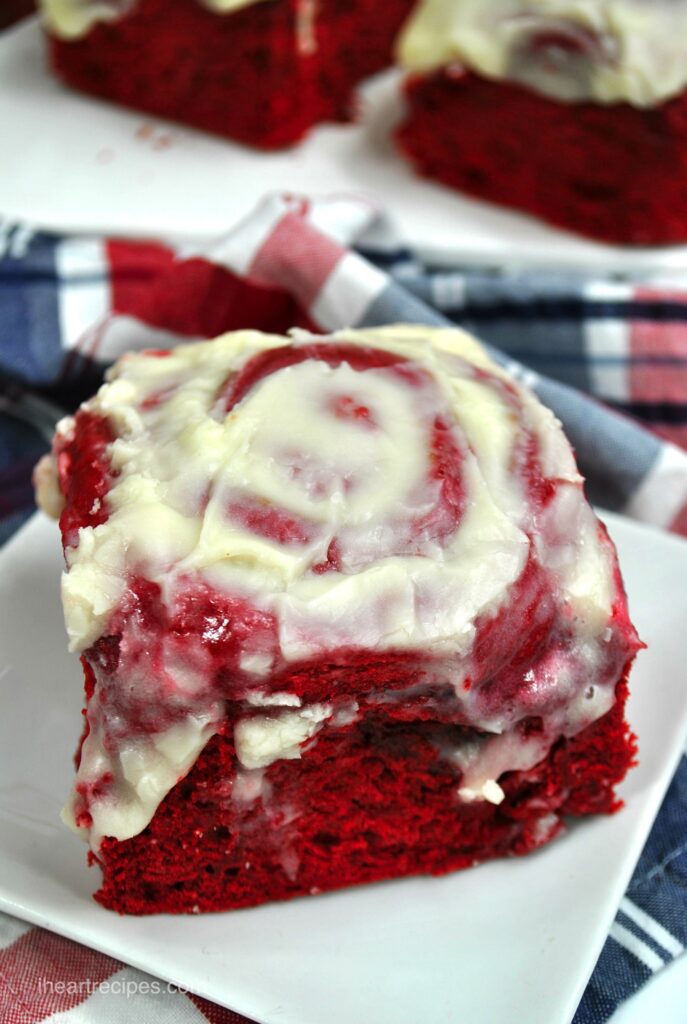 While standard cinnamon rolls can be stored at room temperature, the cream cheese frosting in your Red Velvet Cake Mix Cinnamon rolls needs to be refrigerated.
Let them cool, then place them in an airtight container in the refrigerator for 3 to 4 days.
Reheat: these rolls are great cold or warm. Reheat them in the microwave for 5 to 8 seconds. Longer and your roll will dry out and the frosting will melt.
Can you freeze this recipe?
Yes! After they cool, wrap each roll individually in saran wrap or freezer paper. This will minimize freezer burn. Then, place them in a freezer-safe airtight container, freezer bag, or wrap them in aluminum foil. Label them so that you don't forget what's inside, and date them as a reminder to enjoy within 3 months.
Other Cinnamon Roll and Red Velvet Variations
Cousins, I LOVE cinnamon rolls and red velvet, and have a variety of fun variations for both!
Cinnamon Roll Variations
Red Velvet Variations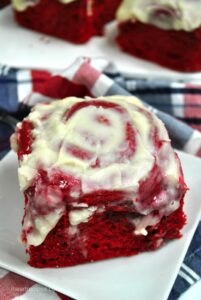 Red Velvet Cake Mix Cinnamon Rolls
Easy red velvet cinnamon rolls made with cake mix!
Print Recipe
Pin Recipe
Instructions
Cinnamon roll directions:
Using a large mixing bowl, mix together the cake mix, flour, warm water, and yeast.

Mix until slightly combined.

Once combined, place dough onto a floured surface and knead until combined and the dough.

bounces back after touching it.

Place the dough into a large glass bowl and brush the 1 tbsp oil onto the top of the dough and the sides of the glass bowl.

Cover with a kitchen towel and let sit for an hour.

Once the dough has doubled in size, place dough onto a floured surface and roll out to 1/8 inch.

Brush melted butter onto the dough and sprinkle with the cinnamon and sugar.

Roll into a log and cut into rolls.

Place rolls into a baking dish and cover again for another hour.

Once the hour is up, preheat the oven to 350 degrees.

Once the oven is preheated, bake the cinnamon rolls for 30 minutes.
Cream cheese icing directions:
Using a standing mixer, cream together the butter, cream cheese, powdered sugar, vanilla and

whole milk together until smooth and creamy.

Once the cinnamon rolls have been baked, remove from the oven and smother with the cream cheese icing.

Allow cinnamon rolls to cool for about 15 minutes before enjoying!
If you loved this recipe,
leave me a review below
. This helps future recipe makers and ensures continued high-quality recipes for years to come!
© 2023 I Heart Recipes