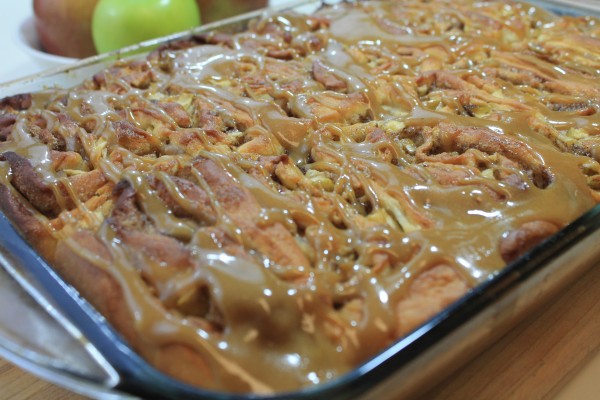 Here is an amazing recipe for you to enjoy this fall. It's a little time consuming, BUT it is worth all the time and effort. Definitely try this recipe, and save it for the upcoming holidays!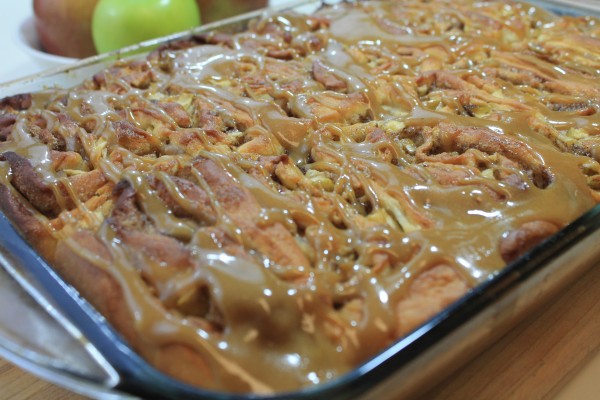 Caramel Apple Cinnamon Rolls
These delicious caramel apple cinnamon rolls are the perfect breakfast treat for the fall season! Warm apples, hints of cinnamon and fluffy dough come together to create gooey goodness.
Watch Video
Print Recipe
Pin Recipe
Instructions
Pour 1/4 cup of warm water into a large bowl. Sprinkle in 2 tsp of granulated sugar, and stir. Next sprinkle in the dry yeast. Stir, and let sit for 8 minutes of until it foams.

Sift together the flour, 1/2 tsp baking soda, and 1 tsp salt.

Pour the yeast ( which should look like foam) into a large mixing bowl, and add in the milk, vegetable oil, and apple juice. Mix.

Now it's time to mix the wet ingredients with the dry. DO NOT add all of the flour to the wet ingredients at once. Add one cup at a time, and use a fork to combine the ingredients. Mix the ingredients until it forms into dough.

Lightly flour a flat surface, and knead the dough flour about 5 minutes.

Place the dough in a lightly oiled bowl, and cover. Let the dough rest for 40 minutes.

Flatten out the dough.

Place 1/2 cup softened butter, 2/3 cup granulated sugar, 1/2 cup brown sugar, 1/8 tsp ground nutmeg,  1 tsp vanilla extract, and 2 tsp ground cinnamon into a bowl. Mix until it's nice and creamy.

Slather the butter mixture on the surface of the dough, and sprinkle the diced apples on top.

Roll up the dough, jelly roll style, then cut into 1 inch sections.

Grease a 9 X 13 bake dish, and place the rolls into the dish.

Once all the rolls are in the bake dish, use your hands hands to lightly press the rolls down.

Place the rolls into a preheated oven set on 375 F, and bake for 25 minutes.

Once the rolls are done pull them out of the oven.

In a sauce pan, melt down 1/4 cup of butter. Add in 1/2 cup brown sugar, and 3 tbsp of half and half. Boil over medium high heat for 3-4 minutes.

Drizzle caramel over the cinnamon rolls and enjoy!
Video
Notes
The caramel sauce will harden if stored in a cold area. To melt the caramel simply zap in the microwave for a few seconds. Bonus! These cinnamon rolls are also freezer friendly. 
If you loved this recipe,
leave me a review below
. This helps future recipe makers and ensures continued high-quality recipes for years to come!
© 2023 I Heart Recipes
I hope you enjoy this with a cup of coffee or milk. Tell me what you think down below 🙂