A simple, yet delicious cheesecake with a cinnamon roll crust, and a cinnamon swirl topping! This cheesecake makes the perfect holiday dessert!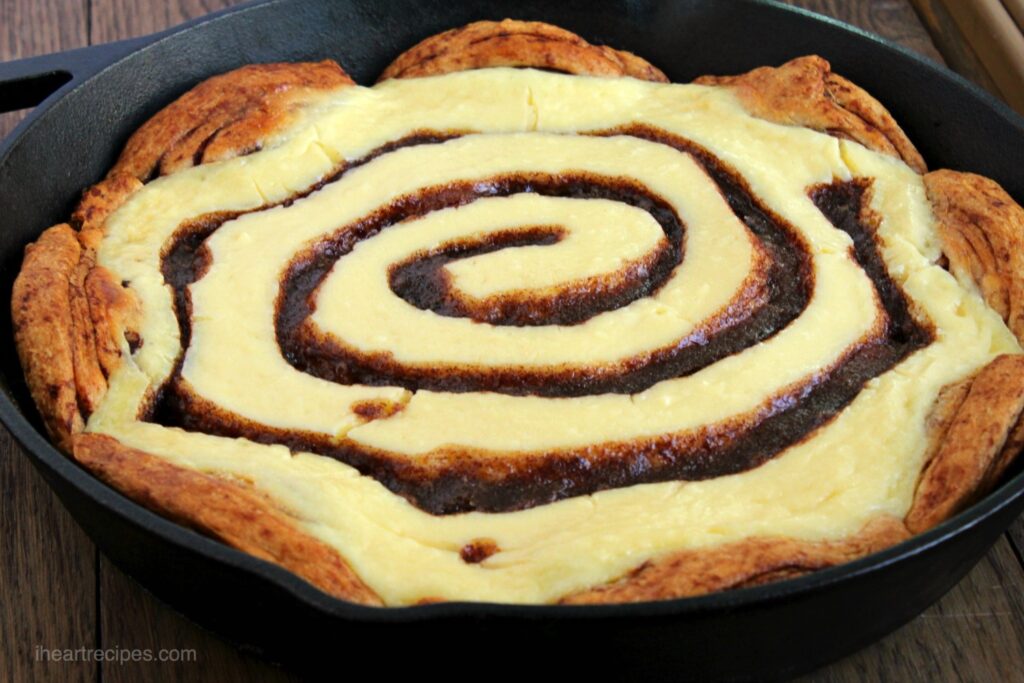 Hey cousins! If y'all know me, you know that I have an extreme sweet tooth! I adore many desserts, but I am deep in love with cheese! Just call me a Golden Girl, because I could have a slice of cheesecake every darn night – if my metabolism would let me of course!
There really isn't a cheesecake that I don't like! Of course I love my recipe for Strawberry Shortcake Cheesecake( still one of my favorites til this very day!), but I can also do a regular, or New York Style Cheesecake. One of my all time favorite cheesecake recipes would have to be the one that I'm sharing in this post. My Cinnamon Roll Cheesecake! This recipe is super easy. I use simple ingredients, and most of them are probably already in your kitchen. Instead of making a from scratch crust, I use canned cinnamon rolls. This results in a delicious easy to make dessert that the whole family will love! Now let's talk cheesecake!
Ingredients for this Cinnamon Roll Cheesecake
(2) 8 count cans cinnamon rolls
16 oz. cream cheese
1/2 cup sour cream
1/2 cup sugar
2 eggs
1 tbsp vanilla
CINNAMON TOPPING:
1/2 cup butter softened
3/4 cup brown sugar
1 tablespoon cinnamon
How to make Cinnamon Roll Cheesecake
Preheat the oven to 350 F.
Press the cinnamon roll dough into the skillet, creating a crust over the bottom and sides of the skillet.
Make sure all of the cinnamon roll dough is connected and there are no spaces between the dough.
In a stand mixer, mix the cream cheese, eggs, sour cream, sugar, and vanilla.
Beat until smooth and creamy, about 3 minutes.
Pour the mixture into the skillet over the cinnamon bun dough.
For the cinnamon filling: In a bowl, stir together the butter, brown sugar and cinnamon.
Transfer the cinnamon mixture to a sealable bag, focusing it towards one corner of the bag.
Cut off the tip and pipe a swirl over the cheesecake batter.
Bake for 50-55 minutes, or until the cheesecake is set.
Allow the cheesecake to cool to room temperature, then store it in the fridge.
Enjoy!
Is cheesecake better with sour cream or heavy cream?
So you're trying to decide on if you should use sour cream, or heavy cream for your cheesecake huh? Well if you ask me, I'm going to tell you that it depends on which cheesecake you're making! Different cheesecakes have different textures. Therefore you will find that a lot of cheesecakes use different ingredients. Some cheesecakes call for heavy cream, some call for sour cream, some use half & half! It really depends on the recipe, or the chef that created the recipe. I personally like to use all of the ingredients mentioned, but not together! Usually when I make a baked cheesecake I use half & half, or heavy cream. When I make no bake cheesecakes I like to use sour cream, or heavy cream. So to simply answer the question, neither is " better". It just depends on what you're making!
Checkout some of my other cheesecake recipes!