This no-bake Pina Colada cheesecake is a delectable dessert that will have your taste buds dancing with the tropical flavors of pineapple, coconut, and cream cheese!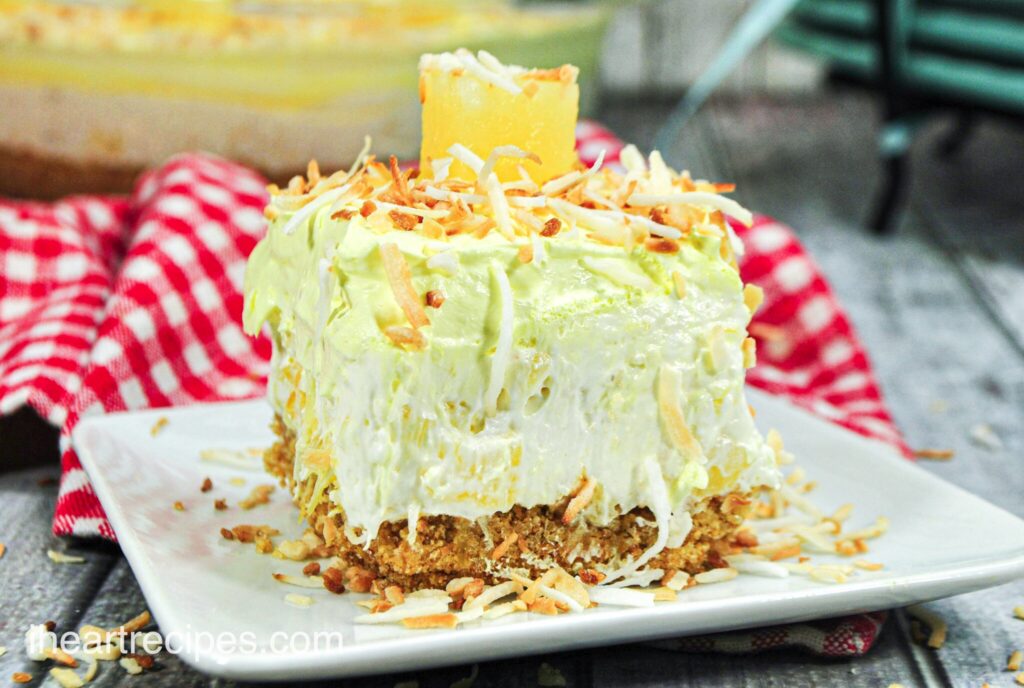 Enjoy the rich and creamy flavor of cheesecake without the baking or prep time of a traditional cheesecake. Yes, it needs to set in the refrigerator overnight—but it only takes about 25-30 minutes to prep.
What Is No Bake Pina Colada Cheesecake?
No Bake Pina Colada Cheesecake is a delicious, summery dessert that is quick and easy to make—but feel free to make it year-round! It's perfect to brighten up your day when it's dark and dreary or cold and snowy.
This ultra-creamy, no-bake cheesecake is flavored with coconut and pineapple, giving it a refreshing tropical flavor. It's made with a graham cracker crust, cream cheese, a can of crushed pineapple, and whipped cream.
To top it off, it is garnished with toasted coconut and pineapple chunks.
Ingredients and Supplies for No Bake Pina Colada Cheesecake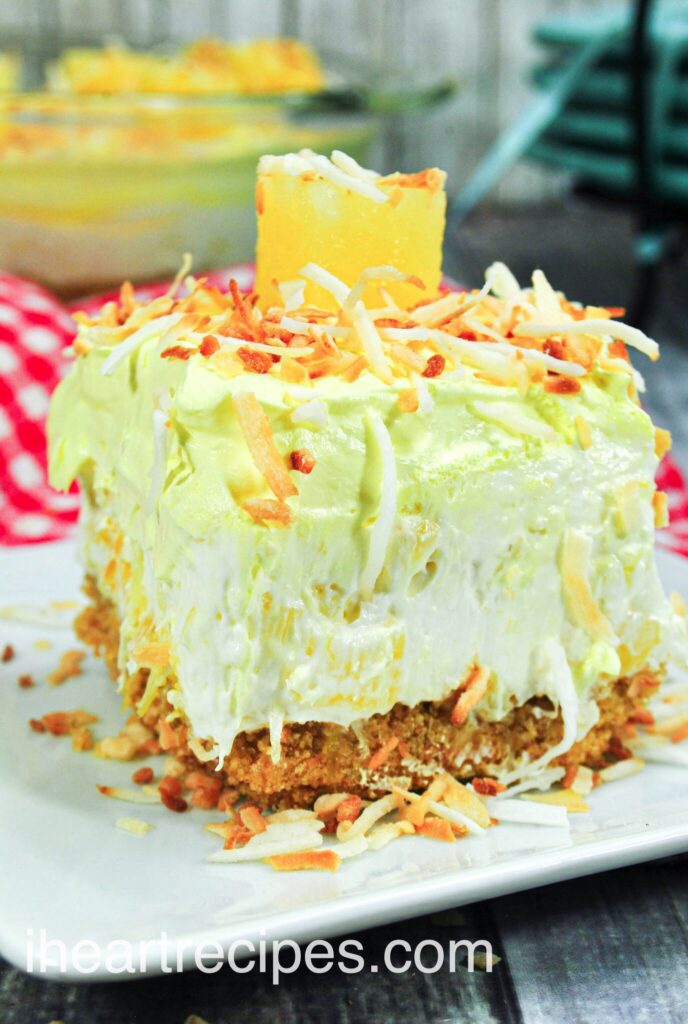 Graham Cracker Crust Ingredients:
Granulated sugar—plain white sugar
Butter—1 cup of melted butter is all you need to bind the sugar and graham cracker crumbs.
Graham crackers crumb—keep things easy by buying crumbs instead of full graham crackers.
No Bake Cheesecake Filling Ingredients:
Cream cheese—full-fat cream cheese, softened for about 1 hour on the counter.
Powdered sugar—light and airy sugar ensures your cheesecake is smooth and creamy.
Crushed pineapple—drain and save the juice because you'll need it too!
Cool Whip—I use heavy cream to create whipped cream for most of my recipes, but Cool Whip is a must for this No Bake Pina Colada Cheesecake. It's folded in to make it light, fluffy, and bake-free.
Yellow food coloring—this will give your cheesecake a vibrant yellow color!
Pineapple juice—just 2 tablespoons is enough to infuse a bit more pineapple flavor into this cheesecake. Don't add more or it won't set properly.
Toasted shredded coconut—toasted coconut adds texture, tropical flavor, and visual appeal to the top of your set cheesecake.
Pineapple chunks—I used canned because it's a sweeter topping than fresh pineapple. Just be sure to drain the juice in the can.
Supplies Needed to Make Pina Colada Cheesecake
Measuring spoons
Measuring cups
Mixing bowls
Mixing spoons
Hand mixer or stand mixer
Spring form pan
Optional: decorative cake stand
No-Bake Pina Colada Cheesecake Recipe FAQs and Tips
Is There Alcohol in This Dessert?
While it's named after one of the best tropical cocktails around, there isn't any alcohol in this dessert. Not to worry, as it delivers the same coconut and pineapple flavor you are craving.
If you are in the mood for an adult beverage, consider my Pina Colada Sangria!
I Really Don't Need an Oven?
Nope! Not for this cheesecake recipe. It will be a bit softer than a traditional cheesecake, but there aren't any eggs, so no baking is required. Not to worry, as it still delivers the cheesecake flavor you are craving.
I have a few other no-bake cheesecake recipes—No Bake Oreo Cookie Cheesecake or No Bake Lemon Cheesecake!
Does The Cream Cheese Have to Be Softened for No-Bake Cheesecake?
Cheesecake should be smooth. If the cream cheese isn't softened first, the mixture will be lumpy. The best softening method is on the countertop, but sometimes time is tight. If you are in a rush, consider the softening methods below:
Countertop: remove your cream cheese from the box and set it out for about an hour on the countertop, half the time if it's hot or humid in your kitchen.
Water bath: remove your cream cheese from the box and foil, cut it into 1-inch cubes, and let it sit in warm (not hot) water for 20 to 30 minutes.
Microwave: if you are really in a pinch for time, remove your cream cheese from the box and foil. Place it on a microwave-safe plate and microwave it on low for 10 second intervals until soft. Flip it over each new interval. It should take about 3 intervals to soften.
By Hand: remove the cream cheese from the box but leave it in the foil. Use the heat from your hands to gently squish the cream cheese. Or, put on cooking gloves, pop it in a bowl, and squish it around like putty. This method takes time and gets cold fast but can cut down the softening time.
How to Make Graham Cracker Crumbs
If you only have whole graham crackers, put 8 or so in a large plastic baggie and roll over them with a rolling pin. Empty the baggie once crushed and roll 8 or so more until you have 2.5 cups of crumbs.
OR
Pop whole graham crackers in your food processor for fast and easy graham cracker crumbs.
How many graham crackers per cup? You'll need about 1 sleeve of graham crackers per cup, so about 2.5 sleeves for this crust recipe.
Can I Use Store-Bought Graham Cracker Crust?
Yes! I prefer to make mine fresh because it tastes extra delicious, but store-bought crust tastes good too.
If you use a store-bought crust, you will have to crumble it up since this cheesecake isn't the traditional shape as other cheesecakes.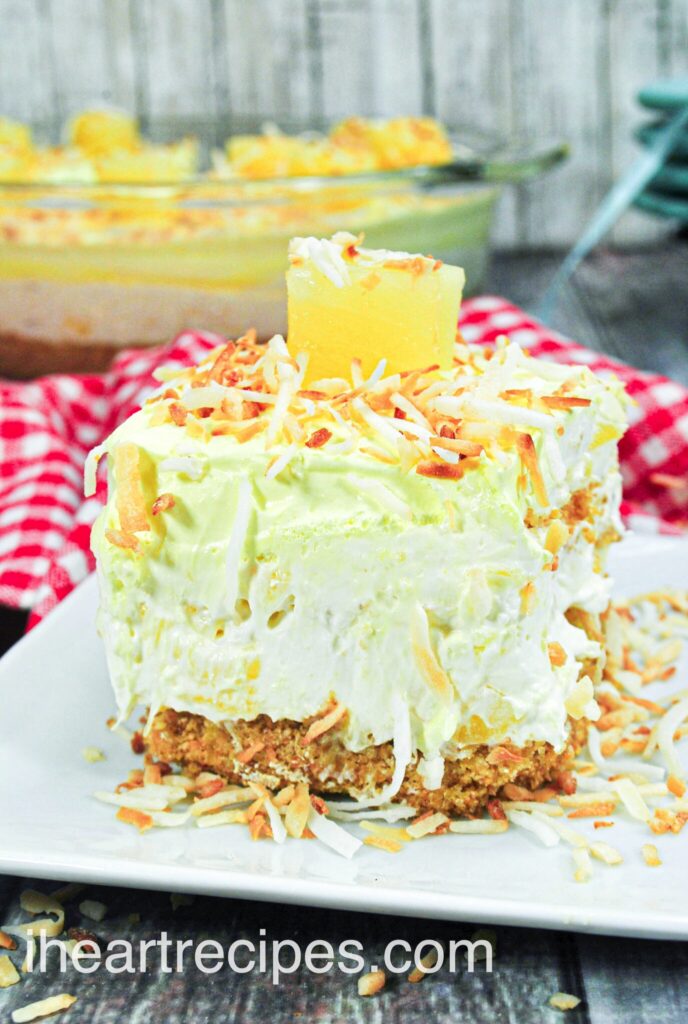 Don't Toss Your Drained Pineapple Juice
Cousins, the drained pineapple juice is too delicious to toss down the drain! You only need 2 tablespoons for this recipe, so there will be plenty of juice left over.
The pineapple juice is only good for about 48 hours after being drained, but it can also be frozen for up to 3 months.
Here are a few alternatives:
Drink it plain, maybe with a bit of water.
Add a bit of rum and enjoy.
Add it to a popsicle mold for a frozen treat.
Freeze it to defrost as a fruity meat marinade.
Use it as water to cook your morning oatmeal.
Add it to a freshly blended smoothie.
Add it to freshly squeezed juice.
Use it to flavor plain sparkling water.
Add a Pop of Color With Maraschino Cherries
This dessert is vibrant yellow and looks stunning topped with shredded coconut and pineapple chunks.
If you want a bit more contrast, add a maraschino cherry on top of each slice!
More No-Bake Cheesecake Recipes
Loved this recipe? Be sure to share + save it on Pinterest! Don't forget to tag and follow me on Facebook, Instagram, and Pinterest, subscribe to I Heart Recipes on YouTube, and check out all my cookbooks!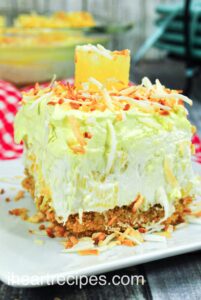 No Bake Pina Colada Cheesecake Recipe
This no-bake cheesecake is super creamy and easy to make! Delicious flavors of coconut and pineapple come together in this no-bake dessert.
Print Recipe
Pin Recipe
Ingredients
Cheesecake Ingredients:
16

oz

package cream cheese

softened

1

cup

powdered sugar

1

cup

crushed pineapple

drained

1/4

cup

toasted shredded coconut

for topping

1/4

cup

Pineapple Chunks

drained for topping

2

8 oz.

containers of Cool Whip

1

tsp

yellow food coloring

2

tbsp

pineapple juice
Instructions
In a medium mixing bowl, mix the crushed graham crackers, granulated sugar and melted butter until well combined.

1 cup granulated sugar,

1 cup melted butter,

2 1/2 cup graham crackers crumbs

Press the mixture into a 9 x 9 baking dish and set to the side.

Pineapple mixture instructions:
Cheesecake Layer:
Using a standing mixer with a whisk attachment, whip the cream cheese until it's nice and creamy.

16 oz package cream cheese

Start adding in the powdered sugar and mix until it is well combined.

Next, add in 8 oz of Cool Whip and mix.

2 8 oz. containers of Cool Whip

Fold in the crushed pineapple with a spatula.

Spoon out the cheesecake filling over the crust and smooth with an angled spatula until it's an even layer.
Pineapple Layer:
In a large mixing bowl combine 8 oz Cool Whip, 1 tsp yellow food coloring, and 2 tbsp of pineapple juice.

1 tsp yellow food coloring,

2 tbsp pineapple juice,

2 8 oz. containers of Cool Whip

Mix until well combined.

Spread about 8 oz of Cool Whip mixture on top using an angled spatula over the Pineapple filling.

Sprinkle it with toasted coconut and pineapple chunks.

1/4 cup toasted shredded coconut,

1/4 cup Pineapple Chunks

Refrigerate overnight so that the filling can firm up.

Serve, and enjoy the next day!
If you loved this recipe,
leave me a review below
. This helps future recipe makers and ensures continued high-quality recipes for years to come!
© 2023 I Heart Recipes