This sweet and creamy dessert is sure to be the star of your next gathering. It's perfect for year-round potlucks, parties, barbecues, and holidays—and no baking is required!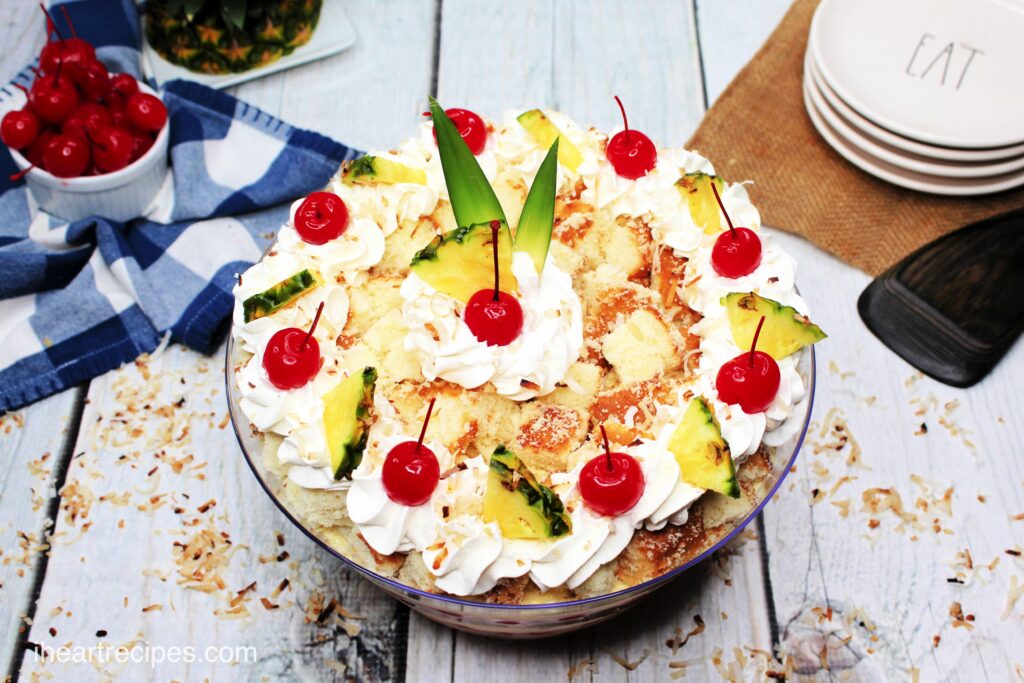 Hi cousins! Whether you're looking to make a delicious dessert for your next gathering or just want to indulge in a delicious treat, this Pina Colada Cake Trifle is sure to please. It's made with a combination of moist cake, creamy coconut, and sweet pineapple—and it's topped with a light and fluffy whipped cream.
What is a Pina Colada Cake Trifle?
Trifles originated in Britain in the 18th century. Traditional trifles consisted of 4 layers, including cake, custard, jelly, and whipped cream. Over the years, trifles have evolved into decadent multi-layer desserts made with a variety of regional and seasonal ingredients. They are also the inspiration behind individual parfaits.
This is a Caribbean-inspired trifle recipe that layers poundcake, pineapple, maraschino cherries, and a creamy and dreamy blend of vanilla pudding, cream cheese, coconut, and Cool Whip.
So that you can see the beauty of the layers, trifles are often prepared and served in a clear glass bowl. It's as delicious as it is beautiful!
Ingredients and Shopping List
Vanilla Pound Cake—3 loaves of store bought poundcake either fresh or defrosted from the freezer section.
Crushed Pineapple—a 20 oz can of crushed pineapple, with the juice from the can strained and set aside.
Maraschino Cherries—an entire 74 oz jar with the stems on. You can buy large jars at Costco or Sam's Club.
Cream Cheese—an 8 oz package of full-fat cream cheese, softened on the counter for about 30 minutes.
Instant Vanilla Pudding—a standard 3.4 oz box is mixed with the cream cheese, half and half, and part of the Cool Whip for the creamy filling.
Half and Half—1 full cup of half and half.
Shredded Coconut—some is toasted for texture and flavor, and some is left untoasted for added sweetness.
Unsalted Butter—use salted butter if that is all you have, but unsalted is almost always best for desserts.
Cool Whip—divided for the cream layers and decorative topping.
Garnish

Fresh Pineapple—sliced into small triangles for a decorative and edible topping.
Supplies

Strainer—to strain the pineapple juice into a small bowl, and to strain the maraschino cherries.
Wooden Skewer or Fork—used to poke holes in the poundcake, to infuse it with the juice from the crushed pineapples.
Baking Sheet—set the poundcake on the baking sheet so that the pineapple juice doesn't make a mess.
Small, Medium, and Large Mixing Bowls—you'll need all 3 to mix different portions of this recipe.
Knifes—to slice the poundcake into cubes and slice the pineapple.
Measuring Cups—to measure and portion your ingredients.
Mixing Spoons—to layer the toppings.
Whisk—to whisk the pudding, half and half, and Cool Whip. You can use a hand whisk or your electric mixer whisk.
Medium Saucepan—to melt the butter and toast the portioned coconut shreds.
Trifle bowl or Large Glass Bowl—you can use any large bowl, but ideally a glass bowl for visual appeal.
Paper Towels—to soak up the excess juice on your maraschino cherries.
Large Disposable Piping Bag With Star Tip—to create a decorative Cool Whip top layer.
Optional—parfait cups if you prefer to make individual servings.
How to Layer the Perfect Trifle?
These tips will ensure your Pina Colada Cake Trifle looks as good as it tastes:
If possible, use a deep trifle bowl, or a bowl that isn't rounded.
Cut the pound cake cubes as evenly as possible, but thick enough that they don't get soggy too quickly.
While the poundcake won't lay flat, ensure the bottom layer is as even as possible.
Add the creamy layers to the center of the bowl first and spread outwards to the edges of the bowl.
Feel free to use a paper towel to clean up any smudged areas of the cream layer before layering more.
Can I Make My Own Poundcake?
Absolutely! This recipe is designed to be fast and easy, but if you enjoy baking and have a go-to poundcake recipe—go ahead and bake 3 loaves first. Ensure they cool fully before soaking them in pineapple juice.
Do I Have to Use a Disposable Piping Bag?
If you prefer plastic or silicone piping bags, feel free to use those instead! Disposable bags are convenient as they don't need to be cleaned, but they aren't environmentally friendly. They also minimize cross-contamination. Whatever your preference, you can find piping bags at Walmart, Target, Michael's, and on Amazon.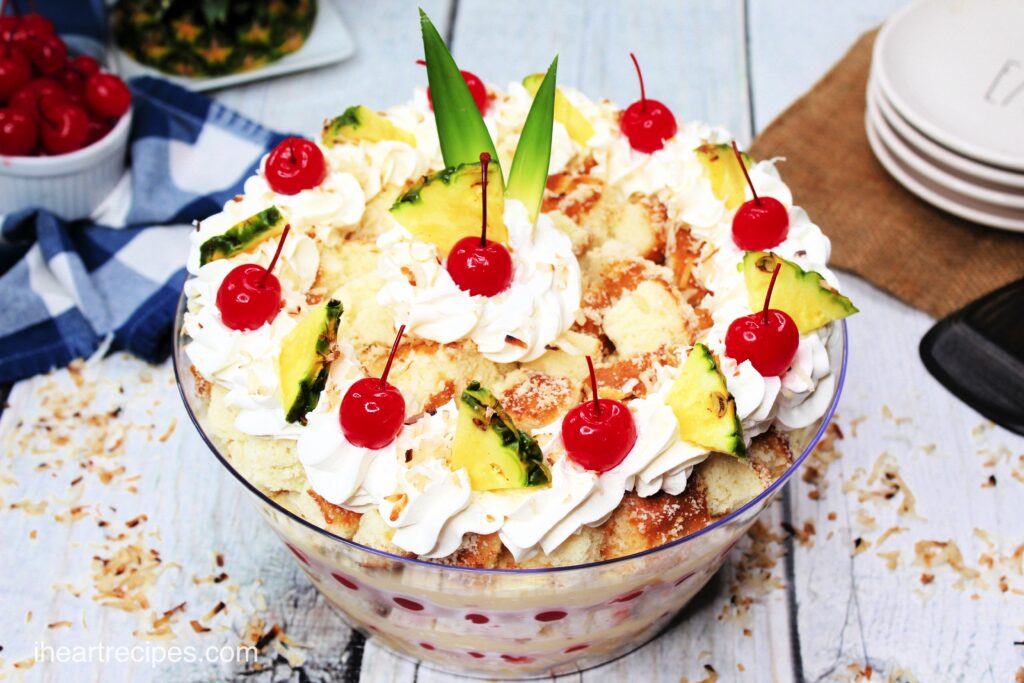 Have a Star Tip but Out of Disposable Piping Bags?
We've all been there—all set to decorate a dessert only to find you are out of disposable piping bags! Not to worry. Just cut the tip off of a corner of a 1-gallon zip-top baggie. Slide the star tip in the exposed tip, add the Cool Whip, and decorate your Pina Colada Cake Trifle.
Can You Serve Your Trifle in Individual Parfait Cups?
Yes! While it will take more time to prep, feel free to layer your trifle in parfait cups or any clear glasses. The number of cups required will depend on how big your cups are, but you'll need at least 8.
If you use cups, you will need to cut the poundcake into smaller cubes than you would if you were using a large bowl.
How Long Are Trifles Good For?
One of the reasons poundcake is used in this recipe is because it is dense and won't get soggy as fast as traditional cake batter.
That being said, it will get soggy. So, try to make your trifle the same day and eat it within 3 days.
Other Tropical Recipes
If you have a tropical theme going, consider these other desserts and drinks!
Other No Bake Recipes