This pumpkin latte Jello shot recipe tastes just like a Starbucks pumpkin spice latte but has a nice boozy kick to it! You can easily make this as a Non-alcoholic treat too.
Hi Cousins! I don't know about you, but I cook and bake with pumpkin year-round. While pumpkins only grow in the fall, you can always find canned pumpkin puree and pumpkin pie mix in the grocery store. That being said, this is an ideal fall and winter holiday recipe!
Pumpkin Jello Shots: Dessert or Cocktail?
It's both! It has the consistency of Jello, but it's an alcoholic treat. It can double as a dessert or be served in addition to dessert. Even as a pre-meal treat! Most guests will want at least 2, so plan accordingly. 
Pumpkin Jello Shots Ingredients and Shopping List
Water—you'll need both cold and boiling water, tap water or bottled.
Gelatin—4 packages of unflavored gelatin.
Sweetened condensed milk—for ultra-creamy shots.
Vanilla—extract or pure vanilla.
Canned pumpkin pie filling—to give these shots their festive spice.
Pumpkin Spice Baileys—for more pumpkin and for the boozy kick.
Coffee—brew your coffee in advance so it has time to chill.
Garnish—whipped cream and a sprinkle of cinnamon or pumpkin pie spice.
Supplies Needed to Make Pumpkin Jello Shots
Measuring cup
Measuring spoons
Coffee maker
Medium bowl
Whisk
Reusable or disposable condiment cups
Optional: cookie sheet to transfer in and out of the fridge, a decorative or tiered tray to display your shots, and straws, toothpicks, or tiny spoons to release the shots.
Tips, Tricks, & FAQs for Pumpkin Latte Shots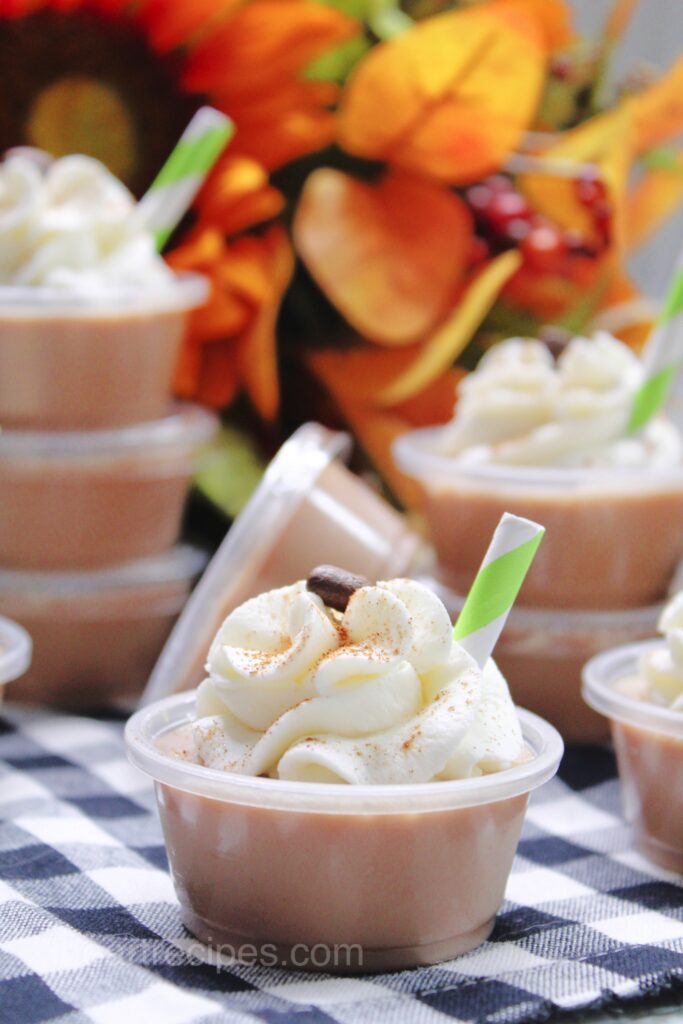 What if I only have canned pumpkin?
If you only have pumpkin puree, add 2 teaspoons of pumpkin spice pie mix to this recipe. You can make your spice blend own with this Fresh-Grated Pumpkin Spice Mix Recipe, or mix your own with dry spices:
3 tbsp. ground cinnamon
2 tsp. ground ginger
2 tsp. nutmeg
1 1/2 tsp. ground nutmeg
Label and store in an airtight container to use for future recipes!
Can I use Espresso or cold brew in these pumpkin latte Jello shots?
Yes! Brew your coffee any way you like, including with a standard coffee maker or French Press. If you prefer a more intense coffee flavor, feel free to use espresso or cold brew coffee. Or brew with more coffee grounds than usual. Just don't increase the amount of coffee in the recipe or your shots won't solidify.
What do I serve my pumpkin latte Jello shots in?
You can use 2-ounce disposable or reusable condiment cups of any kind. So that your Pumpkin Latte Jello Shots look like a miniature latte, consider using 1.5-ounce condiment cups that are taller than they are wide—so they look like tiny to-go coffee cups. 
How do I pour into the shot cups without making a mess?
There are a few hacks that will minimize the mess when transferring the mixture from the mixing bowl to the shot cups.
Use a mixing bowl with a built-in pour spout or use a soup ladle to minimize the mess.
Place the condiment cups on a tray or baking sheet before you pour. This will catch any spills and minimize spills when transferring your shots to the refrigerator.
Why the mini straw?
Cutting a straw in thirds completes the latte look and feel. While you can't drink this shot through the straw, the straw can be used to release the shot from the cup. Encourage guests to slide the straw around the sides of the cup to release the gelatin. Or provide toothpicks or miniature spoons to release the shots.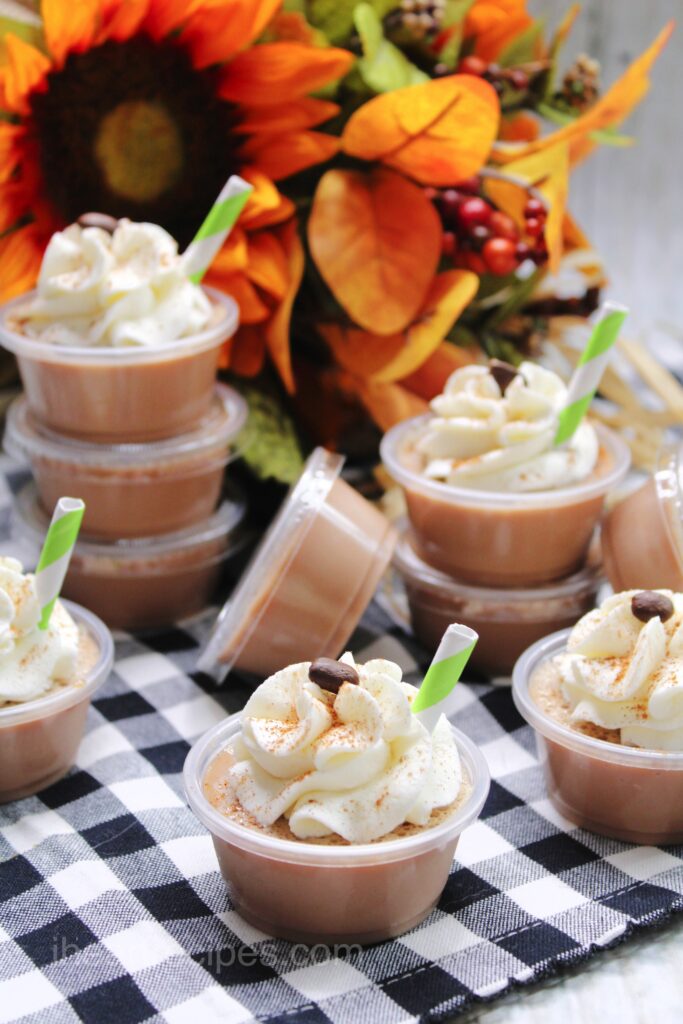 Can I double this Pumpkin Jello shot recipe?
Yes! This recipe makes 12 individual shots. If you'll be serving a crowd, feel free to double the recipe. Once they firm up, they stack nicely in the fridge, so they don't take up as much room as a punch bowl.
How far in advance can I make Jello shots?
You can make these 2 to 3 days in advance. Just be sure to put a lid on after they firm up. If your shot cups don't have lids, you can place plastic wrap on top and stack them inside an airtight container. Wait to garnish before serving.
What's the best way to serve Jello shots?
Another reason to prep these on a serving tray or cookie sheet is so that you can transfer them to your serving table—or walk through the room with them. To save space on your serving table, these stack beautifully on a tiered tray.
If your condiment cups have a lid, toss them in a bag with your canned whipped cream and take them as your BYOB drink or potluck dessert!
How to Make Non-Alcoholic Pumpkin Latte Jello Shots
Just omit the Baileys so kids, designated drivers, and those who won't be drinking can have some too.  You can also make pumpkin spice latte or frappe, which everyone will love:
Pumpkin Latte Shots Recipe Variations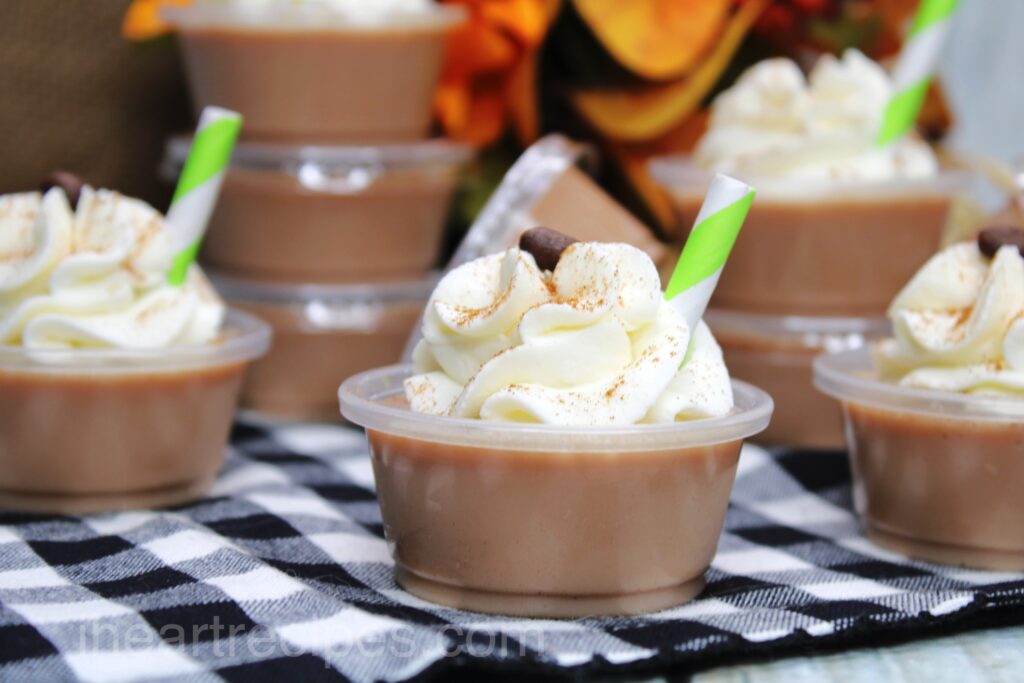 I always encourage you to make recipes your own. Here are a few quick tips:
Coffee: brew espresso or cold brew for a more intense coffee flavor or use more coffee grounds when brewing with a French press or standard coffee maker.
Add more liquor: swap the coffee for a coffee-flavored liquor, like Kahlua. Just be mindful that the shots will be much stronger.
Garnish: I like to top these Pumpkin Latte Jello Shots with canned whipped cream as it holds its shape longer than hand-whipped cream. Sprinkle with cinnamon or pumpkin spice blend.
More Easy Jello Shot Recipes
If you want to make a mix of shots or want to explore your options, try one of these recipes:
Seasonal and Year-Round Pumpkin Recipes 
The recipes below are fun to incorporate in the fall, but they are so good your family will be asking for them year-round!
Loved this recipe? Be sure to share + save it on Pinterest! Don't forget to tag and follow me on Facebook, Instagram, and Pinterest, subscribe to I Heart Recipes on YouTube, and check out all my cookbooks!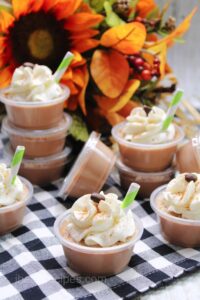 Pumpkin Latte Jello Shots Recipe
All the flavors of Fall in one delicious Jello shot! These Pumpkin latte shots are perfect for any fall party and taste just like a Pumpkin Spice Latte!
Print Recipe
Pin Recipe
Ingredients
1

cup

cold Water

4

packages of unflavored Gelatin

2

cups

boiling Water

2

cans of Sweetened condensed milk

1

tsp.

Vanilla extract

1

tbsp

Canned Pumpkin Pie filling

½

cup

Pumpkin Spice baileys

½

cup

chilled Coffee
Instructions
In a medium-sized bowl, add 1 cup cold water and gelatin packs.

1 cup cold Water,

4 packages of unflavored Gelatin

Whisk to combine.

Set to the side for 7 minutes.

Add the boiling water to the gelatin.

Whisk until dissolved.

Add the sweetened condensed milk, vanilla extract, pumpkin pie filling, coffee, and pumpkin liquor, to the gelatin mixture.

2 cans of Sweetened condensed milk,

1 tsp. Vanilla extract,

1 tbsp Canned Pumpkin Pie filling,

½ cup Pumpkin Spice baileys,

½ cup chilled Coffee

Whisk until combined.

Set to the side for 15 minutes.

Pour into your plastic portion cups until full.

Refrigerate for 2 hours.

Top with Whip Cream.
If you loved this recipe,
leave me a review below
. This helps future recipe makers and ensures continued high-quality recipes for years to come!
© 2023 I Heart Recipes