A 2-in-1 boozy dessert that will satisfy your sweet tooth and give you a little kick! It's perfect for strawberry lovers. 
This post may include affiliate links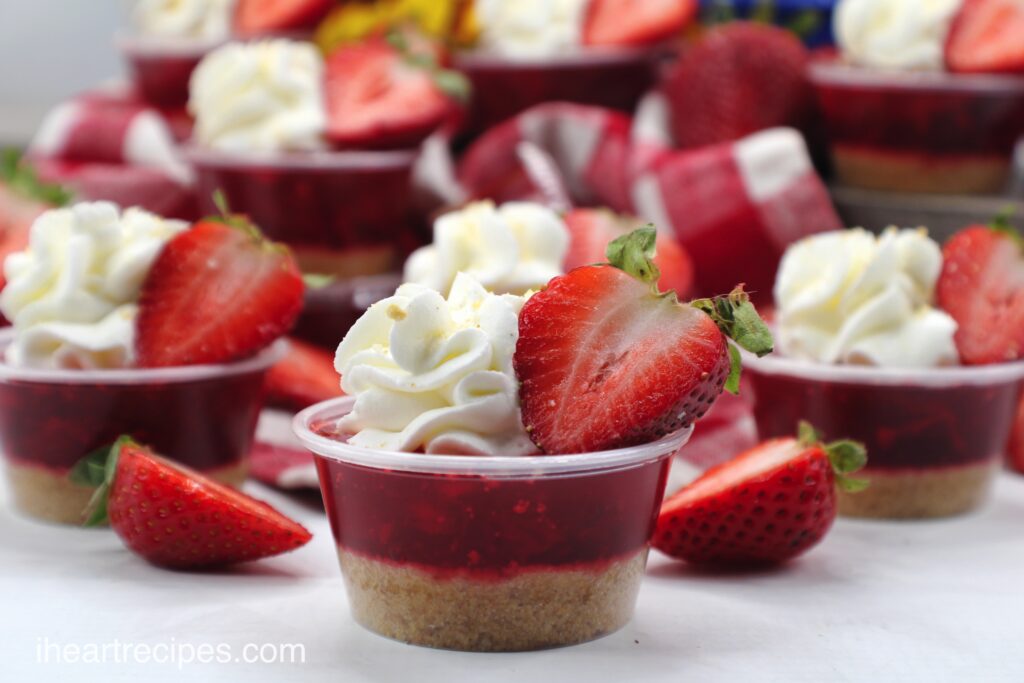 Jello shots are one of my favorite ways to serve alcohol to a crowd. This recipe is super simple, can be prepared in advance, and they don't take up too much room in your fridge—or on your serving table!
Hi cousins! Ready to make this infused dessert? Let's take a quick look at the history of Jello shots before we dive into the recipe.
Who Invented Jello Shots?
How, when, and who created Jello shots isn't crystal clear. Gelatin has been around since the 1800s, and the Jello we know and love today peaked in popularity in the 1950s. Countless Jello recipes were created, both sweet and savory. An 1862 book (last reprinted in 2013), How to Mix Drinks, or The Bon Vivant's Companion by Jerry Thomas featured an alcohol-infused punch jelly that is the Jello shot's predecessor. Jello shots really took off in the 1950s when Musician, Scientist, and US Veteran Tom Lehrer found a sneaky way to bring alcohol to his naval base Christmas party—he added vodka to Jello and the modern Jello shot was invented!

Pie Shell Ingredients
¾ cup graham cracker crumbs—you can crush your own graham crackers, but it's faster to just buy crumbs.
¼ cup sugar—standard white sugar is best for this recipe.
3 tbsp. butter melted—salted or unsalted, whichever you have in your fridge.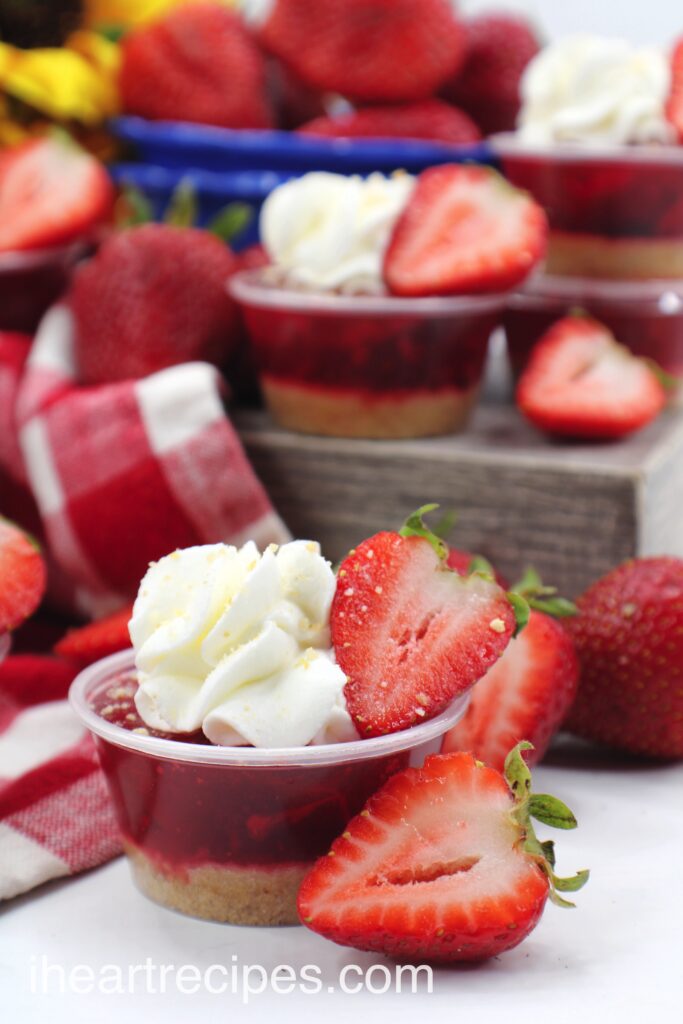 Strawberry Filling
1 package of Strawberry Jello—I don't know about you, but strawberry is one of my favorite Jello flavors!
1 cup boiling water—boil on the stove or in the microwave, whichever is easier.
1 cup strawberry pie filling—I use canned strawberry filling. Most cans have enough to double this recipe. You can freeze the leftover filling for up to 3 months.
½ cup Strawberry cream liqueur—this gives your Jello shots a creamy texture. Chill your strawberry cream liqueur to speed up the setting time.
½ cup Whipped Cream flavored Vodka—whipped cream vodka is lighter and sweeter than standard vodka.
Garnishes—garnish with whipped cream and sliced strawberries.
Supplies
Measuring cups
Whisk
Medium pot to boil water
Medium mixing bowl
Mixing spoon
Disposable or reusable 2-ounce condiment cups
Optional: cookie sheet to transfer in and out of the fridge, a decorative or tiered tray to display your shots, and toothpicks or tiny spoons to release the shots.
Pro Tip: use a mixing bowl with a spout so that it is easier to transfer the infused mixture into the shot cups.
Chill Your Liqueur
Non-infused Jello recipes call for boiling water to dissolve the gelatin, and cold water to speed up the setting time. Since this recipe only has boiling water, you will need to chill the strawberry liqueur and whipped cream vodka. You can chill the strawberry pie filling too.
Why The Graham Cracker Crust?
Most Jello shots are crustless, but I like to mix things up! This is a fusion of 3 fan favorites—a creamy strawberry pie, Jello, and alcohol. It's a fun treat that you and your guests will enjoy. Always be mindful when consuming alcohol-infused desserts, as the alcohol can sneak up on you!
You can still serve wine, beer, and other cocktails—but these shots give you an elevated and easy option that doubles as dessert.
If you want, you can make it without the graham cracker crust, but I promise it's worth the extra few minutes!
What to Serve Your Strawberry and Cream Pie Jello Shots In?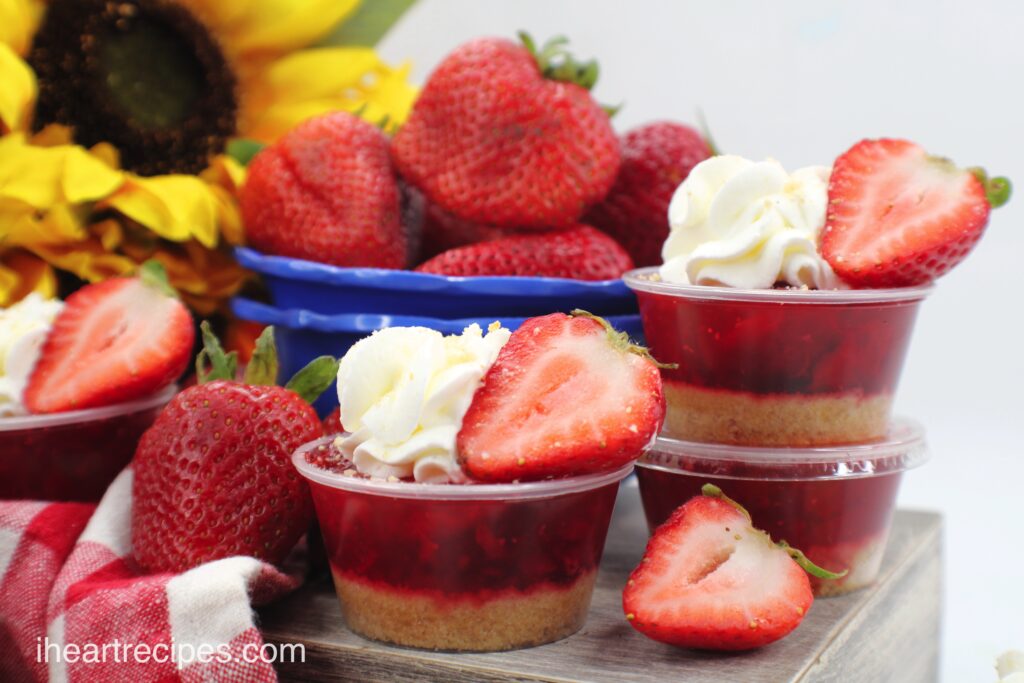 I like to serve Jello shots in 2-ounce condiment cups that you can buy at the Dollar Tree! You can also purchase disposable or reusable condiment cups online. Disposable makes clean-up easier. And yes, you can find biodegradable condiment cups!
You can also buy quick-release condiment cups, but they don't work as well with the pie crust in this recipe.
Prep On A Cookie Sheet or Serving Tray
This recipe makes 16 2-ounce Jello shots. I like to spread my condiment cups out on a cookie sheet or serving tray. This catches any spills when pouring your infused mixture into the condiment cups—which you are likely to have with the chunks of strawberry in the pie filling.
Prepping your shots on a sheet pan also makes transferring them to the fridge fast and easy.
Chill For 2 Hours
Even with their miniature size and chilling the liqueur beforehand, it will take 2 full hours for your shots to chill. Once chilled, pop the lids on (if you haven't already) and stack your shots to maximize space in your fridge.
Can I Make My Jello Shots in Advance?
Yes! Unlike most mixed drinks and infused party punch, this recipe can be made 3 to 5 days in advance. And, once chilled, they don't take up as much room in your fridge as a punch bowl or pitcher. Stack in the fridge in a container, in a drawer, or on a shelf.
Garnish Before Serving
You can serve these without garnishing, but I'm all about the presentation! You can pre-slice a few strawberries earlier in the day (or 3 to 4 days in advance, but the fresher the better). Store the slices in an airtight container. If the strawberries are small, you don't need to slice them.
Once you are ready to serve, garnish with whipped cream and strawberries.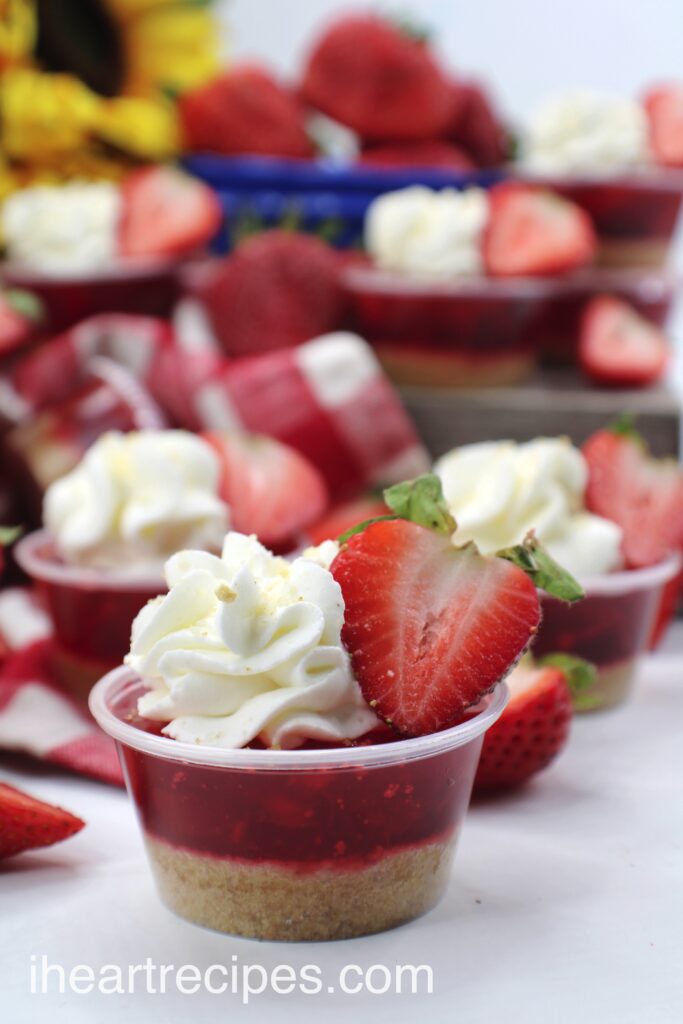 Serve Immediately
While the shots will stay good out of the fridge for a couple of hours, the whipped cream will melt—so serve ASAP. Most of your guests will want 2 or more, so feel free to double this recipe!
How to Release Jello Shots From the Condiment Cups?
The best way to enjoy your Strawberry and Cream Pie Jello Shots is to have a balanced mix of Jello and the graham cracker crust. Squeezing the sides of the condiment cups will help to release the Jello. Make it easier for your guests by keeping toothpicks or small spoons on your serving table.
Just run the toothpick or spoon around the edges of the cup to release the Jello or use the spoon to spoon it out. Espresso spoons work great!
Do you love Jello Shots & Cocktails? If so check out my Blue Malibu Breeze Jello Shot , and my Pink Moscato Lemonade !

Print this recipe, and be sure to share on Pinterest!
Strawberries & Cream Pie Jello Shots
Print Recipe
Ingredients
Strawberry Filling
1

package of Strawberry Jello

1

cup

boiling water

1

cup

strawberry pie filling

I used canned

½

cup

Strawberry cream liqueur

chilled

½

cup

Whipped Cream flavored Vodka

chilled
Instructions
Crust layer:
Combine the ingredients for the crust in a medium bowl and mix until combined. Use a tablespoon and scoop the crust and place in each cup.

Use your fingers to press the crust down into the cups. Be sure to create a firm even layer.
Strawberry Pie filling:
In a medium sized saucepan bring water to a boil.

Add the strawberry jello to the boiling water and mix until dissolved. Set to the side for 5 minutes.

Add the strawberry pie mix, and stir to combine.

Add the strawberry liqueur, and whipped cream vodka, and stir to combine.

Pour the mixture on top of the crust and fill to the top.

Place in the refrigerator for 2 hours until firm.

Top with whip cream and garnish with fresh strawberries.

Serve, and enjoy
If you loved this recipe,
leave me a review below
. This helps future recipe makers and ensures continued high-quality recipes for years to come!
© 2023 I Heart Recipes