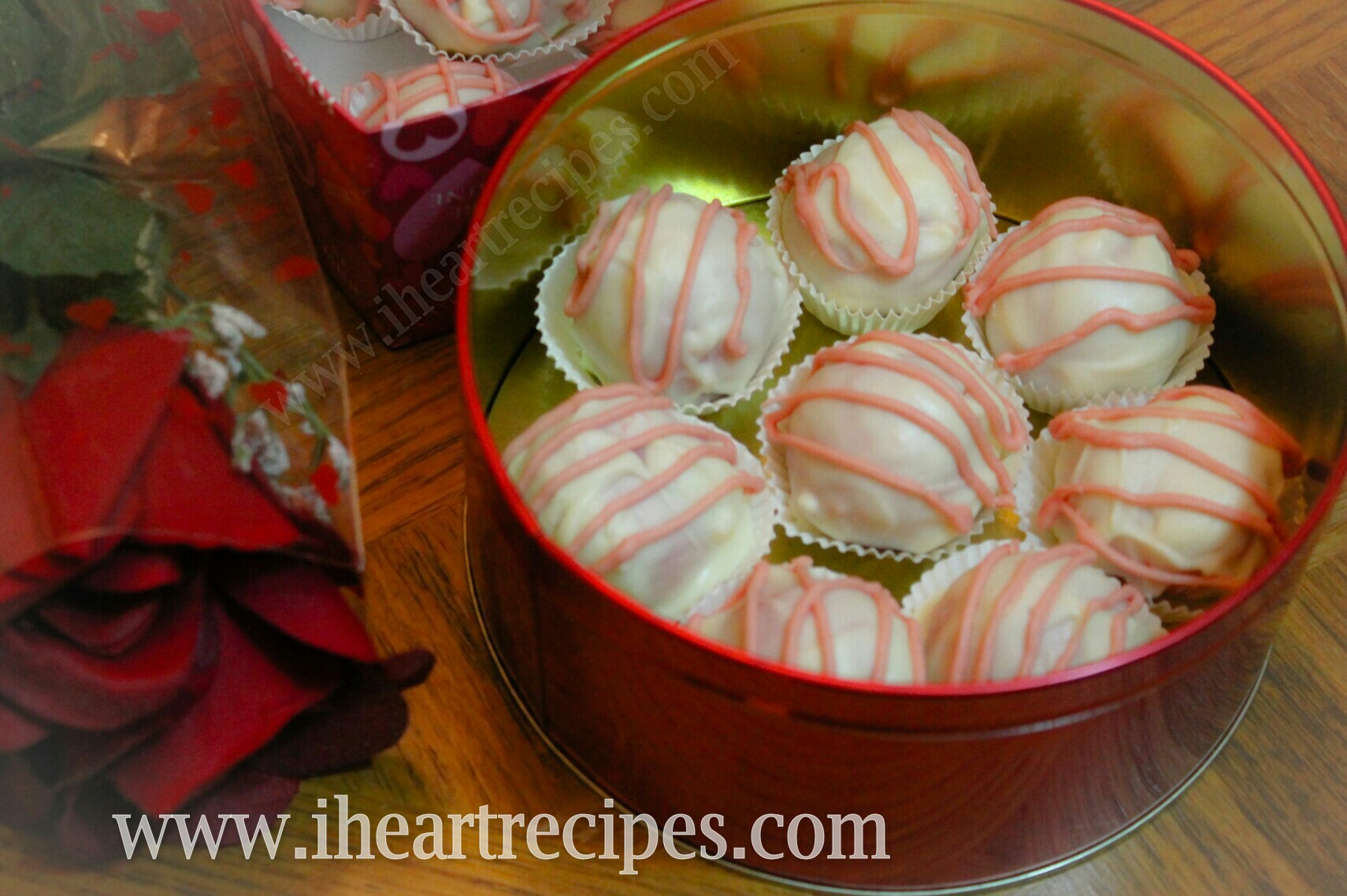 Easy Strawberries and cream cake truffles recipe for Valentines Day!
Well hello sweethearts! Valentines day is approaching, and I have another sweet recipe for you to enjoy. I made these delicious strawberries and cream cake truffles, and my family absolutely went nuts. Wanna know something even better? I was even able to enjoy them ( I'm allergic to strawberries! 🙁  ..). Now I know you're wondering how in the world I was able to eat this right? Easy! I used Pillsbury's Strawberry Cake mix, which is actually artificially flavored, but taste pretty damn good if I do say myself! To add even more strawberry flavor, I added a package of strawberry Jello. It was AHH-Mazing y'all! If you're one of those lucky people that can eat strawberries, you can add diced strawberries to the cake batter, and I'm sure that will be freaking delicious!  Let me show you show I made these strawberries and cream cake truffles!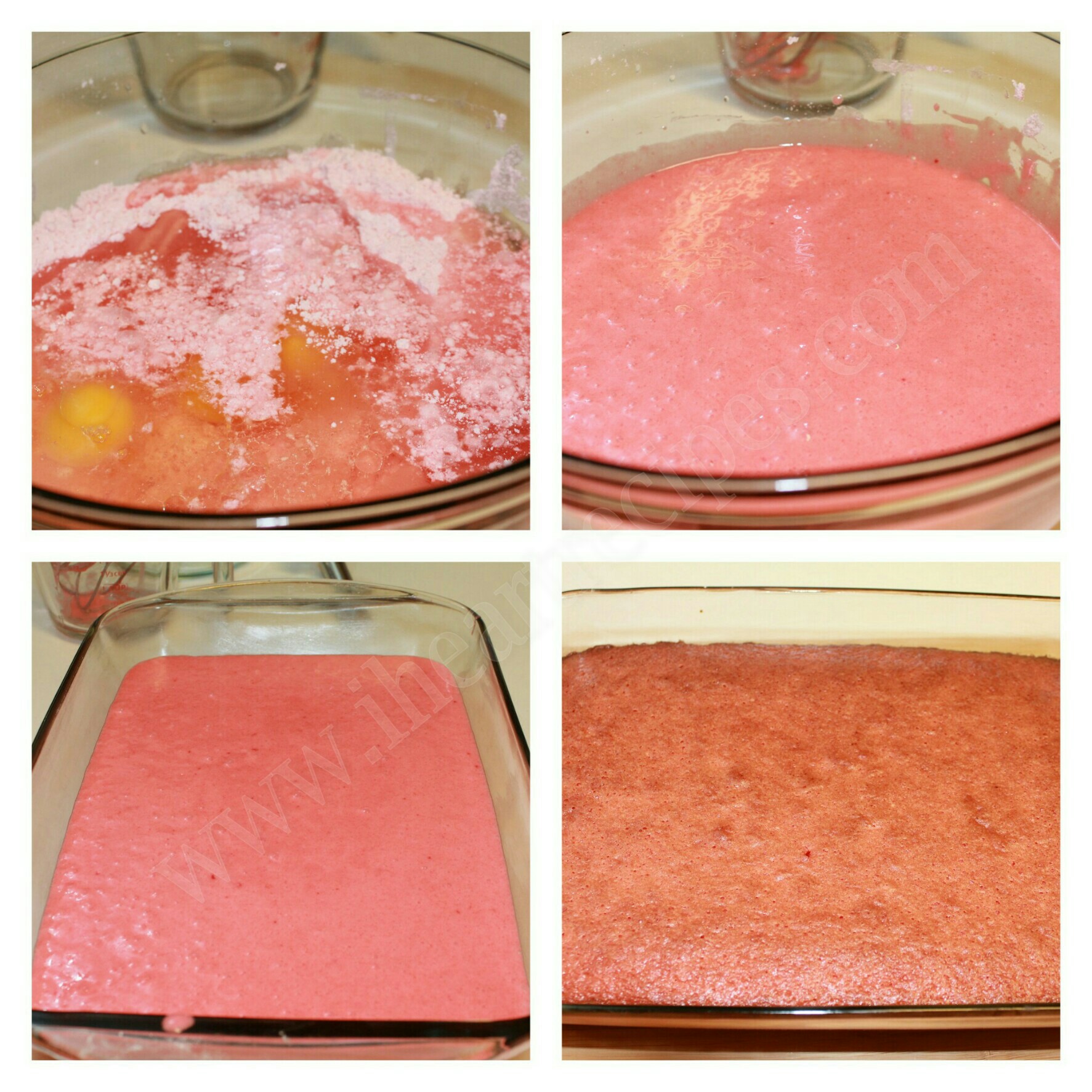 I started off by grabbing my large mixing bowl and adding in the strawberry cake mix, strawberry Jello powder, eggs, vegetable oil, and water. I then mixed everything until it was well incorporated, and lump free. I then lightly oiled a 9×13 bake dish, and poured in the cake batter. The cake was baked on 350 F, for 35-40 minutes.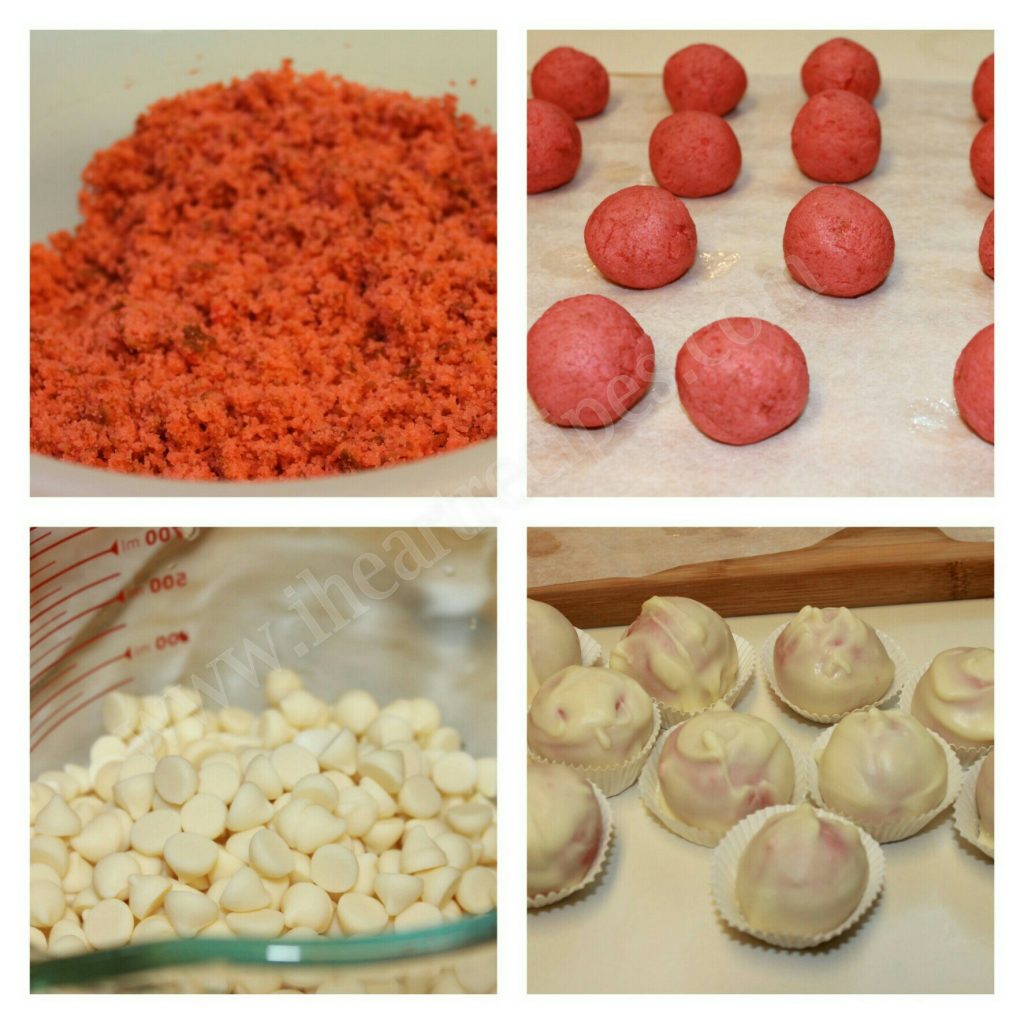 once I removed the cake from the oven, I let it cool completely, then I crumbled it, and placed the cake crumbs into a large bowl. I added cream cheese frosting into the bowl with the crumbled cake, and mixed everything until it was almost like play dough ( easy to form a balls). I then scooped out the cake, and rolled it into small balls. I dipped the cake balls in melted vanilla chips,and placed the dip cake balls in mini cupcake cups. Next, I let the vanilla harden.
Once the vanilla hardened, I designed my truffles to my preference, and placed them into tin cans, and Valentine themed treat boxes!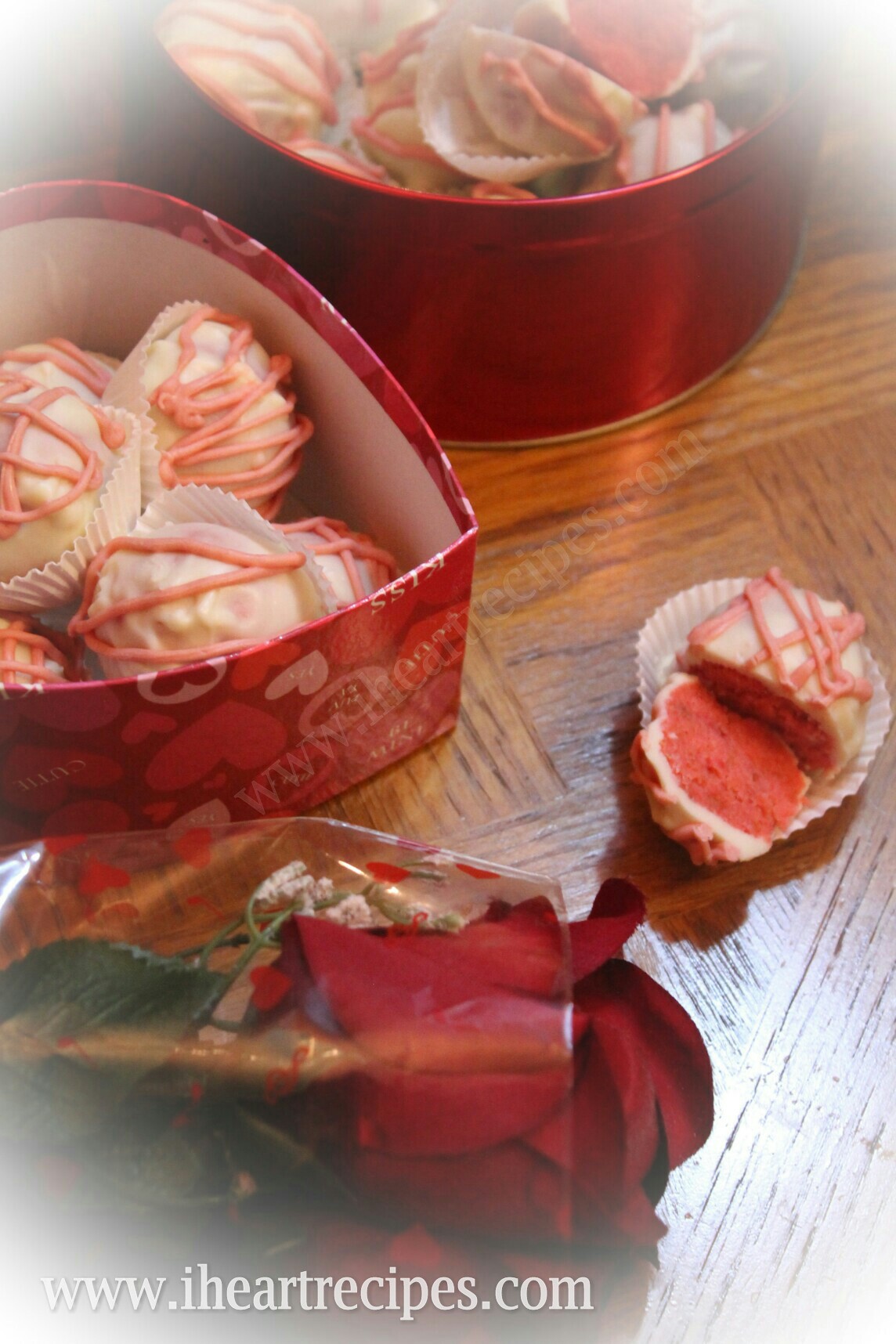 Seriously, these strawberries and cream cake truffles were super easy to make, and we absolutely loved them! You can make these truffles for yourself, your sweetheart, or even make them as a family on Valentines day!
Check out my video tutorial
Strawberries and Cream Cake Truffles
Sweet truffles made with store-bought strawberry cake. A simple sweet treat that's perfect for a Valentine's Day party.
Ingredients
1

box of Pillsbury's Strawberry cake mix

3

eggs

1/2

cup

vegetable oil

1

cup

water

0.6

oz

package of strawberry Jello

You will also need

1

cup

cream cheese frosting or vanilla frosting

2

cups

of vanilla chips

1-2

tbsp

vegetable oil

2-3

drops of red food coloring
Instructions
Preheat the oven to 350 F.

Combine the cake mix, and jello mix into a large bowl. Whisk until well incorporated.

Add in the eggs, 1 cup vegetable oil, and water. Mix until well combined.

Pour the cake batter into a lightly greased/oiled 9x13 bake dish.

Bake in the oven for 30-35 minutes.

Remove the cake, and let it cool completely.

Once cool, crumble the cake into a large bowl.

Add in the frosting, and mix until everything is well incorporated, and resembles dough.

Scoop out the mixture, and form into small balls.

Melt down the vanilla chips ( I microwaved in 15 sec increments).

Once the vanilla chips are melted, and 1-2 tbsp of vegetable oil( to thin out), and mix until well combined.

Dip the cake balls into the vanilla, then place into mini cupcake cups.

Let them sit until the vanilla hardens ( you may place them in the refrigerator).

Once all the cake balls are dipped, add red food coloring into the remaining melted vanilla.

Mix until its all one color.

Drizzle the cake balls with the pink vanilla.

Let harden, then place in desired can or box.
Video