If you love Snickerdoodle cookies and boozy desserts these Snickerdoodle Jello Shots will be your new favorite!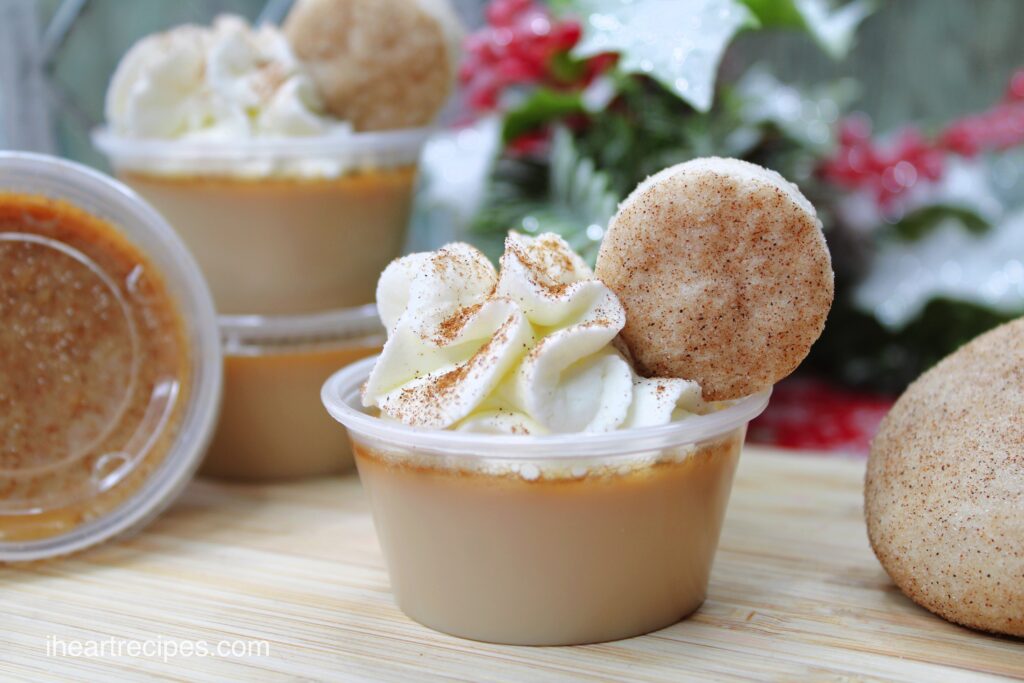 Cousins if you've been following me for a while, you know I love to fuse recipes! These Snickerdoodle Jello Shots are an elevated take on traditional Jello shots, and they double as dessert. They are perfect for year-round holidays, parties, and potlucks—or any time you want to mix things up.
Why a Jello shot?
If the first thing that comes to mind when you think of Jello shots is college parties, think again! There's a new generation of Jello shots that are so much more than adding liquor to flavored gelatin. My recipes have intense flavor and give you the boozy buzz you crave from a cocktail.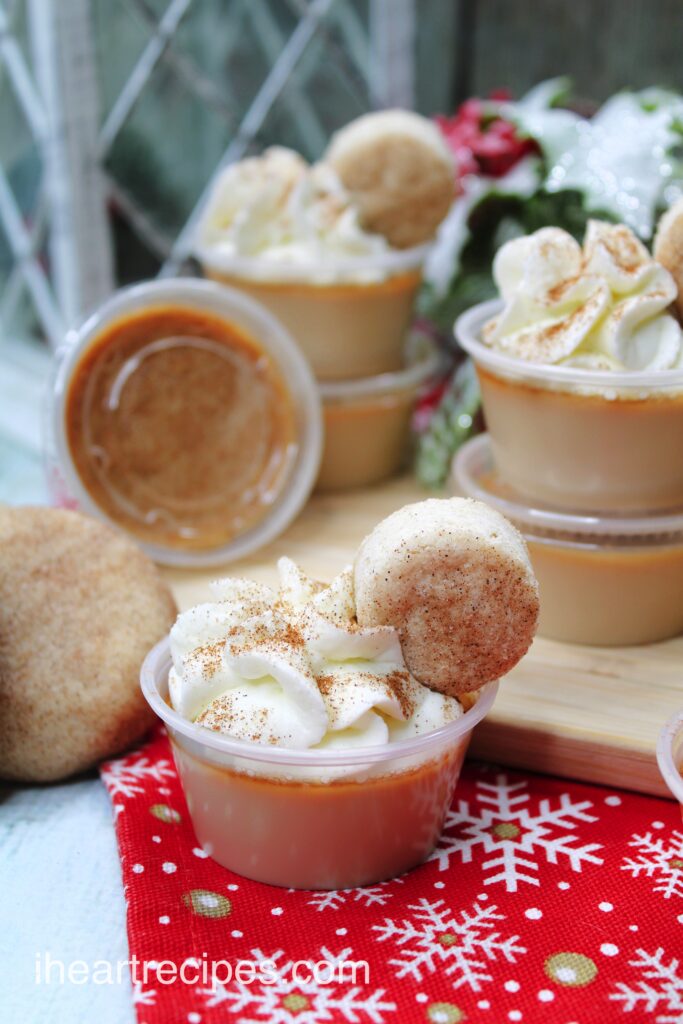 Not to mention, this recipe:
Can be made 2 to 3 days in advance.
Is easy to bring as your BYOB.
Is spill-free once the gelatin has set.
Doesn't take up much room in the fridge.
Is crowd-pleasing and delicious.
The fun and surprising history of Jello shots!
It's not entirely clear who created the Jello shot. What is clear, is when they became popular. Gelatin has been used for both sweet and savory recipes since the 1800s. A somewhat similar alcohol-infused punch jelly was featured in the 1862 book (last reprinted in 2013), How to Mix Drinks, or The Bon Vivant's Companion by Jerry Thomas. The shot we know and love today was created in the 1950s when Musician, Scientist, and US Veteran Tom Lehrer found a sneaky way to bring alcohol to his naval base Christmas party. This innovative way of disguising alcohol took off and remains popular today!
How to Make Snickerdoodle Jello Shots
Grocery List
Water—both cold and boiling tap or bottled water.
Gelatin—4 envelopes of Knox gelatin.
Alcohol—Bailey's Irish Cream, Butterscotch Schnapps, and Kahlua Coffee Liqueur.
Garnish—canned whipped cream and cinnamon.
Supplies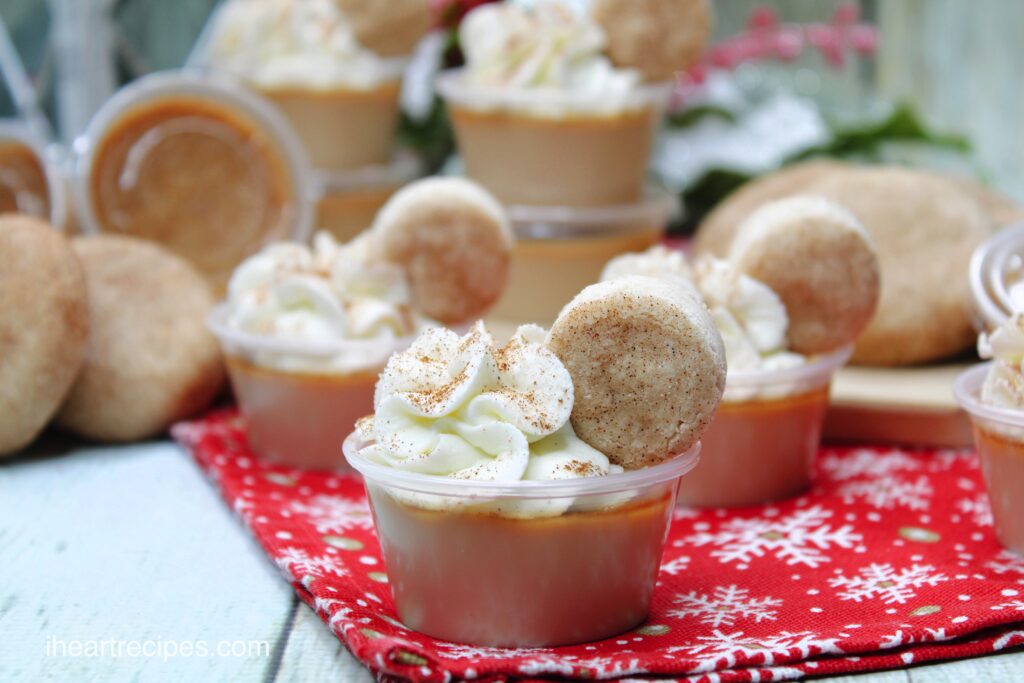 Measuring cups
Measuring spoons
Coffee maker
Medium bowl
Whisk
Reusable or disposable condiment cups
Optional: cookie sheet to transfer in and out of the fridge, a decorative or tiered tray to display your shots, and straws, toothpicks, or tiny spoons to release the shots.
Is this recipe considered a dessert or a cocktail?
It's both! This Snickerdoodle Jello Shots recipe is perfect as a sweet after-dinner (or any time of day) dessert. It's also a cocktail that contains both alcohol and a coffee kick. You can bring it as your BYOB to parties or as your potluck alcohol or dessert. Most guests will want at least 2 shots, so plan accordingly.
Just be mindful that the liquor will sneak up on you!
Do these really taste like Snickerdoodles?
Don't let the butterscotch schnapps and the hint of coffee in the Kahlua throw you off—these taste like the real deal. The liquors blend together to give you the flavor of a Snickerdoodle with a creamy finish. The dash of cinnamon on the whipped cream is all you need.
What do I serve my Snickerdoodle Jello shots in?
I prefer to use 2-ounce disposable or reusable condiment cups. If you make gelatin shots often invest in ones that have lids. The lids ensure your shots are stackable in the fridge and easy to take on the go. You can even find quick-release cups designed specifically for Jello shots!
Tips for making Snickerdoodle Jello Shots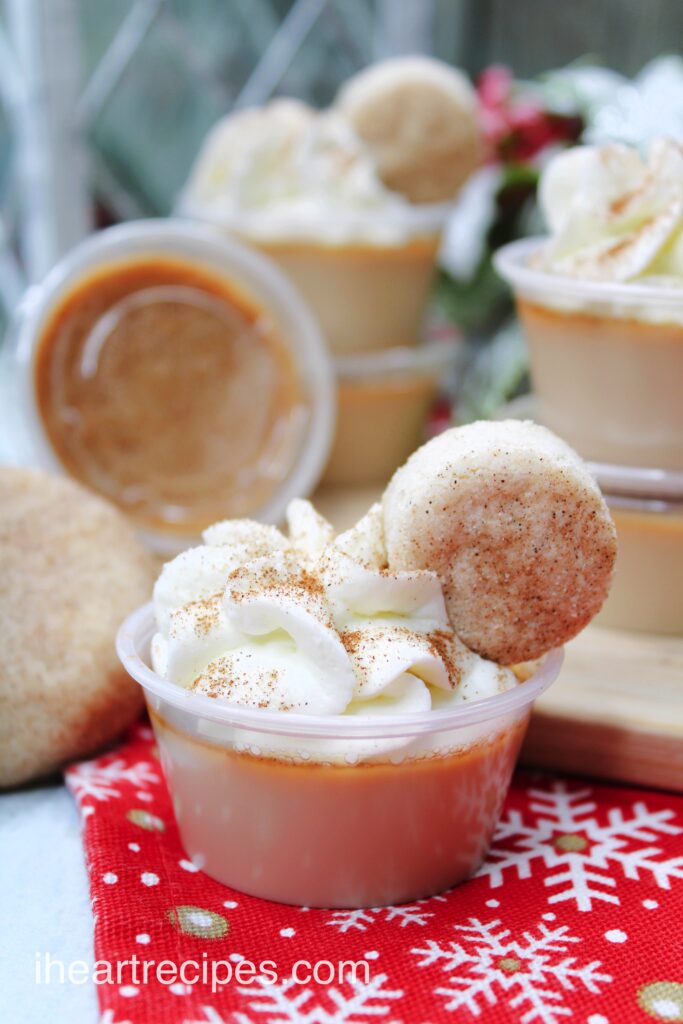 This recipe has a few more ingredients than standard Jello, but it's just as easy. Whether it's this recipe or one of my others, the tips below make it faster and easier.
Even if you don't typically keep your liquor chilled, chill it before mixing in this recipe. This will speed up the setting time.
Arrange your condiment cups on a serving tray or baking sheet before you pour the mixture in. This minimizes the mess of spills and makes it easier to transfer them in and out of the fridge.
Mix the ingredients in a mixing bowl with a spout. If you don't have a bowl with a spout, use a soup spoon to minimize the mess.
Serve directly from the cookie sheet or serving tray or place them on a tiered rack on the table. A tiered rack saves space, and once the whipped cream is added, is an enticing display.
What's the easiest way to release the gelatin from the cups?
If there's any downside to Jello shots, it's getting them out of the cups with grace. There are a few quick hacks:
Use quick-release cups designed specifically for gelatin-based shots.
Run toothpicks around the sides of each cup before the guests arrive.
Leave toothpicks on the table so that guests can do the same.
Place miniature spoons on the table to spoon them out or to release the sides.
Can I make these Snickerdoodle Jello shots ahead of time?
Yes! Feel free to make these 2 to 3 days before you want to serve them. This saves you time on the day of your dinner, potluck, or party. Garnish just before serving.
Can this recipe be doubled?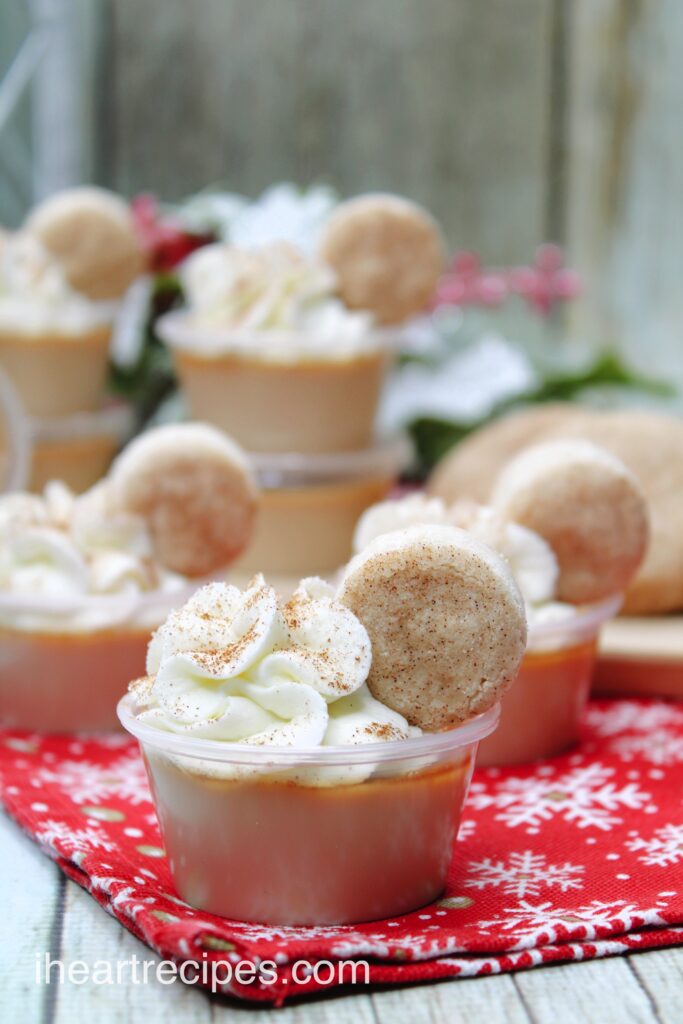 Yes! This recipe makes 12 shots. To make more, double the recipe. Just be mindful of how much space you have in your fridge while they chill. Once the gelatin has set, pop the lid on and stack them—or pop them in a crisper drawer. If you don't have lids, place a layer of plastic wrap between them before stacking.
Can I make a non-alcoholic version?
Not with this shot, but my Pumpkin Latte Jello Shots are easy to make NA.
If these Snickerdoodle Jello shots sound good, consider offering a variety of options. Other Fun Jello Shots: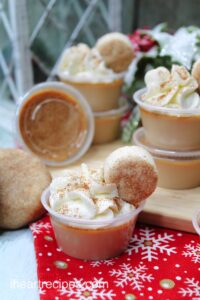 Snickerdoodle Jello Shots
Easy and delicious Snickerdoodle Jello Shots that make the perfect holiday adult treat!
Print Recipe
Pin Recipe
Ingredients
2

cups

Boiling water

4

envelopes of Knox gelatin

8

ounces

Bailey's Irish Cream

2

ounces

Butterscotch Schnapps

2

ounces

Kahlua Coffee Liqueur

1/4

cup

Cold water
Instructions
Using a large bowl, combine the Bailey's, Butterscotch Schnapps, Kahlua, and cold water.

Boil 2 cups of water in a medium size pot.

In the large bowl, whisk in 4 envelopes of Knox gelatin, stirring until combined.

Pour in the 2 cups of boiling water and stir to combine.

Pour the Jello mix evenly into the Jello shot cups.

Move the cups to the refrigerator to chill for 2-3 hours.

Just before serving, top with whipped cream and sprinkle cinnamon on top.

Serve & enjoy!!
If you loved this recipe,
leave me a review below
. This helps future recipe makers and ensures continued high-quality recipes for years to come!
© 2023 I Heart Recipes
Don't forget to tag and follow me on Facebook, Instagram, and Pinterest, subscribe to I Heart Recipes on YouTube, and check out all my cookbooks with many recipes you can't find anywhere else.