Don't let the name fool you, this is a hearty one-dish breakfast meal! It has sausage, eggs, cheese, veggies, and hashbrowns.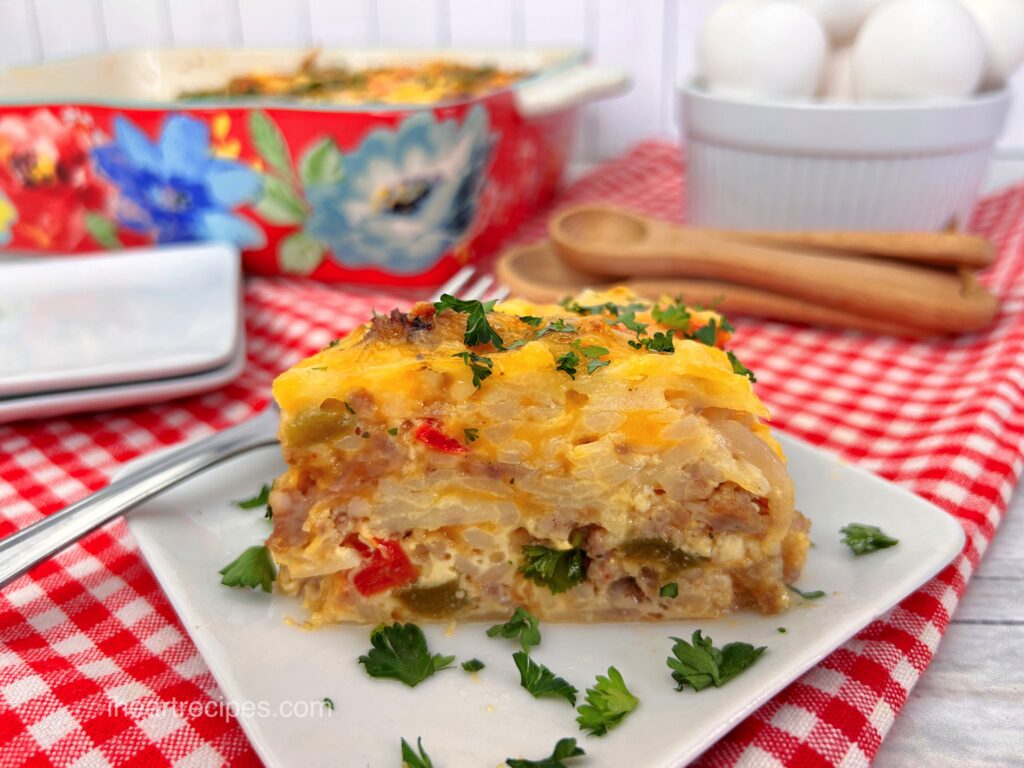 I'm back with another one-dish meal, this one's for breakfast! Ya'll know I love a dish that feeds a crowd. Even better if it can be prepped in advance. This hearty Overnight Hash Brown Casserole is ideal for large families or to serve guests. It's also perfect for serving breakfast for dinner.
Shopping List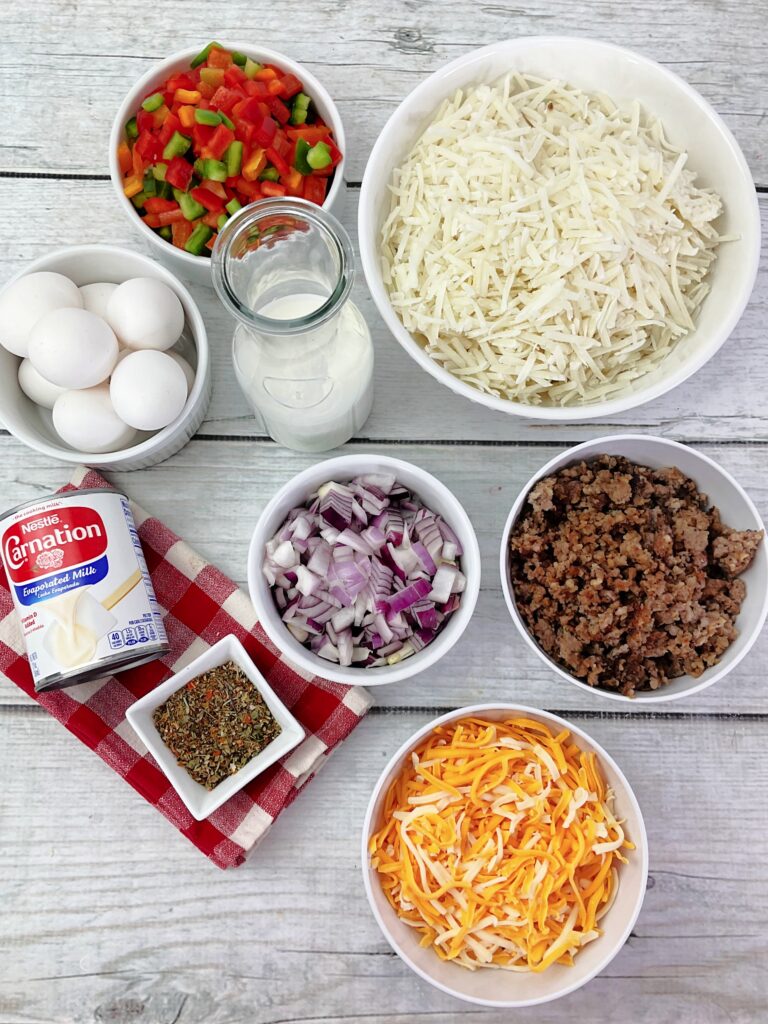 Shredded frozen hash browns — a 20 oz bag, thawed.
Hot sausage — I like things spicy, but any kind of sausage works.
Veggies — you'll need one purple onion and one red, green, and orange bell pepper.
Colby Jack cheese — 2 cups shredded cheese.
Eggs — 8 large eggs, either white or brown.
Spices — flavor with Cajun seasoning, Italian seasoning, Kosher salt, and cracked black pepper.
Supplies
Measuring cups
Measuring spoons
9×13 baking dish
Colander
Large mixing bowl
Small mixing bowl
Whisk
Cutting boards
Knives or veggie chopper
Aluminum foil
Oven mitts
Do I have to thaw frozen hash browns for casserole?
Yes! Otherwise, they will add moisture to the recipe as they defrost. This will disrupt the texture, flavor, and baking time. No worries, as defrosting hash browns is fast and easy.
In the fridge: place a colander over a bowl, then empty the frozen hash browns into the bowl. Let them sit for 2 to 3 hours in the fridge.
On the counter: place a colander over a bowl, then empty the frozen hash browns into the bowl. Let them sit for 30 to 40 minutes. You can chop and prep in the meantime.

How long can uncooked hash brown casserole last in the fridge?
This Overnight Hash Brown Casserole recipe is designed to be prepped the night before, or the morning before if you're serving breakfast for dinner. This gives the spices time to meld together for a more intense flavor.
Since the dish contains raw eggs and sausage, it must be baked within 48 hours. For ideal texture, bake within 8 to 12 hours.
And yes, if you want to serve it ASAP you can bake it without letting it sit overnight.

What pairs well with hash brown casserole?
Prep this the night before, so that you only have to prepare your beverages or side dish in the morning. This dish is hearty and filling, so a simple side or two will do.
Your options are endless, but consider:
Coffee
Orange juice
Mimosa
Chopped fruit or Fruit Salad
Toast
Storebought biscuits or crescent rolls
Something sweet

Can you freeze Overnight Hash Brown Casserole?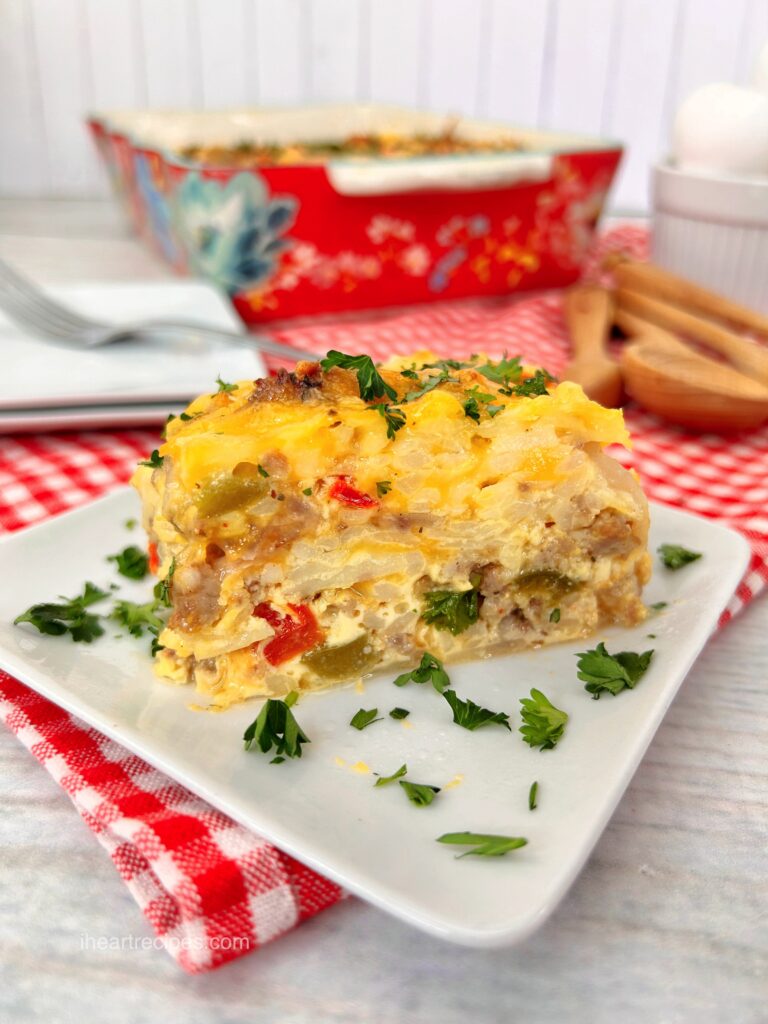 Yes! Since the sausage is uncooked, bake your casserole before freezing it. Or brown the sausage, let it cool, and add it to the recipe so that you can freeze your casserole before baking it.
While most casseroles freeze well for 3 to 6 months, since this dish contains dairy, I suggest closer to 3 months.
Freezing your uncooked casserole: Pour into a freezer-safe casserole dish with a lid or line the casserole dish with aluminum foil. Casserole dishes take up a lot of room in your freezer, and you can't use your casserole dish in the meantime. So, line the dish with aluminum foil, leaving at least 4 inches of foil on each side. Let it freeze for about 24 hours. Once frozen, lift the casserole out of the pan by the sides of the aluminum foil. Wrap fully in foil, label, date, and pop it back in the freezer.
Freezing your cooked casserole: let it cool and portion single servings into freezer-safe containers. Or wrap the entire casserole in aluminum foil before freezing.
Reheating your pre-cooked frozen casserole: if it was cooked before freezing, transfer it to an oven-safe dish and cover it with foil. Preheat your oven to 350 degrees and bake until heated to 165 degrees. Depending on your portion size, the baking time will vary, so use a thermometer to test the internal temperature.
Or defrost for 24 to 36 hours, and warm up in the oven or microwave.
Heating your uncooked frozen casserole: if it wasn't cooked first, or only the sausage was cooked, defrost for 24 to 36 hours and bake in a preheated oven at 350 degrees for 55 to 75 minutes. If it's still frozen, add at least 20 minutes more, testing with an internal thermometer until it reaches 165 degrees.
Pro tip—always place the thermometer in the center of the dish when testing the internal temperature. The center takes the longest to reach a safe temperature, so testing the sides won't give you an accurate reading.

How to store leftovers?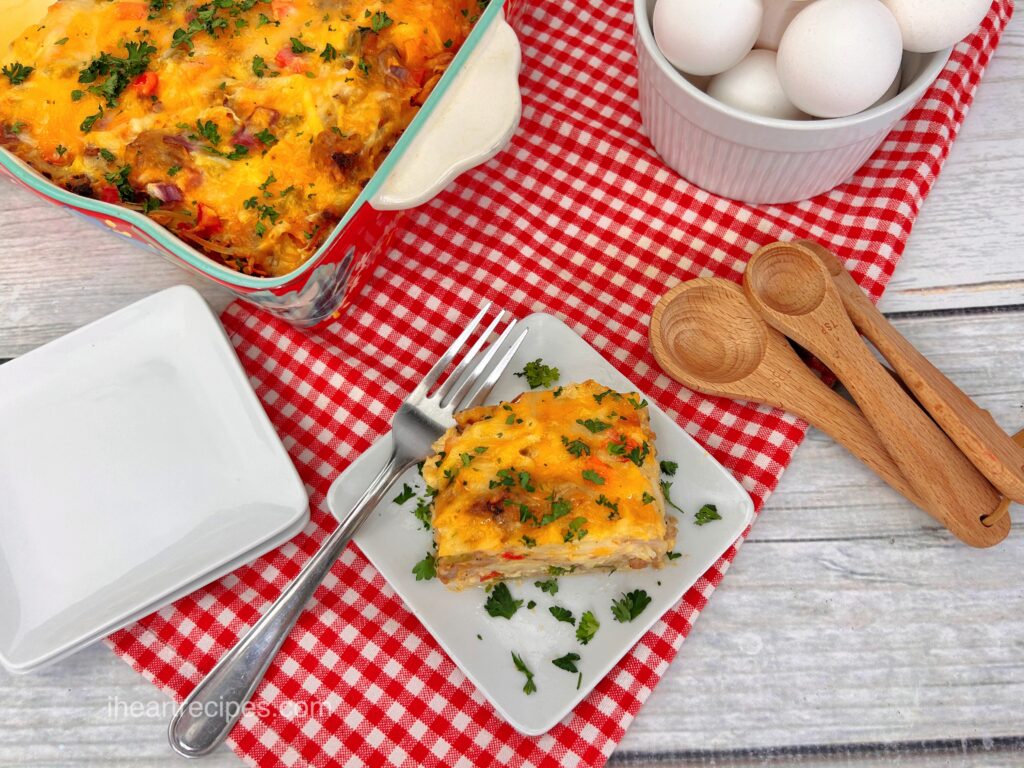 If your casserole dish has a lid, pop it on top and place it in the refrigerator. You can also cover your dish with saran wrap, aluminum foil, or a silicon baking dish lid. To save space in your fridge, transfer portions to a smaller airtight container.
Enjoy your Overnight Hash Brown Casserole within 3 days, maybe take it to work for lunch!
Reheating in the microwave: eggs can be finicky in the microwave, so reheat at 50 percent in 30 second intervals until warm.
Reheating in the oven: preheat your oven, toaster oven, or air fryer to 350 degrees and bake until heated through. The smaller the portion, the faster it will reheat. Small portions may reheat in 10 to 15 minutes, while larger portions may take 20 to 30 minutes.
Or eat it chilled!
Toppings and Variations
Consider the variations below to utilize your leftovers or make this dish your own!
Add garlic—dice 2 or 3 cloves of garlic and mix it in.
Swap the veggies—use any kind of onion you have on hand. You can also swap the bell pepper for any chopped veggies. If you use mushrooms, cook and cool them first as mushrooms release moisture when they cook.
Diced hash browns—if you prefer diced frozen hash browns, or that's all you have in your freezer, defrost and use those.
Swap the sausage—I love heat so I like to use a hot sausage, but you can use any breakfast sausage. You can also use one pound of cooked and chopped crispy bacon. Or substitute for a pound of diced ham or any ground meat, including Italian sausage, or ground turkey, chicken, or beef.
Sharp cheddar—give it a bit of a kick by swapping the Colby for sharp cheddar cheese.
Fresh herbs—top with your favorite fresh herbs. Chives are a top pick, as well as chopped parsley, basil, oregano, and thyme.
Toppings—top with salsa, hot sauce, Pico de Gallo, sour cream, or diced tomatoes.
Overnight Hash Brown Casserole
Print Recipe
Instructions
Spray a 9×13 baking dish with non-sticking spray.

In a large bowl, combine the hash browns, cooked sausage, purple onion, bell peppers and 1 cup of cheese.

Mix together then pour into the baking dish.

In another bowl, whisk together the eggs, evaporated milk, and seasonings.

Pour over the hash brown mixture in the baking dish.

Top with remaining cheese.

Cover with foil and place into the fridge overnight.

Preheat oven to 350 F the next day.

Bake in the oven for 55-75 minutes.

Serve immediately.
If you loved this recipe,
leave me a review below
. This helps future recipe makers and ensures continued high-quality recipes for years to come!
© 2023 I Heart Recipes