A Paradise spring salad full of red lettuce, crisp red cabbage, and plenty of juicy ripe fruit!
What's the first thing you think of when you think of paradise? I personally think of tropical fruits such as pineapple, kiwi, and juicy berries. I guess you can say that I'm a fruit-aholic, because that is truly the first thing that comes to my mind!  With me being on a salad kick, I've been eating a lot of my paradise spring salads lately. Initially, I was going to call this a fruit salad, for obvious reason. However I thought the name was so blahhhhhh. After making this salad a few times, and making  it for my mother – we BOTH agreed to call it a Paradise Spring Salad!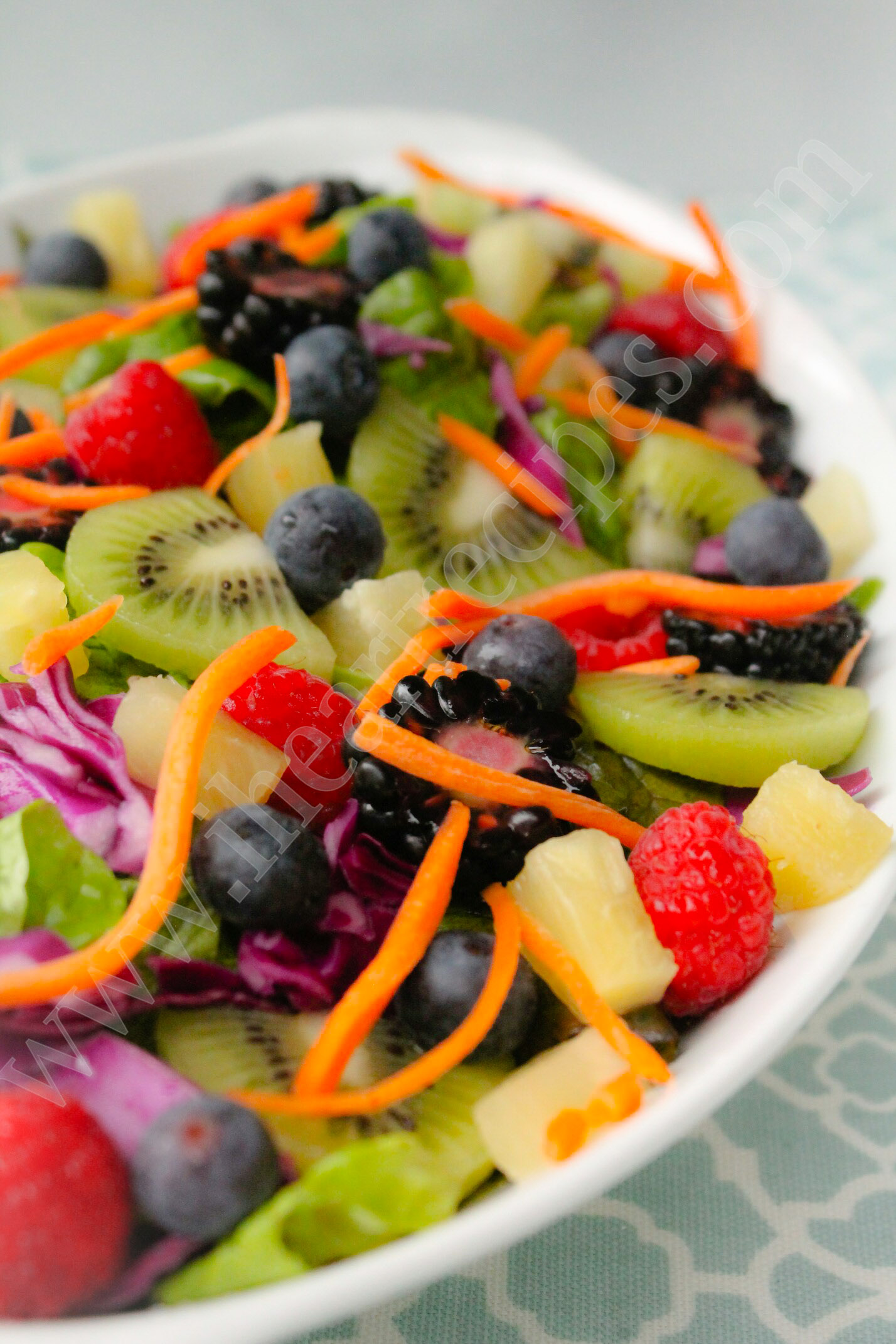 Making my paradise spring salad is super easy. The hardest thing is washing all of the fruit and vegetables. I really hate washing fruit and vegetables, because it's super boring. However, it's a much needed step! Don't skip out on it. Remember, fruits and veggies grow from the dirty, and bugs cling to them. NEVER eat fruit or vegetables without cleaning them first!
After cleaning everything I cut up the cabbage, and tore the lettuce leaves. Afterwards I tossed the two until they were well combine. The lettuce and cabbage is pretty much my foundation, and I build ( or should I say decorate) from there!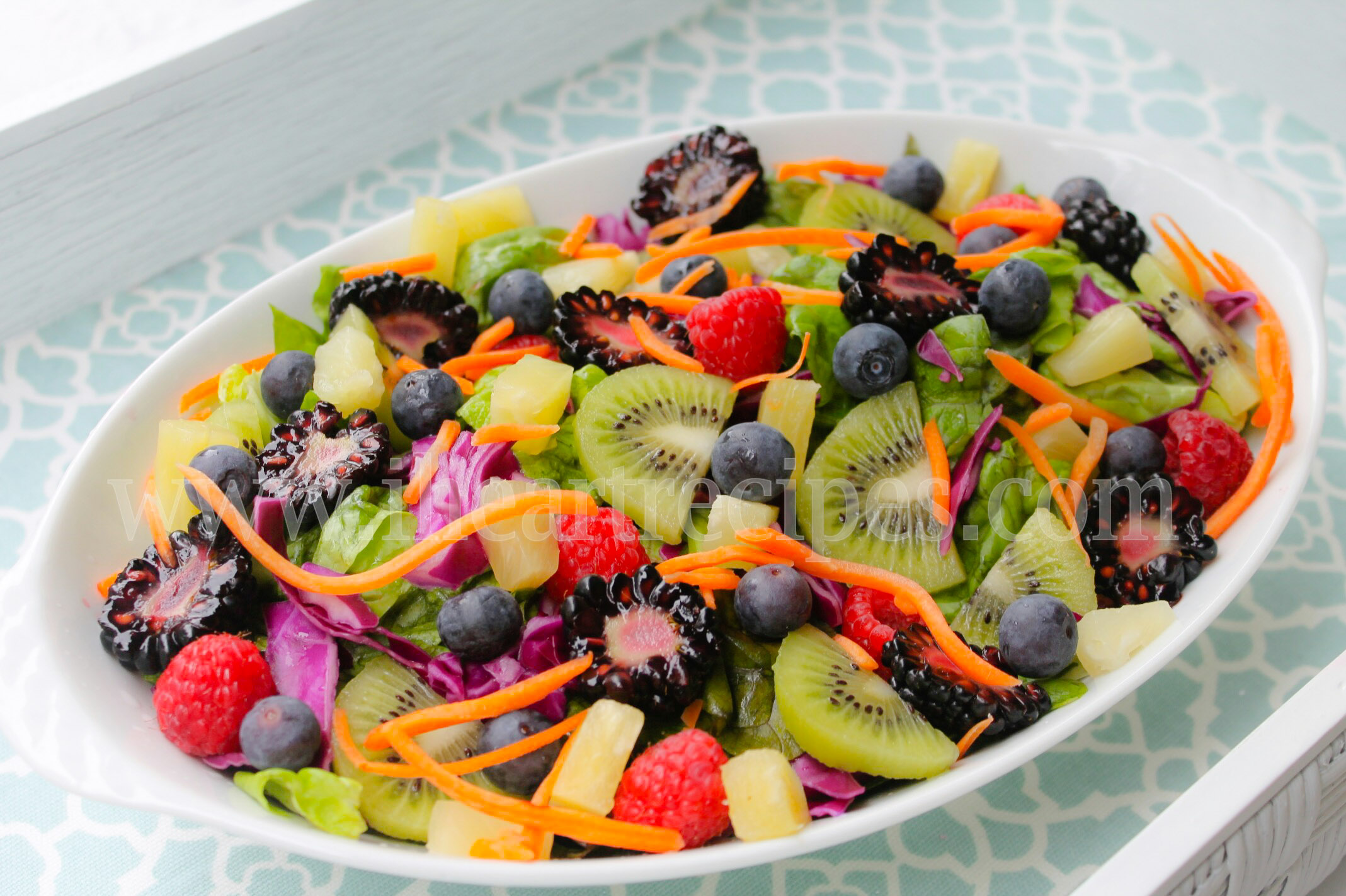 I dress up my paradise spring salad with a lot of fruit. I like using bright colorful fruit. For this salad I used
Kiwi
Pineapples
Blackberries
Raspberries
Blueberries
For added and color I also used carrot match sticks.
Need a more fruit ideas? These fruits are amazing on this salad as well!
Mangos
Raisins
Strawberries ( I'm allergic, otherwise I would have tossed them on top!)
Cherries
Watermelon cubes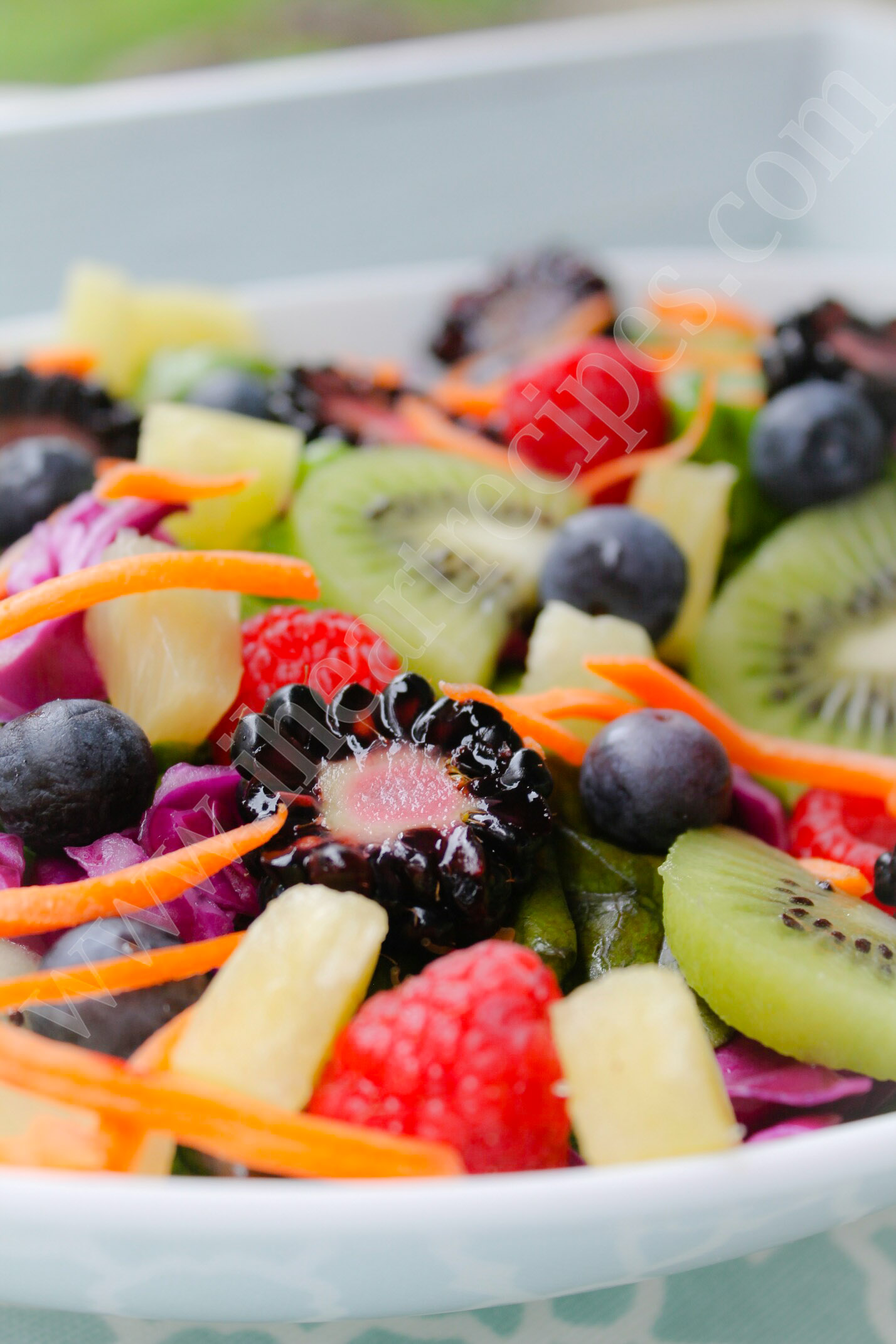 My paradise spring salad is delicious plain. However, if you'd like to pair it with a dressing I recommend a sweet Raspberry or citrus dressing.
Check out my video tutorial for this paradise spring salad!
Paradise Spring Salad
Spring salad topped with fresh kiwi, pineapples, blueberries, blackberries, raspberries, and carrots!
Ingredients
1

bunch of red lettuce

washed and torn

1 1/2

cup

red cabbage

chopped

Toppings

use as much or as little as you'd like

Blackberries

Blueberries

Raspberries

Kiwi

Pineapple

Matchstick carrots
Instructions
Make sure that you wash everything!

Toss the lettuce and cabbage.

Place the lettuce and cabbage into bowl.

Top the salad off with the fruit and carrots.
Video