This simple bake is a decadent cross between French toast and bread pudding. The aroma while it bakes will wake everyone up!
Hi cousins! Looking for a weekend brunch or holiday breakfast recipe? This Overnight French Toast Casserole is prepped the night before, so all you have to do is pop it in the oven in the morning. Fry up some eggs and bacon or ham as sides, and you're all set!
Shopping List
Brioche bread—2 loaves of this soft and fluffy French bread.
Eggs—8 large eggs, either white or brown.
Whole milk—1 ½ cups whole milk or unsweetened soy, almond, or oat milk.
Sweet Cream creamer—1 cup, use the rest to sweeten your coffee.
Brown sugar—3/4 cup of packed brown sugar.
Cinnamon—1 tablespoon for flavor and aroma.
Nutmeg—1 tablespoon for warmth and balance.
Vanilla—1 tablespoon of vanilla extract or pure vanilla.
Toppings—I top with vanilla icing, whipped cream, and powdered sugar. This recipe is already sweet, but some guests may want maple syrup.
Garnish—fresh mint, strawberry, or berries of choice.
Vanilla Icing:
Powdered sugar—2 cups for sweet icing.
Whole milk—2 tablespoons of whole milk or unsweetened non-dairy milk.
Vanilla extract—you can use pure vanilla.
Supplies
Measuring Cups
Measuring Spoons
Cutting board
Bread knife or serrated knife
Large baking dish
Oven mitts
Non-stick baking spray
Large bowl
Medium bowl
Whisk
Aluminum foil—if your baking dish doesn't have a lid
Is French toast really French?
Just like French fries aren't French cuisine, French toast isn't either. However, it was popularized in America by French immigrants. In France, it's referred to as "pain perdu", which translates to "lost bread". While today's recipes call for fresh bread it was initially an innovative way to use stale bread.
Lost bread dates back to ancient Rome during the 15th century. Romans would dip bread in milk and/or eggs before frying it to create what they called "pan dulcis", which also translates to "lost bread". It was a favorite of Henri V and his court, and similar versions spread throughout Europe—and to the French who introduced it to America.
Why use a bread knife?
Brioche comes in loaves so you will need to slice them yourself. As a soft and fluffy bread, it can squish down when you slice it with a standard knife. A bread knife has scalloped edges that cut without squishing.
If you don't have a bread knife, use any serrated knife. If your only serrated knife is a small paring knife, cut your bread in half lengthwise before slicing it into 1 to 2 inch chunks.
No worries if all you have is a standard knife, as the bread will puff up a bit while it bakes.
What is the best bread for French toast?
Even if I'm making Traditional French Toast I prefer to use brioche because it is soft, fluffy, and slightly sweet. Some recipes call for sourdough or French bread, but even with soaking the bread overnight, I find these breads to be a bit dry.
Brioche can be found in Walmart or any grocery store. If you can't find brioche, you could substitute for another thick-cut bread.
Top options for French toast include:
Brioche
Challah
Pullman loaf
Thick-cut white bread
Do I have to let the bread sit out overnight after cubing it?
After cubing the bread, you warm it in the oven at 200 degrees for 1 hour, or let it sit out overnight. Or for any 8 to 10 hour block of time. This dries the bread a bit (not too much) so that your Overnight French Toast Bake won't be soggy.

How long does French Toast Casserole last in the fridge?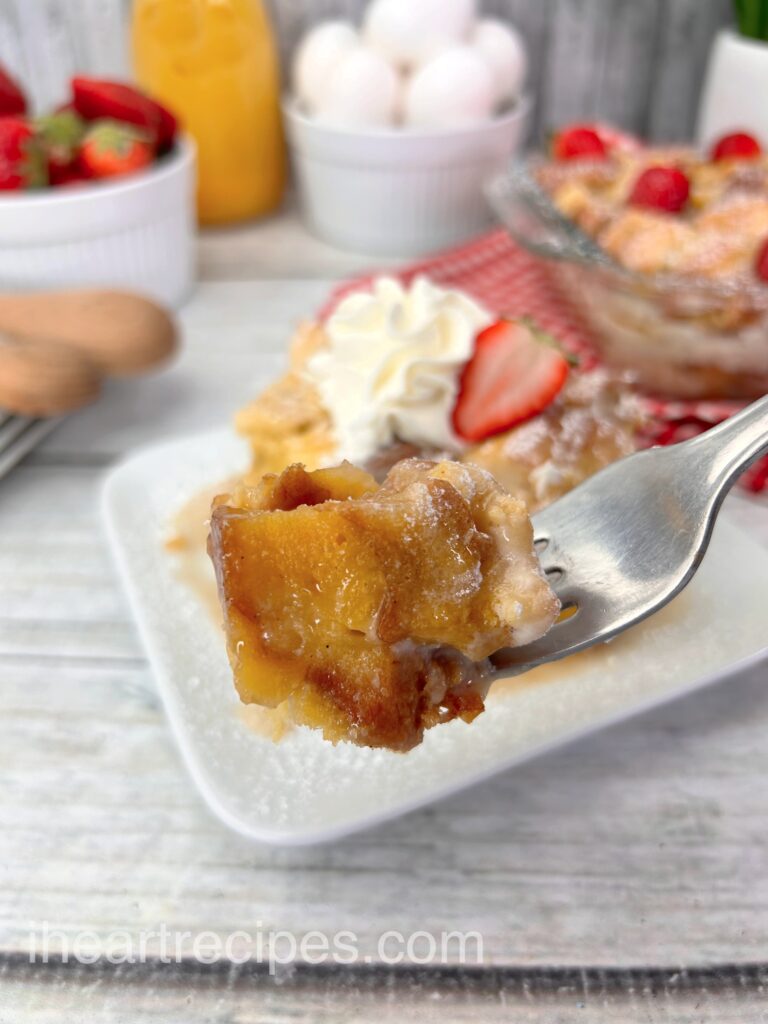 This recipe will stay fresh for up to 3 days in the refrigerator, but it isn't likely to last that long!
If you are serving a small group, freeze your leftovers.

How do you store leftover French toast casserole?
If your baking dish has a lid, let it cool and pop the lid back on. If not, transfer your leftovers to an airtight container to keep them fresh. Saran wrap or aluminum foil won't create the airtight seal required to keep this recipe soft. Consider ordering a silicon baking dish lid for the next time you have leftovers in your casserole dish. Leftovers will stay fresh for 3 days.
Freezing: Bread is airy inside, which can lead to freezer burn. To prevent freezer burn, cool your Overnight French Toast Bake on the counter. Then wrap it in saran wrap or freezer paper before placing it in an airtight freezer-safe container. Freeze for up to 3 months. Defrost overnight before eating.
Reheating in the microwave: bread can get hard if microwaved for too long. So, microwave single servings on low in 30 second intervals.
Reheating in the oven: you can use a toaster oven or your standard oven to reheat but your air fryer may dry the bread out. Preheat your oven to 350 degrees. Single or small servings will reheat in 8 to 10 minutes, while larger portions will take 15 to 20 minutes.
Fun Recipe Variations
I always encourage you to make your recipes your own! Below are a few seasonal adjustments and delicious ways to personalize this recipe.
Christmas variation—swap the milk for eggnog for a festive holiday variation.
Fall variation—swap the cinnamon and nutmeg for pumpkin pie spice or apple pie spice.
Fruity toppings—top with any kind of fresh or defrosted fruits, fruit preserves, or fruit pie filling.
Drizzle—instead of the vanilla frosting, you could drizzle caramel sauce or chocolate sauce on top.
Cream cheese frosting—instead of the vanilla frosting, spread a light layer of cream cheese frosting on top. You can find a cream cheese frosting recipe in this recipe!
Texture—add a bit of crunch by sprinkling chopped pecans or walnuts on top or add texture with chopped dried banana, raisins, or other dried fruits.
Brighten—add a tablespoon of lemon or citrus zest to the milk and cream mixture.
Print this recipe out, and save it for later!