Old Fashioned Southern Caramel Cake. I love it the taste of this cake. It's a holiday favorite in many southern and soul food households. It's a fluffy moist yellow cake covered in a rich caramel frosting. What's not to love? I'll tell you— MAKING IT! 😐
I love this cake, but honestly it is a pain in the butt to make. The actual cake part is easy, because I use a cake mix and hype it up with a few ingredients. The frosting, on the other hand is quite challenging, and that's why I only make this 1 time a year. Seriously, if you plan on making this by hand ( no hand mixer or stand mixer), bless your little heart. You will be in the kitchen ALL day, making the frosting. I seriously recommend using a mixer of some sort.
The outcome of this cake is simply amazing…. so the hard work does pay off. If you're planning on making this for the upcoming holidays, I suggest practicing now.  So here is the recipe, and video.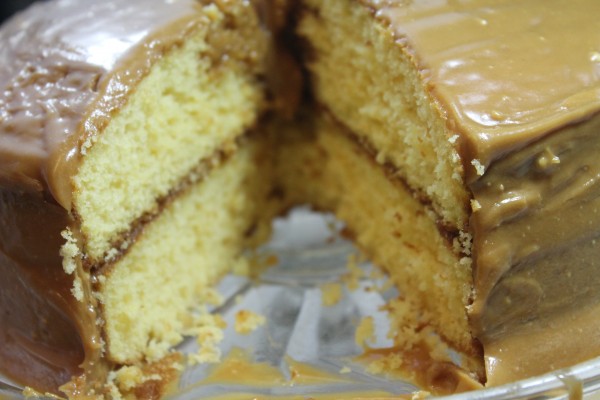 Southern Caramel Cake
This cake is a labor of love... but well worth it! A moist yellow cake iced in a sweet (homemade!) caramel frosting is an indulgent treat you'll love.
Watch Video
Print Recipe
Pin Recipe
Instructions
Sift the cake mix, and place it into a large bowl.

In a small bowl, beat the eggs by hand for 2 MINUTES.

Add the beaten eggs along with the cake mix, then add in the vegetable oil, buttermilk, vanilla extract and rum extract.

Mix until the batter is smooth, but DO NOT OVER MIX.

Grease and flour two 9 inch cake pans.

Pour the cake batter into each pan, about 3/4 full.

Bake each cake for 20-25 minutes, or until done.

Carefully remove the cake out of the pan, and let them cool on a cooling rack.
Frosting
Place 1/2 cup salted butter into a large pan along with 1 1/2 cup brown sugar, 1 cup granulated sugar, 1 tsp salt, and 1/2 cup whipping cream. Melt down the mixture over medium heat, and stir.

Meanwhile, In a separate pan, melt down 1/2 cup granulated sugar over medium heat. Once the sugar is melted and browned, add it to the other pan of cream/sugar mixture.

Let the mixture cook for about 30 seconds, then remove from the heat, and add 2 tsp of vanilla. Stir.

Carefully pour the hot frosting into a stand mixer bowl, OR a heat resistant mixing bowl.

Whisk on low speed until the mixture cools down a bit (about 10 minutes)

Add in the 4 tbsp of butter, and 1/4 cup of heavy cream.

Change the attachments from your mixer from whisk to mixer, and set it on medium speed.

Mix until the butter and cream is well mixed in, then carefully start adding in the confectioner's sugar, but 1 tbsp at a time (ALSO MAKE SURE THAT THE SUGAR IS WELL SIFTED BEFOREHAND!)

Mix the frosting for about 5 minutes, then frost the cakes.

After frosting the cake, let it sit for at least 45 minutes before serving.
Video
If you loved this recipe,
leave me a review below
. This helps future recipe makers and ensures continued high-quality recipes for years to come!
© 2023 I Heart Recipes