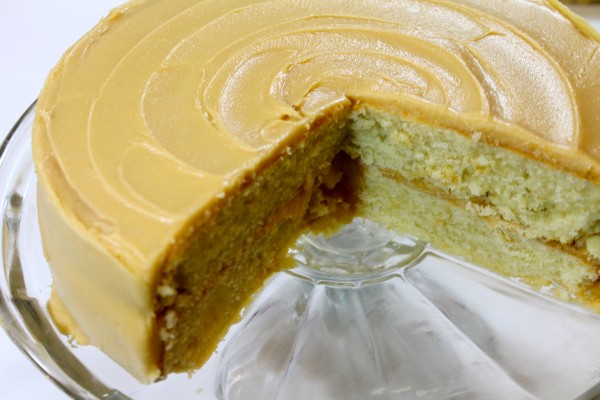 I made  a semi caramel cake a few months ago, and although a lot of you loved it some of you requested that I made a completely homemade cake. Well sweeties pies, your requests have been answered!
For best results I suggest sticking to the recipe and steps given. The frosting can be a tad bit complicated, but practice makes perfect. If you're going to make this cake for a special occasion, I suggest doing a test run or two before!
Homemade Southern Caramel Cake
This dessert cake is a southern treat! The homemade caramel frosting is the perfect touch of sweetness.
Ingredients
Cake Batter
3

cups

all purpose flour

1 

cup

vegetable oil

4

eggs

2/3 

cup

buttermilk

2 1/2

cup

granulated sugar

8

oz

sour cream

2

tsp

baking powder

1/2

tsp

salt

2

tsp

vanilla extract
Caramel Frosting
1

cup

heavy cream

2 3/4

cup

granulated sugar

3/4

cup

salted butter

1

tbsp

vanilla extract

2

tbsp

all purpose flour
Instructions
Preheat your oven on 350 F.

In a large bowl add 1 cup vegetable oil, and 2 1/2 cup of granulates sugar. Cream the ingredients until well combined.

Next start adding in the eggs, but only one at a time. Mix until everything is nice and smooth, then set the bowl to the side.

In a separate bowl add 2/3 cup buttermilk, and 8 ounces of sour cream. Mix until well combined.

In a third bowl add 3 cups all purpose flour, 2 tsp baking powder, and 1/2 tsp salt. Sift the ingredients together.

Next we're going to start alternatively adding the dry ingredients, and the buttermilk mixture to the  wet mixture ( the butter, oil, sugar, and eggs) . If using a handheld mixture, make sure that it is set on a low speed.

Once everything is in the bowl, add 2 tsp of vanilla extract, and fold it in.

Grease and flour two round 9 inch cake pans, then pour in the cake batter.

Bake each cake for 25-30 minutes.

Once the cakes are done, remove them from the oven, and remove the cakes from the pans.

Let the cakes cook on a cooling rack until they are room temperature.
Caramel Frosting
Pour 1/4 cup granulated sugar into a large deep sauce pan or pot, then place it over medium heat.

Let the sugar melt, and turn brown.

Meanwhile In a separate pot combine 2 1/2 cup sugar, 1 cup heavy cream, and 2 tbsp all purpose flour. Mix, and bring to a boil.

Add a couple of tbsp of the cream mixture to the melted sugar mixture, and stir.

Next, add the browned sugar to the cream mixture, and stir in. Let it cook for about 10- 15 minutes.

Next, add in the butter, and stir until it is all melted.

Remove the pan from the heat, and add in the vanilla extract.

Pour the caramel into a stand mixer bowl OR a heat resistant bowl. Mix for 20 minutes on medium speed, then let sit for about 15 minutes.

Place  1/2 of the caramel into a freezer safe bowl, then cover, and place it in the freezer for 10 minutes.

With the other 1/2 of caramel, pour some of it on top of of one of the cakes.  Top the second cake on top of the caramel. Beware that the caramel will be really slippery, so don't over do the caramel filling.

Use the remaining caramel to lightly glaze the sides and top of the cake.

Remove from the  rest of the caramel from the freezer, and stir.

Frost the cake!
Video
Check out the video