Enjoy a traditional homemade Southern caramel cake made from scratch! This delicious dessert is a perfectly moist yellow cake topped with sweet caramel icing. Perfect for special occasions!
Hi friends, today I'm back with a homemade cake recipe. I will show you how to make the best homemade Southern caramel cake completely from scratch! A while ago, I made a semi-homemade caramel cake. Although many of you loved it, some of you requested that I make a homemade cake. Well, sweetie pies, your requests have been answered!
Now, I will warn y'all that this cake is a labor of love. It's a sweet, decadent cake that is totally worth the effort, but it does take a hot minute to make! I suggest sticking to the recipe and steps I've provided for the best results. The homemade caramel frosting can be a tad bit complicated, but practice makes perfect! If you're going to make this cake for a special occasion, I suggest doing a test run or two before the big day.
The great news is that this traditional Southern caramel cake is always a hit with the crowd, so no matter what excuse you have for making it, the cake will never go to waste, and you'll only get even better at making it over time!
Ingredients for Homemade Southern Caramel Cake
As I said before, this yummy cake is made entirely from scratch. You won't find any boxed cake mix here, Cousins! The ingredients for this cake recipe are actually pretty straightforward. Here's what you need to make a decadent Southern caramel cake from scratch.
For the cake, you'll need the following:
Classic dry ingredients, including all-purpose flour, granulated sugar, baking powder, and salt.
Wet ingredients, including eggs, vegetable oil, and vanilla extract.
Buttermilk makes this from-scratch cake creamy and rich.
Sour cream helps keep this homemade yellow cake perfectly moist.
For the homemade caramel icing, you'll need:
Granulated sugar—you definitely want to use only white sugar for this recipe.
Heavy cream
Salted butter (You could use unsalted butter, but it's better with salted!)
Real vanilla extract—no imitation vanilla allowed here!
All-purpose flour will help thicken the icing.
Equipment Needed to Make Southern Caramel Cake
If you want to make this recipe a little easier for yourself, I highly recommend using the right equipment! To make the best caramel cake, I recommend using:
9-inch cake pans for the yellow cake.
A hand mixer to mix the cake batter ingredients.
A wire cooling rack to allow the cakes to cool completely before frosting.
A stand mixer to whip the homemade caramel frosting.
Plenty of mixing bowls and pots (for real); this recipe uses three mixing bowls and two saucepans. I apologize in advance for the dishes!
How to Make a Traditional Homemade Southern Caramel Cake from Scratch
Are y'all ready to learn how to make a traditional Southern caramel cake? As I said, this cake is a labor of love (but worth it). There are quite a few steps—mostly when you get to making the caramel frosting.
If this is your first time making a from-scratch caramel cake, leave yourself plenty of time! It will take about two hours from start to finish, including time to allow both the cakes and the frosting to cool. So let's jump on into it.
Step 1: Make the Cake Batter
Start by creaming the vegetable oil and sugar together in a mixing bowl. Next, add in the eggs one at a time and use your hand mixer to mix until well-combined and creamy. This step should only take a few minutes. You can also add the vanilla extract here, but I typically add it to the batter later.
You will combine the sour cream and buttermilk in a second mixing bowl. Mix these two ingredients together until they're nice and creamy. Finally, combine the dry ingredients in a third mixing bowl: all-purpose flour, baking soda, and salt. Sift these together for a clump-free flour mixture.
Alternating between the three bowls, combine the ingredients together and mix using your hand mixer. Add a little bit of the sour cream mixture to the egg and sugar mixture and mix. Then add the flour mixture and mix. Continue adding the three bowls together until they're combined into one mixture. You should set your hand mixer on a low speed to ensure you don't over-mix the cake batter (which will result in a tough and dry cake). This cake batter recipe makes enough for two 9-inch cakes.
Step 2: Grease & Flour the Cake Tins, then Bake the Cake
To grease the cake pans, use a little bit of butter, oil, or cooking spray to coat the bottom of the pan. Then take a tablespoon of all-purpose flour and spread it evenly over the surface of the cake pan until it's completely covered. Dump out any excess flour and use it to coat the second pan. You can also use a non-stick baking spray or line the cake pans with parchment paper. All of these options help ensure the cake will not stick to the pan.
Next, bake each cake at 350 degrees for 25-30 minutes. Once done, let them cool slightly in the pans. Then you'll want to remove them from the cake pans to cool completely on a wire rack. It's really important that the cakes are cooled to room temperature before frosting.
Step 3: Make the Homemade Caramel Sauce
In this step, we make the caramel sauce that we will whip into a sweet and decadent caramel frosting. Making this sauce is a delicate process, so follow these directions carefully and always keep an eye on your pans!
First, you're going to pour some granulated white sugar into a saucepan over medium heat and allow that to melt. Watch this pan—it will take a few minutes, but you don't want it to burn! Use a rubber spatula to stir the sugar as it melts.
In a separate saucepan, make your cream mixture. Mix sugar, cream, and flour, then bring to a boil. Add a few tablespoons of this cream mixture to the caramelized sugar in the other pan. It will bubble a lot, but that's okay! Mix well, then add that mixture to the rest of the cream mixture. Let this cook for 10-15 minutes over medium heat, occasionally stirring, so the bottom doesn't burn.
Finally, add butter to the caramel mixture and mix until it's completely melted. Remove from the heat, stir in the vanilla extract, and we're ready to whip this baby up into icing. (Side note: stop at this point if you want the perfect caramel sauce to drizzle on ice cream, coffee cakes, or for a dip.)
Step 4: Make the Caramel Cake Frosting
For this step, I highly recommend using a stand mixer. You can make the caramel cake frosting by hand, but it's a lot of mixing!
If you're using a stand mixture, pour the caramel sauce into the bowl of a stand mixer. Set the mixer to level 4 or 6—medium speed—and let the frosting mix for about 20 minutes. It should turn into a light and creamy caramel mixture. It will be runny, but this is okay.
Step 5: Time to Ice the Homemade Cake
I use two layers of caramel frosting when making my Southern caramel cake recipe. It's decadent but oh so good! For this step, pour half of the caramel frosting into a freezer-safe bowl. Cover and place in the freezer for about 10 minutes. You DO NOT want it fully frozen, only stiffened up to the texture of a thicker frosting.
The other half of the caramel frosting will be used for the first layer of cake. Pour the frosting over the bottom cake layer and spread it out. I recommend doing this over the wire rack so the frosting can drain and not pool along the edges of the cake. Then stack the second cake layer on top and pour on another thin layer of caramel frosting. The frosting will be just runny enough to cascade over the sides of the cake layers, covering the cake completely.
Next, take the other half of the caramel frosting out of the freezer and stir to loosen it up. Then you're going to frost your cake completely. I find that using an offset spatula works best for frosting a cake. It doesn't have to be pretty because it will taste AMAZING!
Homemade Southern Caramel Cake Recipe Card, Video Tutorial, & More Caramel Recipes
A decadent caramel cake is a Southern classic. Whether you follow this recipe and make it entirely from scratch or take the semi-homemade route, it is bound to be a crowd-pleaser. My family requests this cake again and again for birthdays, holidays, or any time of year! It has a deep caramel flavor with a perfectly moist vanilla cake base. As far as homemade cakes go, this classic caramel cake is one of my favorite cake recipes.
To help y'all make the best homemade Southern caramel cake, I have a step-by-step video tutorial on my YouTube channel. If you make this caramel cake, let me know how it turned out in the comments below!
Don't forget to tag and follow me on Facebook, Instagram, and Pinterest, subscribe to I Heart Recipes on YouTube, and check out all my cookbooks! I just released a brand new cookbook, Super Soul Food with Cousin Rosie, with many recipes you can't find anywhere else.
Are you looking for more sweet caramel desserts? Make sure to check out these recipes before you go!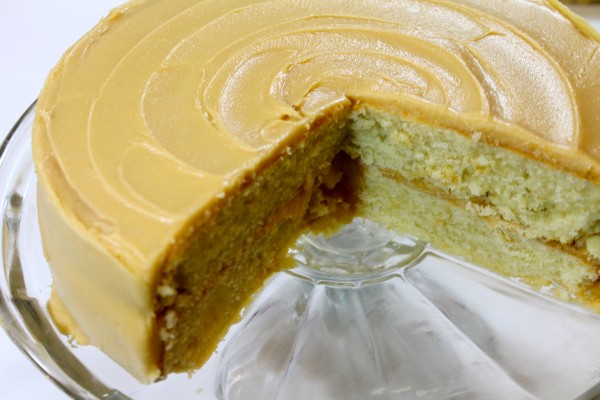 Homemade Southern Caramel Cake
This dessert cake is a southern treat! The homemade caramel frosting is the perfect touch of sweetness.
Watch Video
Print Recipe
Pin Recipe
Instructions
To Make the Cake Batter:
Preheat your oven on 350 F.

In a large bowl, add 1 cup of vegetable oil and 2 1/2 cups of granulated sugar. Cream the ingredients until well combined.

Next, start adding in the eggs, but only one at a time. Mix until everything is nice and smooth, then set the bowl to the side.

In a separate bowl, add 2/3 cup of buttermilk, and 8 ounces of sour cream. Mix until well combined.

In a third bowl. add 3 cups all-purpose flour, 2 tsp. baking powder, and 1/2 tsp. salt. Sift the ingredients together.

Next, we're going to start alternatively adding the dry ingredients and the buttermilk mixture to the wet mixture (the butter, oil, sugar, and eggs). If you're using a handheld mixer, make sure that it is set on a low speed.

Once everything is in the bowl, add 2 tsp. of vanilla extract and fold it in.
To Bake the Cakes:
Grease and flour two round 9-inch cake pans, then pour in the cake batter.

Bake each cake for 25-30 minutes.

Once the cakes are done, remove them from the oven and remove the cakes from the pans.

Let the cakes cook on a cooling rack until they are room temperature.
To Make the Homemade Caramel Frosting:
Pour 1/4 cup granulated sugar into a large deep sauce pan or pot, then place it over medium heat.

Let the sugar melt and turn brown. Keep an eye on the pot so the sugar does not burn.

Meanwhile, in a separate pot, combine 2 1/2 cup sugar, 1 cup heavy cream, and 2 tbsp all-purpose flour. Mix and bring to a boil.

Add a couple of tbsp of the cream mixture to the melted sugar mixture, and stir. (It will bubble, this is okay.)

Next, add the caramelized sugar to the cream mixture and stir in. Let it cook for about 10-15 minutes.

Next, add in the butter and stir until it is all melted.

Remove the pan from the heat and add in the vanilla extract.

Pour the caramel into a stand mixer bowl OR a heat-resistant bowl. Mix for 20 minutes on medium speed, then let sit for about 15 minutes.

Place 1/2 of the caramel into a freezer-safe bowl, then cover and place it in the freezer for 10 minutes.

With the other 1/2 of caramel, pour some of it on top of the bottom layer of cake. Place the second cake on top. Beware that the caramel will be really slippery, so don't overdo the caramel filling.

Use the remaining caramel to lightly glaze the sides and top of the cake.

Remove the rest of the caramel from the freezer and stir to loosen the frosting.

Frost the cake!
Video
If you loved this recipe,
leave me a review below
. This helps future recipe makers and ensures continued high-quality recipes for years to come!
© 2023 I Heart Recipes