Southern hummingbird cake is a sweet, moist cake with bananas, pineapple, and cinnamon, frosted with a perfectly sweet homemade cream cheese frosting!
Hey Cousins! It's time for a sweet, completely irresistible southern dessert recipe! Y'all are going to love this one. Recently, on Facebook, I asked my viewers to tell me their favorite southern desserts. The most requested dessert was red velvet cake, which we all know I love! (Check out my holiday red velvet biscuits recipe too.) One viewer mentioned a dessert I haven't heard of in a loooooong time… Southern hummingbird cake! I knew immediately I had to make this classic Southern dessert the Cousin Rosie way, for y'all.
Hummingbird cake is one of those Southern desserts everyone expects to be available during the holidays or any special occasion like birthdays, anniversaries, graduations… you name it. If there's a party, Hummingbird cake best be on everyone's menu! This delicious cake has been known to cause a riot if there's not enough to go around, so plan ahead. My Southern hummingbird cake is a triple-layer cake that should feed 12 people (keyword: SHOULD… y'all know some people can be greedy!). If that's not enough, I also have a hummingbird sheet cake recipe that is just as easy and delicious and adds a few more servings for those hungry cake lovers.
Before we jump into this cake recipe, let's talk about the illusive history of the sweet and delicious hummingbird cake.
The History of "Southern" Hummingbird Cake
Southern food has so much history, and sometimes that history is spotty. Before I wrote my first cookbook, I spent years piecing together my grandma's Southern recipes by word-of-mouth because back in those days, Southern mamas just whipped up recipes and wrote nothing down! Hummingbird cake's history is just as much a mystery. The first widely-published hummingbird cake recipe was submitted to Southern Living Magazine in 1978 by Mrs. L.H. Wiggins of Greensboro, North Carolina. Not much is known about Mrs. Wiggins, but the recipe became one of Southern Living's most popular recipes.
Another story comes from The Charlotte Observer in 1969 when hummingbird cake was also called Doctor Bird Cake – the name comes from the nickname for Jamaica's national bird, the swallow-tailed hummingbird. This story makes sense based on the exotic (at the time) tropical fruits – pineapples and bananas – included in the cake recipe.
Whatever the real history of hummingbird cake is doesn't seem to matter much because it's a crazy popular Southern dessert, and all these years later, people still love making it.
What is Southern Hummingbird Cake?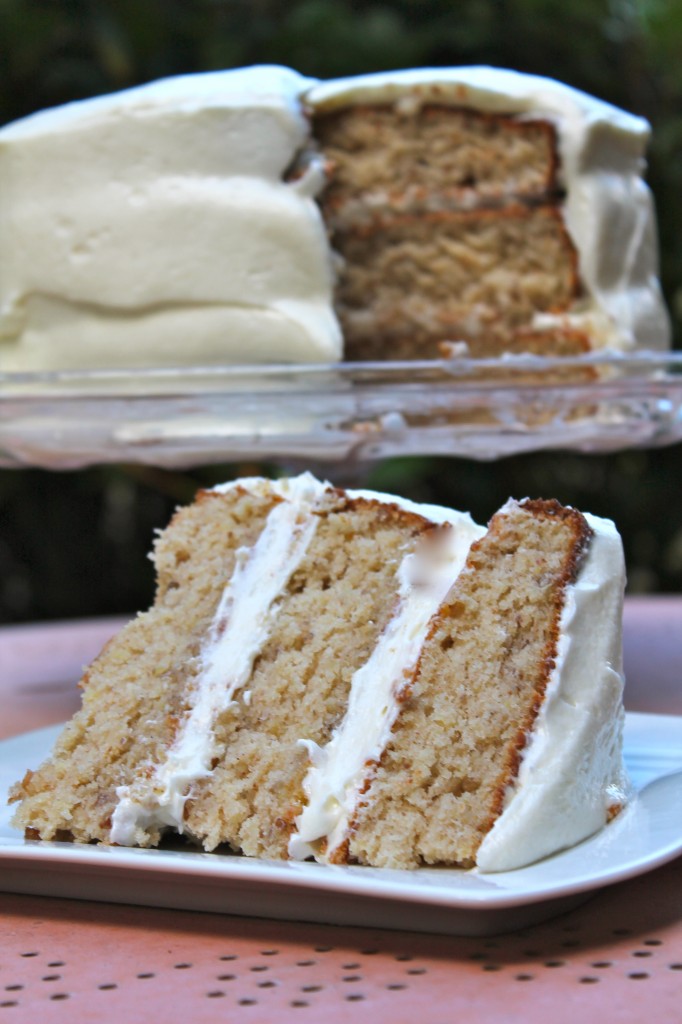 So, what exactly is a hummingbird cake? If you've never had hummingbird cake before, consider it a delicious cross between carrot cake and banana cake. No, it doesn't have any carrots in it. So why is it like carrot cake again? Like carrot cake, hummingbird cake is an extremely moist, dense cake recipe. It's a spiced banana cake with crushed pineapples and pecans (or walnuts). The bananas in the cake add tons of flavor and help make the cake moist and fluffy. Even better, hummingbird cake is topped with a sweet homemade cream cheese frosting. You can make it as a layered cake like my recipe, a sheet cake, bundt cake, or even cupcakes!
How to Make Southern Hummingbird Cake: Key Ingredients & Supplies Needed
Are y'all ready to learn how to make this dang cake? Let's jump right on into it! First things first: hummingbird cake ingredients. Here's what you need for this Southern dessert:
Overripe bananas: just like you'd use for banana bread, very ripe mashed bananas give your cake that sweetness essential for a moist hummingbird cake.
Crushed pineapple: canned crushed pineapple is perfectly fine. You can include the pineapple juice from the can for an extra tropical flavor. You can use fresh pineapple, but make sure it's very well-crushed so you don't have a bunch of chunks.
Chopped pecans or walnuts: adding nuts to your hummingbird cake recipe is optional but highly recommended!
Buttermilk, butter, and shortening: the dairy ingredients are essential for making a moist cake. I highly recommend using buttermilk, but you can use milk or non-dairy milk if necessary.
Vanilla extract: Y'all already know I'm going to tell you to use PURE vanilla extract, none of that imitation crap! Pure vanilla extract just tastes better than imitation–facts!
Cinnamon and nutmeg: the spices help cut through the sweetness of the cake, giving it that spiced cake vibe that's key for hummingbird cake – so they are essential!
Cream cheese frosting: Arguably the most essential ingredient. I use the same cream cheese frosting from my carrot cake recipe – cream cheese, butter, powdered sugar (aka confectioners' sugar for all you bakers out there), and vanilla extract. Double this recipe for enough frosting for a 3-layer hummingbird cake.
You may notice that this hummingbird cake has no brown sugar, vegetable oil, baking soda, or all-purpose flour. While these are all classic cake ingredients, they aren't needed in this recipe! Everyone has their own variations of cake recipes, but I think mine is a perfectly delicious hummingbird cake recipe!
Baking Supplies for Hummingbird Cake
Now on to supplies. Make sure you've got these essential baking supplies on hand:
Large bowl: lots of wet and dry ingredients to mix, so you need a reliable large mixing bowl.
Electric mixer: I use my hand mixer to mix the cake batter and make the cream cheese frosting, but a stand mixer would also work perfectly fine.
Baking dishes: I use 9-inch cake pans in my recipe, but 8-inch cake pans are fine too! You could also make a hummingbird cake in a sheet cake pan or bundt pan, but note that cooking times would vary.
Wire rack: A wire cooling rack is essential for cooling the cooked cakes down before frosting. Y'all don't want your cream cheese frosting melting off!
Parchment paper: using parchment paper while frosting your cake is a life hack I wish I had known sooner. It saves you from all that mess! You can also line your cake pans with parchment paper for easy cake removal.
Tips for Making the Best Southern Hummingbird Cake
I said this before, but it's worth repeating: make sure the bananas are super ripe! You cannot achieve the same taste with fresh bananas—they aren't as sweet and won't give your hummingbird cake the rich signature flavor it's known for.
Make sure to crush or grind up the pecans (or whatever nuts you choose). Nothing is worse than biting into a piece of cake with a huge nut in it!
Before making this cake, ensure all the ingredients are at room temperature (eggs, buttermilk, butter, etc.)! This is essential to achieve a perfect texture.
Be sure not to over-mix the cake. Over mixing can make the cake a little dry (even though this cake is probably one of the moistest cakes you will ever have!).
Take your time! Don't rush while making this cake. Let the cakes cool and sit before frosting.
Hummingbird Cake Recipe Card + Video Tutorial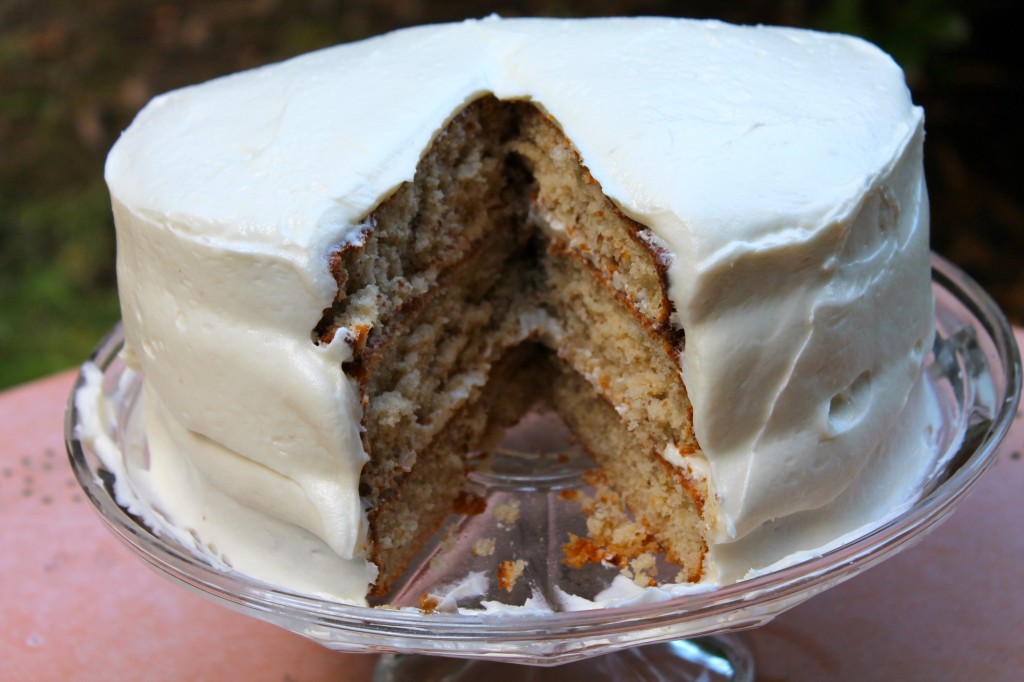 So, now that we've got the basics of a good old-fashioned hummingbird cake down let's get in the kitchen and bake ourselves a cake! I've included a full recipe card with all the ingredients, exact measurements, and step-by-step instructions below. Also, make sure to watch my full video tutorial to see exactly how I make my Southern hummingbird cake step-by-step, from mixing the dry ingredients and wet ingredients to cooling, icing, and cutting the cake. Don't forget to subscribe to I Heart Recipes on YouTube to see all of my recipe videos, cooking tips, and more! You can also follow me on Facebook, Instagram, and Pinterest to keep up with all things Rosie and I Heart Recipes!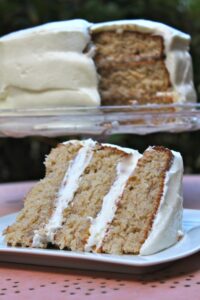 Southern Hummingbird Cake
Hummingbird cake is a Southern dessert staple for holidays and special occasions. This delicious, moist cake is a spiced banana cake with pecans, filled and iced with sweet homemade cream cheese frosting.
Watch Video
Print Recipe
Pin Recipe
Ingredients
Hummingbird Cake Wet Ingredients
Hummingbird Cake Dry Ingredients
Instructions
First and foremost: ensure all of your ingredients are at room temperature.
Hummingbird Cake:
In a large mixing bowl (or in a stand mixer), add the butter and shortening and cream on slow speed until smooth.

Pour in the granulated white sugar. Continue to cream mixture until smooth.

Next, add the eggs and vanilla extract. Mix until well combined.

In a separate bowl, mash the overripe bananas, then combine with the crushed pineapple and crushed nuts.

Add the banana, pineapple, and nut mixture into your large mixing bowl and stir.

In a separate bowl combine the sifted flour, salt, cinnamon, and nutmeg.

Now, alternate adding the dry ingredients and wet ingredients, adding small amounts of buttermilk in between. Mix using a handheld mixer or stand mixer on medium speed.

Next, grab three 9-inch cake pans. Grease with butter or baking spray, or line with parchment paper.

Bake each cake for 30 minutes on 350 F until done (use a toothpick to test for doneness).

Remove the cakes from the oven and let them sit for 15 minutes before removing them from the pan.

Remove the cakes from the pans and let the cakes cool completely on wire cooling racks.
Make the Cream Cheese Frosting:
Note: the ingredients listed are for a double batch of cream cheese frosting to accommodate a triple-layer hummingbird cake.

Cream the cream cheese and butter together using a handheld mixer or stand mixer on medium speed.

Add the confectioners' sugar and vanilla; mix until smooth.

Once cooled, apply a layer of cream cheese frosting between each of the three layers of hummingbird cakes. Watch my video tutorial for a visual.

Let the cake rest for at least an hour before serving/cutting. (You can chill the cake in the fridge, but the icing shouldn't be too firm.)

Enjoy!
Video
If you loved this recipe,
leave me a review below
. This helps future recipe makers and ensures continued high-quality recipes for years to come!
© 2023 I Heart Recipes