A From-Scratch Recipe for German Chocolate Cake!
I have been getting requests for a Homemade German Chocolate Cake for over a year now. Although I LOVE giving you all what you want, I just simply couldn't rush this one! I didn't want to give you the usual german chocolate cake recipe because, in all honesty, I don't care for them. I hate those ugly dry german cakes. You know, the kind that just look like a stack of hay? I know you know what I'm talking about, so don't try to play me 😛 . I like those old school chocolatey German Chocolate Cakes. The kind that your grandma would make every holiday with the rich chocolate frosting on the sides. The kind of German Chocolate Cake that you just can't buy from a store! Well in this post I'm going to show you how to make one
When I started comparing German Chocolate Cake recipes, it was so frustrating. Although a lot of them were so different, they kept coming out the same: boring, dry and nothing I'd brag about. A few months ago, I found a recipe that was actually decent, but it still had room for improvements. I quickly worked on the recipe (not quick enough because this was suppose to be up before Thanksgiving!) and turned it into something magical. This cake is simply amazing! It comes out so light, fluffy and moist – and the frostings are downright sinful!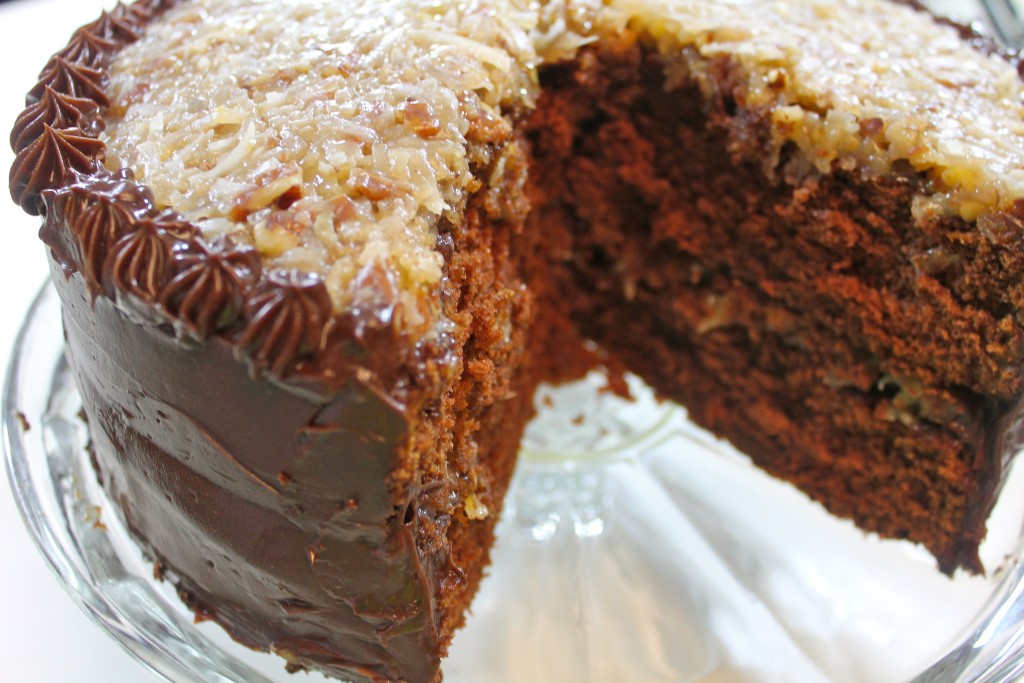 Moist and Fluffy German Chocolate Cake with Two Frostings: Coconut Pecan & Creamy Dark Chocolate
Learn how to make German Chocolate Cake from Scratch with my step-by-step video!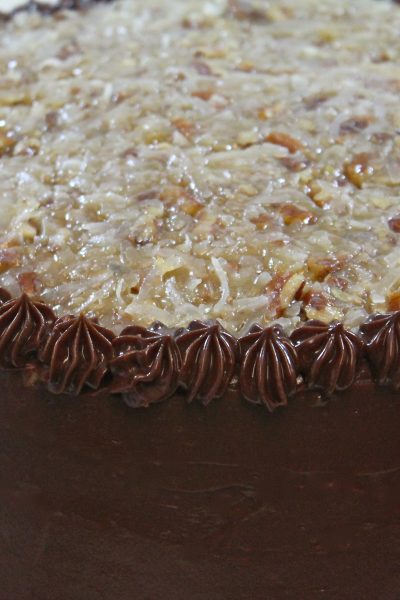 Homemade German Chocolate Cake
Super moist and fluffy chocolate cake with two unbelievable frostings: sweet coconut pecan and creamy, rich dark chocolate. 
Print Recipe
Pin Recipe
Instructions
In a large bowl add 1 1/2 cup of sugar, 4 egg yolks, 16 tbsp of butter (at room temperature), 2 tsp vanilla extract, and buttermilk. Mix until the ingredients are nice and creamy.

In a separate bowl, add the cake flour, salt, baking soda, and baking powder. Sift or stir the ingredients together, until well incorporated.

Gradually add the dry ingredients in with the wet, while using a handheld mixer to mix in the ingredients. Once the cake batter is nice and creamy, set the bowl to the side.

Place 2 oz of semi sweet chocolate and 2 oz of unsweetened chocolate into a bowl, then pour 1/3 cup of hot coffee over the chocolate. Let it stand for a couple minutes, then mix until everything is nice and creamy, and let it cool down until it's luke warm.

Once the chocolate cools down, add it into the cake batter, and mix it in thoroughly.

Next, grab the bowl of egg whites, and use a handheld mixer to beat/mix them until they are nice and fluffy.

Add the fluffy egg whites to the cake batter, and fold it in until everything in the batter is well combined

You will need two 9" cake pans. Spray each pan with baking spray, then pour the cake batter into the pans. Each pan should be full up to 1 inch of the pan.

Bake the cakes on 350 F, for 25-30 minutes each.

Remove from the oven, and place the cake on a cooling rack
Coconut Pecan Filling/Frosting:
Place 3 eggs yolks, 1 1/2 cup cream, 1 tsp salt, 1 cup sugar, and 6 tbsp butter (melted or softened) into a pan. Mix everything until well combined, then pour it into a pan, and cook over medium heat for 10 minutes.

In a separate pan, toast the coconut, then the pecans. I toasted the pecans for about 5 minutes over medium heat, and the coconut flakes over medium for about 3 minutes.

Once the custard has reached the 10 minute mark, toss in the coconut and pecans. Fold in the ingredients until everything is well combined, then cook for another 5 minutes, and remove from the heat.

Let the filling/frosting cool completely
Dark Chocolate Frosting:
Place 8 oz of semi chocolate and 3 tbsp of softened butter into a bowl.

Place 1 cup cream into a small pot, and bring it to a boil.

Once the cream starts to boil, remove it from the stovetop, then pour it over the chocolate and butter.

Mix the chocolate mixture until everything is nice and smooth, then pour in the corn syrup, and stir.

Cover and place the bowl in the freezer for about 10 minutes.
To Assemble the Cake:
Place one of the cakes on the bottom.

Take half of the coconut pecan frosting, and layer it on top of the cake.

Place the second cake on top of the coconut pecan frosting, then layer the remaining coconut pecan frosting on top.

Add the Dark Chocolate frosting to the sides of the cake. Smooth it out as much as possible.

Let the cake sit for about 20 minutes before serving.

ENJOY!
If you loved this recipe,
leave me a review below
. This helps future recipe makers and ensures continued high-quality recipes for years to come!
© 2023 I Heart Recipes
Let me know how you enjoyed this recipe. Tag me on Facebook, Instagram, and Pinterest, subscribe to I Heart Recipes on YouTube, and check out my brand new cookbook, Super Soul Food with Cousin Rosie, loaded with many recipes you can't find anywhere else.
If you enjoyed my homemade German Chocolate Cake, check out these recipes as well!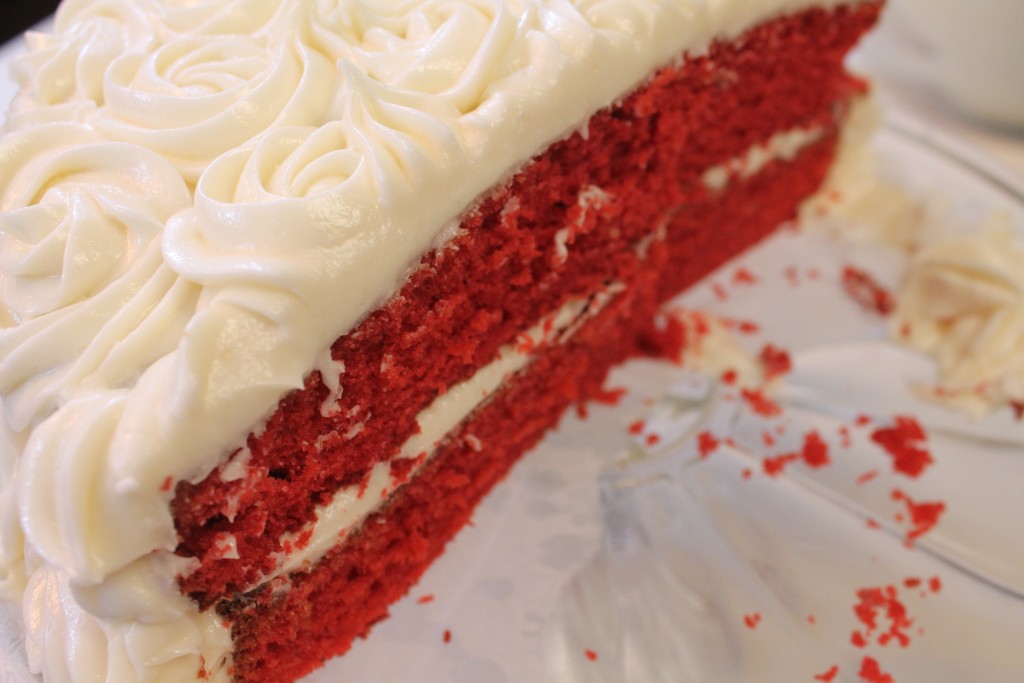 ---

---