The combination of the rich cream cheese and the crunchy cinnamon sugar make these Churro Cheesecake Bars an irresistible dessert!
Traditional churros are a deep-fried street food found in Spain, Portugal, and throughout Latin America. In the states, they are most often found at fairs and Mexican restaurants. This churro-inspired recipe delivers the doughy cinnamon sugar flavor you crave, without deep frying. And as bars, they taste good warm or cold!
The History of Churros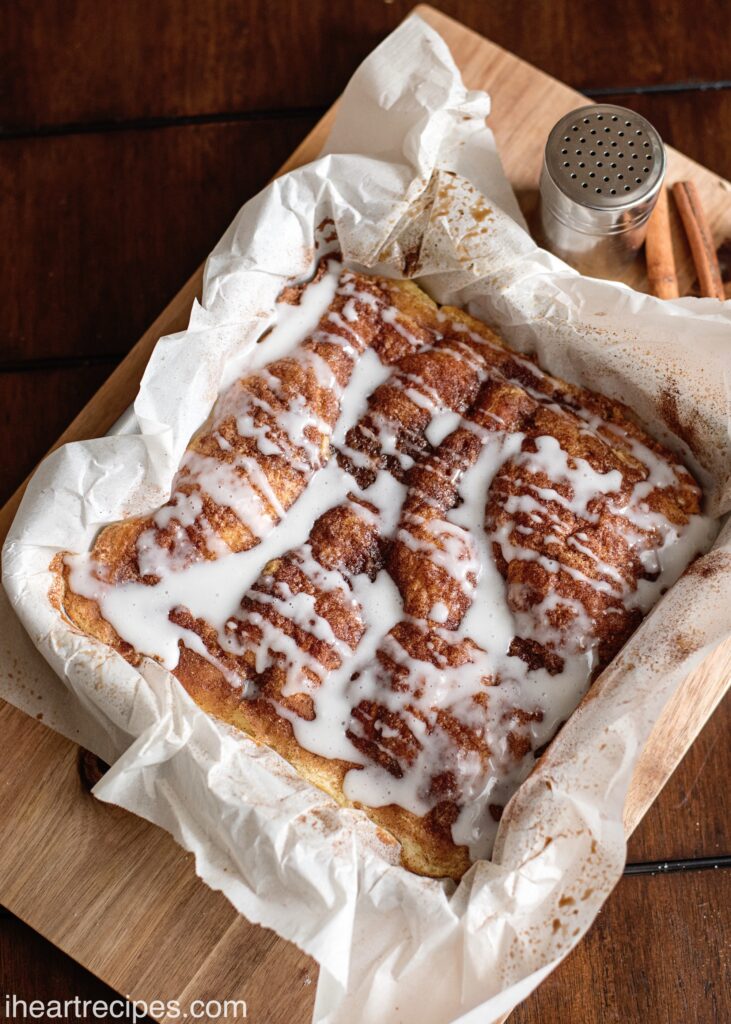 Between migration, global exploration, and colonization, the history of churros isn't quite clear. Some believe it is inspired by the Chinese pastry youtiao, which Portuguese explores introduced to Portugal and Spain in the 15th century.
In Spain, adding sugar and cinnamon to the youtiao-inspired dessert became popular. As Spain colonized Mexico and many regions of South America, the churro was introduced to the Americas.
Cacao was discovered in Latin America and used by many as a churro dip, but some prefer churros without chocolate.
What Are Churro Cheesecake Bars?
One of the downsides of traditional churros is that they are best piping hot. They get hard and crunchy when cold and stale within a day. With this recipe, you can enjoy the same doughy cinnamon flavor, in a baked bar. The addition of cream cheese provides a smooth and creamy center layer!
This is an easy recipe for newbie bakers, and it only requires a handful of ingredients. It only takes about 20 minutes to prep, and bakes for about 30 minutes—for dessert in under an hour!
Ingredients and Shopping List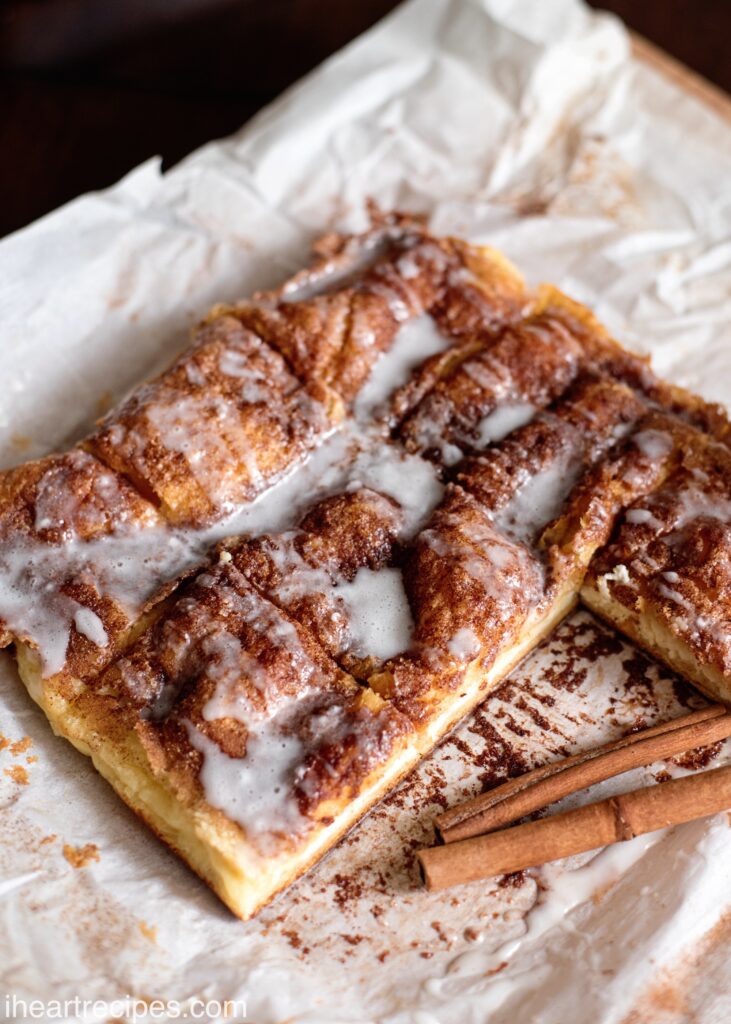 Pillsbury Crescent Dinner Rolls—a fast and easy way to prepare the delicious dough base.
Cream Cheese—for a creamy cheesecake center filling to balance the doughy bars.
Vanilla—vanilla extract enhances the sweet flavors.
Egg—one large egg.
Sugar—plain white granular sugar.
Ground Cinnamon—pre-ground powder or freshly ground cinnamon sticks.
Butter—you can use salted or unsalted, whatever you have on hand.
Topping

Powdered Sugar—this light and airy sugar is also called confectioner's sugar.
Milk—dairy or non-dairy milk is mixed with powdered sugar to create a delicious drizzle.
Optional—if you prefer, you can also melt semi-sweet, dark, or milk chocolate with heavy cream to dip or drizzle on top.
Supplies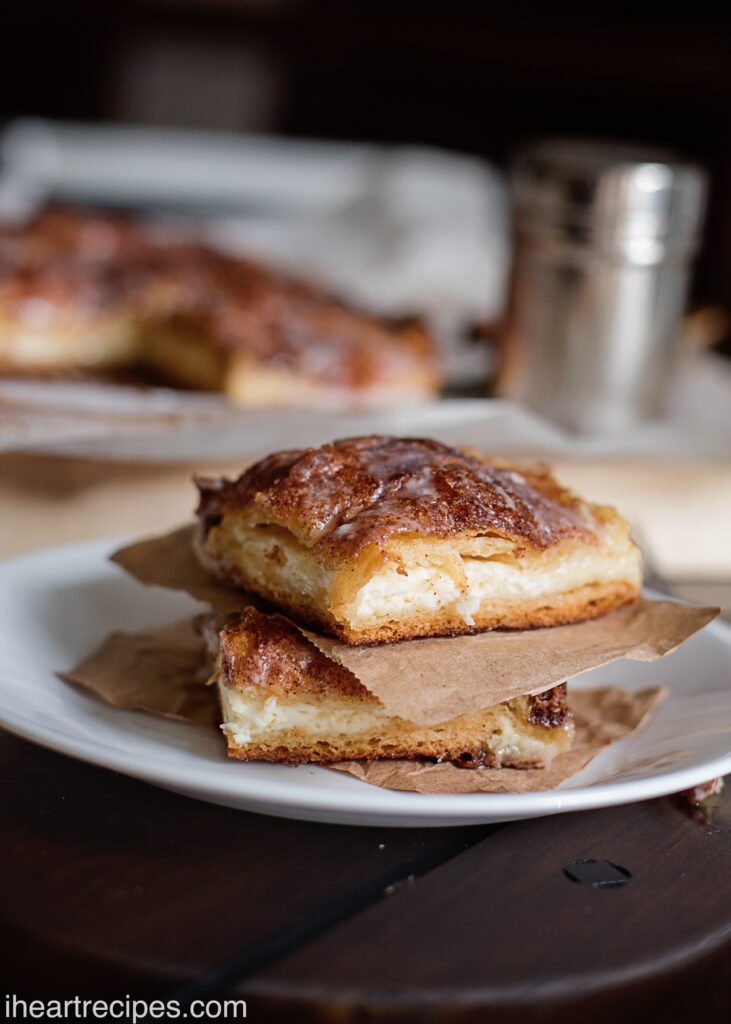 8 x 8 Baking Pan—the perfect size for these delicious bars.
Non-Stick Spray—to ensure your churro bars don't stick to the pan.
Parchment Paper—further minimizes sticking and makes cleanup easier.
Small Mixing Bowl—to mix your cinnamon sugar.
Large Mixing Bowl—to mix your cheesecake filling ingredients.
Mixing Spoons—to stir and spread your filling.
Measuring Cups and Measuring Spoons—to measure the perfect portions of ingredients.
Mixer—either a hand mixer or a countertop mixer.
Microwave of Bowl—to melt your butter.
Oven Mitts or Pot Holders—to transfer your bars in and out of the oven.
Optional: saucepan, small heat-safe bowl, and spoon for chocolate sauce.
How to Make a Churro Chocolate Dip?
If you just can't have your churros without chocolate, prepare this fast and easy dip:
Chop 3 1/2 ounces of semi-sweet chocolate, dark chocolate, or milk chocolate and place the chunks in a small heat-safe bowl.
Warm 1/2 cup of heavy cream on the stove. Let it get steamy, but don't let it boil.
Once steamy, pour it on top of the chopped chocolate.
Let it sit for 1 minute in the bowl to soften the chocolate, then stir.
Use it as an added drizzle or dip your individual bars in the sauce.
What Type of Cinnamon Should I Use?
Did you know that cinnamon is a ground tree bark? Who knew bark could be SO delicious! Any cinnamon will work, but let's explore your options:
Korintje—this is the most common cinnamon you will find in the baking aisle. It's a light red-brown and is ideal for baking.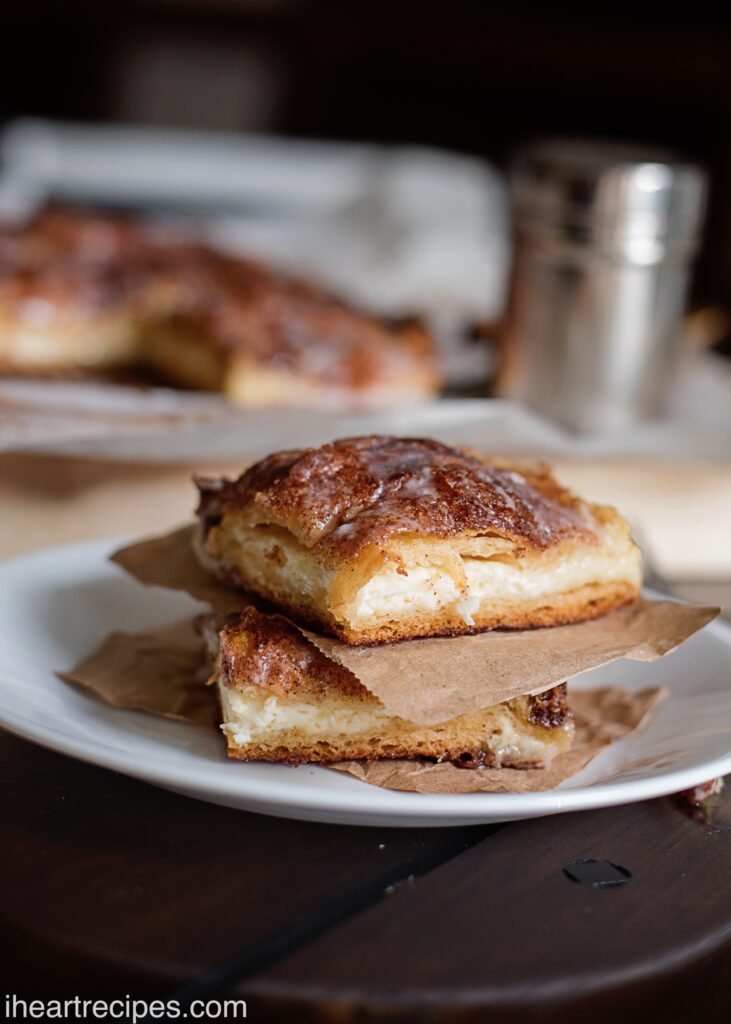 Saigon—a bit richer and sharper in flavor and aroma, this cinnamon is a darker red-brown and is also ideal for baking.
Cassia—this variation is also a dark red-brown and is slightly bitter, making it ideal for savory dishes and baked goods.
Ceylon—this light brown cinnamon has a mild floral and citrus flavor. It is also ideal for baked goods when you want more of a hint of cinnamon.
Pre-Ground or Fresh Ground—buy whatever you prefer, but fresh ground will have a bit stronger flavor and aroma.
Why Use Pillsbury Crescent Dinner Rolls?
If you know me, I LOVE a good kitchen hack! Using pre-made crescent rolls, biscuits, and cinnamon rolls as a side or dessert is just one of the ways to use these canned options.
In this recipe, I cut a sheet of Pillsbury Crescent Dinner Rolls in half and sandwich the cheesecake filling and cinnamon sugar in between. If possible, buy seamless dough. If it has seams, cut it in half—and gently press the seams together to ensure that there are no gaps.
I also like to use pie crusts, crescent rolls, and canned buttermilk biscuits, for a variety of recipes—to skip making the pastry layer. The recipes below are a few examples:
Can This Recipe Be Doubled?
Yes! If you are serving a crowd, feel free to double this recipe and prepare 2 (8 x 8) pans. The recipe yields about 15 bars, depending on how big you slice each piece.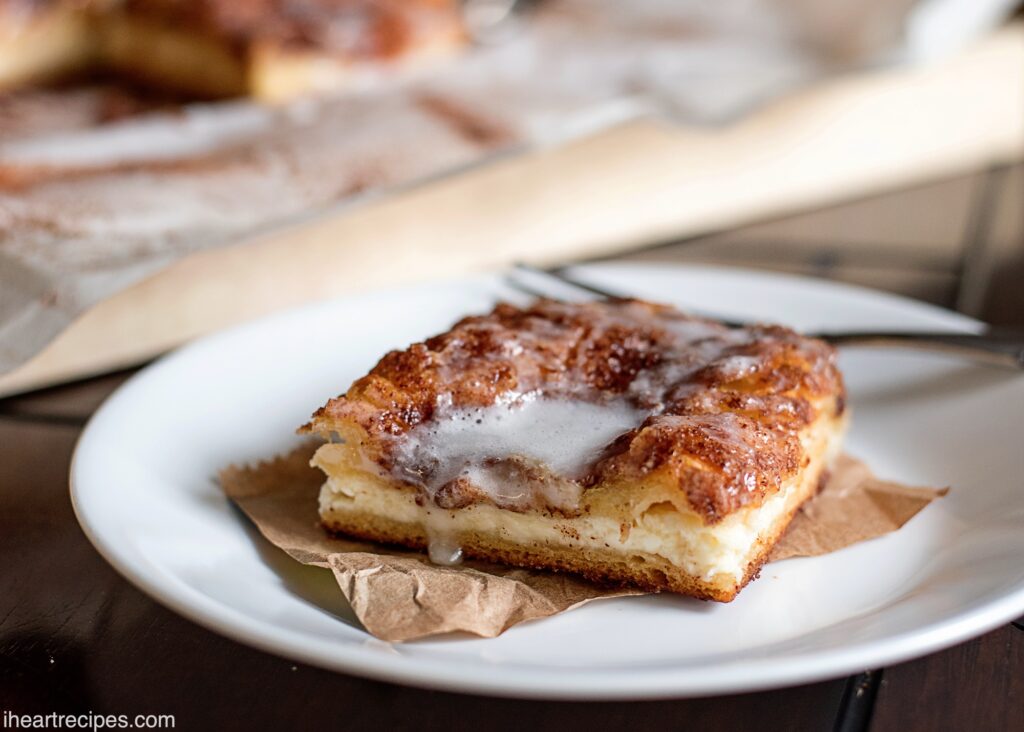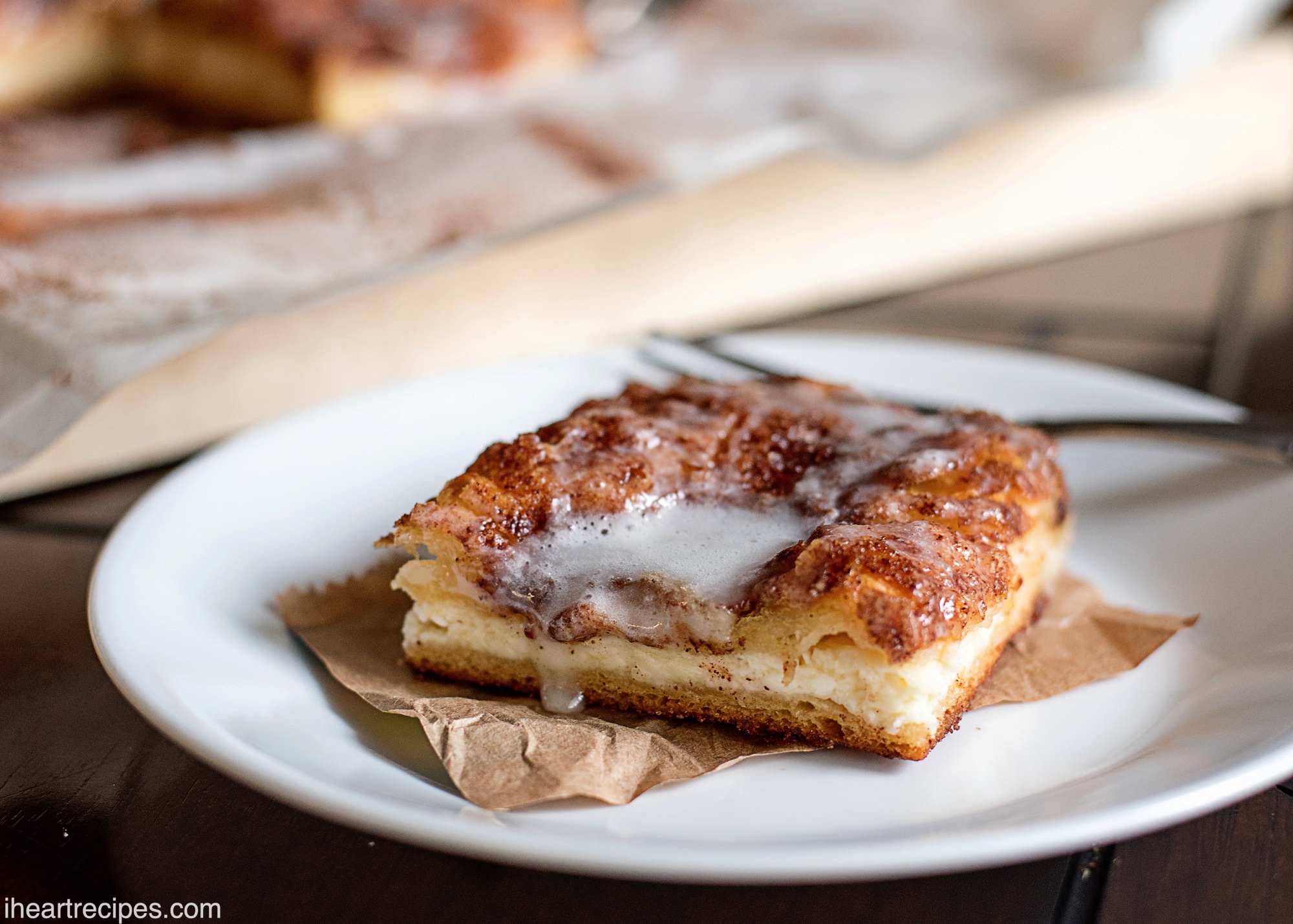 How to Store Your Churro Cheesecake Bars?
Once baked to perfection, cool your bars for 15 to 20 minutes. Then slice and enjoy them while they are still warm.
Once fully cooled, you will need to store your bars in the refrigerator. This is because they have a cheesecake filling. Not to worry, as they are just as delicious cold! You can also warm them up in the microwave in 10-second intervals.
Your bars will stay fresh for 3 days, but the Crescent roll top and bottom layers will begin to soften with each passing day. Be sure to transfer them to an airtight container or zip-top baggie before putting them in the fridge.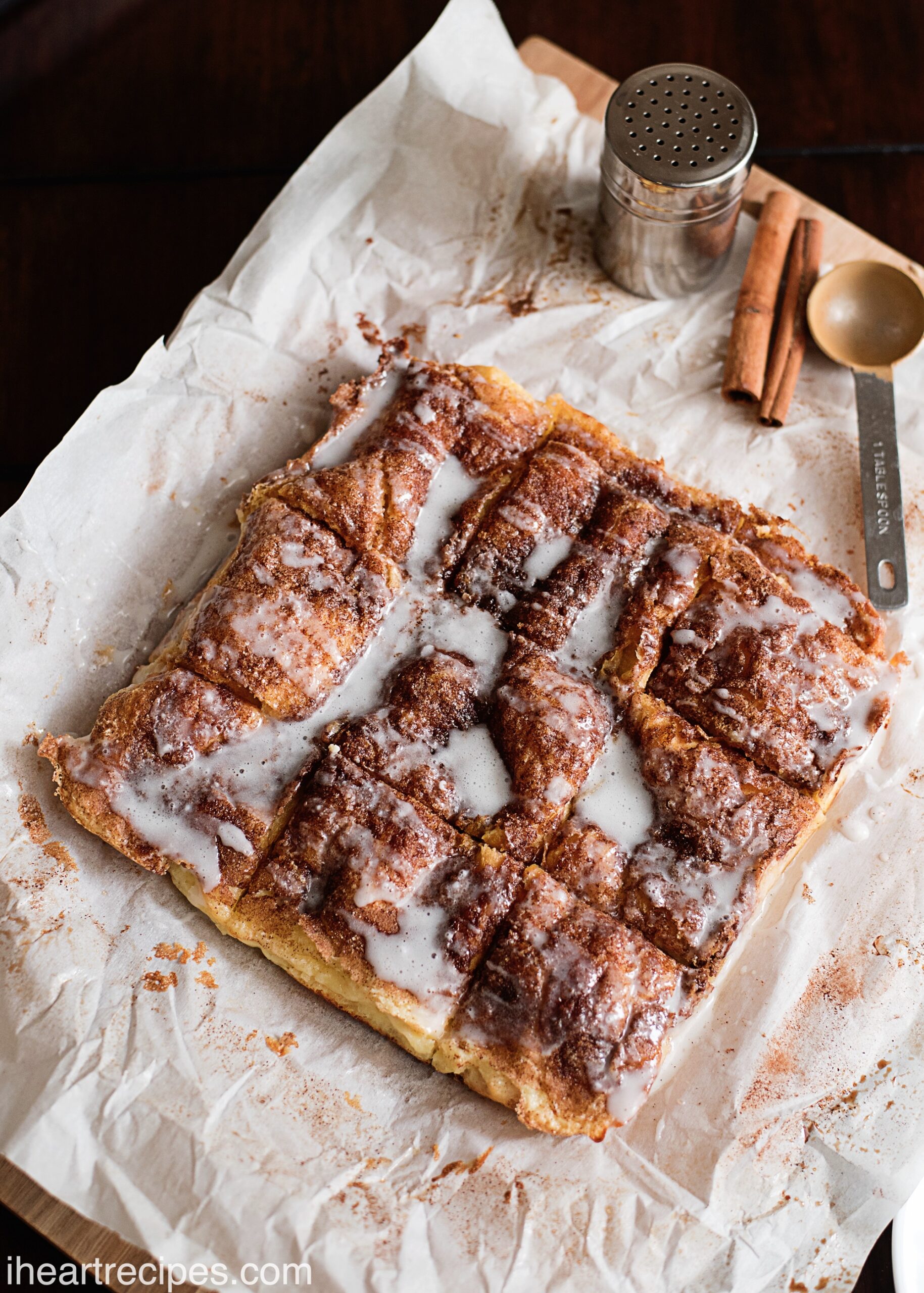 Churro Cheesecake Bars
The combination of the rich cream cheese and the crunchy cinnamon sugar make these Churro Cheesecake Bars an irresistible dessert!
Print Recipe
Pin Recipe
Instructions
Preheat oven to 350 degrees. Prepare a 8×8 baking pan with non stick spray, line with parchment paper for easy lift out and spray the parchment paper as well.

In a large mixing bowl, combine the cream cheese, vanilla, egg and ¼ cup sugar and mix until smooth and creamy.

In a small bowl, combine ¼ sugar and the cinnamon. Set aside.

In your prepared baking dish, evenly spread half of your cinnamon sugar mixture on the bottom.

Unroll the crescent dinner rolls and cut the sheet in half along the perforated line. Take the ½ sheet and press the seams together. Roll out the sheet until it's big enough to fit the bottom of your pan. Set the ½ sheet on the bottom of your pan, top of the cinnamon mixture you just poured in.

Spread the cheesecake mixture across the top.

Take the other ½ of your crescent dinner roll sheet and press the seams together. Roll it out to fit your pan and lay it on top of the cheesecake mixture.

Melt the butter in your microwave and pour evenly across the top, then pouring the rest of your cinnamon sugar mixture on top of the butter.

Bake for 30-35 minutes, until top is golden brown and crispy. Cool for 15-20 minutes, cut and enjoy!
If you loved this recipe,
leave me a review below
. This helps future recipe makers and ensures continued high-quality recipes for years to come!
© 2023 I Heart Recipes