Cresent rolls filled with taco meat and cheese! Perfect for family nights and parties!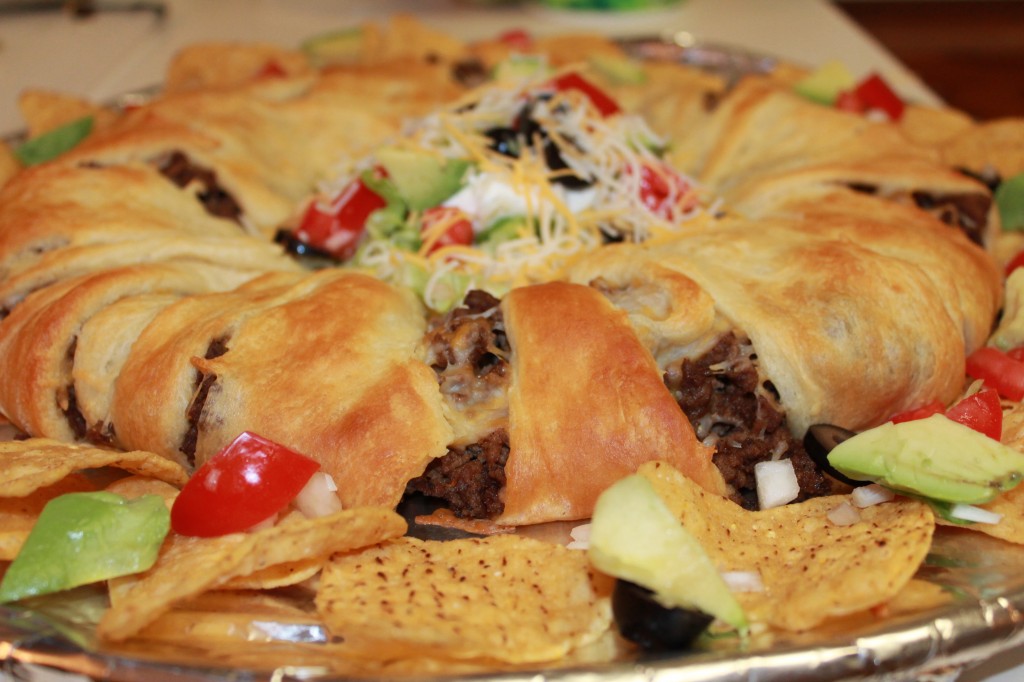 Recently I was on Facebook, and a couple of my friends had shared a recipe for the infamous taco ring. It looked amazing, so I had to try it. One thing that I knew that I'd have to change, for my liking, was the meat. A lot of people had bean making really saucy meat for the filling of their tacos. I personally am not a fan of saucy tacos. Had this been a sloppy joe ring, maybe but its a taco ring! For those of you interested in a saucy meat, I've witnessed some people add spaghetti sauce along with the meat, while others added a salsa. I simply kept my meat seasoned, and crumbled and that worked fine for me.
You can serve this ring with all of your favorite taco condiments; sour cream, guacamole, salsa. It seriously depends on you! To make this a complete meal, I added tortilla chips. This was definitely a winner. My family enjoyed it, and requested it  for our next movie night. Tell me what you all think.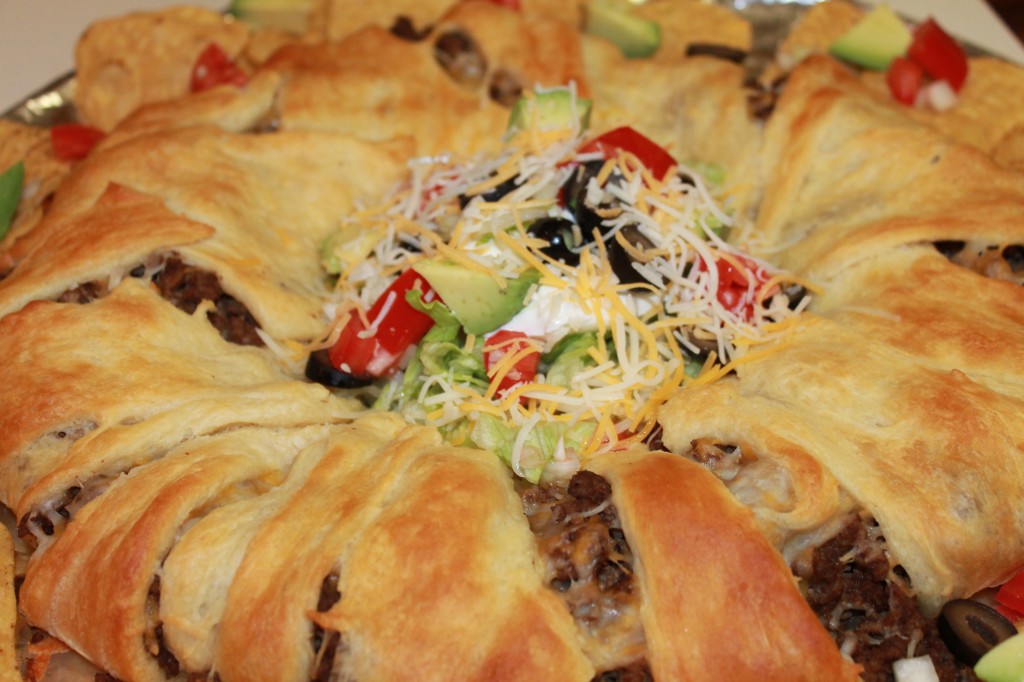 Cresent Roll Taco Ring
Your family will love this fun recipe for the Crescent Roll Taco Ring! Serve it with all of your favorite taco condiments.
Ingredients
Two cans of cresent rolls

8 rolls per can

1

lbs

ground beef

1

tbsp

taco seasoning

1

medium sized white or yellow onion

chopped

2

cups

mexican cheese

1/4

cup

black olives

1

large avacado

chopped

2

cups

iceberg lettuce

shredded

2

roma tomatoes

sliced
Instructions
Place the ground beef into a pan along with 1/2 of the onions, and brown the meat it over medium high heat.

Drain the fat from the pan, then sprinkle in the seasonings. Once the meat is completely done, turn off the heat.

Line a pizza pan with foil, then place the cresent rolls on the pan flat in a circle.

Place the meat in the middle of the cresent rolls, then sprinkle 1 cups of cheese over the meat.. Gently roll the dough over the meat. Your rolls should form one large ring. ( please watch the video for more details.)

Bake the Cresent Roll Ring for 10 to 15 minutes on 350 F.

Remove from the oven, and let cool for 5 minutes.

Place the lettuce, tomatoes, remaining cheese,and avacados in the middle of the ring.

Feel free to add your favorite taco condiments.

Enjoy!
Video