A sweet and slightly spicy homemade mango peach bourbon BBQ sauce recipe, perfect for grilling season!
Hey friends, it's BBQ season! Here in the Pacific Northwest, we don't get many perfect sunshiny days to bust out the barbecue and get grillin', so let's take advantage of the time while we have it! There's nothing like a homemade barbecue sauce recipe to make your grilled food great. In this post, I'm going to share my recipe for homemade mango peach bourbon BBQ sauce!
That's right—a sweet, tangy, slightly spicy homemade BBQ sauce with mango, peaches, some classic spices, and more essential barbecue sauce ingredients. This recipe makes about four cups of sauce and is perfect for just about any meat—especially chicken, pork, and seafood (I use this BBQ sauce in my slow cooker BBQ chicken recipe here!).
The Secret to the Perfect Homemade BBQ Sauce
Do y'all know how many different varieties of barbecue there are? Cousins, just about every region has its own style! But one thing all these barbecue styles have in common is delicious sauces that enhance the flavors of tender, juicy, savory meat. Your own homemade BBQ sauce recipe is no different! So, what's the secret to making the best homemade BBQ sauce? It's all about balance, baby!
Match your sauce with the meat: an excellent BBQ sauce brings its own flavor while complementing the flavors of the meat you're cooking. The base of your sauce will dictate which meats it goes best with. Vinegar-based BBQ sauce pairs best with pork dishes, while a combo tomato and vinegar base is best for marinades to bring out the tender, juicy flavor in meats like pork ribs or beef tips. Sugar-based sauces tend to caramelize, turning into a glaze—perfect for BBQ ribs or chicken. Mustard-based BBQ sauce packs a tangy kick, also great for pork.
Balance your flavors with spices and other ingredients: It might be easy to get carried away with different ingredients for BBQ sauces. Always remember that sometimes, simple is best! You don't want a BBQ sauce that's too sweet or too spicy, with too much tang or not enough smoke. Again, it's all about the balance. Classic barbecue sauce spices include paprika, black pepper, garlic powder, and salt. Mustard, molasses, Worcestershire sauce, and vinegar add sweetness or tanginess. Don't forget the heat! Hot sauce, red pepper flake, peppers, or chili powder add warmth and smokey flavor to your homemade sauce.
Put your own spin on things: No sauce is complete without a personal touch. What flavors do YOU love—and how can you incorporate those into your homemade barbecue sauce recipe? Don't be afraid to add some delicious weirdness. Anything from maple syrup to root beer, red wine, and yes—even fruit and bourbon—will upgrade your sauce's flavors and bring a unique spin that makes any BBQ sauce recipe your own.
Now that you know all the elements for a great homemade BBQ sauce, it's time to get to the good stuff—what y'all came here for: my mango peach bourbon BBQ sauce recipe.
How to Make Mango Peach Bourbon BBQ Sauce
Cousins, this fruity, tangy, slightly spicy homemade BBQ sauce could NOT be easier to make! All we do is mix the ingredients, cook them down to a savory sauce, and slather it on your meat of choice.
Here's what you need for this mango peach bourbon BBQ sauce:
The BBQ sauce base: This homemade barbecue sauce is a tomato base with fruit puree. Sweet and tangy! You'll need ketchup, mango puree, and peach puree. Feel free to use fresh or frozen mangos and peaches for this recipe. Pro tip: Blend up the fruit using an immersion blender or food processor for the perfect pureed texture.
The BBQ sauce spices: For this BBQ sauce, we need garlic powder, onion powder, mustard powder, black pepper (fresh cracked or ground), kosher salt, and red pepper flakes. These are the bare minimum spices for this recipe! Kick it up a notch with chili powder or cayenne pepper, paprika, or parsley as optional additions.
The BBQ sauce extras for the perfect flavor: Finally, we get to the ingredients that give this sauce its sweet and tangy flavor. You will need brown sugar (I use dark brown sugar, but light works fine if that's what you have on hand), mild molasses, Worcestershire sauce, apple cider vinegar, and bourbon. These ingredients intensify the flavors, adding sweetness, acidity, and a little bit of smokey flavor.
Gather all your ingredients, toss them in a pot, and let them simmer down over medium heat for about 50 minutes until a thick sauce has formed. It's THAT easy, y'all. Once your sauce is finished reducing, it's ready to store or be added to whatever meat you're cooking.
You can use this BBQ sauce recipe as a dipping sauce for shrimp, fried chicken, chicken tenders, or chicken wings. If you're grilling, liberally apply the sauce towards the end of the meat's cooking time, allowing the sauce to caramelize and smoke a bit. Smokey barbecue chicken or pork on the grill are great options for this sauce. Cooking indoors? No problem. Use your homemade mango peach bourbon BBQ sauce for slow cooker beef brisket, pulled pork, or succulent barbecue ribs. I'm telling y'all—there is NO shortage of recipes you can make using this homemade BBQ sauce! It's easy, versatile, and SO freakin' delicious.

Homemade Barbecue Sauce FAQs
How do you store homemade barbecue sauce?
Are you the kind of person who keeps their condiments in the fridge or the cabinet? That's really the ultimate question when it comes to how to store homemade barbecue sauce. Because BBQ sauce has a relatively low PH level, it doesn't have to be refrigerated. Instead, cool your BBQ sauce to room temperature, then store it in an airtight container like a mason jar. Store for up to two weeks or in the freezer for up to three months.
Is it cheaper to make your own BBQ sauce?
If you're on a budget, it most definitely can be cheaper to make your own sauces! Y'all know I love a good bargain, and if I'm buying store-bought BBQ sauce, I'll typically buy whatever is on sale at my local grocery store. However, most homemade BBQ sauce recipes, like my mango peach bourbon BBQ sauce, can be made with (and tweaked to accommodate) ingredients you already have on hand. Some store-bought gourmet sauces get expensive, and the flavor doesn't compare to a homemade BBQ sauce's delicious and custom results.
Mango Peach Bourbon BBQ Sauce Recipe Card
Are you ready to make your own sweet and tangy homemade BBQ sauce? Print out my mango peach bourbon BBQ sauce recipe using the recipe card below! If you made and loved this recipe, let me know in the comments. What delicious dishes will you create with this BBQ sauce? Don't forget to subscribe to I Heart Recipes on YouTube to see all of my recipe videos, cooking tips, and more! You can also follow me on Facebook, Instagram, and Pinterest to keep up with all things Rosie and I Heart Recipes!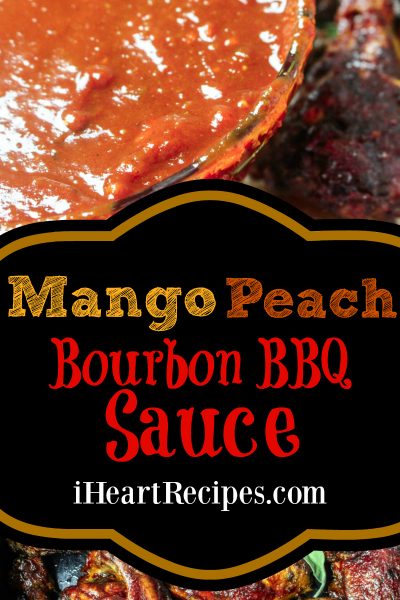 Mango Peach Bourbon BBQ Sauce
Pack a sweet punch with this homemade BBQ sauce, perfect for anything from beef or pork and chicken!
Print Recipe
Pin Recipe
Instructions
Combine all of the ingredients in a large pot, and stir.

Place the pot over low-medium heat.

Let cook for about 50 minutes.

Let cool.

Serve on chicken, pork, or seafood.

Enjoy.
Notes
How to store homemade BBQ sauce: 
Store in an air-tight container (like a mason jar) for up to two weeks, or freeze for up to three months.
If you loved this recipe,
leave me a review below
. This helps future recipe makers and ensures continued high-quality recipes for years to come!
© 2023 I Heart Recipes