This Krispy Kreme bread pudding recipe takes classic glazed Krispy Kreme doughnuts and turns them into a delicious, moist bread pudding with hints of warm cinnamon and vanilla. Does it get any better?!
Hey Cousins! Today, I am sharing possibly one of the most decadent desserts ever to grace my blog, and it's one that I've been making for a while.
During the holidays, my Instagram timeline is full of subscribers making my recipes, as well as recipes that celebrities make for their holiday spreads. One celebrity was raving about a bread pudding from their local caterer. It wasn't just any old-fashioned bread pudding—it was a Krispy Kreme doughnut bread pudding! Usually, I'd be shocked at the idea of turning sweet, glazed donuts into bread pudding, but I have to admit I wasn't. Why? Well, I've been making this donut bread pudding for a while now.
The first time I ever heard of Krispy Kreme bread pudding was from the one and only Paula Deen a few years back. I thought it was a fantastic idea and knew I had to try it. However, her recipe has fruit in it, and that isn't "my thing," so I changed a few ingredients and made my own perfected Krispy Kreme bread pudding recipe.
What Is Krispy Kreme Doughnut Bread Pudding?
Bread pudding has a rich history, almost as sweet as the dish itself. As far back as the 11th century, budget-friendly cooks (my kinda people!) made bread pudding to use up leftover stale bread. The traditional recipe contains many of the same ingredients used in most bread pudding recipes today: eggs, cream, sugar, cinnamon, nutmeg, raisins, and butter. Recipes have evolved over the years, and now there are countless ways to make bread pudding—from an old-fashioned bread pudding to eggnog cranberry bread pudding, peach blueberry bread pudding, and many more variations.
Donut bread pudding, however, is a whole other ballgame. There's even an original Krispy Kreme bread pudding recipe created by the company itself. Since we're using sweet donuts, you don't have to add any sugar to this recipe. The original glazed Krispy Kreme doughnuts MAKE the dish. The doughnuts are soaked in a creamy egg mixture flavored with cinnamon and nutmeg and finished off with a vanilla rum glaze.
Ingredients for Krispy Kreme Bread Pudding
So, what exactly do you need to make this sweet dessert? Well, like I said above—if you've made a bread pudding recipe before, the ingredient list won't surprise you. However, be warned: this recipe is not for the faint-hearted! It's very sweet and requires a lot of Krispy Kreme doughnuts… the temptation is very real!
Here's everything you need to make donut bread pudding:
Krispy Kreme Doughnuts: you'll need two dozen original glazed donuts. Yep—24 donuts! (And yes, it's perfectly okay to sneak one or two extra donuts for yourself; I won't judge! 😉)
Sweetened Condensed Milk & Whole Milk: the liquid base for the bread pudding custard.
Eggs: you only need two large eggs for this recipe. Pro-tip: add an additional egg yolk or two for an extra creamy custard.
Ground Cinnamon & Nutmeg: the warm spices used in the liquid custard mixture. (I also add a pinch of salt to balance the sweetness—trust me, it works!)
Ingredients for the Vanilla Rum Glaze:
Confectioners Sugar: also known as powdered sugar. This is the base of the sauce.
Butter: adds creaminess to the glaze, making it a hint thicker.
Milk: to liquefy the powdered sugar.
Vanilla Extract & Rum Extract: to flavor the glaze. I use rum extract to make it kid-friendly, but if you're not serving kids, go ahead and use regular rum if desired.
Equipment Needed:
Large Bowl: seriously—the bigger, the better. Two dozen chopped-up donuts take up a lot of room! (You'll also need a second bowl for the liquid mixture.)
Baking Dish: a 9-by-13-inch pan or casserole dish is best for this recipe.
Whisk: to make the liquid custard mixture. You won't want to use a hand mixer, as it will overbeat the eggs.
Medium Sauce Pot: for making the vanilla rum glaze on the stovetop.
Baking Spray: to keep your baking dish non-stick (believe me, don't skip on this step!). The Pam no-stick cooking spray with flour is my go-to for any baking needs.
How to Make Krispy Kreme Bread Pudding (Steps + Video Tutorial)
This donut bread pudding recipe is indeed very easy and oh-so-worth the sugar high. Here's an overview of the steps to make a Krispy Kreme doughnut bread pudding. Remember to check out the recipe card below for exact ingredient measurements and complete directions. You can also check out my step-by-step video tutorial to see how I make my recipe.
Krispy Kreme Bread Pudding Recipe Steps:
Cube up the donuts and put them in a large bowl. Set them aside until the egg and cream mixture is ready.
In a separate bowl, make the bread pudding custard mixture. Add the eggs, sweetened condensed milk, whole milk, salt, cinnamon, and nutmeg, and whisk everything together until well combined.
Pour the egg mixture into the bowl with the donuts and mix until all the donuts are soaked in that creamy liquid. Let them sit for 10-15 minutes until soft and slightly mushy. (Pro-Tip: watch my YouTube video to see the perfect texture for the bread pudding mixture. The donuts should be mushy and well-combined with the liquid, with a few larger chunks of donuts still visible.)
Prep your baking dish. Spray it with non-stick baking spray, spread the bread pudding mixture evenly in the baking dish, and bake in a pre-heated 350-degree oven for 45 minutes until the bread pudding is puffy and golden brown.
Next, make the vanilla rum glaze. Melt butter over medium heat, then mix confectioners' sugar, milk, vanilla extract, and rum extract. Once well combined, keep the glaze over very low heat until the bread pudding is ready to serve.
This Krispy Kreme bread pudding needs to cool for 15-20 minutes before serving. You can top it with the glaze when it's cooled or serve the glaze with each individual slice. I'm telling y'all, this donut bread pudding is to die for! If you're a fan of sweet breakfasts or decadent desserts, you gotta try this recipe. It's perfect for a special occasion or weekend brunch and feeds a crowd.
Donut Bread Pudding Recipe Tips, FAQs, and Variations
Now, y'all know I always say that my recipes are best when you follow the directions to a T. However, even the best cooks like to make their own tweaks. So, let's address some common FAQs about bread pudding, as well as some delicious recipe variations.
Do I need to use stale Krispy Kreme doughnuts in this recipe?
I personally do not wait for the donuts to get stale, so you can use fresh donuts in this recipe, and it will not affect the end result at all. However, if you happen to have extra donuts left over that have gone stale, you most certainly can use those too. (Warning: I know it's hard to resist the temptation to snack on a donut or two. Snack away!)
Do I have to use Krispy Kreme? Can I use any type of donut for donut bread pudding?
Classic glazed Krispy Kreme doughnuts work best. Let's face it, Krispy Kreme stores are becoming harder to find these days. So, if you don't live near a Krispy Kreme (or can't find them at your local grocery store, bakery, or gas station), then any plain glazed donut will do the trick. Go for a raised yeast donut or a simple cake donut. This recipe works best with plain instead of anything filled, topped with thick frosting or toppings (like sprinkles).
Can I make this donut bread pudding with fewer donuts?
Yes, you certainly can cut this recipe down in half! As written, this donut bread pudding will serve between 8-10 people (depending on the size of the slices). If you want to make a smaller serving, use one dozen donuts, cut the rest of the ingredients in half, and bake the bread pudding in a smaller pan.
Recipe Variations for Krispy Kreme Bread Pudding:
Choose some mix-ins to up the flavor. Popular mix-ins would be raisins, pecans or walnuts, or chocolate chips.
Switch up the icing. You can drizzle chocolate sauce or caramel sauce on top. Make a brown sugar sauce or butter rum sauce for icing with deeper flavors.
Make a creamier custard. Use heavy cream instead of whole milk, and add an extra egg yolk (separated from the white) to thicken the custard mixture.
Serve with a scoop of ice cream—vanilla or chocolate—or top with fruit (strawberries, bananas, or blueberries would be delicious).
When to Serve Krispy Kreme Bread Pudding?
You can serve this donut bread pudding recipe as a dessert or for breakfast. It's perfectly okay to make this recipe ahead of time and store it in the fridge to serve the next day. While it's best served fresh, it's crazy simple to reheat and tastes just as delicious! My Krispy Kreme bread pudding recipe serves a crowd, so it's a great alternative dessert for a birthday or a holiday dinner.
Looking for more decadent dessert recipes? Don't miss these sweet treats:
Be sure to share and save this recipe on Pinterest! You can also follow along with all things Rosie and I Heart Recipes by following me on Facebook, Instagram, and Pinterest, and check out all my cookbooks!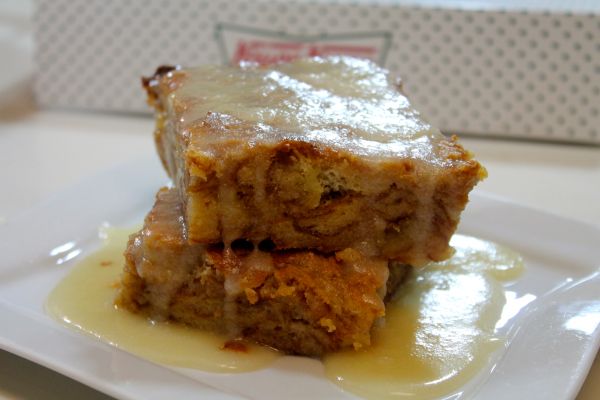 Krispy Kreme Bread Pudding Recipe
This rich bread pudding made with Krispy Kreme donuts is the perfect amount of sweet. Try it as an adventurous breakfast or as a dessert with a scoop of ice cream. Enjoy!
Watch Video
Print Recipe
Pin Recipe
Instructions
Preheat your oven to 350 F.

Cut or tear the donuts apart and toss them into a large bowl.

24 Krispy Kreme Original Glazed Donuts

In a separate bowl, beat two eggs, then pour in the whole milk and sweetened condensed milk. Mix until everything is well combined, then add in the nutmeg, salt, and cinnamon. Beat the ingredients.

2 eggs,

1 14 oz. can sweetened condensed milk,

1 cup whole milk,

1/8 tsp ground nutmeg,

1 tsp ground cinnamon,

1/8 tsp salt

Pour the egg and milk mixture over the donuts and use a spatula to fold the mixture together. Make sure the donuts are covered with the wet mixture, then let sit for 15 minutes to absorb the wet mixture.

Next, spray a 9×13 bake dish with baking spray, then add the bread pudding mixture.

Press the bread pudding down into the dish to get rid of any air that may in the donuts.

Bake the bread pudding for 45 minutes at 350 F.

Remove the Krispy Kreme Donut Bread Pudding from the oven, and let it cool.

While the pudding is cooling, make your Vanilla Rum Sauce.

In a medium-sized pot, add 8 tbsps of butter and place the pan over medium heat.

Once the butter is melted, add in 3 cups of confectioner's sugar and whisk the ingredients together.

3 cups confectioners sugar

Next, pour in 1/4 cup milk and stir until the icing is nice and creamy.

Add in the vanilla and rum extracts. Mix until well incorporated.

1 tsp vanilla extract,

1 tsp rum extract

Keep the vanilla rum sauce over very low heat until you are ready to serve.

Once the bread pudding has cooled, cut into slices and serve. Drizzle the vanilla rum sauce over the bread pudding, and enjoy!!
Video
If you loved this recipe,
leave me a review below
. This helps future recipe makers and ensures continued high-quality recipes for years to come!
© 2023 I Heart Recipes