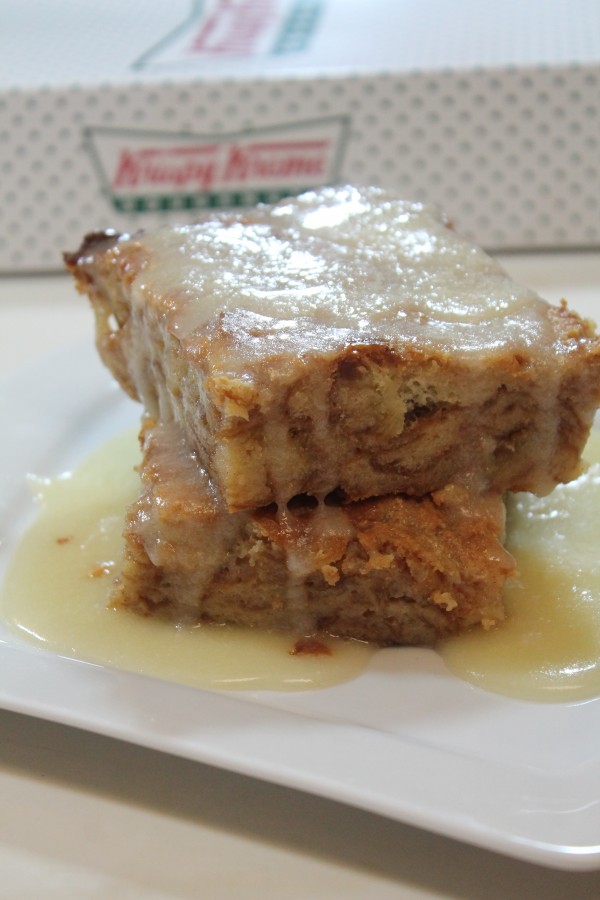 Krispy Kreme Donuts turned into a delicious moist bread pudding. Does it get any better than that?!
During the holidays my timeline on instagram was bananas. I got to see so many of my subscribers recreate my dishes ( pics coming soon!), and I snooped around to see what the celebrities were making. One celebrity in particular raved about a bread pudding that they had ordered from a local caterer. They didn't just have a regular old fashioned bread pudding, they had a Krispy Kreme Donut Bread Pudding. Now usually, I would be in shock with the idea turning delicious Krispy Kreme original glazed donuts into a bread pudding, but I have to admit that I wasn't. Why? Because I had been making it for while now. The very first time time that I heard of Krispy Kreme Bread Pudding was a while back, when Paula Deen made it. At that time, I thought it was such an amazing idea, and I knew that I had to try it.  I loved her recipe, but I wanted to create my own. I remember her recipe having fruit in it, and that isn't "my" thing, so I left it out. I change a few ingredients and measurement, and before I knew it- I had perfected my very own Krispy Kreme Bread Pudding!
This recipe is indeed easy. Since we're using donuts, you don't have to add sugar. The Krispy Kreme donuts MAKE the dish. If you don't live close to a Krispy Kreme , you can try using original glazed donuts from your local bakery. I can't promise you that it will be the same- But, it's worth a try.
Here's the recipe!
[amd-zlrecipe-recipe:249]
Krispy Kreme Bread Pudding Recipe
This rich bread pudding made with Krispy Kreme donuts is the perfect amount of sweet. Try it as an adventurous breakfast or as a dessert with a scoop of ice cream. Enjoy!
Ingredients
24

Krispy Kreme Original Glazed Donuts

2

eggs

14

oz

can sweetened condensed milk

1

cup

whole milk

1/8

tsp

ground nutmeg

1

tsp

ground cinnamon

1/8

tsp

salt

*Baking Spray

* 9x13 bake dish

8

tbsp

butter

3

cups

confectioners sugar

1

tsp

vanilla extract

1/4

cup

milk

1

tsp

rum extract
Instructions
Preheat your oven on 350 F.

Cut or tear the donuts apart, and toss them into a large bowl.

In a separate bowl beat two eggs, then pour in the whole milk and sweetened milk. Mix until everything is well combined, then add in the nutmeg, salt, and cinnamon. Beat the ingredients.

Pour the egg and milk mixture over the donuts, and use a spatula to fold in the donuts. Make sure the donuts are covered with the wet mixture, then let it sit for 15 minutes to absorb the wet mixture.

Next, spray a 9x13 bake dish with baking spray, then add the bread pudding mixture.

Press the bread pudding down into the dish, to get rid of any air that may in the donuts.

Bake the bread pudding for 45 minutes on 350 F.

Remove the Krispy Kreme Donut Bread Pudding from the oven, and let it cool.

While the pudding is cooling, make your Vanilla Rum Sauce.

In a medium sized pot, add in 8 tbsps of butter, and place the pan over medium heat.

Once the butter is melted, add in 3 cups of confectioner, and whisk the ingredients together.

Next, pour in 1/4 cup milk and stir until the icing is nice and creamy.

Add in the vanilla and rum extracts. Mix until well incorporated.

Keep the vanilla rum sauce over very low heat until you are ready to serve.

Once the bread pudding is warm, and safe to eat (don't burn your mouth! LOL) dish it out.

Drizzle the vanilla rum sauce over the bread pudding, and enjoy!!
Video