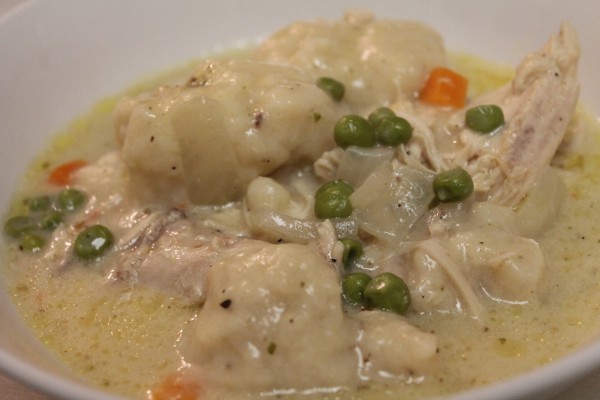 Delicious homemade chicken and dumplings, the ultimate comfort food!
Chicken and dumplings, who doesn't love them? I actually didn't care more for this dish until I had gotten older. Why? Because it wasn't until then, that I got to experience the real thing. Sadly, I had only tried the canned and microwaveable versions of this dish, until I moved out on my own. I remember being at work, in the break room, and  hearing one of my coworkers saying how much they were craving chicken and dumplings. Instantly I turned my nose up because I couldn't figure out why anyone would crave such a horrific dish. Again, at this time I had never experienced true chicken and dumplings. After  long 8 hour shift, I decided to go home and search for chicken and dumpling recipes. I had to be missing something, because it appeared that I was the only person that didn't like it. I found hundreds of recipes for the dish, but only printed out a few. Over the next couple weeks, I tried the recipes, and I actually liked some of them. I knew that in order to be a true chicken and dumplings fan, I would have to add my own tweaks to the recipe, so eventually that's what I did. After  playing around with this dish for many years, here is my favorite recipe. It's easy, full of flavor, and quite comforting. This is definitely one of those meals that you just want to snuggle on the couch, and watch tv while you eat. Give it a try, and tell me what you think.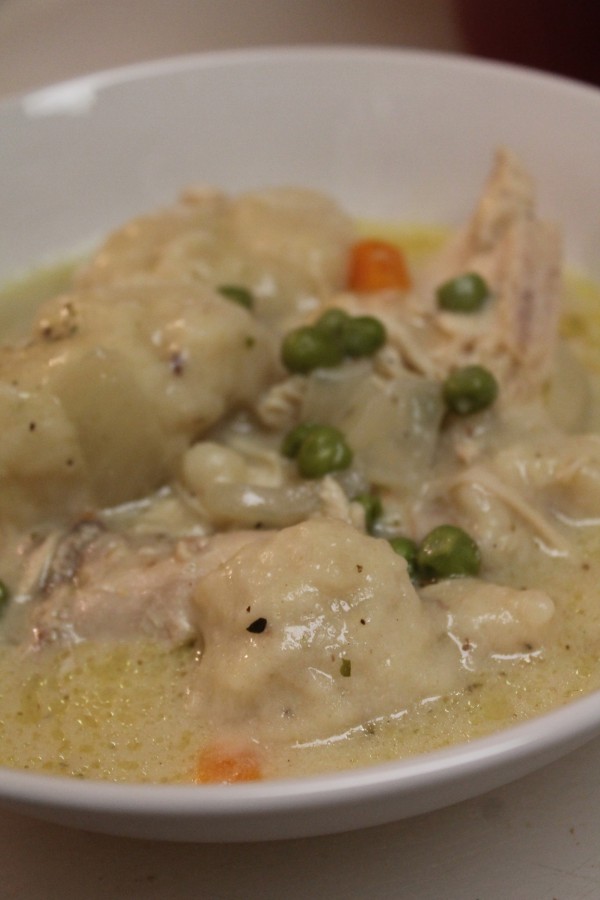 Substitutions
Whole Chicken–  If you don't want cook a whole chicken, use whatever pieces of chicken that you prefer. If you decide on cooking just chicken breast, cook for only 15-20 minutes.
Cream of chicken– Replace with cream of celery, or cream of mushroom.
Seasoning salt/salt – Watching your sodium? Use Mrs. Dash or another salt free seasoning
Buttermilk– 1 cup regular milk +1 tbsp vinegar or lemon juice.
Chicken and Dumplings
If you want the ultimate comfort food, this homemade chicken and dumplings recipe is your best bet! Moist chicken and soft dumplings make this dish irresistible.
Ingredients
1

Whole chicken about 5 to 6 pounds

giblets and liver removed

2

cups

frozen peas and carrots

1

large onion

chopped

2

tbsp

garlic powder

2

tsp

seasoning salt

1

tsp

poultry seasoning

1/2

tsp

ground black pepper

10.5

oz

can of cream of chicken

2

cups

heavy cream
Dumpling Mixture
1 1/2

cup

self rising flour

1/2

tsp

poultry seasoning

1/2

cup

buttermilk

2

tbsp

butter

at room temperature
Instructions
Rinse the chicken under cool water, and remove everything from the cavity.

Season the chicken with 1 tsp of seasoning salt, 1 tsp poultry seasoning, 1 tbsp garlic powder, and 1/2 tsp ground black pepper.

Place the seasoned chicken in a large pot, and pour in enough water to cover the chicken.

Bring the water to a boil, then turn the heat to medium high, and boil the chicken for about 45 minutes. Be sure to check the chicken periodically so that it doesn't burn on the bottom!

Remove the pot from the burner, then carefully remove the chicken from the pot.

Reserve 8 cups of the water from the pot.

Remove all of bones, and skin from the chicken.

Shred or chop the meat.

Add the 8 cups of water (from the pot) to another pot, and skim off any fat or oil that maybe floating on top.

Sprinkle in 1 tsp of seasoning salt, and 1 tbsp of garlic powder, and stir.

Add in the cream of chicken soup, and heavy cream. Stir the ingredients.

Add in the mix peas and carrots, onions, and chicken. Turn the heat to medium.

In a large mixing bowl add in 1 1/2 cup of sifted self rising flour, and 1/2 tsp of poultry seasoning.

Add 2 tbsp of softened butter, and 1/2 cup of buttermilk into the mixing bowl, and mix the ingredients until it forms into a sticky dough.

Use a small ice cream scoop or spoon, and start adding the dumpling mixture into the pot.

Once all of the dumpling are in the pot, stir, and let cook for an additional 15 minutes.

Serve.
Video