This creamy chicken soup is comfort food at it's best. It's made with chicken, veggies and herbs. Get the recipe for this rich, and satisfying soup here.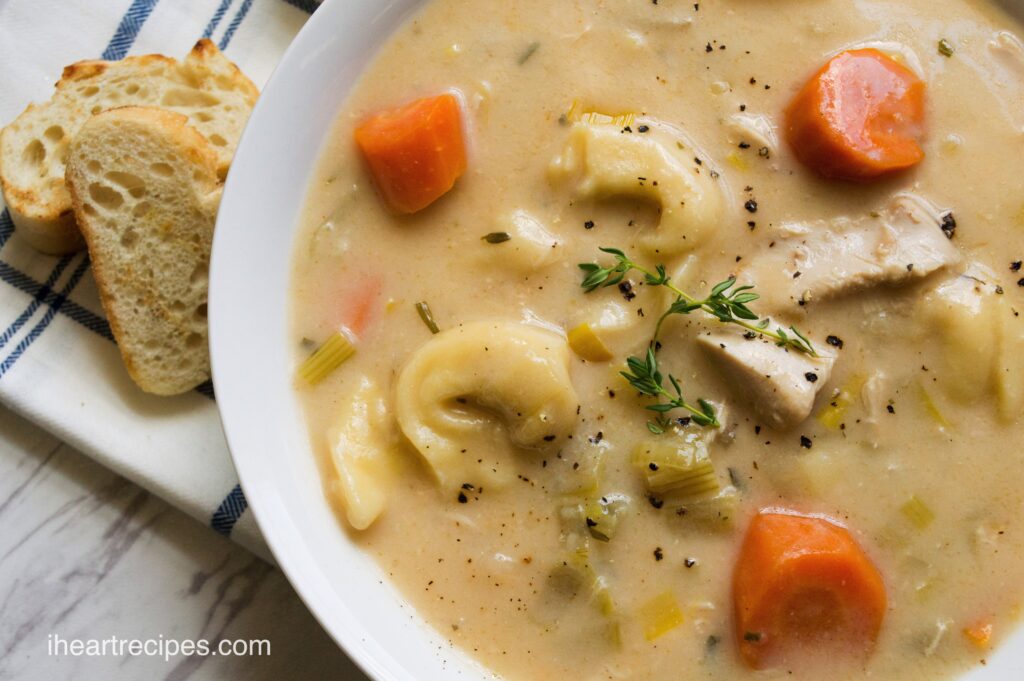 Hey cousins! I'm counting down the days to my favorite time of the year, Fall! When I think of fall I think of homemade soups, stews, chilis, and numerous slow cooker meals. One of my favorite soups to make during fall would have to be my easy creamy chicken tortellini soup. My recipe for this soup includes carrots, fresh stalks of celery, sliced onions, garlic, and more. It's truly one big pot of comfort! Best of all it's quite easy to make, and the prep time is under 15 minutes . Let me tell you what you need to get started.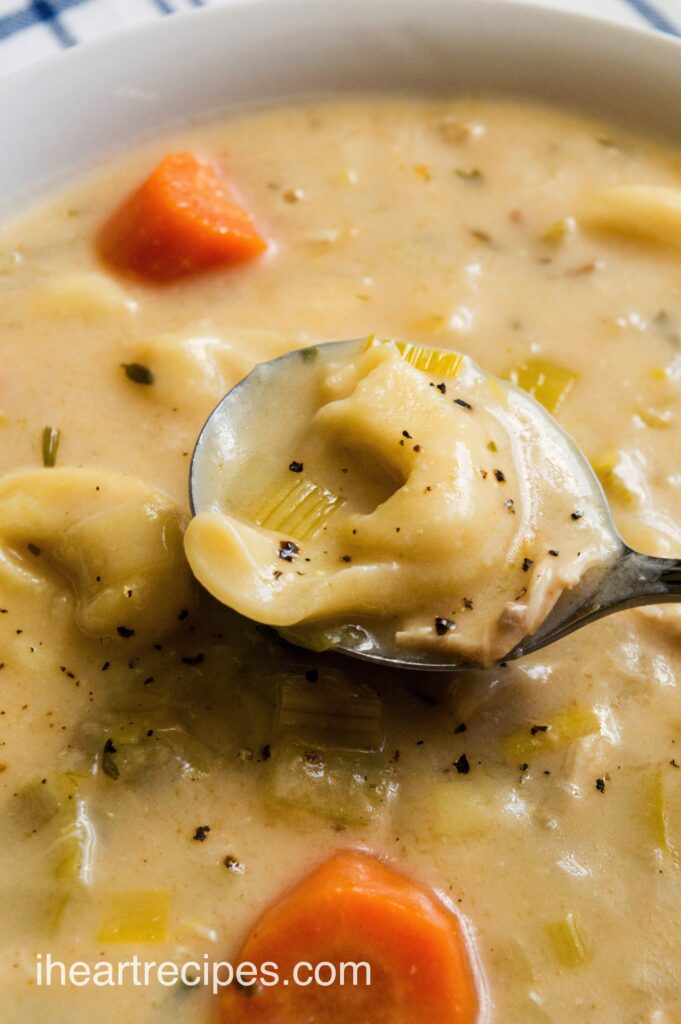 Here's What You Need
Ingredients needed are
2 pounds of cooked chicken (You can use chicken breasts, chicken thighs or a combination. It's totally up to you! Also you can make the chicken homemade, or buy some store bought rotisserie chicken)
14 ounces of cheese tortellini
fresh thyme
bay leaves
2 large leeks
2 celery stalks
3 peeled carrots
2 tablespoons of olive oil
1 tbsp butter
3 teaspoons seasoning salt( I use RosaMae Seasonings )
Black pepper
9 cups of chicken broth ( no need for chicken bouillon), I like to use low sodium broth.
1 cup water
¼ cup of cornstarch ( no need for flour! The cornstarch will certainly thicken this soup up)
1 cup of half and half 9 which is a combination of milk and heavy cream)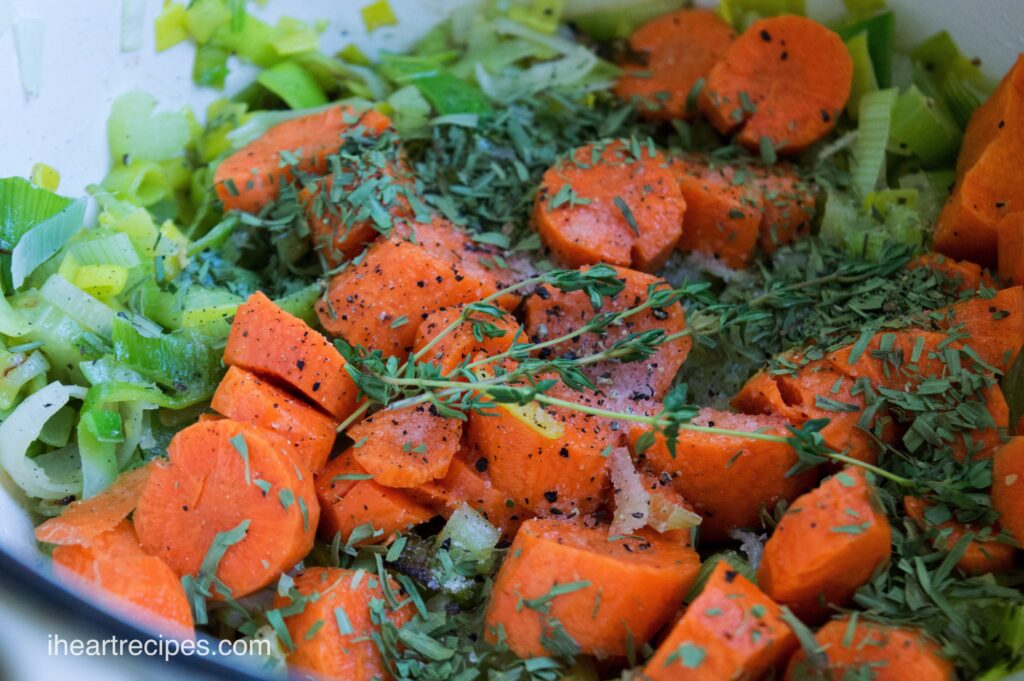 Prepare The Vegetables
Be sure to wash all of the vegetables before any other steps. Gently scrub the dirt off of all of the vegetables. Also, remember that the carrots will need to be peeled prior to cutting. Since we're using fresh herbs, you'll need to wash those as well. Be sure to not skip out on any of these vegetables, nor herbs. They add a ton of flavor to this recipe. Skipping out on any ingredients listed, will result change the recipe, and it won't taste the same!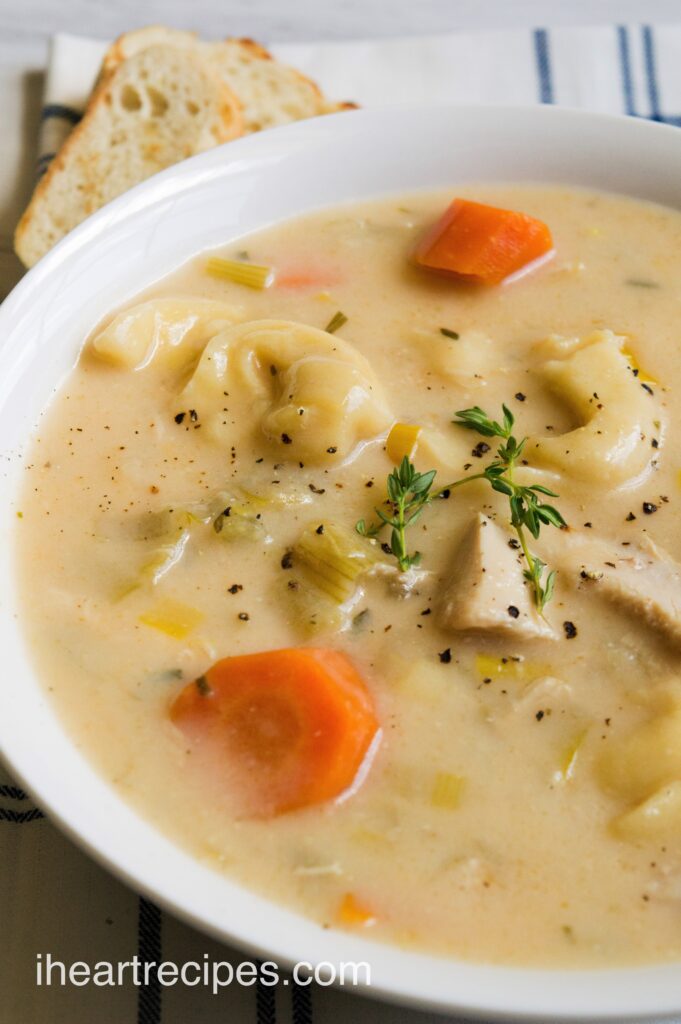 Instructions On Cooking The Soup
In a large pot over medium high heat add in oil and butter.
Once butter begins to melt, add in clean leeks. Stirring occasionally, allow the leeks to cook for about 4 minutes, or until softened.
Next, add in celery, carrots and seasonings.
Add in vegetable broth and lower heat to a simmer.
Cook for 20-25 minutes, or until carrots are tender.
In a small bowl whisk 1 cup of water and cornstarch, then set to the side.
Once carrots are tender add in the chicken, and the tortellini.
Increase the heat to medium high heat, let it boil, and cook until tortellini for about 4-6 minutes.
Next, pour in the water and cornstarch mixture.
Stir until broth has thickened, then reduce the heat to low.
Slowly pour in the half and half.
Stir, and cook for about 5 more minutes.
Turn the heat off, and remove the pot from the hot burner.
Garnish with fresh parsley, and serve!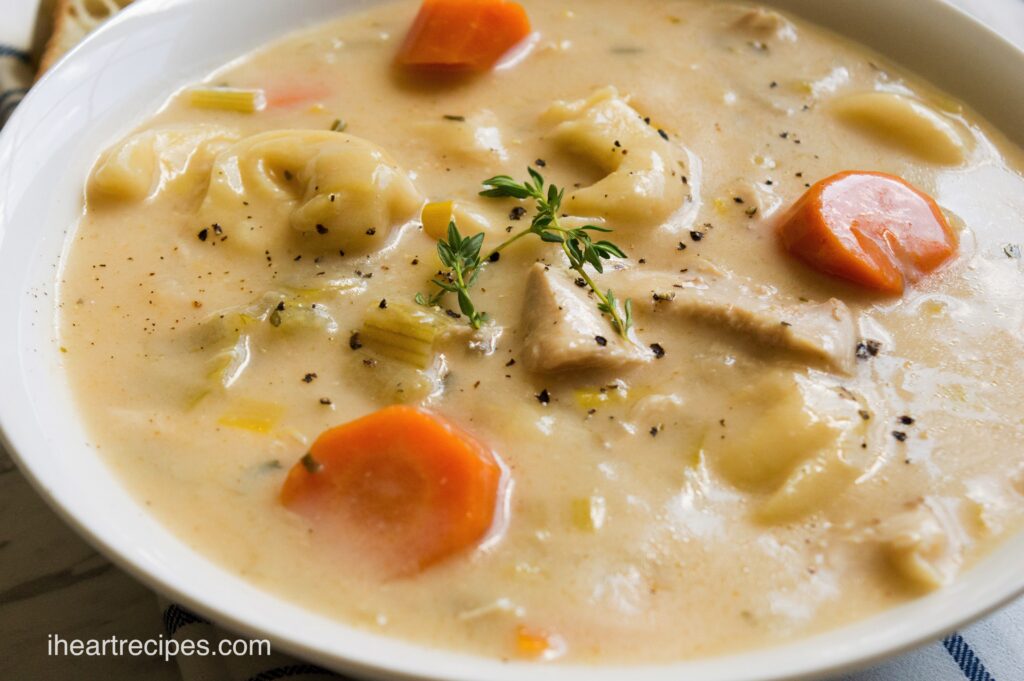 Serving The Soup
Serve this soup immediately after you make it. You want to serve it while it's nice, and hot! When serving this easy creamy chicken tortellini soup, you don't need many sides if any! Why? Because this soup has all your carbohydrates, protein, and vegetables. I usually eat this soup by itself, or pair it with a sandwich or salad.
looking for more soup recipes? check out my tomato soup , as well as my other cheddar broccoli soup recipe!

Print this recipe for my Easy Creamy Chicken Tortellini Soup!
Easy Creamy Chicken Tortellini Soup
Ingredients
2

lbs

cooked chicken

shredded

14

oz

bag of cheese tortellini

2

large leeks

cut into ½ inch pieces

2

stalks of celery

cut into ½ inch pieces

3

peeled carrots

cut into ½ inch pieces

2

sprigs of fresh thyme

2

bay leaves

2

tbsp

olive oil

1

tbsp

butter

salted

3

tsp

seasoning salt

I use RosaMae Seasoning

1 ½

tsp

coarse black pepper

9

cups

chicken broth

1

cup

water

¼

cup

cornstarch

1

cup

half and half
Instructions
In a large pot over medium high heat add in oil and butter.

Once butter begins to melt, add in clean leeks. Stirring occasionally, allow the leeks to cook for about 4 minutes, or until softened.

Next, add in celery, carrots, thyme, bay leaves, pepper, and seasoning salt.

Add in vegetable broth and lower heat to a simmer.

Cook for 20-25 minutes, or until carrots are tender.

In a small bowl whisk 1 cup of water and cornstarch, then set to the side.

Once carrots are tender add in the chicken, and the tortellini.

Increase the heat to medium high heat, and cook until tortellini for about 4-6 minutes.

Next, pour in the water and cornstarch mixture.

Stir until broth has thickened, then reduce the heat to low.

Slowly pour in the half and half.

Stir, and cook for about 5 more minutes.

Turn the heat off, and remove the pot from the hot burner.

Serve & Enjoy