Tender potatoes and ground beef tossed in a creamy cheese sauce. This makes the perfect weeknight meal for the family!
If you looking for an easy and budget-friendly casserole, this one-dish meal has you covered! This recipe has just 6 ingredients and 2 spices and takes about 40 minutes to prep—delivering the meaty and cheesy flavor of a hamburger in just a fraction of the time.
It will easily feed a crowd. If your family is small, you'll have plenty of leftovers!
What is a Casserole?
The word "casserole" is French for oven-safe saucepans that double as a serving plate. Traditional French casserole dishes are similar to Dutch ovens. The modern flat Pyrex dishes we cook casseroles in were invented in the 1950s, starting the trend of easy one-dish meals.
While your options are endless, most casseroles contain:
Meat—either raw or precooked.
Veggies—fresh or canned.
Starch—potatoes or noodles.
Liquid—broth, cream, or cheese.
This casserole is light on veggies, but you can serve it with a salad or side dish.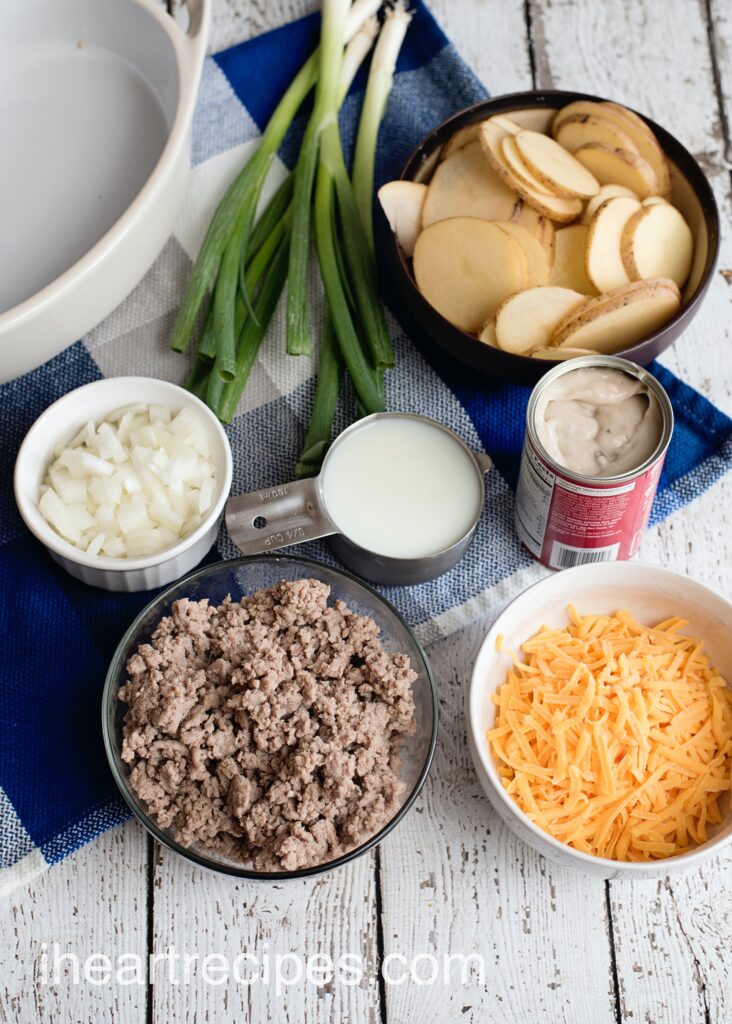 Bake in an Aluminum Casserole Dish
If the presentation isn't a priority, you are freezing it, gifting it, or taking it to a family gathering—you can bake or freeze this casserole in a recyclable aluminum casserole dish. Then you don't have to worry about getting your casserole dish back!
Aluminum pans also retain heat longer than a standard casserole dish. Bake it at home, keep it warm in the oven, and transport it to the party in a cooler to keep it warm. Yes—coolers keep things warm too!
You can also keep your casseroles warm with a chaffing rack and gel burner.
This Hamburger and Potato Casserole Recipe is Freezer Friendly
One of the hacks busy home cooks utilize is freezing ready-made meals that only need to be defrosted and reheated. This might mean baking two at the same time and freezing one, freezing the leftovers, or scheduling bulk cook days every couple of months to stock your freezer.
How to Freeze This Casserole After It's Baked
Here is what you need to know if you plan to freeze your Hamburger and Potato Casserole after it's been baked. This could be the entire casserole or your leftovers.
If your casserole dish isn't freezer-safe, line it with two layers of parchment paper, ensuring there are at least 2 inches of excess on all 4 sides. If you don't have parchment paper, you can use aluminum foil. Just be mindful that it is harder to get foil to lay flat, and that it is more likely to tear.
Prep and bake as directed. Then, eat your meal and allow the rest to cool. Or allow the full casserole to cool. Cool on the counter until the casserole dish is no longer warm to the touch, then cool in the fridge for at least 2 hours.
Once chilled, place your freezer-safe casserole dish in the freezer. If it doesn't have a lid, add 2 layers of foil on top. If your dish isn't freezer-safe, carefully pull the casserole out of the dish with the parchment paper or foil. Then, wrap it in 2 layers of aluminum foil.
Label your casserole for 6 months.
When ready, defrost in the refrigerator for a minimum of 36 hours.
Once defrosted, preheat your oven to 350 degrees and bake for 15 to 20 minutes, or until the cheese bubbles and the center is at 165 degrees.
How to Freeze This Casserole Before It's Baked?
Raw meat casseroles must be baked before they are frozen. Since the hamburger in this recipe is browned first, you can layer this up and pop it in the freezer. If you are freezing before you bake it, omit the sharp cheddar cheese until it is defrosted and ready to bake.
Use a freezer-safe casserole dish or follow the parchment paper/aluminum foil directions above to freeze.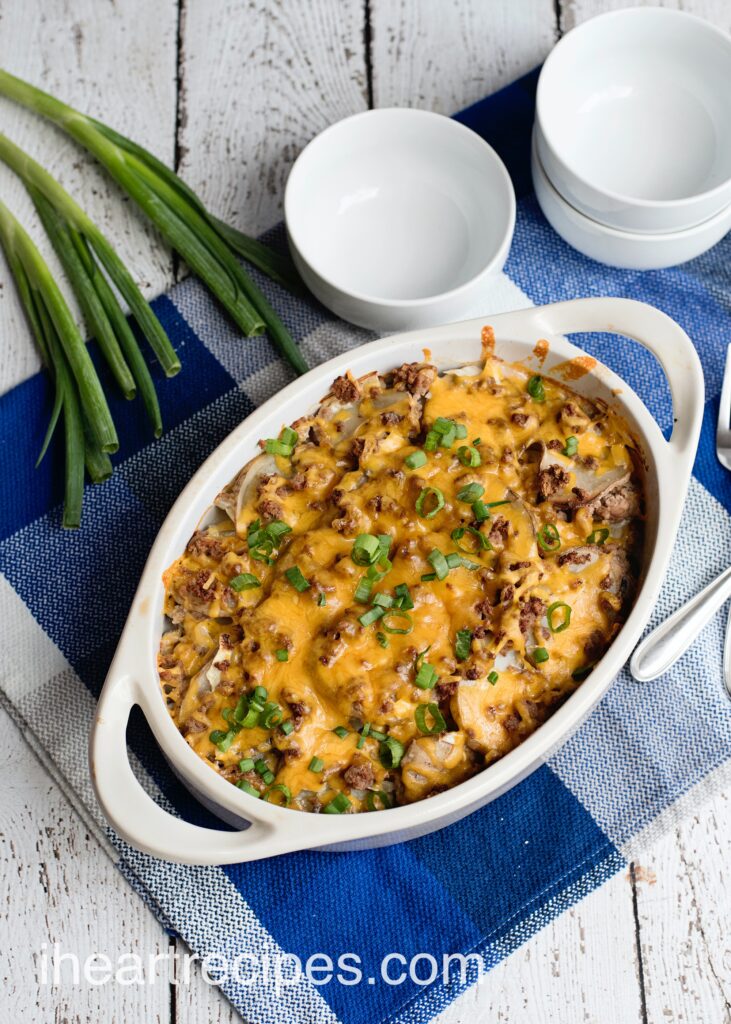 Why Use Sharp Cheddar Cheese?
I prefer a sharp cheddar for this recipe. This ensures that the cheesy flavor is distinguishable from the cream of mushroom soup. Feel free to use a different shredded cheese, such as Swiss, mozzarella, mild cheddar, or extra-sharp cheddar.
Wondering what the difference is between regular and sharp-cheddar cheese?
Mild cheddar cheese is aged from 2 to 3 months.
Sharp cheddar cheese is aged for 6 to 9 months.
Extra-sharp cheddar cheese is aged for 12 to 24 months.
Should My Cheddar Cheese Be White or Yellow?
Ever wondered why some cheddar cheeses are white and some are yellow? Like the milk it's derived from, cheese is naturally white. However, many kinds of cheese are dyed with the flavorless Annatto seed dye.
The exact origin of dying cheese yellow is not clear. It is believed to have been a marketing tactic to distinguish cheddar from other cheeses. Maybe even to make it look more appetizing. It is a trend that stuck for many cheddar cheesemakers, but not all cheesemakers dye their cheddar.
So, whether you use yellow or white cheddar is entirely up to you!
What Type of Potato Should I Use?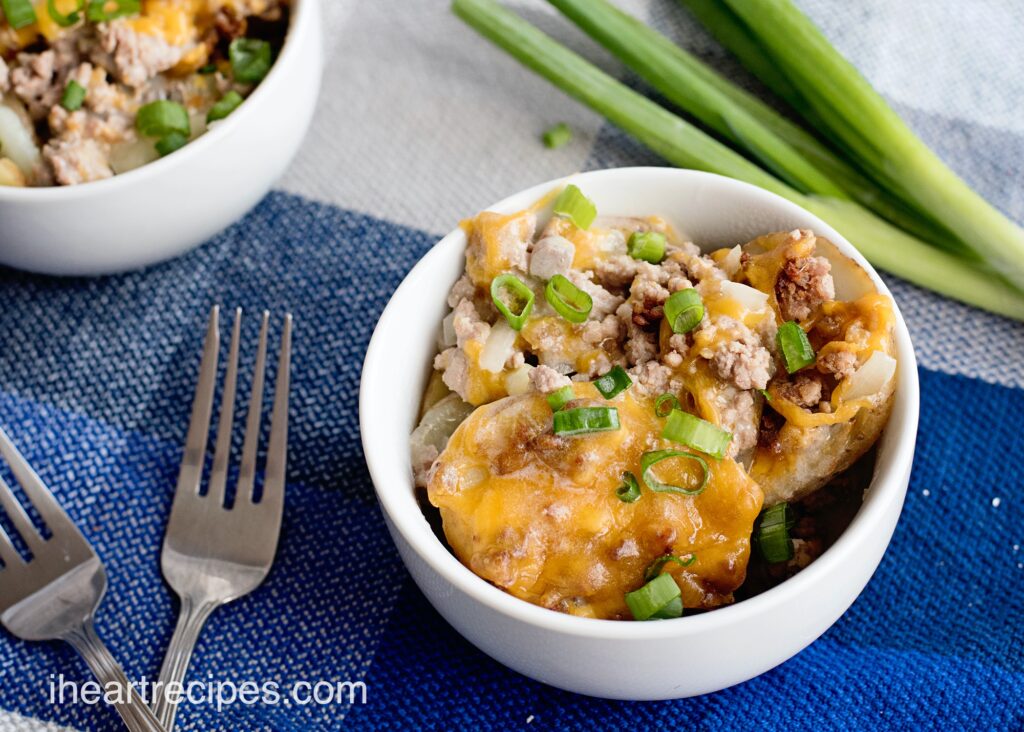 I try to keep my recipes simple, using ingredients you already have in your kitchen. So, any type of potato will work. That being said, if you are going to use russet potatoes, slice them a bit thicker than other potatoes. While they will taste great regardless, russets will retain their texture better if they are a bit thicker.
If you will be heading to the grocery store, purchase standard white or Yukon golds. You could even use small potatoes, but the slices won't be as big. Also, small potatoes are more challenging to slice.
Love sweet potatoes? Me too—but they aren't ideal in this recipe as they will alter the flavor profile. Check out my recipes for Sweet Potato Pie or Sweet Potato Cheesecake.
Don't forget to try these easy casserole recipes as well!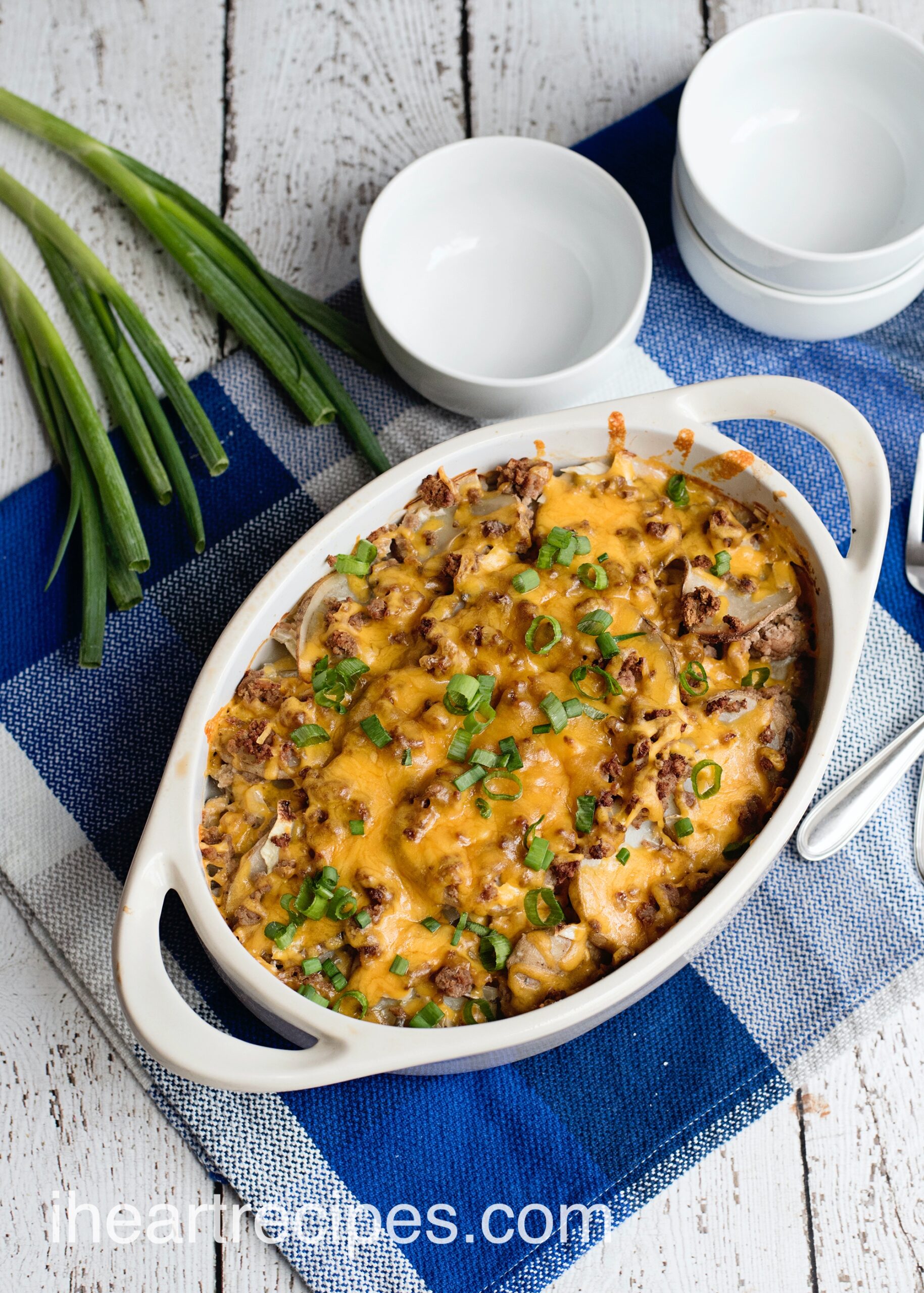 Cheesy Hamburger and Potato Casserole
If you want an easy dinner, this cheesy hamburger and potato casserole is for you! It's flavorful and filling and only calls for a handful of ingredients.
Print Recipe
Pin Recipe
Instructions
Preheat the oven to 350 degrees F .

Brown the ground beef over medium heat, and be sure to drain the fat.

Combine the cream of mushroom soup, onion, milk, salt & pepper, in a mixing bowl.

Mix until well combined.

Layer the potatoes, soup mixture, and meat in a 2 quart baking dish.

Bake in the oven for 1 hour and 15 minutes, or until potatoes are nice and fork tender.

Remove the casserole from the oven, and top with sharp cheddar cheese , and green onion.

Continue baking until the cheese is melted.

Remove from the oven, and let sit for 5 minutes.

Serve & enjoy!
If you loved this recipe,
leave me a review below
. This helps future recipe makers and ensures continued high-quality recipes for years to come!
© 2023 I Heart Recipes