How to make the very best southern, soul food style VEGETARIAN Meatloaf…Who's ready to be amazed?!
An Easy and Delicious Southern Style Vegetarian Meatloaf Recipe!
Recently, I challenged my husband to go a week without meat. I swear to you, the man looked at me like I had lost my mind! LOL!! He fired back with, "If you can make a vegetarian meatloaf, I will go meatless for two weeks!" Now, I'm not sure if he realized who he was talking to or not, but clearly he had me twisted! Chile' I got my butt up, headed to the kitchen, and took on the challenge. It took me about three attempts, but darn it – I DID it! I came up with a bangin' vegetarian meatloaf recipe (soul food style of course!). My husband was amazed! He couldn't believe that I made a vegetarian meatloaf. He cleaned his plate and asked me to make it again! BTW, his butt didn't go meat free for 2 weeks, but he did manage to go a week without meat!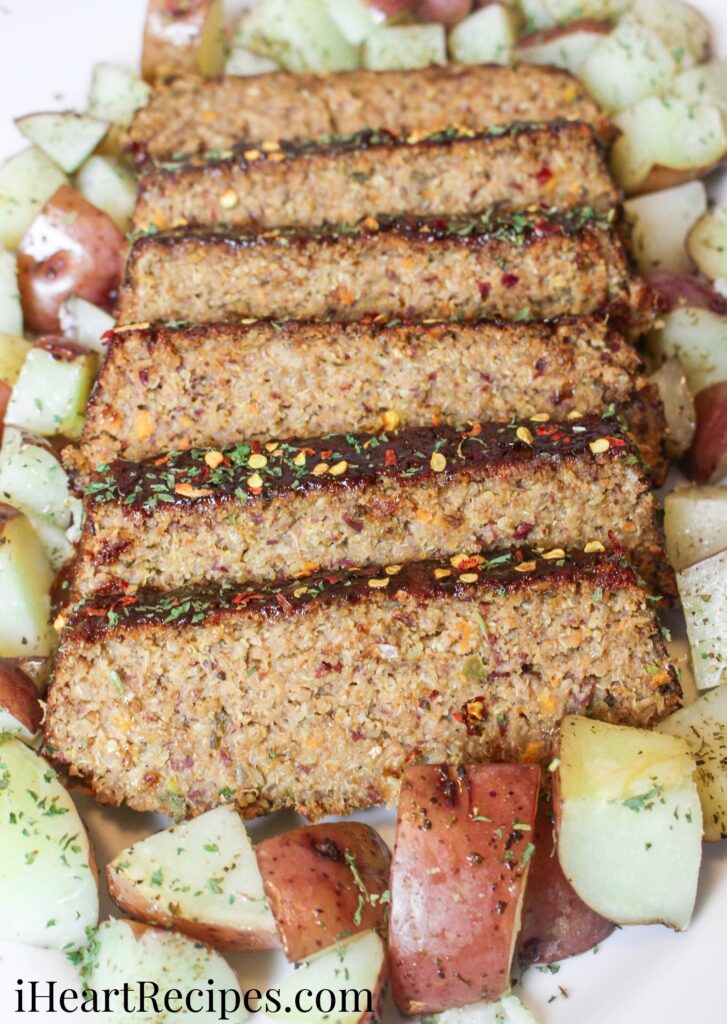 So how did I do it? What ingredients did I use for my southern style vegetarian meatloaf?
Read down below. 😉
My vegetarian meatloaf is mostly made of red beans, quinoa and quick oats. Like other meatloaf recipes, this one has peppers, onions and garlic.
I like to use fresh herbs for this meatloaf such as rosemary, sage and thyme; however, dry herbs can be used.
While you're here, check out some of my other vegetarian recipes!
VEGETABLE LASAGNA WITH WHITE SAUCE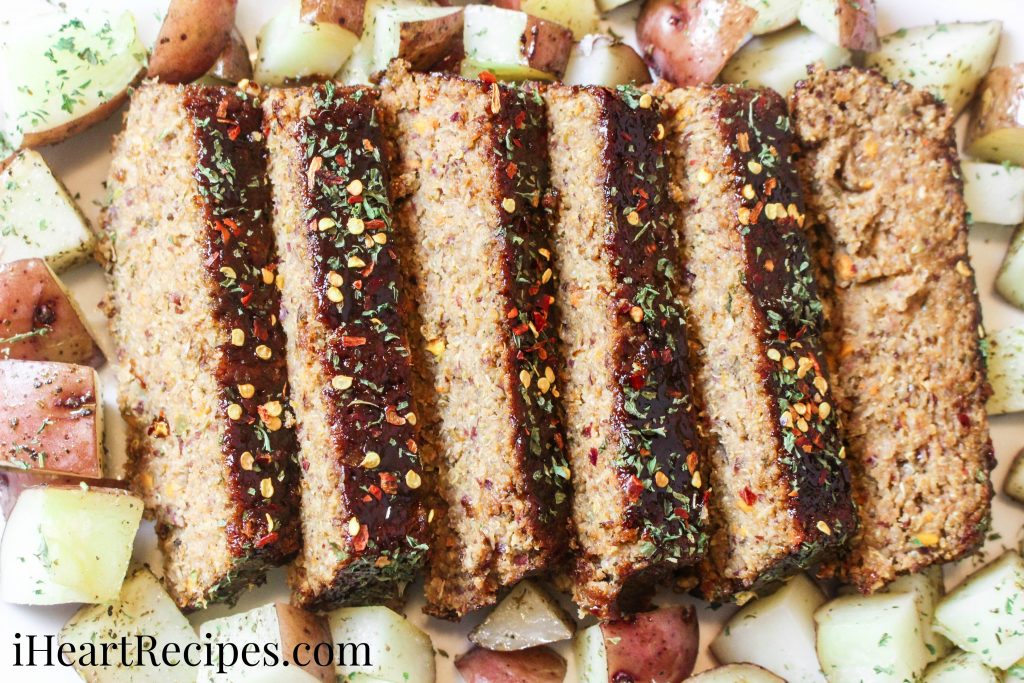 Prepping this southern style vegetarian meatloaf is a little time consuming, but the end result is worth it.
Try it out, and tell me what you think!
Print the recipe below and subscribe for more! Follow me on Facebook, Instagram, Pinterest and YouTube! I just released a brand new cookbook, Super Soul Food with Cousin Rosie, with many recipes you can't find anywhere else.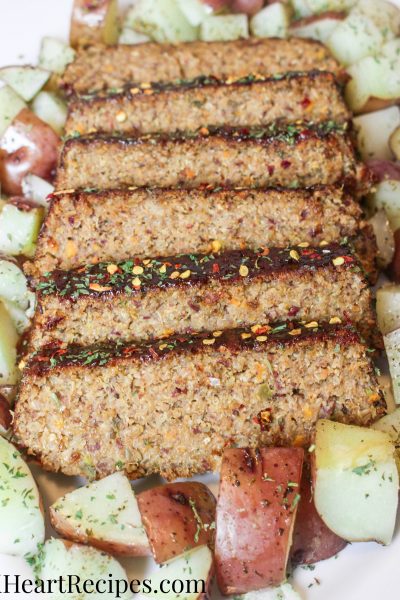 Southern Style Vegetarian Meatloaf
A savory Southern Style vegetarian meatloaf made with quinoa, oats, red beans and veggies! Serve alongside tender baby reds and a side salad for a delicious meal!
Print Recipe
Pin Recipe
Instructions
Toss the carrots, bell peppers, and onions in a food processor or blender.

Pulse until everything is well minced, then place everything in a large mixing bowl.

Next add the beans( with the liquid in the can), cooked quinoa, and oats in the food processor, and pulse until everything is well combined.

Add the quinoa, oats, and bean mixture into the mixing bowl with the veggies.

Now add in the garlic, chopped herbs, and seasonings.

Drizzle in the olive oil.

Mix the ingredients, and pour in the vegetable broth.

Sprinkle in the cornmeal.

Mix again until everything is well combined.

lightly oil a 9 x 5 loaf pan then add in the "meatloaf" mixture.

Bake on 375 F for 45 minutes.

Remove the meatloaf from the pan, then place on a cookie sheet.

Slather on the BBQ sauce.

Put the meatloaf back in the oven, and bake until the sauce is nice and sticky ( about 15 minutes).

Remove from the oven, and let sit for 10 minutes.

Serve, and enjoy!
If you loved this recipe,
leave me a review below
. This helps future recipe makers and ensures continued high-quality recipes for years to come!
© 2023 I Heart Recipes