Southern style pigs feet cooked in the slow cooker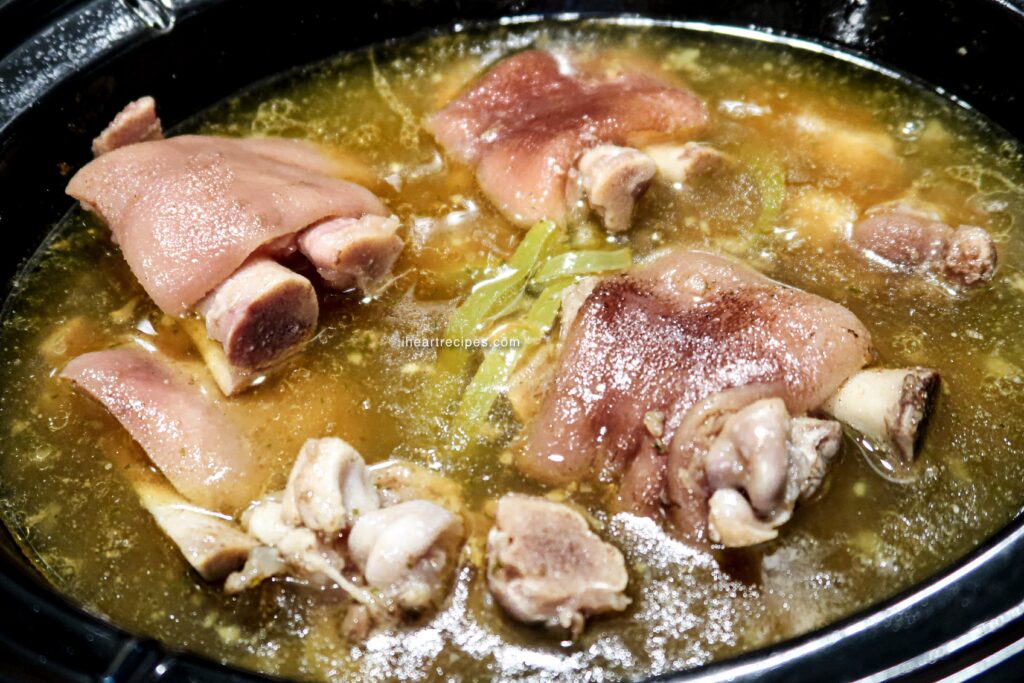 Alright cousins! It's time to go real southern, and soul food style on ya'll! In this post I'm going to show you how to make my southern style pigs feet recipe.
If you're on my Facebook, you've probably heard me say several time " Don't ask me to make pigs feet y'all!", and there was certainly a reason behind it. Cousins, my mom used to make pigs feet almost every darn day. As a kid I hated it, because it was so repetitive in my household. My moms' pigs feet recipe seemed to always be in rotation. Naturally I grew tired of pigs feet! I now have a love, and hate relationship with it. I love it when I what it, which is once or twice a year. And I hate it when I think of eating it every day as a child. Anyway's when I do make my southern style pigs feet, it's always on point!
Not to toot my own horn, but baby I do make the best pigs feet! You see, the secret to delicious soul food style pigs feet is the seasonings, and how it's prepared. Down below, I'll go over both!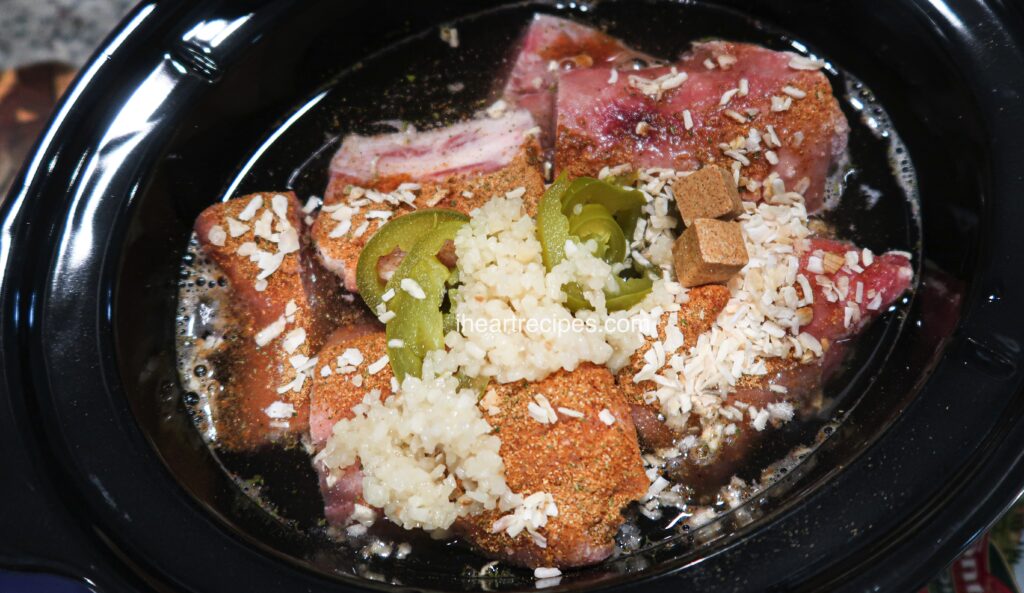 If not cooked properly, pigs feet can be very bland. That's why I use a combination of delicious seasonings, garlic, and onion to set this dish right. To be more specific here are a list of ingredients that I use for my southern style pigs feet recipe.
Pigs Feet
Yellow Onion
Minced Garlic
Chicken bouillon cubes
Jalapeno Pepper
Water
The ingredients sound simple enough right? Now let's get into how I cook this dish.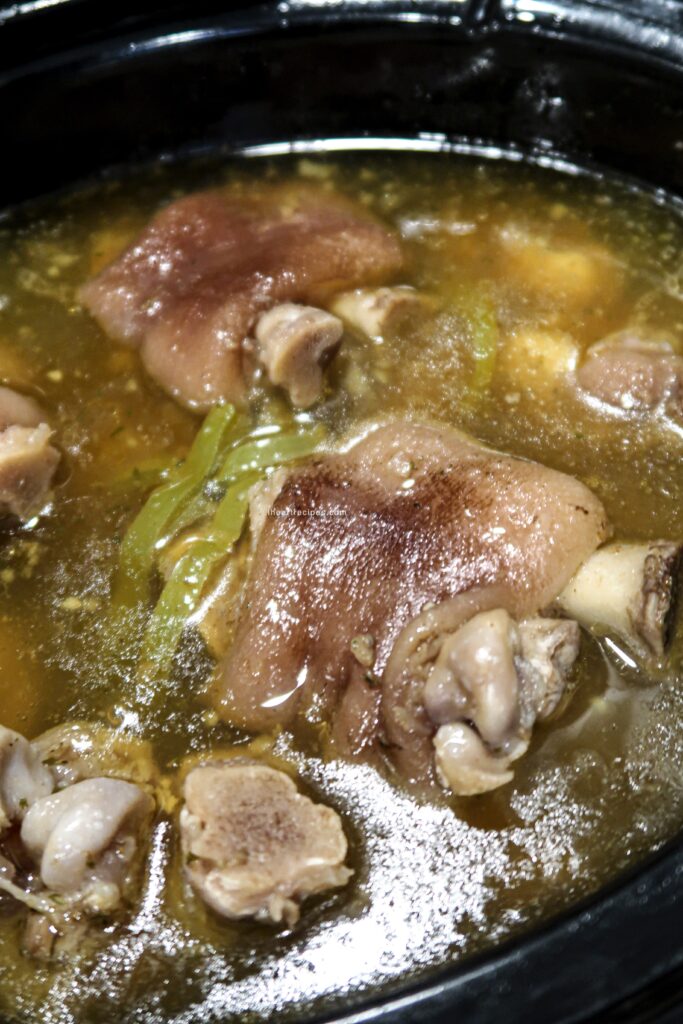 I like my southern style pigs feet to be so tender that they are falling off the bone. Therefore I cook the pigs feet in a slow cooker. All I do it add in the pigs feet, seasonings, and etc. Then I place the lid on top of the slow cooker, and I let the pigs feet cook on high for 6 hours.
This recipe is practically fool proof y'all, and the end results are definitely worth it!
I like to serve my southern style pigs feet with southern potato salad, soul food skillet fried cabbage, and lot of hot sauce!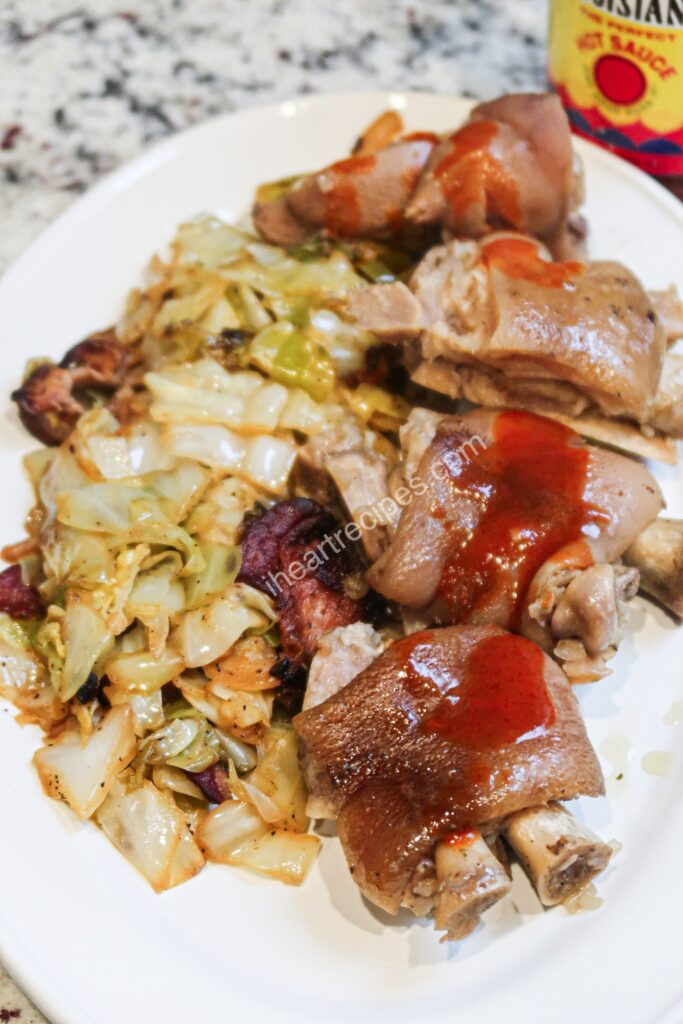 Print this recipe out for my pigs feet recipe, and give it a try for yourself!
Southern Style Pigs Feet
Ingredients
3

lbs

pig feet

sliced in quarters

1

large

yellow onions

diced

1

large

jalapeno pepper

1

tbsp

minced garlic

3

tsp

Rosamae Seasoning Pork Seasoning

2

chicken bouillon cubes

7

cups

water
Instructions
First step is to make sure that the pigs feet are thoroughly washed.

Next add the pigs feet into the slow cooker.

Now add in the onions, garlic, seasonings, cubes, and water.

Place the lid on top of the slow cooker.

Set the heat to high, and let cook for six hours.

Serve, and enjoy with your favorite southern sides.
Do you need some side dishes for your southern style pigs feet? Check these out!