Southern, soul food style baked vegan macaroni & cheese. Made with a easy creamy homemade non diary cheese sauce.
I guess you can officially call me the macaroni & cheese queen. I mean, I literally have over 5 macaroni and cheese recipes posted, and I'm far from done! This time around I come to you with a super creamy, cheesy, macaroni and cheese recipe- But get this… IT'S VEGAN! No seriously! I've had several readers contact me, and request that I start uploading vegan soul food recipes. I agreed, so in addition to all of my traditional soul food recipes, I will start uploading vegan soul food as well- Starting off with some soulful mac & cheese!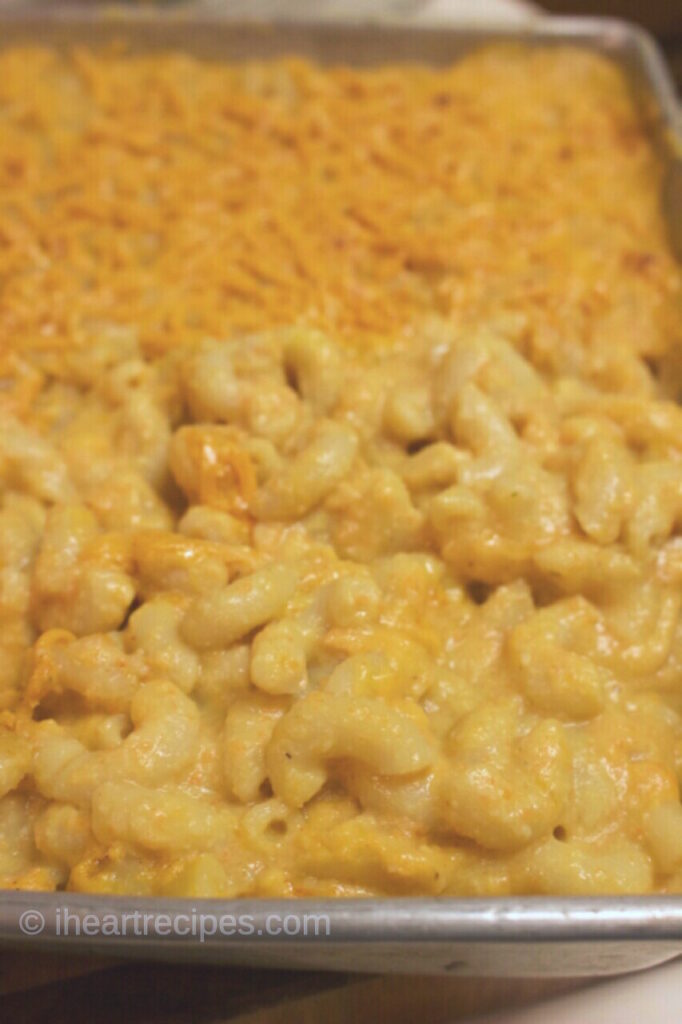 Alright, so if you're a non vegan, you're probably sitting there with your lips poked out wondering "WHY, THOUGH?!".. Let me tell you.. Don't knock it until you try it! I kid you not, my family and I LOVE this recipe. We are not vegans, but we've been toss in some " vegan meals" into our rotation, and this mac & cheese is one of our favorites.
When I first started doing my "vegan recipe research" I played around with several vegan mac & cheese recipes that I found online. Some of them were " cool", and others were a " oh hells to the naw". I found that a lot of recipes were very bland. Me being the person I am, I had to play around with some ingredients, and learn how to flavor it up… soul food style of course!
Most of the vegan mac & cheese use cashews, potato, and carrots. I actually like those three ingredients so I use them in mine. The cashews add a nice creamy texture to the cheese sauce, so does the potatoes. The carrots, and flavor and color.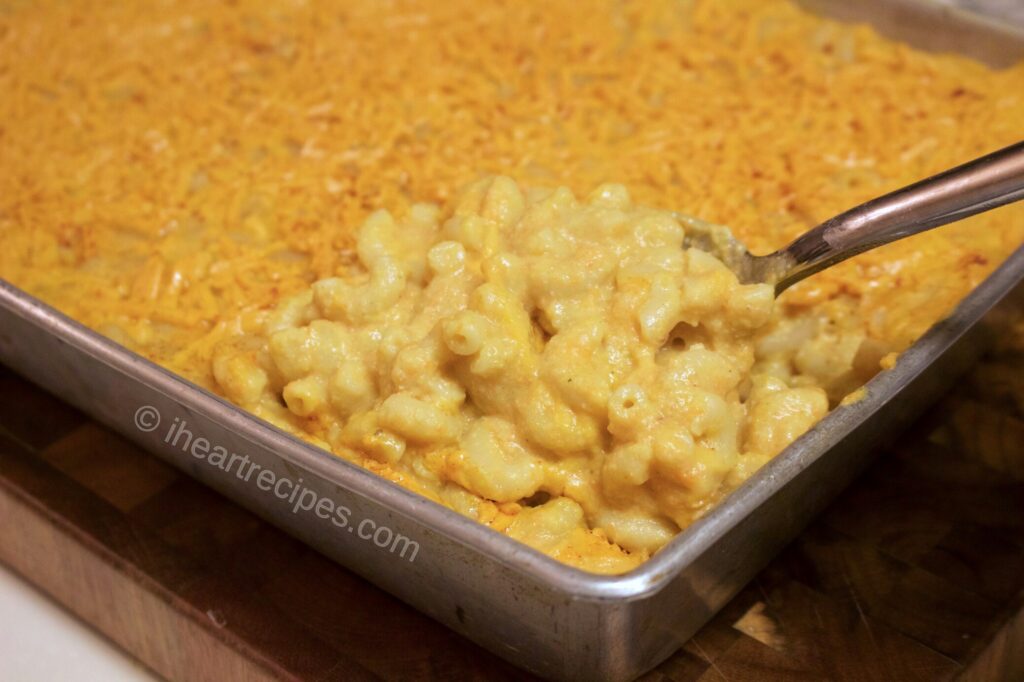 I also use nutritional yeast in the easy vegan mac and cheese. It's flavorful, and it seems to thicken up the sauce, which is a plus for me! Nutritional yeast can be hard to find, It's usually not at regular grocery stores. I bought mine from the Vitamin Shoppe in the super foods isle.
If you're not a vegan, give this recipe a try anyway and tell me what you think in the comment section below. Also, if you have any vegan family members & friends share this recipe with them! XOXO
Watch my video tutorial for this easy vegan mac & cheese recipe!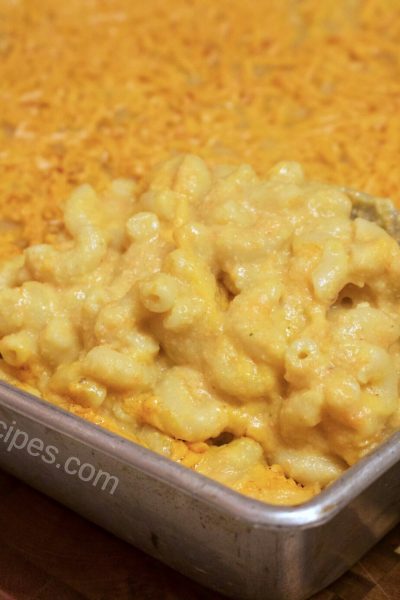 Vegan Baked Macaroni & Cheese
This Vegan Macaroni and Cheese is creamy, delicious and so easy! It's the perfect dairy-free side dish to any meal.
Watch Video
Print Recipe
Pin Recipe
Ingredients
16

oz

elbow macaroni

1

cup

cashews

plus 2 cups water

1

large yellow potato

peeled & sliced

1

cup

baby carrots

or two large carrots, peeled

1

large yellow onion

chopped

4-5

cloves

of garlic

2

tbsp

olive oil

3 1/2

cup

non dairy milk

I used a rice & quinoa blend

2

tbsp

nutritional yeast

1

tbsp

hot sauce

2

cups

vegan cheese
Instructions
Bring 2 cups of water to a boil, then add in the cashews.

Remove the pot from the heat, and let the cashews soak for 1 hour.

Add the potatoes, carrots, and garlic into a bake dish.

Drizzle the olive oil, all over the veggies the cover.

Roast the veggies in the oven on 400, for 20 minutes or until tender.

Boil the pasta until al dente, then drain.

Add the carrots, potatoes, garlic, cashews, non dairy milk, nutritional yeast, seasoning salt, and hot sauce into a food processor, or blender.

Puree the ingredients.

Lightly oil a bake dish, then add in the pasta.

Pour in the "cheese sauce", and sprinkle in 1 cup of vegan cheese.

Fold the ingredients, then top off with remaining vegan cheese.

Bake in the oven uncovered on 350 F for 20 minutes.

Serve & enjoy!
Video
If you loved this recipe,
leave me a review below
. This helps future recipe makers and ensures continued high-quality recipes for years to come!
© 2023 I Heart Recipes