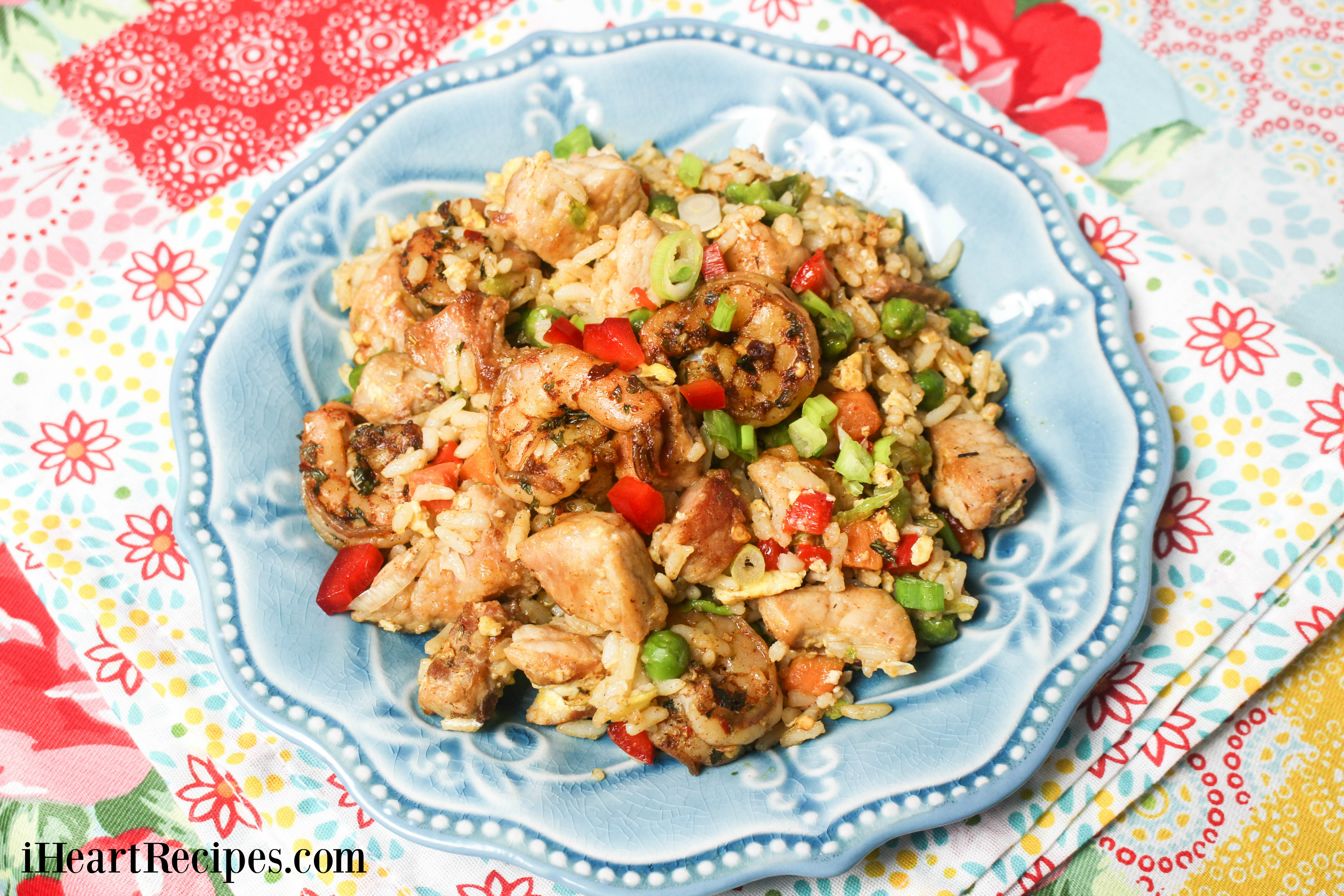 Quick, easy, delicious pork & jerk shrimp fried rice. Make it in 30 minutes!
A Simple Recipe for Pork & Jerk Shrimp Fried Rice!
Imagine making the most amazing fried rice with delicious applewood smoked bacon, marinated pork, jerk shrimp and colorful vegetables. Now imagine making it in 30 minutes. Sounds almost impossible right? Well it's not! I used Smithfield Applewood Smoked Bacon Marinated Fresh Pork Loin Filet for this recipe, which makes cooking this dish hassle free. It's made from 100% pork and is packed with protein. The pork is marinated and seasoned to perfection, so all I had to do was cut it into cubes and fry it!
While you're here, check out some of my other Smithfield Pork recipes!
MAPLE BUTTER APPLE STUFFED PORK SIRLOIN
GRILLED PORK & SUN DRIED TOMATO ALFREDO
EASY SHEET PAN PORK & VEGETABLE TERIYAKI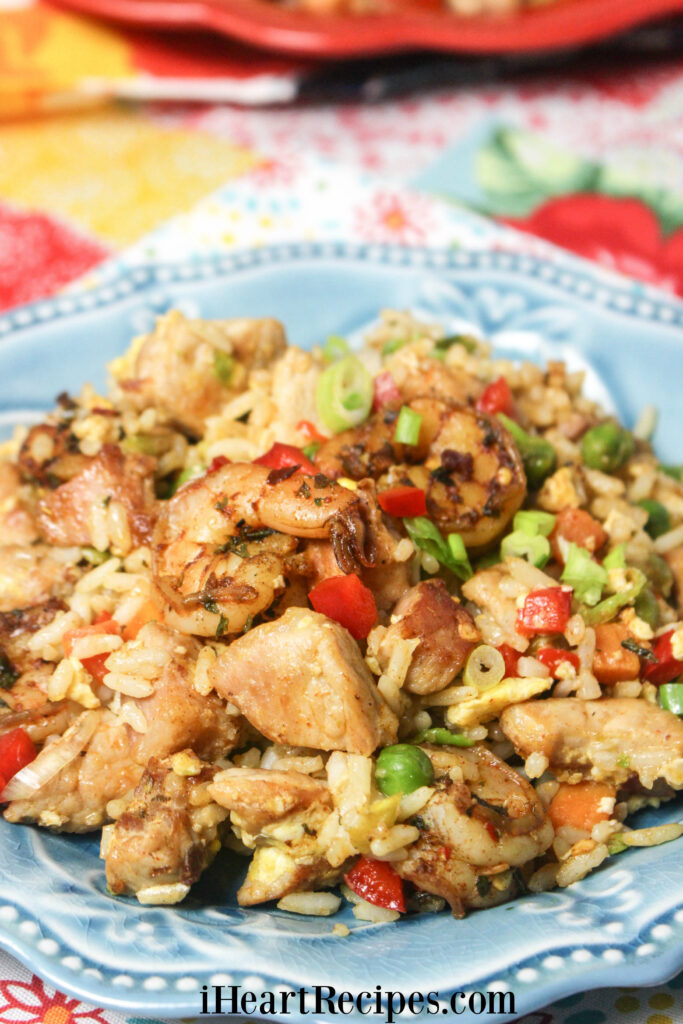 Once the pork was cubed, I cooked it along with some peas, carrots, green onions, rice a few other ingredients. The outcome was simply incredible… and it only took me 30 minutes to make!
Smithfield wants to know what you can make in 30 minutes or less with their Real Flavor, Real Fast contest. You can submit your original tips to win thousands of great prizes, including a grand prize trip to Napa! www.SmithfieldRealFlavorRealFast.com
Print my recipe for this Pork & Jerk Shrimp Fried Rice and subscribe to my mailing list for more tasty recipes! Follow me on Facebook, Instagram, Pinterest and YouTube and check out all my cookbooks! I just released a brand new cookbook, Super Soul Food with Cousin Rosie, with many recipes you can't find anywhere else.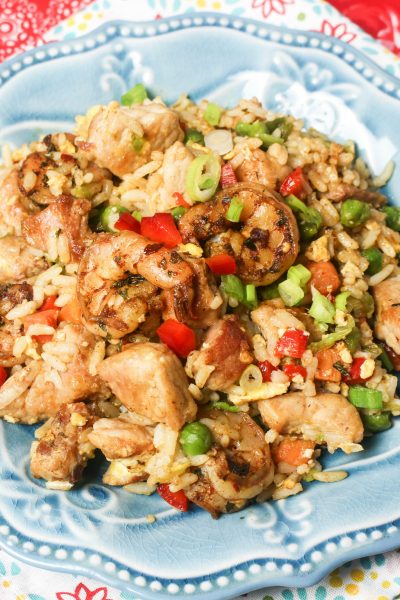 Pork & Jerk Shrimp Fried Rice
Savory pork, jerk shrimp, tender rice and colorful veggies are combined to make this delicious, quick meal that is ready in just 30 minutes. Skip take-out and make this homemade fried rice instead!
Print Recipe
Pin Recipe
Instructions
Preheat the oven to 350 F.

Place the shrimp on a foil lined cookie sheet, then drizzle with olive oil.

Sprinkle the jerk seasoning on the shrimp.

Bake the shrimp for 5-7 minutes.

While the shrimp is in the oven, drizzle 2 1/2 tbsp vegetable oil into a large pan.

Place the pan on the stovetop, and heat the oil over medium heat.

Add in the pork, and cook for about 12 minutes.

Now add in the peas & carrots, red peppers, and green onions.

Stir the ingredients, then clear the middle of the pan.

Crack open the eggs in the middle of the pan, and scramble.

Add in the rice, and stir.

Drizzle in the soy sauce.

Toss in the shrimp, then fold the ingredients.

Serve and Enjoy!
If you loved this recipe,
leave me a review below
. This helps future recipe makers and ensures continued high-quality recipes for years to come!
© 2023 I Heart Recipes
Check out this video tutorial for Smoked Bacon and Pork Alfredo

This post has been sponsored by Smithfield.