Crispy fried shrimp coated in sweetened shredded coconut flakes!
A Simple Recipe for Fried Coconut Shrimp!
A lot of my viewers, like myself, are seafood lovers. Other than salmon, I've ben getting a ton of requests for shrimp recipes. I decided to share a really easy shrimp recipe that I know a lot of people would enjoy, Fried Coconut Shrimp. Even some of the most picky eaters love this dish, so let's jump right into it.
Some tips for perfect Fried Coconut Shrimp:
For this recipe please make sure you have SWEETENED coconut shrimp. I tried regular coconut flakes before, and, in my opinion, it just could not compete with sweetened coconut.
Make sure your butterfly your shrimp so that it keeps it shape while it fries.
I suggest to keep the tails on the shrimp on as well. The tails work as great little "handles" while eating, and this is convenient for whomever you are serving it to.
You can use smaller shrimp if you'd like, but my preference is jumbo shrimp.
Make sure you peel and devein the shrimp before cooking. If you are unsure on how to do this, keep in mind that you can buy your shrimp peeled and deveined. I actually prefer buying my shrimp already prepped because it saves a lot of time; however, prepped shrimp usually cost more, so be prepared to spend a little extra if you opt out of prepping the shrimp yourself.
This fried coconut shrimp works as a great appetizer, as well as a main dish. I suggest you serve it with a variety of dipping sauces such as tartar sauce, cocktail sauce, etc.
Let's get to cooking, and be sure to watch my fried coconut shrimp video tutorial below.
Let me know how you enjoyed this recipe. Tag me on Facebook, Instagram, and Pinterest, subscribe to I Heart Recipes on YouTube, and check out my brand new cookbook, Super Soul Food with Cousin Rosie, loaded with many recipes you can't find anywhere else.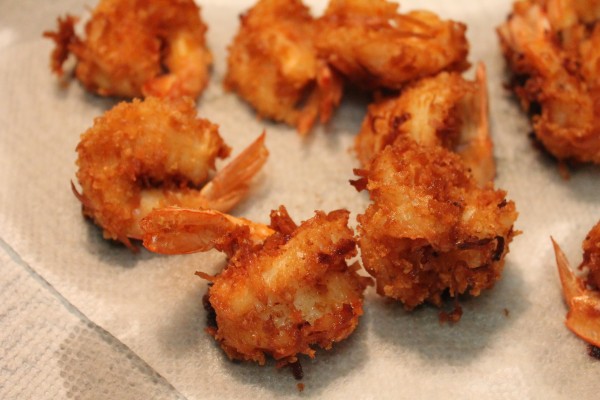 Fried Coconut Shrimp
This crispy fried shrimp is better than any coconut shrimp you'll find in a restaurant! Stay in and save some money with this easy and delicious homemade coconut shrimp recipe!
Watch Video
Print Recipe
Pin Recipe
Instructions
Start by peeling and deveining the shrimp. If you want to skip this step, you can buy the shrimp already peeled and deveined. I also butterflied my shrimp.

In a bowl, add 2 eggs and lightly beat until smooth.

Add flour, water, and cajun seasoning to eggs and mix until combined.

In a separate bowl, add breadcrumbs and coconut flakes, mix until combined.

Next, coat shrimp in egg batter. Shake off any excess batter, then coat shrimp in the coconut breadcrumb mixture until fully coated.

Heat the canola oil to between 320 and 340 degrees.

Fry the shrimp for 1-2 minutes until golden brown.

Remove shrimp from oil and remove excess oil with a paper towel.

Serve and enjoy!
Video
If you loved this recipe,
leave me a review below
. This helps future recipe makers and ensures continued high-quality recipes for years to come!
© 2023 I Heart Recipes
If you enjoyed my Fried Coconut Shrimp, check out these other seafood recipes!