Delicious, quick & easy Grilled Pork & Sun Dried Tomato Alfredo made in less than 30 minutes!
Hey friends! I'm back with another quick & easy recipe. In this post we will be making Fettucine Alfredo with tender pork tenderloin and sun dried tomatoes.
Believe it or not, this meal will take less than 30 minutes to make! Since we will be using Smithfield Roasted Garlic & Cracked Black Pepper Marinated Fresh Pork Tenderloin, most of the work is already done for us. The pork is already seasoned to perfection, marinated, and ready to cook! All we have to do is grill it!
While you're here, check out some of my other pork recipes!
MAPLE BUTTER APPLE STUFFED PORK SIRLOIN
EASY SHEET PAN PORK & VEGETABLE TERIYAKI
PORK CHOP, RICE, & BROCCOLI SKILLET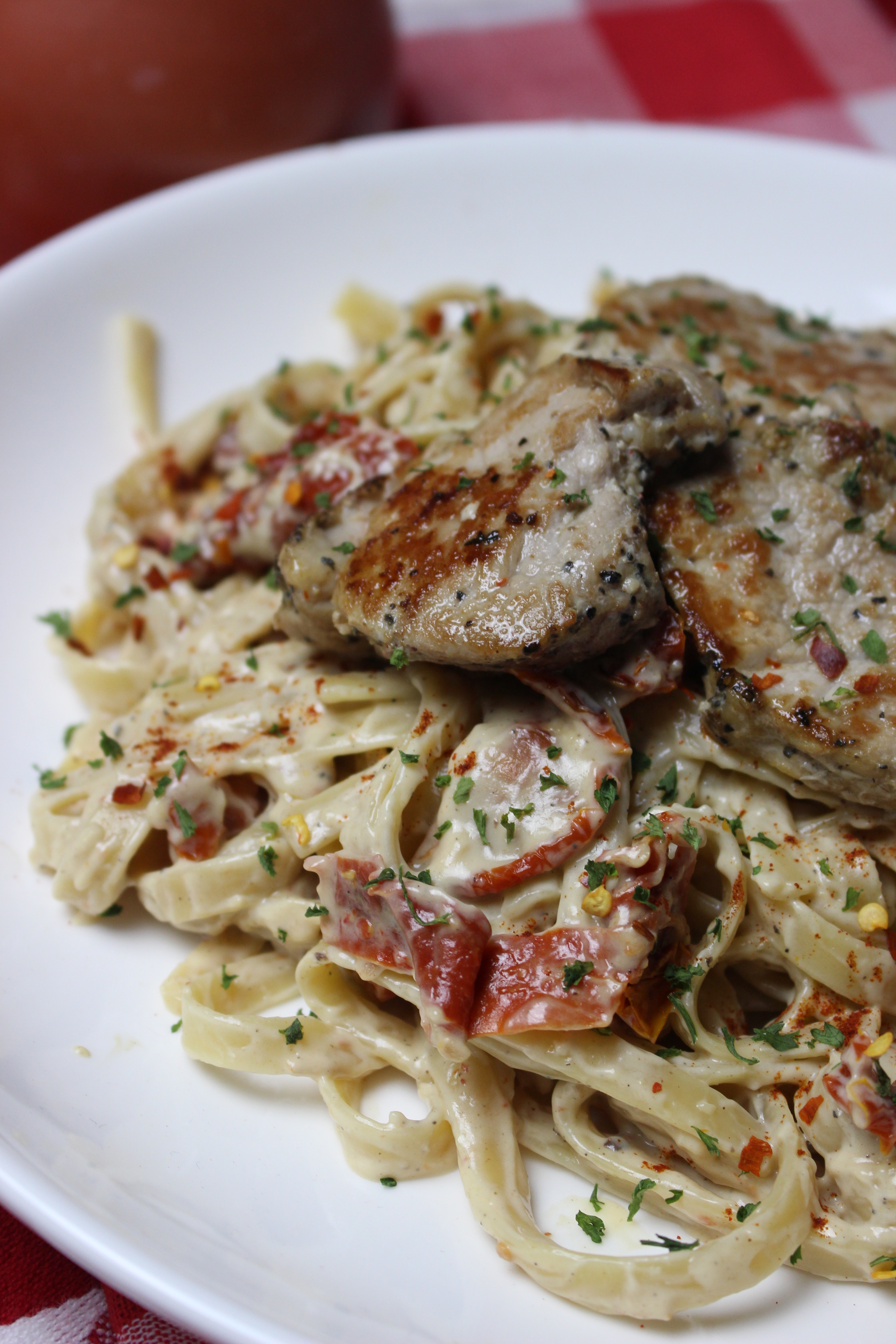 Down below I will share the tutorial and printable recipe for this amazing pasta dish. For additional recipe inspiration, be sure to check out This recipe for Grilled Pork & Potato Planks: https://youtu.be/t8b6IdpKjRw
Smithfield wants to know what you can make in 30 minutes or less. With their Real Flavor, Real Fast contest you can submit your original tips to win thousands of great prizes, including a grand prize trip to Napa! www.SmithfieldRealFlavorRealFast.com
Check out my video tutorial for this Grilled Pork & Sun Dried Tomato Alfredo
Grilled Pork and Sundried Tomato Alfredo Pasta
This delicious pasta dish is perfect for date night! Sundried tomatoes and tender pork with perfectly cooked pasta. You'll impress anyone with this meal!
Ingredients
1/2

lb

Smithfield Roasted Garlic & Black Pepper Pork Tenderloin

sliced

1/2

lb

fettucine pasta

cooked

12

oz

jar Alfredo sauce

1/4

cup

sun dried tomatoes

sliced

2

tsp

minced garlic

1 1/2

tsp

salt

1

tsp

ground black pepper

2

tbsp

vegetable oil
Instructions
Drizzle the vegetable oil into a large grill pan, then turn the heat to medium.

Once the oil is nice and hot, add in the pork.

Grill each side of the pork for 3 minutes, then remove from the pan.

Toss in sundried tomatoes, and cook for one minute, then add in the garlic.

Stir the ingredients.

Pour in the alfredo sauce, and stir.

Sprinkle in the salt and pepper, stir, then add in the pasta.

Mix everything until it's well incorporated.

Plate the pasta, and top off with the grilled pork.

Optional: Sprinkle parsley flakes, paprika, and red pepper flakes.

Serve and enjoy!
Video
This video post & video was sponsored by Smithfield. All opinions are mine.