This flavor-packed one-pot meal is hearty and filling. It's perfect for St. Patrick's Day, will warm you up in the winter, and is easy to make year-round!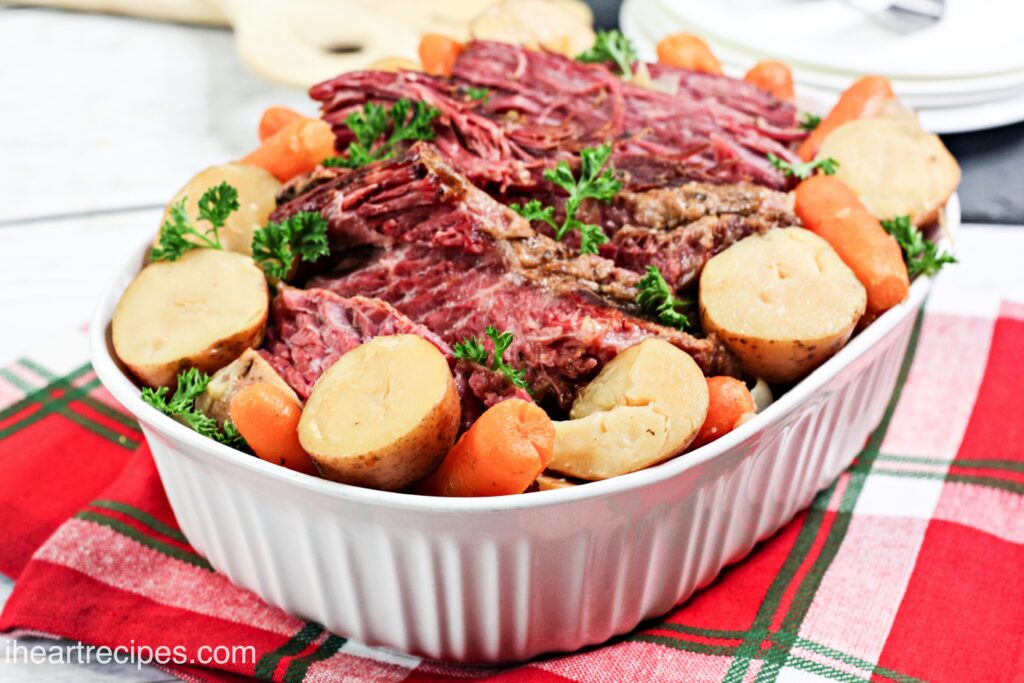 This dish is a well-balanced meal that includes red potatoes, carrots, cabbage, and seasoned beef brisket. It's faster and easier than the 5 to 7 day brining process required of some corned beef recipes, but delivers the same distinct flavor.
An Irish-American Favorite
While you can find corned beef variations around the world, the version we eat stateside is an evolution of the original dish. In the 16th century, meats were cured with rock salt for preservation. This was necessary because the modern-day refrigerator wasn't invented until the 1800s.
In addition to the rock salt (aka. the "corns"), the Irish blended a unique combination of spices. Originally, this method of curing was only used for pork, as beef was an expensive meat reserved for royalty.
As global trade grew, and beef became more accessible, Irish corned beef became a top Irish export, particularly to nearby England. As Irish began immigrating to the United States, they brought their corned beef with them—making it with brisket found in Jewish kosher butchers.
In modern-day Ireland, it is more common to find this spice combination in pork dishes.
What is Brisket?
Brisket is a cut of beef that comes from the muscular lower breast and pectoral muscles of a cow. Being a muscular piece of meat, it remains tough with faster cooking methods. By slow cooking your brisket, it is tender and delicious.
Where to Buy Corn Beef Brisket?
You can find corn beef brisket year-round in many stores, but it's easier to find around St. Patrick's Day. Perform an online search to determine which local butchers, delis, and grocery stores have corned beef brisket.
Raw brisket isn't spiced, but it comes with a premixed spice rub.
If you are a brisket aficionado, you may be more particular about the cut—but both cuts will be delicious!
Flat cut—also called the first cut or round cut is thinner and leaner. It is easier to slice and makes for a better presentation. It is the least expensive cut and the easiest to find.
Point cut—also called the second cut or deckle point, this cut is thick and marbled. It is tender and juicy and has more flavor than the flat cut. It costs a bit more and may require a trip to a butcher.
Why Rinse and Dry Brisket?
Many of my recipes call for patting the meat dry prior to cooking, but I suggest rinsing and patting your brisket dry.
When butchers cut the brisket down to size, bone particles can settle on top. A quick rinse will remove these particles.
Patting it dry after rinsing helps the spices stay put, better infusing your brisket with flavor.
Do I Have to Use an Instant Pot?
If you have a stovetop pressure cooker, you can use that instead. I use my Instant Pot for a variety of reasons, including that I can cook this recipe without the use of my oven or burners. This means I can make dessert while it's pressure cooking. Maybe my Sour Cream Chocolate Cake!
If you don't have one yet, an Instant Pot is a versatile countertop appliance that is an all-in-one pressure cooker, slow cooker, and steamer. It also sautés food!
Recipe options are endless, including:
Rice
Grains
Beans
Broth
Stew
Soup
Chili
Yogurt
Eggs
Porridge
Cake
Jams
Jellies
Preserves
And more!
You can use your Instant Pot for any pressure cooker or slow cooker recipe!
Why Yellow Onions?
Yellow onions are better for slow-cooked and roasted recipes. While their raw flavor is more potent than white onions, yellow onions sweeten up when cooked. They are also an ideal onion for caramelizing.
So, even if you don't typically cook with yellow onions, they hold up better in this recipe. If you only have a white onion on hand, go ahead and use it. It will still add flavor to your dish, but it won't retain its texture and density as well as yellow onions.
Why Baby Carrots?
Baby carrots are peeled two-inch cuts of longer carrots. From a food waste perspective, they are a way to utilize misshapen carrots that would otherwise be tossed. So, their flavor isn't any different.
If you want, you can peel and cut carrots from your garden, the farmer's market, or the grocery store. But it's faster and easier to just buy a 1-pound bag of baby carrots.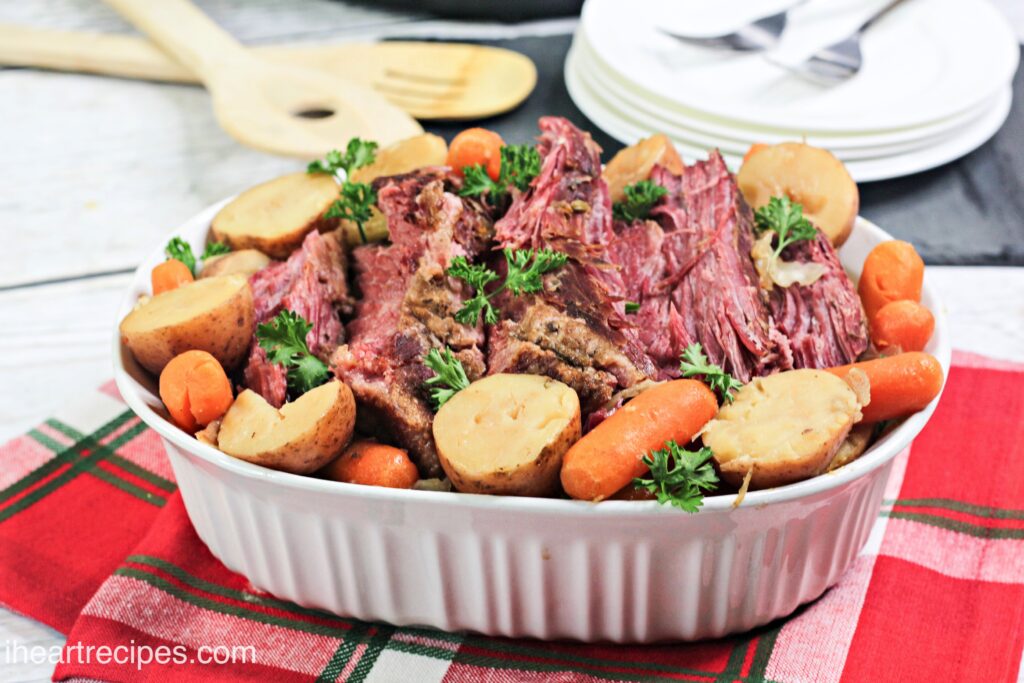 Why Baby Red Potatoes?
Just like yellow onions, red potatoes are better for slow cooking than white potatoes. This is because red potatoes have a higher moisture content and lower starch content. This means that they stay firm while they cook, while white potatoes get mushy.
With baby potatoes, there is less prep time. Just slice them in half, and you are good to go!
Another option that remains firm while cooking is Yukon gold potatoes. They are larger, so more chopping is required for this recipe.
How to Clean and Cut Cabbage?
Cabbage is a must with corned beef! Standard green cabbage is traditional, but you can also use ruffled leaf savory cabbage or purple cabbage. Just keep in mind that red cabbage has a flavor profile that is a bit bolder and pepperier. It will tone down a bit while slow cooking, but it tastes distinctly different than green cabbage.
Follow the steps below for cleaning and cutting your cabbage of choice:
Remove the outer leaves, even if they aren't brown.
Trim the stem, but don't remove it.
Rinse the whole cabbage under running water.
Slice the cabbage in half, without removing the stem.
Cut the cabbage halves into quarters.
Depending on the size, cut the quarters in half.
Should I Keep the Cabbage Core?
While you should keep the stem on, you can remove the cabbage core. Or leave it on so that you can easily serve cabbage slices.
The core won't soften as much as the leaves while cooking. If you cut it off before cooking, you can use it to make homemade Coleslaw or Broth.
If you leave it on so that the slices remain intact, be mindful that your guests may only eat the leaves.