How to make homemade Chicken Broth in the a slow cooker
Hey friends! Yesterday I showed you all how I make a whole chicken in my Crock Pot. After I made the chicken, and remove it from the Crock Pot, there was a lot of liquid in the pot. To be exact there was about 6 cups of it. Now I could have easily drain toss out the liquid,and went on about my day- BUT you know that is not my style. I had to make something with it. Actually I'll be making quite a few things with it. How? Well, I turned that leftover liquid into some delicious homemade chicken broth! I'll be using this broth to flavor several dishes such as collard greens, beans, cabbage… and of course soups! Let me tell you how I made it this pot of liquid gold!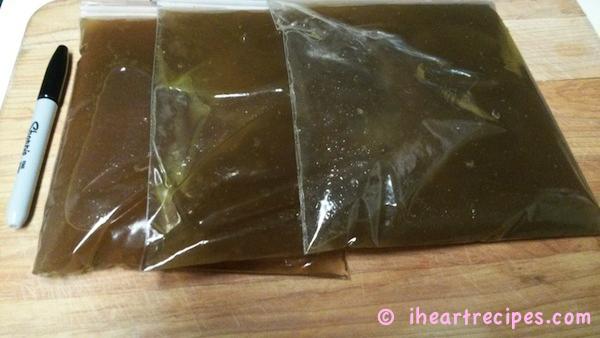 Okay so first things first. After I removed the chicken from my Crock Pot, I turned the Crock Pot off so that the leftover liquid could cool down. Once that the liquid was nice and cool, I poured 2 cups of liquid into gallon freezer bags. I made sure that there was no excess air in the bags, and then I label each bag with the date, and of course what it was.. The bags were stored, lying flat in my freezer( this saves room in the freezer)… You can store these for several months, but I usually use them within 3 months…..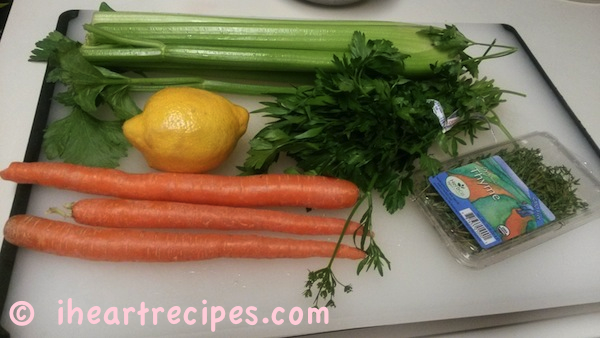 Once I was ready to make my chicken broth, I removed the bags of frozen chicken stuff ( heck I don't know what to call it because its not quite broth or stock yet) from my freezer. Then I cut up a bunch of vegetables and etc: celery, Italian parsley,thyme, lemon, carrots, onion, garlic( onion & garlic not shown).
Next, I tossed everything into my Crock Pot, and then poured in 6 cups of water. I covered my Crock Pot, then set it on LOW for 10 hours… Yup… 10 whole hours.
I usually make this right before I go to bed, and when I wake up in the morning the house smells amazing!!!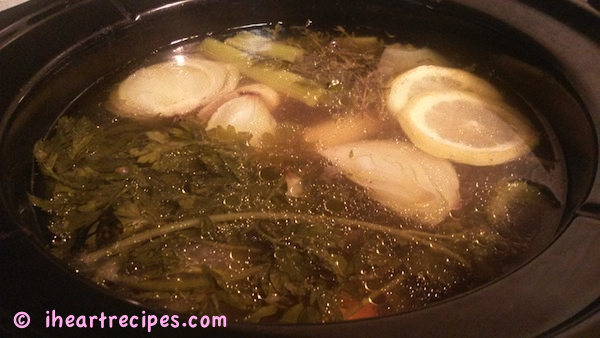 Homemade Chicken Broth
This homemade chicken broth is freezer-friendly and it's a recipe you're always going to want to have on-hand!
Ingredients
6

cups

leftover chicken broth from pot

3

celery stalks

3

large carrots

1

medium sized onion

chopped

3

whole cloves of garlic

5 -6

sprigs of fresh thyme

5-6

sprigs of fresh parsley

I used Italian parsley

2

thin slices of lemon

1

tbsp

Mrs. Dash seasoning OR 2 tsp salt
Instructions
Clean all of the vegetables prior to cooking.

Put the frozen leftover broth into your slow cooker, and add in all of the other ingredients, plus 6 cups of water.

Cover the slow cooker, and set it on LOW for 10 hours OR high for 6 hours if you're in a rush.

Once done, turn off the slow cooker, and let it cool down.

Pour 2 cups of chicken broth into 1 gallon freezer bags, label, then freeze!
Notes
You can store the broth in the freezer for MONTHS! When you are ready, remove it from the freezer, thaw, and use!