Rice, Andouille Sausage, Chicken, Shrimp, and More!
Hey friends!  I've been getting a ton of recipe request for Jambalaya. The other day while cleaning out my refrigerator & freezer, I realized that I had everything needed for my recipe. In this post, I'm going to share MY recipe for jambalaya.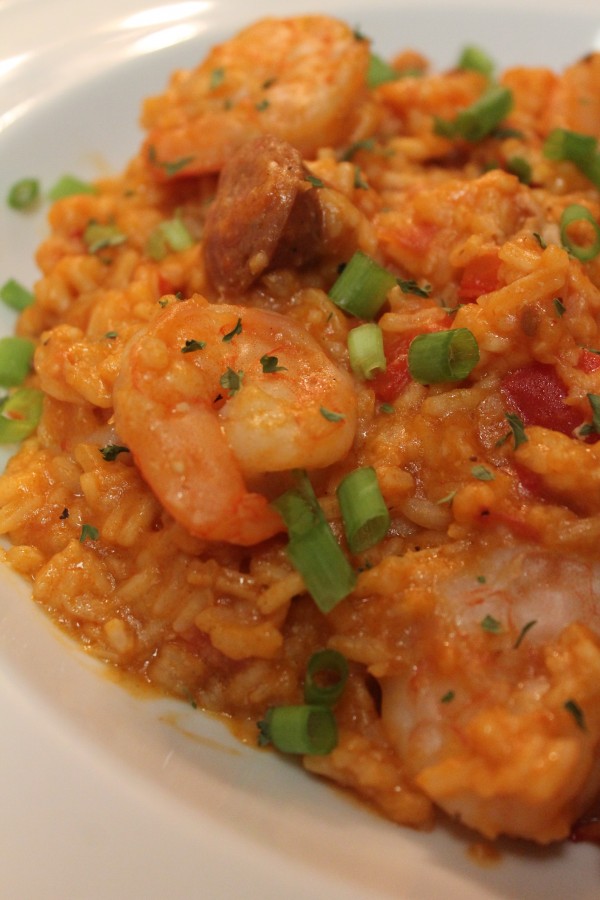 My jambalaya recipe consist of a lot of flavorful ingredients. There's chicken, ham, andouille sausage, and shrimp. If you don't have or don't want to add everything mentioned, I strongly stick to at least using Andouille Sausage. Honestly, jambalaya isn't jambalaya without cajun style andouille sausage!
The chicken that I used was boneless skinless chicken thighs. However, you can use chicken breast if you choose.
I use ham, and the ham that was used in this dish was leftover ham that I had in my freezer. You can use store bought pre cooked ham.
As far as shrimp- it IS optional. I know that there are a lot of people that are allergic to seafood, or dislike it. If that is the case, leave the it on out.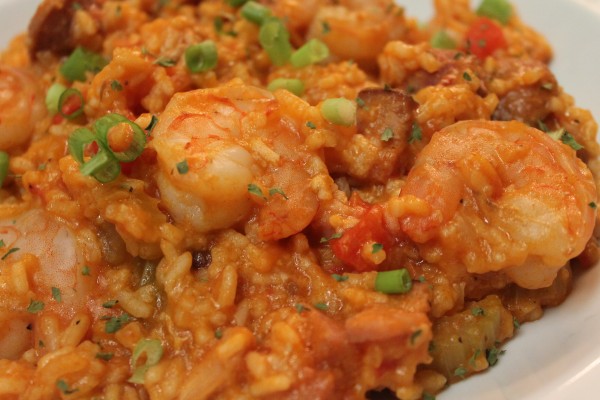 Unlike a lot of people, I use a combination of crushed tomatoes AND tomato sauce. I like using tomato sauce as an addition to the crushed tomatoes, because the rice soaks up the sauce easily. This results in amazingly flavored rice!
You will find that I don't use a lot of seasonings for this recipe, simply because it's not needed! You have plenty flavor from the ham & andouille sausage. If anything you can add a little garlic powder, or onion powder. However, it's certainly not needed.
Anyways, here's my recipe. I know it's been a while since I've shared a southern recipe. If you all have any request for me, make sure to leave them down below.
Here's my recipe for delicious homemade Jambalaya!
Homemade Jambalaya
This flavorful homemade Jambalaya recipe has chicken, sausage, and shrimp mixed with a creamy sauce and rice.
Ingredients
1/2

lb

boneless & skinless chicken thighs

chopped

1

lb

cajun andouille sausage

chopped

1

cup

cooked ham

diced

1 1/2

lb

shrimp

I used large shrimp

1

cup

crushed tomatoes

2

cups

tomato sauce

2 1/2

cup

chicken stock

2

ribs of celery

chopped

1

large bell pepper

chopped

1

large yellow onion

diced

1 1/2

tbsp

cajun seasoning

2

bay leaves

2

cups

long grain rice

1/4

vegetable oil

2/3

cup

water

Chopped green onions

Optional
Instructions
Pour the vegetable oil into a large pot, and turn the heat to medium high.

Add in the chicken, and cook for about 5 minutes.

Next add in the ham, followed by the andouille sausage.

Cook the ingredients for about 5- 7 minutes, then toss in the onions, peppers, and celery.

Stir all of the ingredients, and make sure everything is well incorporated.

Next, add in the crush tomatoes, tomato sauce, and chicken stock.

Sprinkle in the cajun seasoning.

Toss in the two bay leaves, and stir the ingredients.

Turn the heat to high, and bring everything to a boil.

10. Add in the rice, and reduce the heat to low.

11. Stir the ingredients, and cook for about 10 minutes.

12. Pour 2/3 cup of water into the pot, and give everything a nice stir.

13. Continue to cook until the rice is nice and tender.

14. Toss in the shrimp, and fold in.

15. Let cook for another 5-7 minutes, then turn the heat off.

16. Let sit for about 5 minutes.

17. Dish it out, and sprinkle the chopped green onions on top

18. Serve and enjoy!