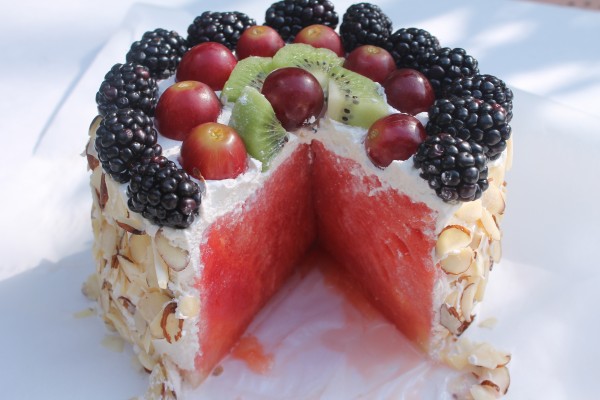 Fresh Juicy Watermelon Covered with Whipped Topping, Fresh Fruit, and Sliced Almonds!
Hi friends! It is officially grilling season, can you believe it?! I swear this year is just flying by! Anyways.. With it being grilling season, you can bet that everyone and their mama ( yes, me too) will be grilling up ribs, chicken, seafood, and more. The only issue with grilling season is, that most people don't know what to serve as a dessert. Some times it's too damn hot to bake yummy desserts. I personally refuse to bake when it is over 75 degrees ( Hey, 75 is pretty dang hot for this Seattle girl!). When it's too hot for me to bake, I usually opt for icebox cakes, milkshakes… or one of my favorites… A nice chilled Fresh e Watermelon Cake!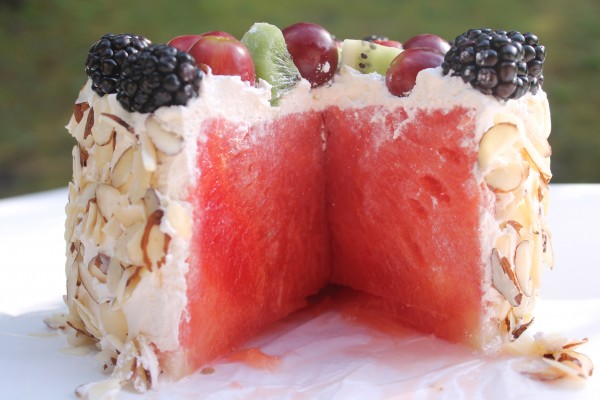 A fresh watermelon cake is exactly what it sounds like. It's a cake, made out of fresh watermelon. The Watermelon is cut  and shaped like a cake. Then, it is topped with Cool Whip,  fresh fruit, and nuts,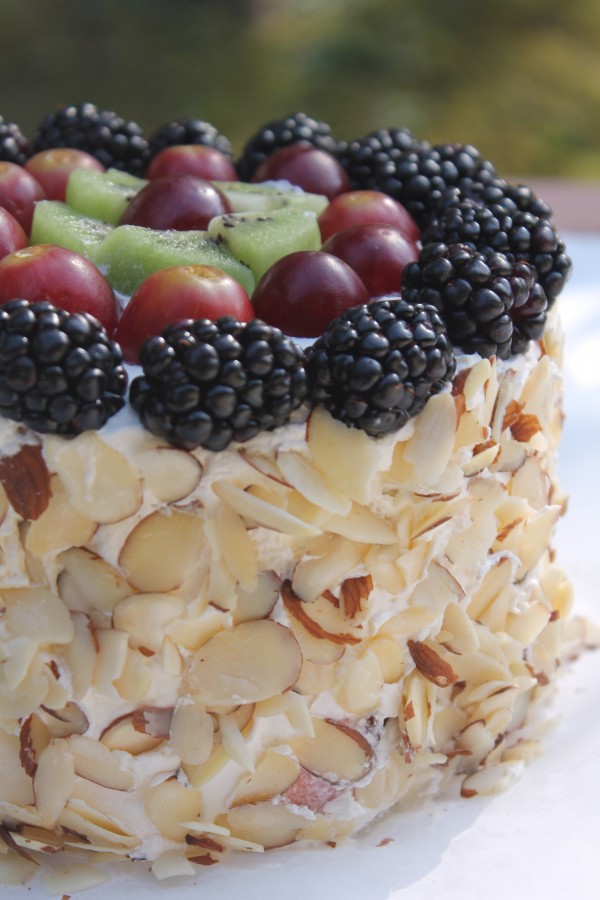 This fresh watermelon cake doesn't call for EXACT measurements. It really depends on what you want to use, and how much you want to use.
I used a medium sized watermelon, and cut it in half and made two small watermelon cakes. You can make a larger cake, if you choose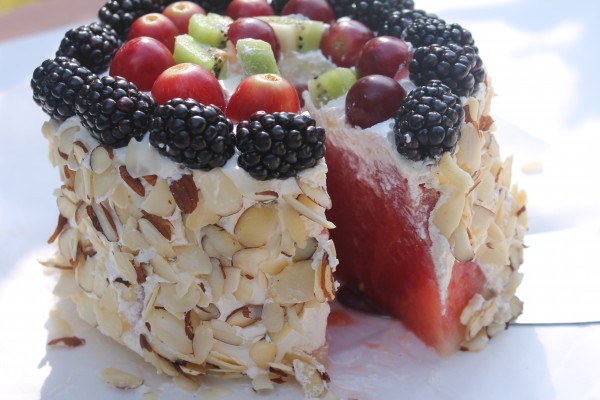 For my fresh watermelon cake, I used :
Cool Whip
Blackberries
Red Grapes
Kiwi
Sliced Almonds
Other topping that you can use
Strawberries
Raspberries
Blueberries
Sweetened Coconut Flakes
Crushed Pecans
Pineapples
whatever else you like!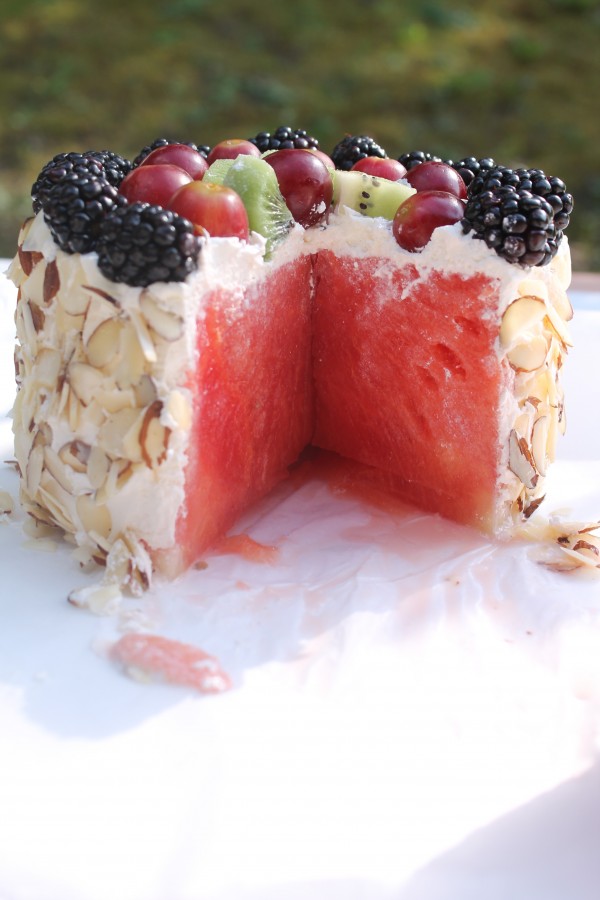 After I decorate the Watermelon Cake, I usually refrigerate it for a minimum of 1 hour, simply because I like my fruit to be served super cold. You don't have to refrigerate the cake! You can serve it immediately if you choose!
Fresh Watermelon Cake
This Fresh Watermelon Cake is a quick, no-bake dessert. The fruit is refreshing and sweet. The Cool Whip is creamy. Heavenly!
Ingredients
Watermelon

Cool Whip

Blackberries

Red Grapes

Kiwi

Sliced Almonds
Instructions
Cut the top and bottom off of the watermelon.

Trim the rind off of the watermelon.

If the watermelon is too big, cut it in half and make two smaller cakes.

Frost the top and sides of the watermelon with Cool Whip.

Decorate the top of the cake with fresh fruit.

Decorate the sides of the cake with sliced almonds.

Serve immediately or refrigerate for an hour before serving.
Video
Check out the video!