Learn how to make a fresh watermelon cake! Fresh, juicy watermelon covered with whipped topping, your favorite fresh fruit, and sliced almonds.
Hi friends! It's officially grilling season—can you believe it?! I swear, this year is just flying by! With it being grilling season, you can bet that everyone and their mamas (yes, cousins, that includes me too!) will be outside grilling up ribs, chicken, seafood, and more. The only issue with grilling season is that most people don't know what to serve as dessert.
Now, I hear y'all when you say that sometimes it's too darn hot to bake yummy desserts. I personally refuse to bake when it's over 75 degrees (hey, 75 is pretty hot for a Seattle girl). When it is too hot for me to bake, I usually opt for delicious no-bake desserts like an easy icebox cake, tasty milkshakes, or one of my favorites—this nice chilled fresh watermelon cake!
What is a Watermelon Cake?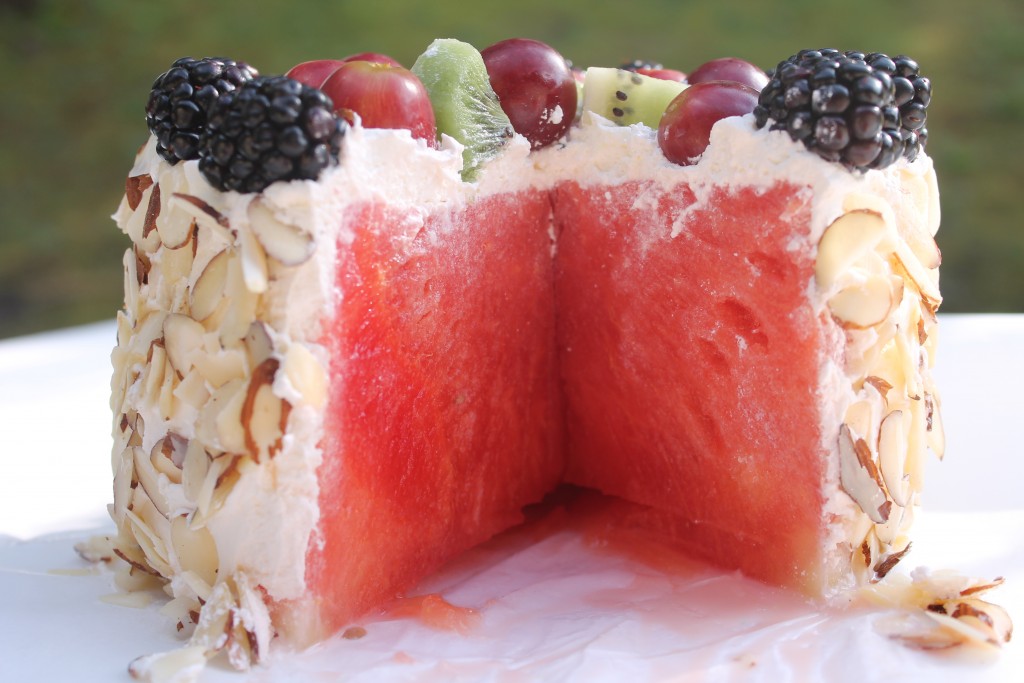 Now y'all might wonder, what the heck is a fresh watermelon cake? This sweet and refreshing summer dessert is exactly what it sounds like: a watermelon cut like a cake, decorated with light and sweet whipped topping, fresh fruit, and basically whatever else you like!
A fresh watermelon cake recipe is SO easy to make; it doesn't even call for exact measurements. No honey, we let our ancestors tell us when we've used enough fresh fruit on this cake! It all depends on what and how much you want to use. I'm going to show you exactly how I made my fresh watermelon cake, all the ingredients I used, and more pro-tips to make this the tastiest, sweet treat you've ever served at a BBQ!
Ingredients for Fresh Watermelon Fruit Cake
For my watermelon cake, I used a medium-sized seedless watermelon and got two cakes out of it. You can use a big watermelon to make a larger cake if you choose.
The options for cake toppings are truly endless—just use your favorite fruits! Some delicious watermelon cake toppings are:
Blackberries
Red or green grapes
Kiwi
Strawberries
Raspberries
Blueberries
Pineapple chunks or slices
Orange or clementine slices
Cherries (pitted and sliced/halved)
Fruit toppings to avoid would be cantaloupe, honeydew, or bananas—these fruits tend to be firmer and clash with the texture of the watermelon cake and whipped cream. If you want to use these fruits, I'd recommend cutting them into smaller chunks or using a melon baller to make perfect little bite-sized pieces.
Fruit doesn't have to be your only topping option for this fresh fruit cake! Some non-fruit topping options to use are:
Chopped nuts like pecans or walnuts
Slivered almonds
Sweetened coconut flakes
Chocolate shavings
Mini chocolate chips
Mint leaves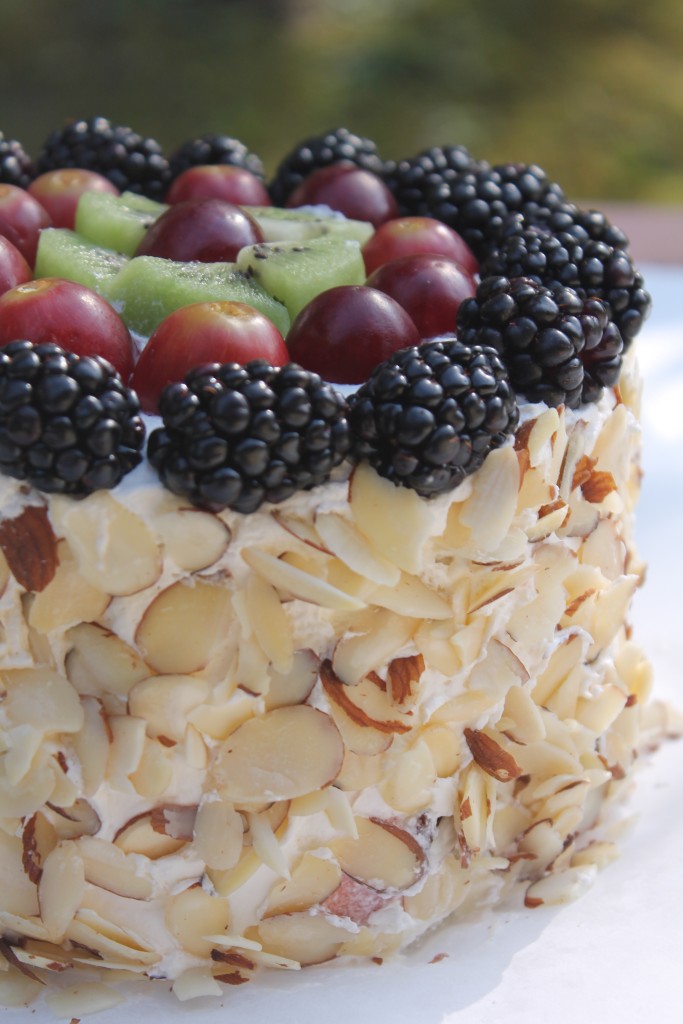 How to Make a Watermelon Cake
Alrighty y'all, time to get down to business—making this watermelon fruit cake! I swear, it's so easy. This watermelon cake recipe takes less than 20 minutes from start to finish. Let's get into it!
Step 1: Cut the Watermelon
First, you need to cut your watermelon. Now I know watermelon gets messy, I hear ya! Have paper towels ready to clean up the mess because as hard as you may try… it's gonna get messy, okay? Also: SAFETY FIRST! You'll want to use a large sharp knife to cut this cake, so be careful! I don't want any of my cousins losing their fingers for the sake of dessert!
To (safely) cut your watermelon cake, start by cutting both ends off the watermelon. I cut about one inch from each end, just enough to level out the surface without cutting too much into the watermelon meat. Next, if the watermelon is too large, cut it right down the middle to make two cakes. The size of your fresh fruit cake totally depends on the size of your watermelons. I used a medium-sized seedless watermelon, which was large enough to make two decently-sized cakes. Then you want to cut off the green rind. Carefully cut down the sides of your watermelon until all the green melon rind is gone.
Step 2: Cover the Cake with Whipped Topping
Your next step is to "frost" the cake with the "icing." Now, a traditional buttercream icing would not go well with a watermelon cake… way too heavy and sweet! The fruit is sweet enough, darlin'! For my watermelon cake recipe, I use Cool Whip whipped topping. Go ahead and use a generic brand if that's what works for you.
You could also make your own whipped topping using heavy whipping cream, sugar, and vanilla. Simply mix those three ingredients in a large bowl and vigorously whip with a whisk or hand mixer on high speed until stiff peaks form.
Cover your cake with the whipped topping completely using an offset spatula, covering the top of the watermelon cake and the sides with a nice layer of whipped cream. My whipped cream layer was less than a half-inch thick on top and a little bit thinner on the side.
Pro-Tip: Apply a thicker layer of whipped topping on the top of the watermelon cake to give your assortment of fresh fruit a solid base to sit on. The fruit will stick better to the cake and won't wiggle around or fall off!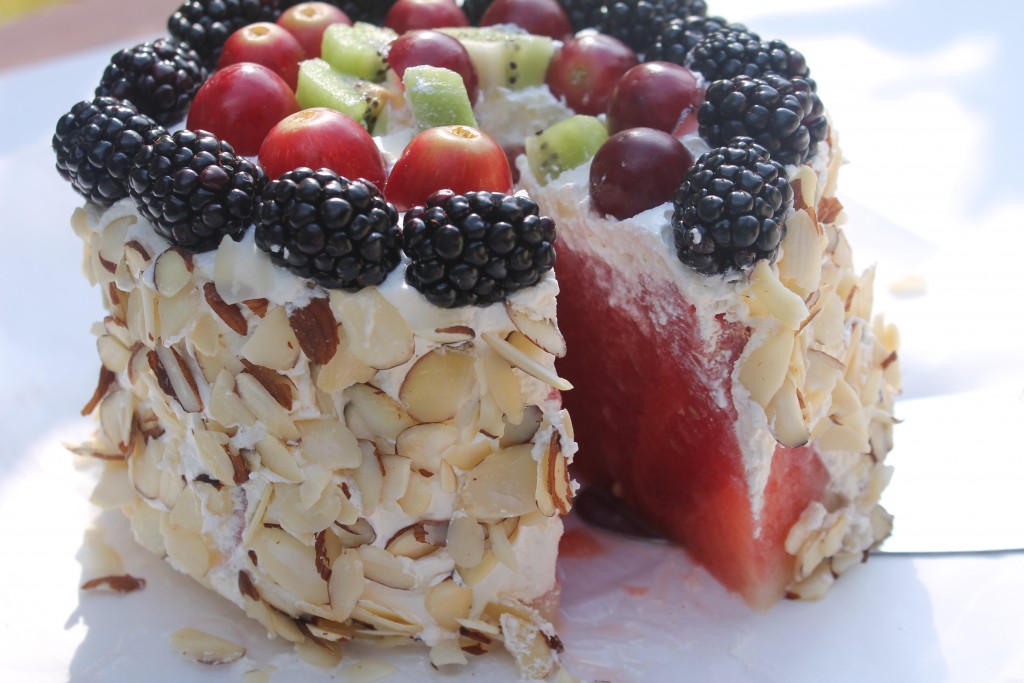 Step 3: Add Fresh Fruit and Toppings
Finally, we're ready for the fresh fruit! Decorate your watermelon cake with bite-sized pieces of your favorite fresh fruits. Go ahead and get fancy with it! Create gorgeous strawberry roses or use a fruit shape cutter to make fun shapes. Add chopped nuts, shaved chocolate, or almond slivers to the sides, drizzle with honey… dress her on up! Let your creativity shine!
Step 4: Chill Cake Before Serving
This last step is optional, but I personally think it is a must! After I decorate the watermelon cake, I usually refrigerate it for a minimum of 1 hour, simply because I like my fruit to be served super cold. You don't have to refrigerate the cake—you can serve it immediately if you choose! If it's an especially hot day and you're serving your watermelon cake outside, you should definitely chill the cake before serving it for the best results. This way, the whipped topping won't melt and slide off, and the texture of the fruit and watermelon with be the bomb.com!
FAQs: Pro-Tips to Make the Best Fresh Watermelon Cake at Home
How long does a watermelon cake last?
A homemade watermelon cake should be made and served the same day for the best results. Store any leftovers in the fridge for 2-3 days. You can cut leftover watermelon cake into slices and store it in an airtight container or cover the serving platter with plastic wrap to keep the cake fresh.
What can I do with leftover watermelon cake?
If you're not feelin' day-old watermelon cake, there are plenty of creative ways to use leftover watermelon. Make a yummy smoothie or sorbet. Scrape off the whipped topping and mix in the fruit for a quick and easy fruit salad dessert. Try out other watermelon recipes like my watermelon vodka slushie or my watermelon iced tea recipe.
Can you freeze watermelon?
Yes, you can freeze watermelon, but be warned—when thawed, the watermelon will be a bit mushy and mealy in texture. Watermelon is best enjoyed fresh. If you need to freeze your leftover watermelon cake, cut it into pieces and repurpose it in other delicious watermelon recipes.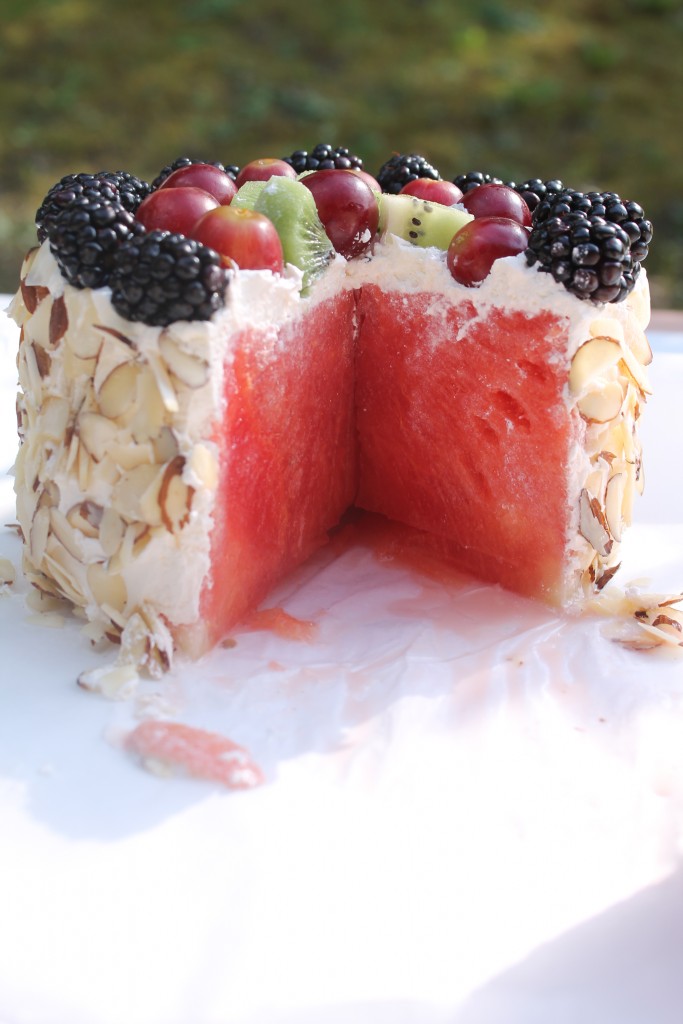 Fresh Watermelon and Fruit Cake Video + Recipe Card
Okay cousins, are you ready to dive in and make this perfect summertime dessert? I've got a video tutorial showing you every recipe step! I promise you, friends, family, and everyone will love this sweet watermelon cake! It's the perfect no-bake dessert for warm summer days, BBQ parties, and more.
Print out my watermelon cake recipe using the recipe card below! Don't forget to subscribe to I Heart Recipes on YouTube to see all of my recipe videos, cooking tips, and more! You can also follow me on Facebook, Instagram, and Pinterest to keep up with all things Rosie and I Heart Recipes!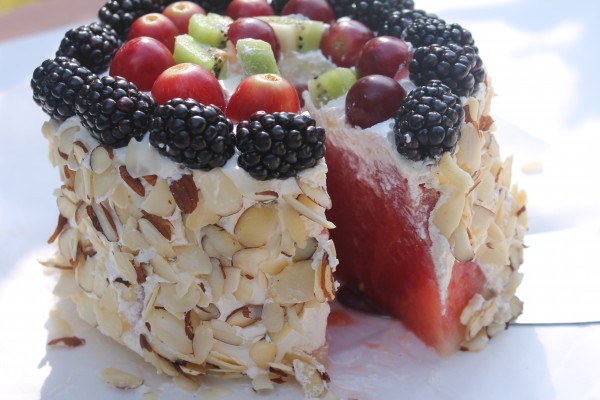 Fresh Watermelon Cake
This Fresh Watermelon Cake is a quick, no-bake dessert that's perfect for hot summer days and grilling season! Light, sweet whipped topping and assorted fresh fruit atop a fresh, juicy watermelon cake.
Watch Video
Print Recipe
Pin Recipe
Ingredients
Watermelon

Blackberries

Red Grapes

Kiwi
Instructions
Cut the top and bottom off of the watermelon.

Trim the rind off of the watermelon.

If the watermelon is too big, cut it in half and make two smaller cakes.

Frost the top and sides of the watermelon with Cool Whip.

Decorate the top of the cake with fresh fruit.

Decorate the sides of the cake with sliced almonds.

Serve immediately or refrigerate for an hour before serving.
Video
If you loved this recipe,
leave me a review below
. This helps future recipe makers and ensures continued high-quality recipes for years to come!
© 2023 I Heart Recipes