Easy no-bake banana energy bites made with peanut butter, oats, and honey. A delicious healthy snack recipe!
Are you looking for a quick and easy healthy snack recipe? You're in the right place. Try these easy no-bake banana energy bites! Whether you're craving a little pick-me-up midday or want a healthy on-the-go breakfast, I can't recommend these energy bites enough!
These delicious no-bake energy bites are made with oats, honey, bananas, and peanut butter as the main ingredients. I love how quickly this recipe comes together and how customizable it is! There are so many add-ins you can toss in and tweaks you can make to your taste. So, let's jump on into how to make these yummy protein-packed energy bites.
Ingredients to Make No-Bake Banana Energy Bites
As I said above, this recipe only calls for four main ingredients, but there's a whole bunch more you can add based on your tastes. Here's what I use to make my peanut banana oat bites:
Ripe bananas: You don't want your bananas overripe to banana bread level. I would recommend just slightly less ripe than that—fully ripe with a hint of brown on the peels. This way, the bananas are sweet and easy to mash.
Oats: So, what are the best kinds of oats to use in these banana energy bites? I recommend regular old-fashioned rolled oats, but you could also use quick or instant oats. These types of oats are more processed, which in this case, makes them better for no-bake recipes. (Side note: try out my tasty baked oatmeal apples for a treat.)
Peanut butter or nut butter: I use peanut butter, but if you don't like or cannot have peanut butter, you absolutely can substitute it with another nut butter like almond butter or cashew butter.
Seasonings and sweeteners: I use cinnamon and nutmeg in my banana energy bites, both of which go well with the banana and oats. I also use vanilla extract and maple syrup for a touch of added sweetness.
Add-Ins for No-Bake Energy Bites
Here's where y'all can get creative. The sky is the limit when it comes to what else you add to your energy bites! In my recipe, I use sweetened shredded coconut. But if you're feeling fancy, don't stop there! Here are some other popular add-ins for no-bake energy bites:
Mini chocolate chips (dark, semi-sweet, or milk)
Sweetened cocoa powder
Nuts like pecans, walnuts, or almonds
Dried cranberries or raisins
Dried fruits like apples, strawberries, or blueberries
Chia seeds or flax seed
Any flavor protein powder
Crushed up granola or granola bars
If you have a favorite spice blend, like pumpkin spice or apple pie spice, toss that on into your energy bite mixture to add your favorite flavors. The great thing about this banana energy bites recipe is that you can mix just about anything with a neutral banana base, and it'll taste great.
Are Energy Bites Really Healthy?
Here's another good question: are these no-bake banana energy bites really good for you? They're a quick breakfast or snack that's perfect for on-the-go days, and they give you a boost of energy when you need it. But what makes these energy bites healthy?
Like most no-bake energy bite recipes, these have nut butter packed with healthy fats, protein, and other nutrients. Dried fruits add fiber, which helps keep you full. Bananas are also good for you, with fiber, potassium, and plenty of good vitamins. Oats are a significant source of carbohydrates, which give you an energy boost in the morning, after a workout, or during your mid-day slump.
Another plus is that you can easily make no-bake energy bites for just about any special diet, including vegan, vegetarian, and even keto, with the right substitutions. So, the answer is YES—these peanut banana energy bites are definitely a smart, healthy snack that you can whip up in just a few minutes!
How to Make No-Bake Peanut Butter Banana Energy Bites
So, how do you make these no-bake energy bites? It could NOT be easier. Some recipes require you to use a food processor to grind up the ingredients. I don't do that, but you certainly can if you prefer! I like my energy bites to have a bit of a chunky crunch, so I use whole oats.
Here's what you gotta do:
In a mixing bowl, mash the bananas and add the vanilla.
Then add in all the other ingredients—peanut butter, oats, the mix-ins of your choice, etc.—and mix until well combined. The mixture should be just a little bit sticky, enough to hold a ball shape.
Line a baking tray with parchment paper. Scoop out about 1-1.5 tablespoon scoops of the energy bite mixture and form them into balls about the size of a golf ball. If you find the mixture is sticking to your hand, spray your hands with a tiny bit of cooking spray.
Let the energy bites chill in the fridge or freezer for at least an hour—then you're done!!
You can whip up these banana energy bites in about 10 minutes. When I say quick and easy snack, y'all, I mean it! Store the energy bites in an airtight container in the fridge for up to a week or in the freezer to keep longer.
Why won't my protein balls stick together?
If your protein-packed energy bite mixture doesn't stick together, you need a little more moisture! Add water or melted coconut oil about a teaspoon at a time until the mixture comes together. This works especially well if you use a food processor to grind your ingredients.
Do energy balls have to be refrigerated?
These healthy energy bites don't have to be refrigerated, but they last longer if you keep them chilled. At room temperature, they'll last a few days. When stored in an airtight container, they'll last about 1-2 weeks and up to three months in the freezer. This recipe is great to make in large batches because they store well in the freezer.
What can you sub out for oats?
I do not recommend subbing out the oats in this recipe, as they're what gives the banana energy balls their texture. Add crushed-up granola for crunch, seeds, or nuts for texture, but keep the oats! They're tasty and good for you.
No-Bake Peanut Butter Banana Energy Bites Recipe Card
Are you ready to make these healthy treats? Let's get on to it! You can print out the recipe card below, which has the exact measurements for this recipe and the step-by-step directions. If you make these energy bites, let me know in the comments! What add-ins did you include? Are they the perfect on-the-go snack? Don't forget to subscribe to I Heart Recipes on YouTube to see all of my recipe videos, cooking tips, and more! You can also follow me on Facebook, Instagram, and Pinterest to keep up with all things Rosie and I Heart Recipes.
Looking for more banana recipes? Check these out before you go!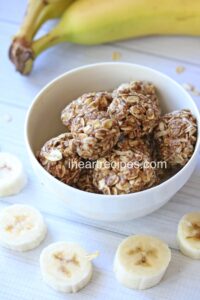 Banana No Bake Energy Bites
Easy banana no-bake energy bites made with just a few healthy ingredients: peanut butter, bananas, oats, and honey.  A healthy snack perfect for when you need an energy boost on the go!
Print Recipe
Pin Recipe
Ingredients
1

large banana

1

tsp

vanilla extract

1 1/2

cups

regular oats

1

tsp

ground cinnamon

⅛

tsp

ground nutmeg

1 ½

tbsp

peanut butter

2

tbsp

maple syrup

1

tbsp

honey

2

tablespoons

shredded coconut
Instructions
In a bowl, mash bananas and vanilla extract. Mix until combined.

Now add in the peanut butter, oats, maple syrup, cinnamon, nutmeg, and shredded coconut into the bowl and mix.

Line a baking sheet with parchment paper.

Roll the mixture into small balls.

Place on the parchment paper and let set in the freezer for 60 minutes.

Serve & enjoy!
If you loved this recipe,
leave me a review below
. This helps future recipe makers and ensures continued high-quality recipes for years to come!
© 2023 I Heart Recipes