This Apple Crisp Recipe is hands down the best ever! It's homemade with thinly sliced Honey Crisp and Granny Smith apples and adorned with a sweet crispy topping. It's simply one of the best desserts that you will ever make.
During the fall season, I am all about the apple desserts. I love the homemade apple cobblers, apple fritter breads, and of course a cup of hot caramel apple cider. There is one apple dessert that I can never get enough of. As a matter of fact, this particular dessert I enjoy all year round because I just couldn't imagine making it seasonal. Which dessert am I talking about cousins? None other than a nice hot homemade apple crisp a la mode. Goodness, there simply isn't anything better than a scoop of freshly made apple crisp right out of the oven, topped with ice-cold vanilla ice cream. Just thinking about it makes my mouth water!
In this post, I'm going to tell you all about this dessert. I will give you step-by-step instructions on how to make my World's Best Apple Crisp Recipe. So are you ready? Let's get to this apple crisp recipe y'all!
What Is Apple Crisp?
Apple crisp is an apple dessert. Fresh apples are peeled, then thinly sliced, and spiced with cinnamon, nutmeg, and other delicious spices. The spiced apples are combined with a little bit of vanilla, and a few other ingredients to make an apple filling. Once the apple mixture is done, the dessert is topped with a streusel topping made of a combination of brown sugar, flour, cinnamon, and butter.
There are some recipes that use oats, and nuts, for the streusel topping. However, for this recipe, those ingredients aren't needed.
What's the difference between an apple pie and an apple crisp?
As mentioned earlier, apple crisp is a yummy dessert with a spiced apple filling that has a streusel topping. An apple pie usually has a top and bottom layer of crust, with apple filling in the middle. Also, apple crisp is scooped out, and apple pie is cut into wedges. Both are delicious, and they make a fabulous Thanksgiving dessert!
What are the best apples to use for a homemade apple crisp?
There are so many apples to use, but I love using a combination of Granny Smith Apples, and Honey Crisp. Granny Smith apples are more on the tart side, so I like to combine them with sweet honey crisp apples. Both apples pair perfectly with this dessert! You can use other apples for this dessert if you'd like, but try to stay away from Red Delicious apples. They simply don't hold up that well when cooked.
What are the best apples to bake with?
I always get asked which apples are the best to bake with whenever I post an apple dessert, so let me just give you the list now.
Granny Smith
Gala
Honey Crisp
Pink Lady
Honey Gold
Golden Delicious
Braeburn
Fuji
Ingredients for the World's Best Apple Crisp Recipe
Apple Crisp Filling Ingredients:
5 cups fresh apples ( 2 ½ cups Honey Crisp, and 2 ½ Granny Smith ), peeled & thinly sliced
½ cup Brown Sugar, packed
½ tsp nutmeg
½ tsp Cinnamon
2 tsp Vanilla Extract
1 tsp lemon juice
2 tbsp Flour
2 ½ tbsp Butter, melted
Apple Crisp Streusel Topping Ingredients:
1/2 cup Flour
3/4 cup Brown sugar
1 tsp Cinnamon
1/4 tsp Nutmeg
1/4 tsp Salt
1/2 cup Butter, cold cut into cubes
How to Make a Homemade Apple Crisp
Preheat the oven to 350 F.
In a medium-sized bowl add all of the ingredients for the crisp topping, except for the butter, and stir to combine.
Add the cold butter and use a pastry cutter to cut the butter into the dry ingredients until the mixture is crumbly and comes together. Set aside.
In a large bowl add all of the apple filling ingredients and stir together so that the apples are well coated. Add the prepared apples to a well-coated baking dish.
Cover the apples with the topping and spread evenly over the apples.
Bake for 40-45 minutes.
Allow to cool for 10 minutes.
Tips & Tricks for Making Apple Crisp
Use fresh apples, not canned or frozen.
Use real butter, not margarine.
Wash and peel the apples prior to slicing.
Do not use warm, or room-temperature butter. Use cold to frozen butter for the topping; It DOES make a difference!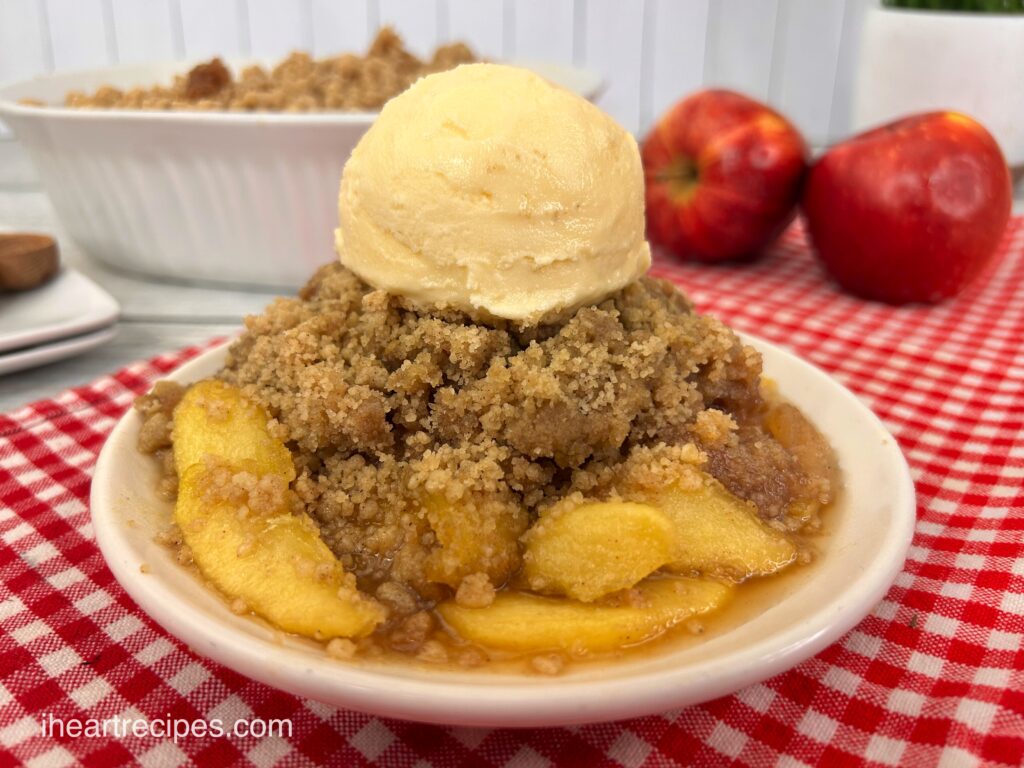 How do you store leftover apple crisp?
If you have leftover apple crisp, you can store it in an airtight container in the refrigerator for up to 5 days. If you would like to store the apple crisp longer, you can freeze it! Simply place it in the freezer (still in an airtight container), and you can keep it there for a few months. When you're ready to enjoy the dessert, remove it from the freezer, let it thaw, then zap it for 15 to 30 seconds in the microwave. Top with vanilla ice cream, and enjoy!
Alright y'all! Now it's your turn to try my World's Best Apple Crisp Recipe. I've given you all the information on how to make it, so I'm confident that you can make this dessert. Before we get right into this recipe, be sure to check out these other apple desserts!
Print this recipe for my World's Best Apple Crisp, and don't forget to pin it on Pinterest!