How to make a easy apple cobbler
Happy Fall(I know I'm a lil early.. please don't kill my vibe)!! You know what time it is right? It's officially apple season, and I'm going to show you how to make an easy apple cobbler! That's right a nice hot bubbly apple cobbler with cinnamon, sugar, and a hint of lemon. Honey – let me tell you that this stuff is addicting! Just think of an apple pie, and a peach cobbler ( minus the peaches) all in one. Sounds pretty freaking good huh? I thought so too, that's why I made a ton of cobbler filling. No seriously- I really made lot's of cobbler filling, and froze it ( It's freezable y'all!!) for later use.
The recipe for this apple cobbler couldn't be any easier. All you need is some apples, sugar, some store bought crust, a few other simple ingredients. and you are good to go! So say goodbye to apple pie…
Me: It's been real Mr. Apple Pie, but I'm leaving you. As of now, you just can't please me the way that  Cobbler can!
So now that we've successfully dumped Mr. Apple Pie, let's get to my new boo Mr. Cobbler!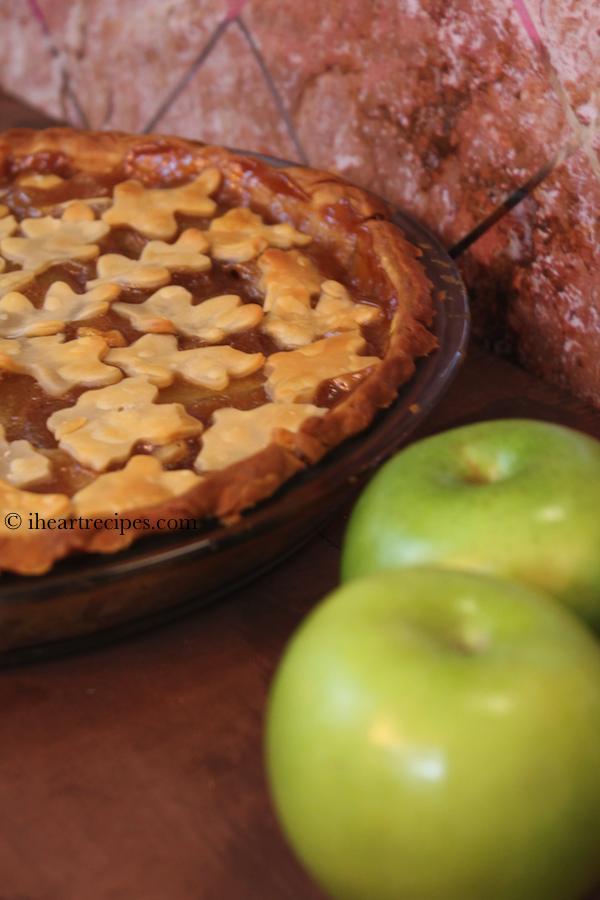 For this recipe I will be using Granny Smith apples. I really love the sweet & tartness of Granny Smiths, and in my opinion, they are the best for cobblers and pies.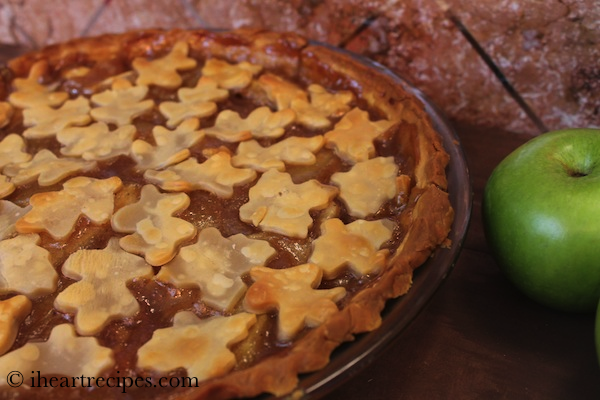 To make this recipe easy, I used a store bought pie crust. Of course you can make your own crust if you choose.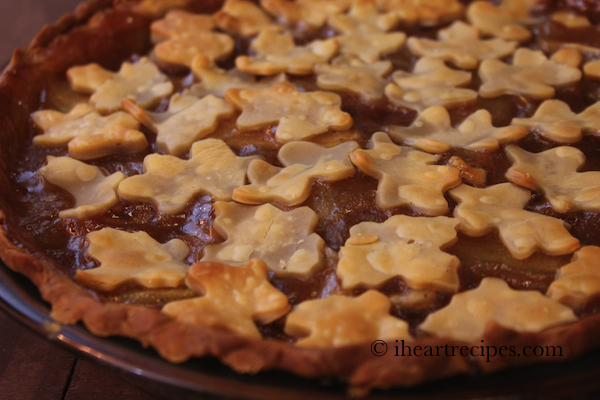 Since it is fall, I decided cut the pie crust/dough into small little leaves, using cookie cutters. You don't have to do that. You can cut the crust in squares or circles.
Keep in mind that this is a cobbler- not a pie. When serving, you will scoop it out, not slice it into a wedge 🙂
Here's my recipe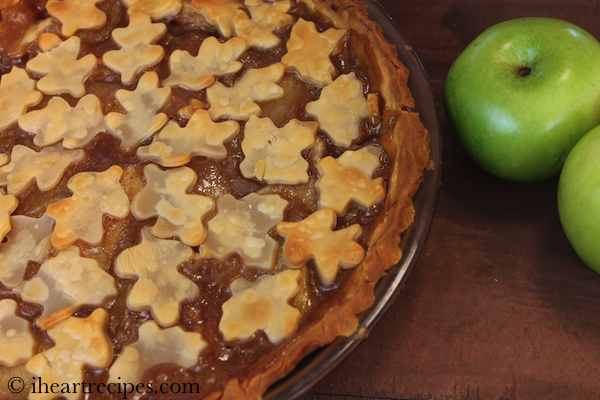 Easy Apple Cobbler Recipe
Sweet and tart granny smith apples fill this delectable apple cobbler. It's the perfect holiday dessert!
Watch Video
Print Recipe
Pin Recipe
Instructions
Pour in the granulated sugar, brown sugar, cinnamon, nutmeg, and flour into a dutch oven or large pot.

Stir the ingredients until everything is well combined.

Pour in the water, and vanilla extract, then stir.

Place the dutch oven, or large pot over medium high heat.

Stir continuously to prevent clumps.

Once the mixture thickens, reduce the heat from medium high, to medium low.

Pour the lemon juice on the apples, and toss.

Carefully start adding the apple into the dutch oven or pot.

Let cook, until the apple are tender.

Let the mixture cool completely.

Preheat the oven to 350 F

Place one of the pie crusts into a 9 inch pie pan.

Use a cookie cutters to cut the remaining crust.

Place half of the cut dough onto a cookie sheet, and place it into the oven for about 5 minutes- or until the crust starts to firm up.

Pour half of the apple filling into the pie dish.

Toss in the cooked crust, then cover with the remaining filling.

Top off the cobbler with the uncooked pie crust pieces.

Bake the cobbler for 25 minutes.

Once done, let the cobbler sit for 20 minutes before serving.

Enjoy!
Video
If you loved this recipe,
leave me a review below
. This helps future recipe makers and ensures continued high-quality recipes for years to come!
© 2023 I Heart Recipes