This easy holiday-inspired dessert will be the talk amongst your guest! This simple Peppermint Ganache Swiss Roll Cake should definitely be a part of your Christmas spread!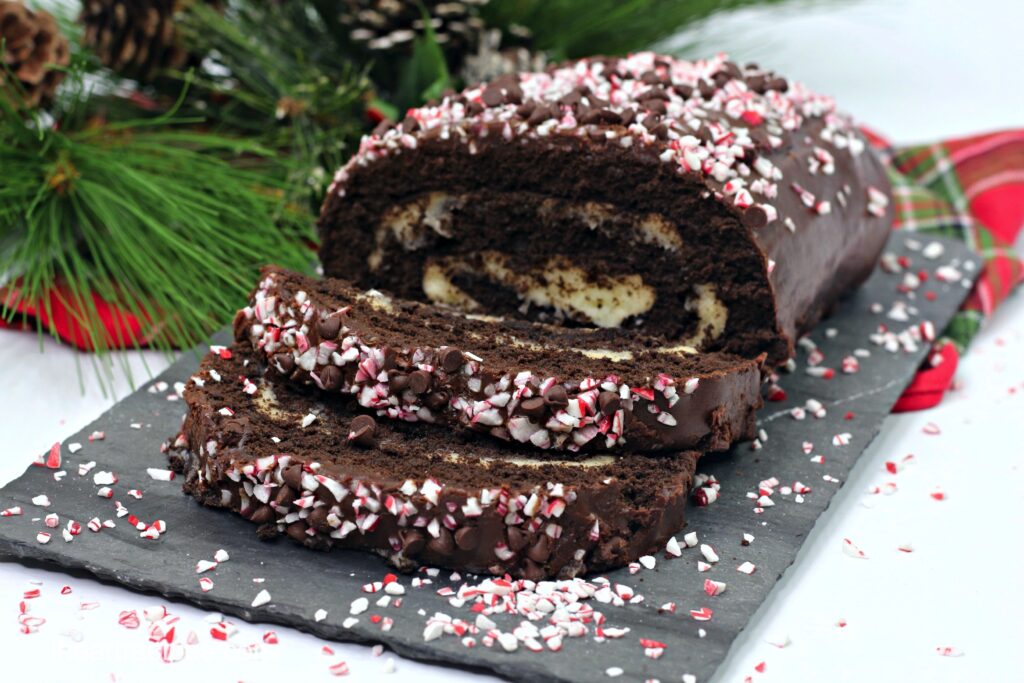 Hey cousins! Happy Holidays! These past few years, I haven't shared many Christmas recipes. Well, that changes today! This holiday season, I'm going to share a ton of holiday-inspired desserts that your family will love. First up is this simple Peppermint Ganache Swiss Roll Cake!
What is a Swiss Roll Cake?
So you've never tried making a Swiss roll cake, and you honestly don't know what it is, huh? No problem, I'll school you! A Swiss roll cake is a sponge-like cake that is usually filled with frosting, cream, or even jelly. Swiss roll cakes are also referred as log cakes and jelly roll cakes. These cakes are super popular around the holidays, especially Christmas.
Ingredients you need for this Peppermint Ganache Swiss Roll Cake
cocoa powder
flour
kosher salt
baking powder
granulated sugar
unsalted butter, softened
vanilla extract
peppermint extract
eggs
confectioners sugar
sweet chocolate chips
heavy whipping cream
crushed peppermint candy
mini chocolate chips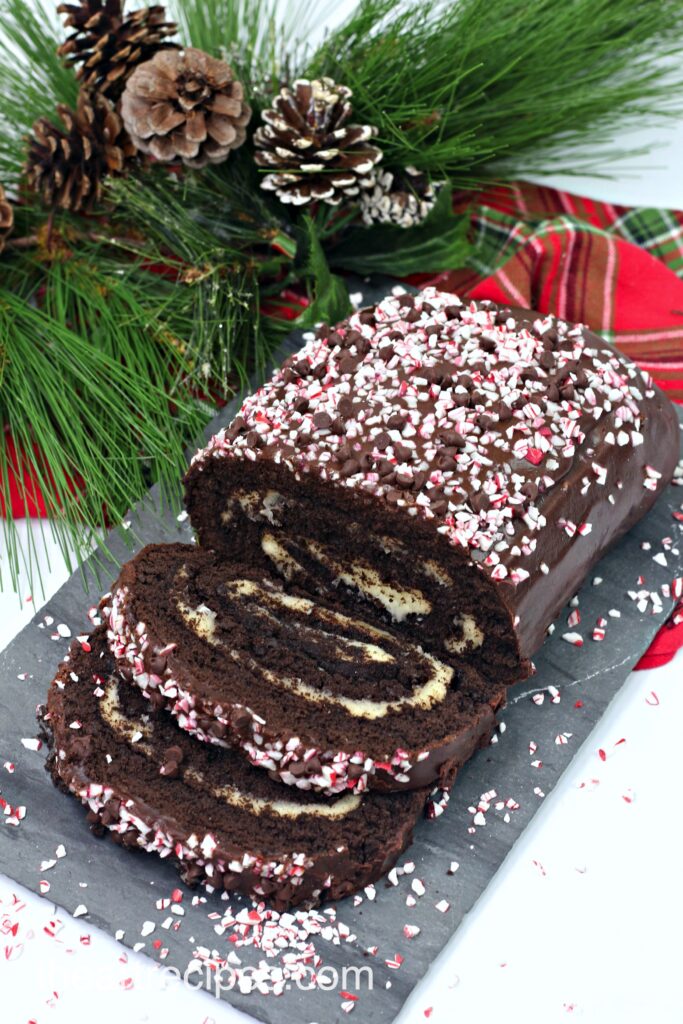 Equipment needed to make this Swiss roll cake
So now that you have the ingredients list, let's talk about the cooking utensils that you'll need to whip up this cake. First up is a stand mixer or hand mixer for mixing the ingredients. You will also need measuring cups, measuring spoons, and of course, several mixing bowls. A spatula will be needed for frosting the cake as well.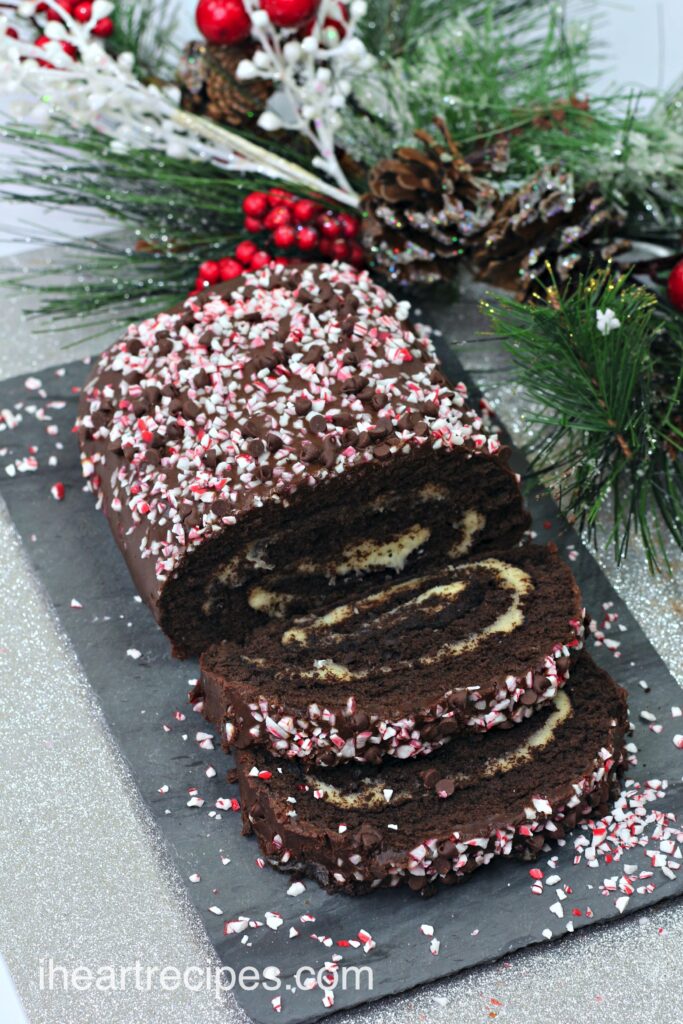 Print this recipe for later, and don't forget to share it on Facebook and Pinterest!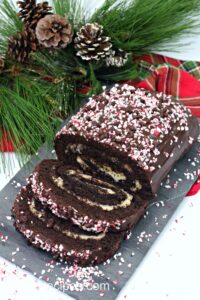 Chocolate Peppermint Ganache Swiss Roll
Nothing says Christmas list chocolate and peppermint! Get the best of both worlds with this decadent chocolate peppermint Swiss roll cake. Made with peppermint buttercream, a chocolate peppermint ganache, and topped with crushed peppermint candies.
Print Recipe
Pin Recipe
Ingredients
Peppermint Buttercream Ingredients
Chocolate Ganache Ingredients:
1

Cup

semi sweet chocolate chips

1/2

Cup

heavy whipping cream

1

Cup

crushed peppermint candy

1

Cup

mini chocolate chips
Instructions
Preheat the oven to 375 degrees and line a 15×12 cookie sheet with parchment paper

In a large bowl, whisk together cocoa powder, flour, baking powder and salt. Set the side

Cream the butter and sugar together using a handheld or stand mixer.

Start adding in 1 egg at a time until well incorporated.

Next, add in 2 tsp vanilla extract, and 1 tsp peppermint extract.

Gradually start adding in dry ingredients, and mix until well combined, but do not over mix.

Pour the cake batter onto the parchment paper lined cookie sheet.

Bake in the oven for 12-15 minutes or until the cake is done to the touch.

Remove from oven and allow to cool for 5 minutes.

While the cake is still warm, roll the cake into a log inside the parchment paper.

Allow the cake to cool completely while rolled up.

Now it's time to make the peppermint buttercream!

Combine the ingredients for the vanilla buttercream, and mix until creamy.

Unroll the cake, and spread the peppermint buttercream onto the cake.

Roll the cake backup and place into the fridge while you make the Ganache.
Chocolate ganache directions
Using a small pot, heat up the heavy whipping cream until it comes to a low boil.

Place the chocolate chips into medium sized glass mixing bowl.

Once the heavy whipping cream is heated, pour over the chocolate chips.

Allow to sit for 1 minute before mixing. Then mix until it's nice, and creamy.

Remove rolled from fridge and place onto a wire rack

Pour the ganache over the cake

Sprinkle some of the crushed peppermint candy and mini chocolate chips all over

Allow the ganache to set before cutting in to the cake.
If you loved this recipe,
leave me a review below
. This helps future recipe makers and ensures continued high-quality recipes for years to come!
© 2023 I Heart Recipes
Other desserts to try!