A made from scratch gingerbread Swiss roll cake with maple frosting! This is such a beautiful cake, and it will take your holiday spread to the next level!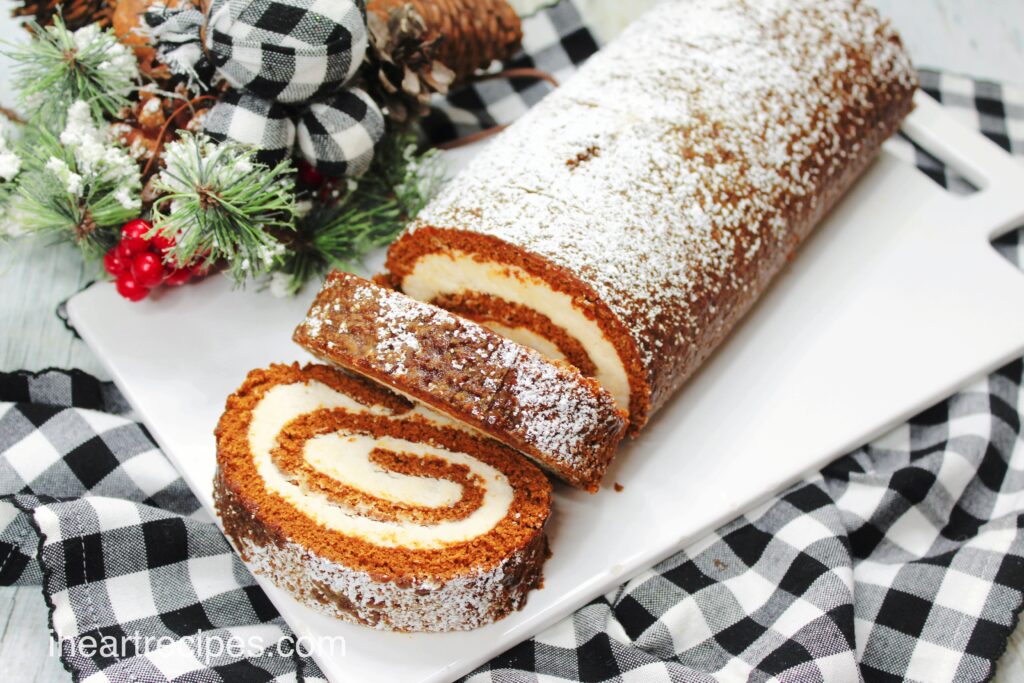 Hey cousins! I'm back with another holiday recipe. I figured since you all loved the Peppermint Ganache Swiss Roll cake so much, I'd spoil you with a similar cake. Therefore in this post, I'm going to share this outstanding recipe for a Gingerbread Swiss Roll Cake.
This recipe will be one that you will be passing down for generations because it is just that AH-MAZING! It has the perfect blend of ginger, brown sugar, cinnamon, and maple. Tasting this cake is like you are actually tasting Christmas! This cake is the perfect dessert to make all holiday season, and the cake makes a perfect gift as well. So feel free to bake a few of these and give them to your family and friends! They'll love it!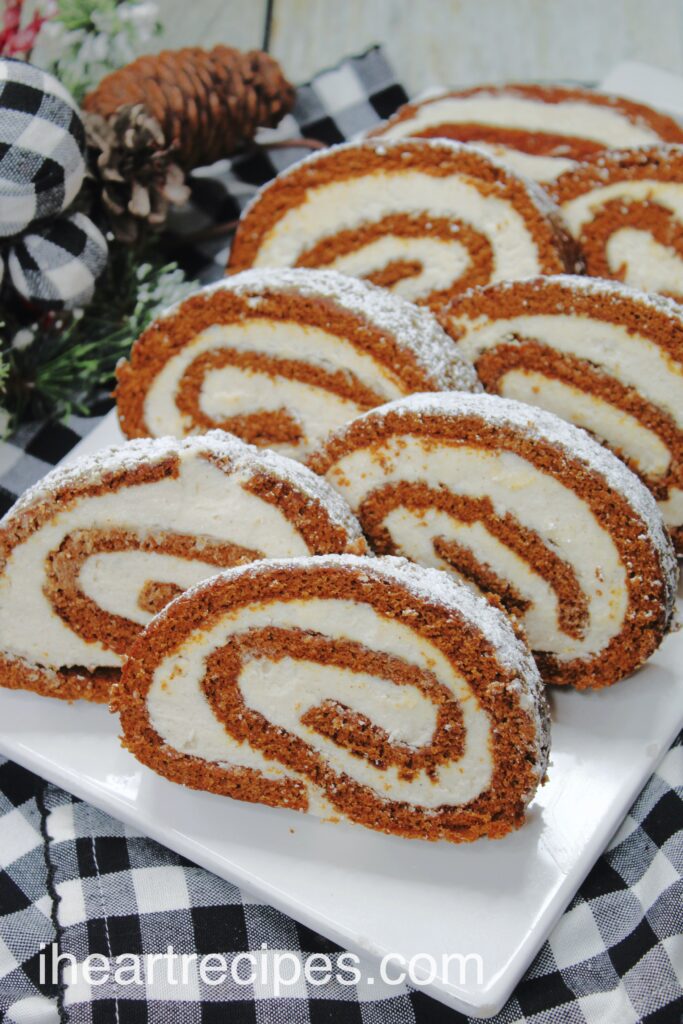 This holiday dessert calls for a lot of warm spices and a few other ingredients. Most of the ingredients needed for this Gingerbread Swiss Roll Cake are probably already in your cabinets. However, I'll still share the ingredients list here, just in case you need to make a quick run to the store.
Ingredients needed for this Gingerbread Swiss Roll Cake
¾ cup flour
¼ cup cornstarch
1 tbsp ground ginger
2 tsp ground cinnamon
1 tsp ground allspice
½ tsp ground nutmeg
¼ tsp ground cloves
1 tsp baking soda
¼ tsp Kosher salt
4 large eggs
¾ cup light brown sugar packed
Ingredients for Maple Cinnamon Frosting: 
½ cup unsalted sweet cream butter, softened
1 tbsp maple syrup
1 tsp pure vanilla extract
1 tsp ground cinnamon
¼ tsp salt
4 cup powdered sugar
1 tbsp half & half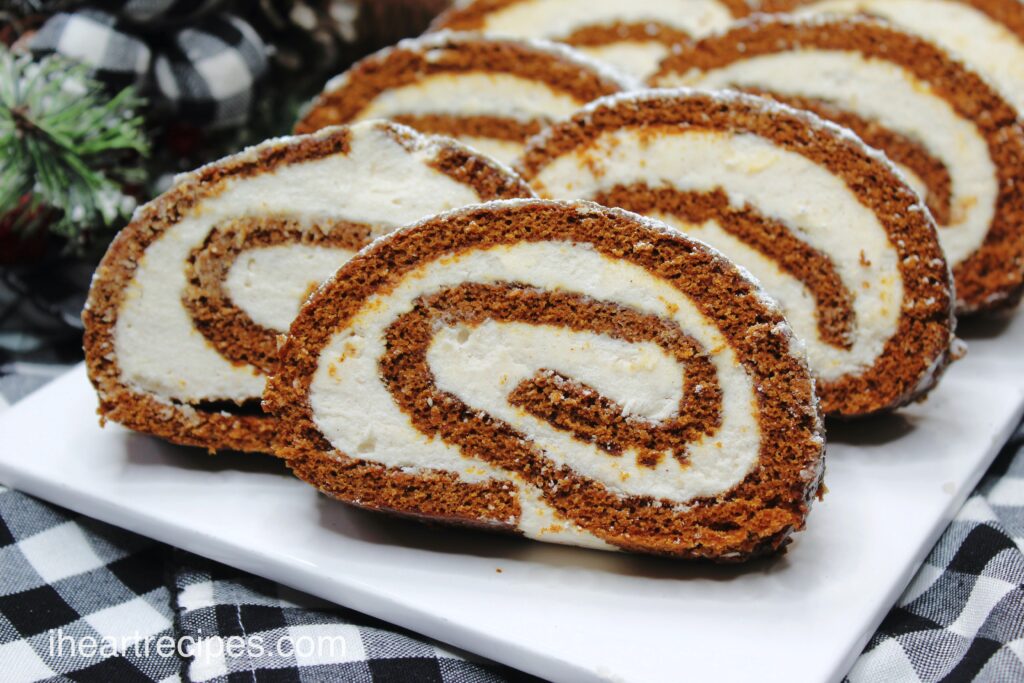 As far as baking tools, you will need the basics: Mixing bowls, measuring cups & spoons, a spatula, whisk, a handheld mixer or stand mixer, and a jelly roll pan or large baking dish.
Looking for more Christmas Dessert Recipes? Check these out!
Don't forget to PIN this recipe, and follow me on Facebook!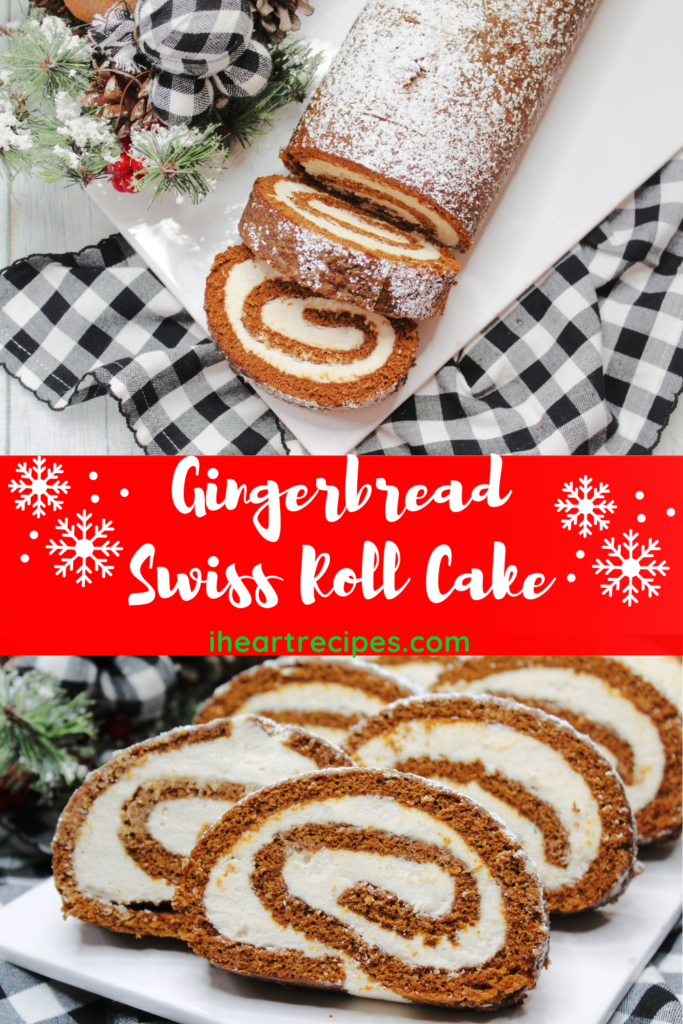 Print this recipe, and be sure to come back to print more!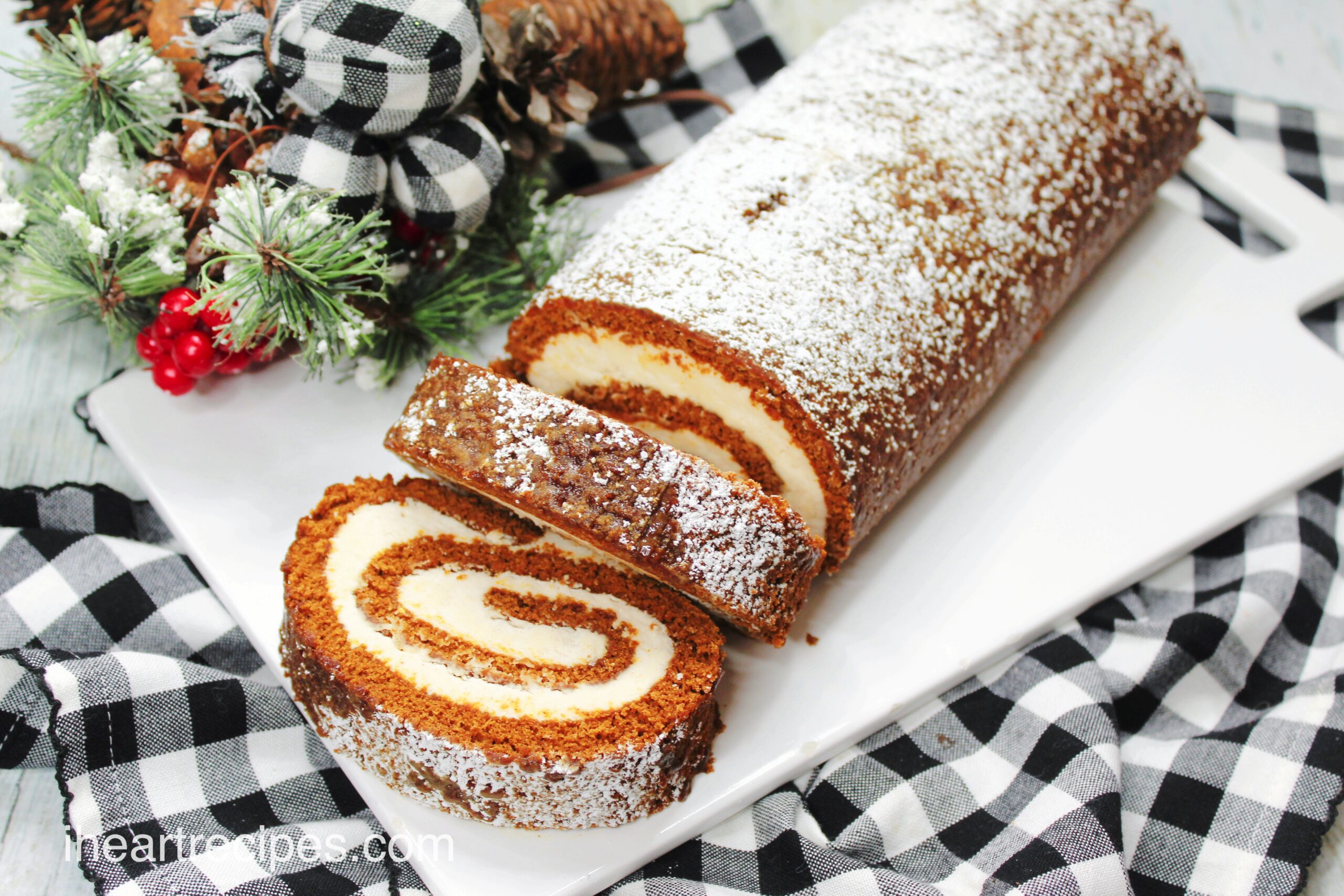 Gingerbread Swiss Roll Cake
This homemade Swiss cake is perfect for the holidays! Moist gingerbread cake has all the spices of Christmas time, and the homemade maple frosting is light and sweet!
Print Recipe
Pin Recipe
Instructions
Preheat the oven to 350 F.

Spray a half sheet cookie sheet with baking spray and line it with a piece of parchment paper. Spray the parchment paper with baking spray and set aside .

Lay a clean tea towel out on the counter and evenly sprinkle the top with powdered sugar.

Whisk together the flour, cornstarch, ginger, cinnamon, allspice, nutmeg, cloves, baking soda, and salt in a medium bowl.

Beat the eggs in a large bowl until tripled in volume. Add the brown sugar and beat until thick, about 2 minutes.

Add the dry ingredients to the egg/sugar mixture and stir just until combined, being careful not to over-mix.

Pour the batter out onto the prepared pan and spread it out evenly.

Bake until the cake springs back when you touch it, about 10 to 12 minutes.

Turn the cake out onto the prepared tea towel and peel off the parchment paper.

Starting at one of the short ends, roll the cake up in the tea towel into a log shape.

Transfer the cake to a wire rack to cool completely, about 2 hours.

Using a standing mixer, beat the butter, maple syrup, vanilla, cinnamon, salt, powdered sugar and milk until combined, smooth and fluffy

Once the cake has cooled, carefully unroll the cake.

Spread frosting onto the top of the cake.

Carefully roll the cake back up into a log and place into the fridge until ready to serve.

Cut 1 – 2 inch thick slices.

Serve, and enjoy!
If you loved this recipe,
leave me a review below
. This helps future recipe makers and ensures continued high-quality recipes for years to come!
© 2023 I Heart Recipes