With hearts full of joy and laughter, the family gathered around the Christmas tree, sharing delightful moments and savoring the heavenly taste of peppermint cheesecake stuffed cookies – a delicious tradition that brought warmth to their souls year after year.
Hello, cousins! Today, we are going to embark on a deliciously cheerful journey that will indulge our taste buds and warm our hearts. Get ready to embrace the sweet aroma of peppermint and the creamy decadence of cheesecake with a delightful twist – Peppermint Cheesecake Stuffed Cookies! These mouthwatering treats are perfect for any occasion, from festive holidays to cozy family gatherings or simply as a delightful indulgence for yourself. So, let's dive into the world of scrumptious cookies that are sure to bring joy to your life!
The Magic of Peppermint and Cheesecake
Peppermint and cheesecake are two heavenly flavors that have delighted palates for generations. Peppermint, with its refreshing and invigorating taste, is often associated with festive celebrations. The cool sensation it brings can instantly uplift spirits and add a touch of magic to any dessert. On the other hand, the velvety smoothness and rich taste of cheesecake are simply irresistible. Combining these two flavors into one delightful treat is pure genius and a match made in dessert heaven!
The Allure of Cookies: A Timeless Treat
Who can resist the allure of freshly baked cookies? They are the epitome of comfort and nostalgia, bringing back cherished memories of childhood and the joy of baking with loved ones. Whether it's the classic chocolate chip or a creative twist like our Peppermint Cheesecake Stuffed Cookies, cookies have a special place in our hearts and our stomachs!
Baking with Love: A Therapeutic Experience
Baking is not just about creating delicious treats; it's also a therapeutic experience that nourishes the soul. The process of measuring, mixing, and watching the dough transform into mouthwatering cookies is incredibly rewarding. And when you add the enchanting aroma of peppermint to the equation, you have an experience that engages all your senses and brings a smile to your face!
The Art of Making Peppermint Cheesecake Stuffed Cookies
Now, let's get down to the exciting part: making our scrumptious Peppermint Cheesecake Stuffed Cookies. The key to achieving the perfect cookie is finding the right balance between the peppermint and cheesecake flavors. The peppermint should be invigorating but not overpowering, while the cheesecake should be rich and creamy without being too heavy.
Peppermint Cheesecake Cookie Ingredients
1 cup unsalted Butter, cold and sliced 
1 ½ cup Granulated sugar
1 tbsp Vanilla extract
2 large Eggs, room temp
1 ½ cups All-purpose flour
1 ½ cup Cake flour
1 tbsp Cornstarch
1 tbsp Baking soda
3/4 tsp Salt
1 ½ cups White chocolate chips
1 cup Candy Cane baking bits
1 cup of Candy Cane sparkle coating 
Cheesecake filling:
8 oz Cream cheese, softened
½ cup Granulated sugar
1 tsp Peppermint flavoring
Cookie topping: 
1 cup White sparkling sugar
½ cup Candy cane baking bits
How to Make Peppermint Cheesecake Stuffed Christmas Cookies
To make the cheesecake filling:
In a small-sized bowl, add the cream cheese, sugar, and peppermint flavoring. Mix to combine. 
Place in the freezer for 30 minutes.
Remove the cheesecake filling, and using a small cookie scoop, scoop out small rounds of cheesecake. Place the cheesecake balls on a parchment-lined small baking sheet.
Place in the freezer for another 15 minutes.
To make the peppermint cookies: 
Line a baking sheet with parchment paper or a baking mat.
Set aside.
In the bowl of a stand mixer fitted with a paddle attachment cream butter and the sugar on medium speed for 2-3 minutes.
Add eggs and vanilla and mix until combined for another 3 minutes.
Scrape down the sides of the bowl as needed.
In a large bowl add the flours, baking soda, cornstarch, and salt.
Whisk to combine.
Add the dry ingredients to the butter mixture ½ cup at a time.
Mix to combine on low to medium speed until fully blended.
Add the white chocolate chips and peppermint baking bits to the dough.
Using your hands, mix to combine.
Cover and refrigerate for 30 minutes.
Using a large cookie scoop, scoop out your dough balls, and set on a parchment paper lined baking sheet. For 4 cookies you will need 8 dough balls at approx 3 oz each.
Using your hand, flatten the dough balls to ¼ inch thick.
Place a peppermint cheesecake ball on only half of the flattened cookies.
Place another piece of flattened cookie dough on top of the peppermint cheesecake ball cookie half. Using your hands roll the two cookie halves together into a ball.
Set back on the baking sheet.
Repeat until all dough balls are created.
In a small bowl add your cookie coating ingredients.
Mix to combine.
Roll your dough balls into the coating and place back on the baking sheet.
Keep your dough balls intact, do not flatten them.
Refrigerate the dough balls until the oven is ready.
Preheat the oven to 410 degrees
Bake for 14-15 minutes.
Let the cookies rest on the cookie sheet for 15 minutes.
Move the baked cookies to a cooling rack and allow them to reach room temperature.
Embracing Versatility: Cookies for All Seasons
While the delightful blend of peppermint and cheesecake screams winter holidays, these cookies are a versatile treat that can be enjoyed throughout the year. In the summer, pair them with a refreshing iced tea or lemonade for a delightful contrast of flavors. During spring, let the fresh scent of blooming flowers accompany your cookie indulgence. In autumn, savor them with a warm cup of apple cider as you embrace the cozy atmosphere. The joy of Peppermint Cheesecake Stuffed Cookies knows no bounds!
The Gift of Sharing: Spread Happiness with Cookies
One of the most beautiful things about cookies is that they can be shared with friends, family, and even strangers. The act of gifting someone a batch of homemade Peppermint Cheesecake Stuffed Cookies is a gesture of love and kindness. It brings joy to the giver as much as to the receiver. So, don't hesitate to bake a few extra batches and share the happiness with those around you!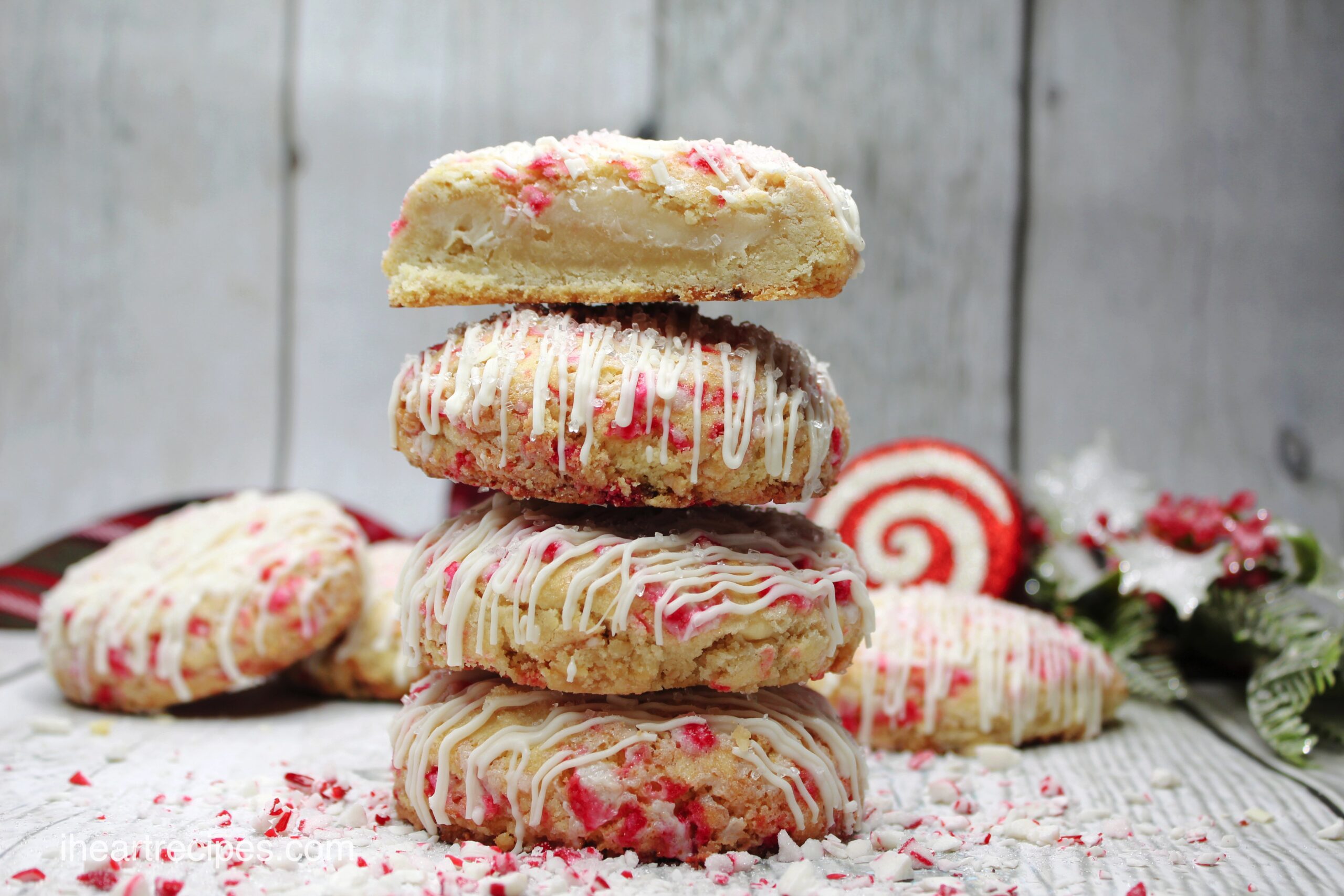 In conclusion, Peppermint Cheesecake Stuffed Cookies are an enchanting fusion of flavors that ignite the senses and warm the heart. Baking these delightful treats is not only a culinary adventure but also a soul-nurturing experience. Embrace the magic of peppermint, the indulgence of cheesecake, and the comfort of cookies as you embark on this journey of delightful flavors and joyful moments. Whether you're celebrating a special occasion, spreading cheer during the holidays, or simply treating yourself to some happiness, Peppermint Cheesecake Stuffed Cookies are sure to leave you with a lasting smile and a satisfied sweet tooth. Happy baking!
More Sweet Dessert Recipes
Loved this Christmas cookies recipe? Don't forget to share + save the recipe on Pinterest! Don't forget to follow along with everything Rosie and I Heart Recipes on social media—you can find me on Facebook, Instagram, and Pinterest.