Creamy homemade lime cheesecake topped with a layer of lime gelatin, whipped topping, and fresh lime wedges.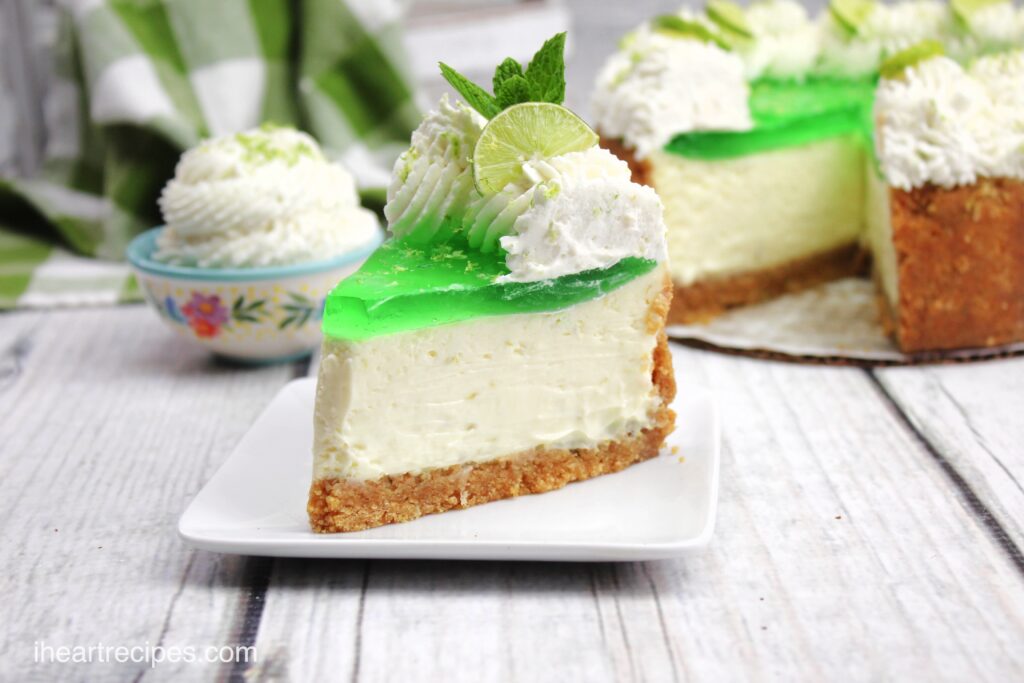 Hey cousins! If you're a cheesecake fan, you're in luck. In this post, I'm going to share a cheesecake recipe that will simply blow your mind. I'm sharing one of my all time favorites, which is a Key Lime Jello Cheesecake! This delicious cheesecake is completely homemade so it does require a little time, and patience. However, the outcome is irresistibly insane. This cheesecake will have you, and your loved ones wanting more, and more! It's extremely addictive, and it will make the perfect dessert for your next get together. So let's get to the get down!
Ingredients list for this Key Lime Jello Cheesecake
2 cups crushed graham cracker crumbs
3 tbsp sugar
½ cups unsalted butter, melted
2 tbsp lime zest
1 cup sugar
1 tbsp cornstarch
8 oz cream cheese, softened
4 large eggs
2/3 cup sour cream
1/3 cup heavy cream
1/2 cup key lime juice
1 1/2 tsp vanilla extract
3 oz lime gelatin mix
Whipped Topping
Lime edges
Baking spray
Jello or generic gelatin?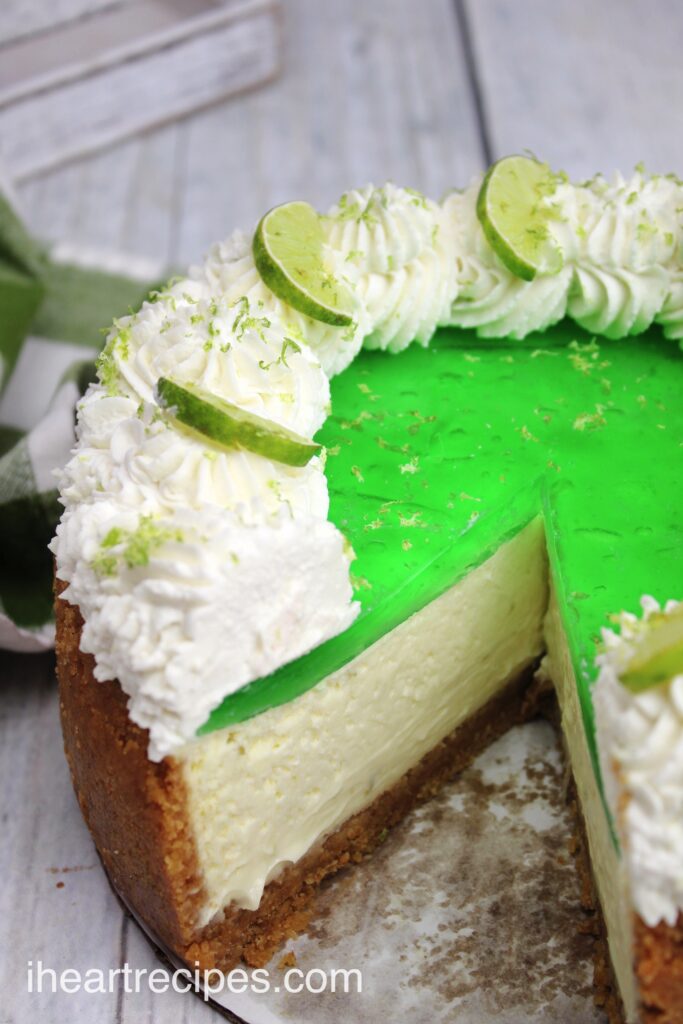 If you are wondering if you can use a generic lime gelatin instead of lime Jello , the answer is yes. Jello is a brand name. If you'd like to save a little money, by using a generic gelatin mix, I say go for it! Truth be told, I usually use generic gelatin. I get the same great taste, for a fraction of the cost, so it's a win for me. If you're married to the Jello brand, I say stick with it. Just be sure to follow the back of the box of whichever gelatin you decide to use. Brands sometimes have different instructions.
Be sure to scroll down to the end of this post to get step by step instructions on how to make this Key Lime Jello Cheesecake!
Key Limes, or Limes?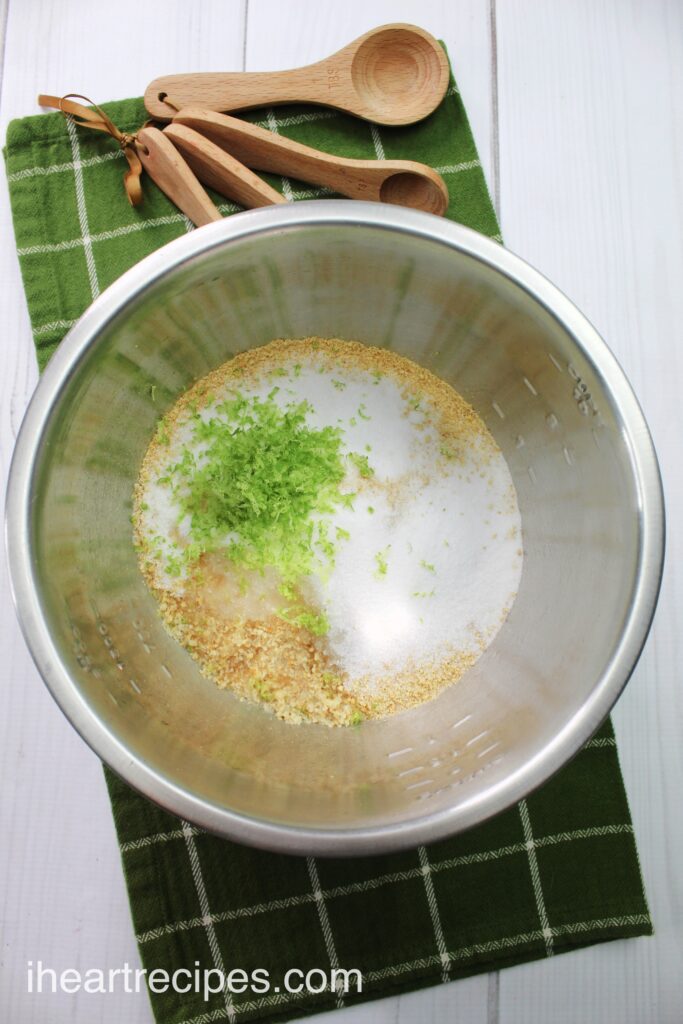 For this recipe I actually use both! I use lime zest, and key lime juice. If you'd like to replace the key lime juice with regular lime juice, you can. However, be advised that it may be just a tad bit more tart than it would be if you used key limes. Regular limes are easier to find, and are sometimes cheaper to buy, so I get why some people would rather just use regular limes!
Equipment needing to make this cheesecake
Handheld mixer: you will need a handheld mixer to mix the ingredients.
9 in round springform pan: this is the pan that I used to bake this cheesecake
Foil: used to line the outer part of the 9 inch springform pan. The foil helps keep the water( from the water bath) from seeping into the pan.
Parchment paper: used to line the inside of the springform pan. This prevents the cheesecake from sticking to the pan.
Roaster pan: use for the water bath
Mixing bowls: absolutely needed to mix the ingredients. You will need several mixing bowls for this recipe.
Spatulas: Needed to fold ingredients, as well as for scraping down the bowls.
How do I do a water bath for cheesecake?
For this recipe you will need to do a water bath. Doing a water bath for a cheesecake is actually a lot simpler than it seems. All you have to do is place the cheesecake( while it's in the springform pan, of course!) in a large roaster pan. Your next step will be to pour enough boiling water into the roaster( surrounding the cheesecake), until it reaches about halfway up to the springform pan.
Do I have to do a water bath for this cheesecake?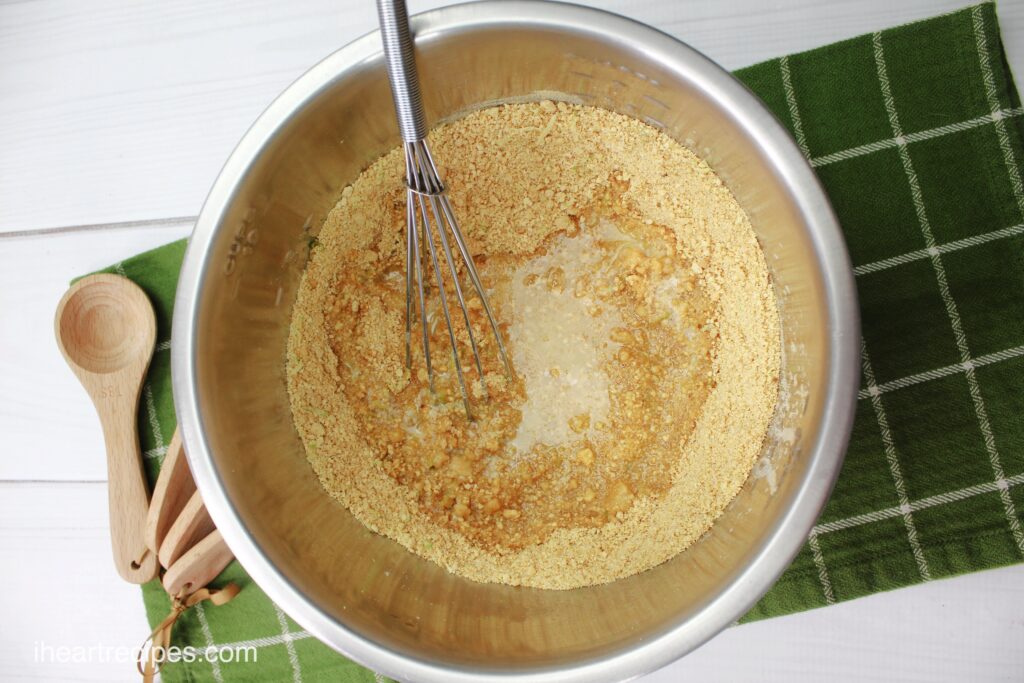 Yes! For this particular recipe, you must do a water bath. Some of my other cheesecake recipes, such as my Strawberry Shortcake Cheesecake, don't require a water bath. However, you must do one for this recipe. It's a texture thing! You want to make sure that the cheesecake cooks evenly, and a water bath will do just that. The water bath will also prevent the cheesecake from cracking while baking.
Why did my cheesecake crack, even with a water bath?
If your cheesecake cracks even with using a water bath, chances are that you overcooked it! Please be sure to watch your cheesecake while it cooks, so that you don't overcook it. You want to remove the cheesecake from the oven when it's still jiggly in the center. Do not cut into the cheesecake for several hours after baking. You need to let the cheesecake chill for several hours before cutting into it, and serving.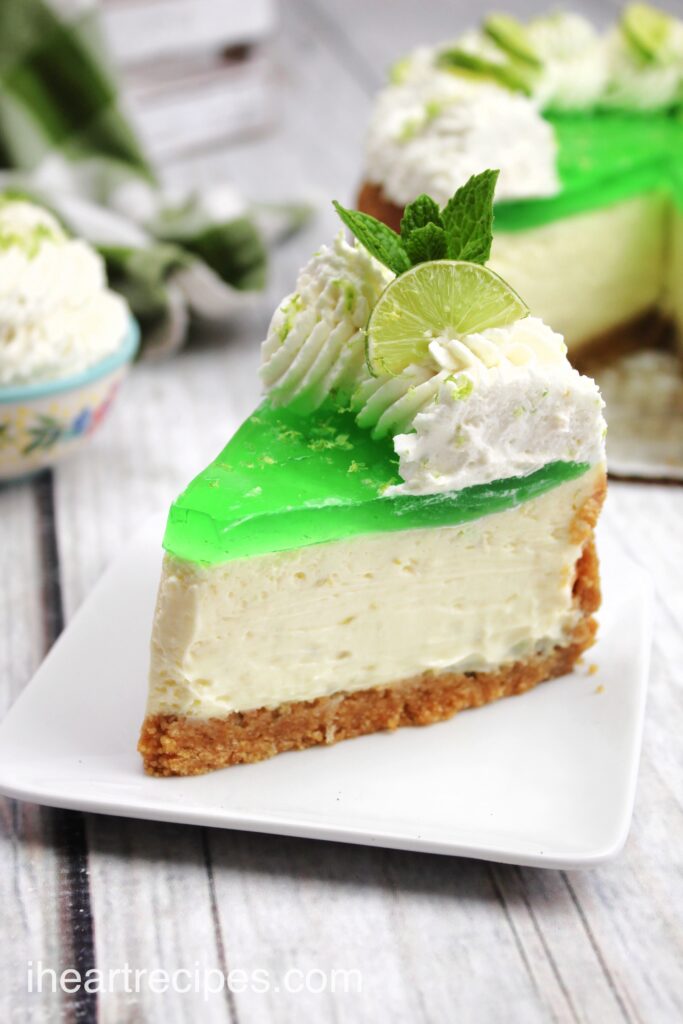 Alright cousins. I gave you all of the in's and outs for this homemade Key Lime Jello Cheesecake. Let's talk about leftovers! If you have any leftover cheesecake, you need to store it in an airtight container, and place it in the refrigerator. Leftovers can be kept in the refrigerator for up to a week.
Try some of my other cheesecake recipes
Key Lime Jello Cheesecake
Homemade delicious creamy lime cheesecake, topped with lime gelatin, and whipped topping.
Print Recipe
Ingredients
Crust
2

cups

crushed graham cracker crumbs

3

tbsp

sugar

½

cups

unsalted butter

melted

2

tbsp

lime zest
Key Lime Cheesecake Filling
1

cup

sugar

1

tbsp

cornstarch

8

oz

cream cheese

softened

4

large eggs

2/3

cup

sour cream

1/3

cup

heavy cream

1/2

cup

key lime juice

1 1/2

tsp

vanilla extract
Topping
3

oz

lime gelatin

Whipped Topping
Instructions
Preheat the oven to 350 degrees .

Line a 9-inch springform pan with parchment paper, and spray with baking spray. Be sure to line the outside of the pan with foil( make sure the outside is wrapped enough in foil to ensure no water seeps into the pan).

Combine the graham cracker crumbs, sugar, and lime zest in a large mixing bowl. Mix in the melted butter until it resembles.

Empty out the graham cracker crumb mixture into the springform pan, and press the crust evenly into the pan .

Bake in the oven for 10 minutes, then remove from the oven, and allow to cool .

Reduce oven temperature to 325 F.

Fill a large roaster pan about ¼ way full with warm water, and set it to the side.

cheesecake filling:

In a small mixing bowl, whisk together sugar and cornstarch until well combined.

Add cream cheese to a large mixing bowl, and pour the sugar and cornstarch mixture over top.

Using a handheld mixture, mix the cream cheese, sugar, and cornstarch until smooth.

Next, add in one egg at a time, while mixing.

Scrape down the sides and bottom of the bowl, and make sure that everything is well incorporated.

Add in the sour cream, and heavy cream. Mix until combined.

Mix in the lime juice, and vanilla.

Pour the cheesecake mixture over the cooled graham cracker crust.

Place cheesecake in a roasting pan then place the roasting pan, and place it in the oven. Carefully pour in enough boiling water around the cheesecake pan to reach halfway up the side of the cheesecake pan.

Bake in the oven for about 60 – 65 minutes.

Remove from the oven and cool on a wire rack for about 1 hour.

Cover, and chill in the refrigerator for a minimum of two hours ( you can also leave it in the refrigerator overnight).

Follow the directions on the back of the gelatin box .

Once the gelatin is completely cool and cold, pour over the cheesecake.

Place into the fridge, for about 4 hours.

Remove from the fridge, and top with dollops of whipped topping, and lime wedges.

Serve & Enjoy!
If you loved this recipe,
leave me a review below
. This helps future recipe makers and ensures continued high-quality recipes for years to come!
© 2023 I Heart Recipes