Feeling under the weather? Sleep it off with Grandma's old-fashioned hot toddy recipe! You'll be feeling better in no time with this classic cold remedy.
Who has enjoyed a good old-fashioned hot toddy before, or at least heard of it?! I swear, it seems like no one knows what they are, which is crazy to me! Back in the day, EVERYONE's grandma had a hot toddy recipe they swore by.
This warm drink is perfect for those chilly evenings when you first feel those cold symptoms coming on. Sore throat, chills, a little stuffy nose? This cozy cocktail will fix you right up! If you're looking for a hot toddy like Grandma used to make, look no further – I have a great hot toddy recipe for you!
What Is a Hot Toddy? 
So, what exactly is a hot toddy? It's a spiked hot beverage people drink when they feel under the weather. One of the most classic home remedies, an old-fashioned hot toddy will help warm you up and soothe a sore throat or cough. The combination of hot water, lemon, and honey does wonders for a sore throat. Just keep in mind that there is alcohol in this hot toddy recipe, so it's not for kids!
Despite its reputation as a classic home remedy for a cold, hot toddies aren't limited to only being make-shift cold medicine. This mixed drink's warm flavors and spices make it a perfect hot cocktail to serve at holiday get-togethers.
The debated history of this comforting cocktail tells two stories; the first says the drink has 17th-century origins in India, called a "taddy," which is the Hindi word for a drink made with fermented palm sap. Another story credits a 19th-century Irish doctor named Robert Bentley Todd for creating the warm cocktail as a cure-all. So, whether you're whipping up a batch of hot toddies to enjoy at a Christmas party or simply making glass to soothe your sore throat, a classic hot toddy recipe is the perfect prescription.
Ingredients for an Easy Hot Toddy Recipe
Now, many hot toddy recipes use freshly brewed hot tea as the cocktail's base. In my version, I prefer something a little more flavorful. Here are the simple ingredients I use to make my Grandma's version of a miraculous hot toddy recipe!
How to Make a Hot Toddy
Now that you know the basic ingredients for a warm hot toddy recipe, let's talk about how to make it! It could not be easier to make – which is great if you already feel under the weather!
First, warm the apple cider in a small saucepan on the stovetop over medium heat. You don't want it quite boiling, more like a low simmer. You can use your favorite brand of store-bought apple cider for this recipe. You can also use regular apple juice if you don't have apple cider.
Once the apple cider is warm, add the fresh lemon juice. Fresh is best – the tangy citrus juice is packed with vitamin C! You'll want to heat the apple cider mixture for about ten minutes – again, long enough for a light simmer, but not so hot that it's boiling and too hot to drink safely!
Pour the cider into serving glasses. Then add one tablespoon of honey and two tablespoons of bourbon (about one ounce – a little less than a standard shot glass) to each glass of cider. Mix the drink with a cinnamon stick, garnish with a star anise and apple slice, and enjoy!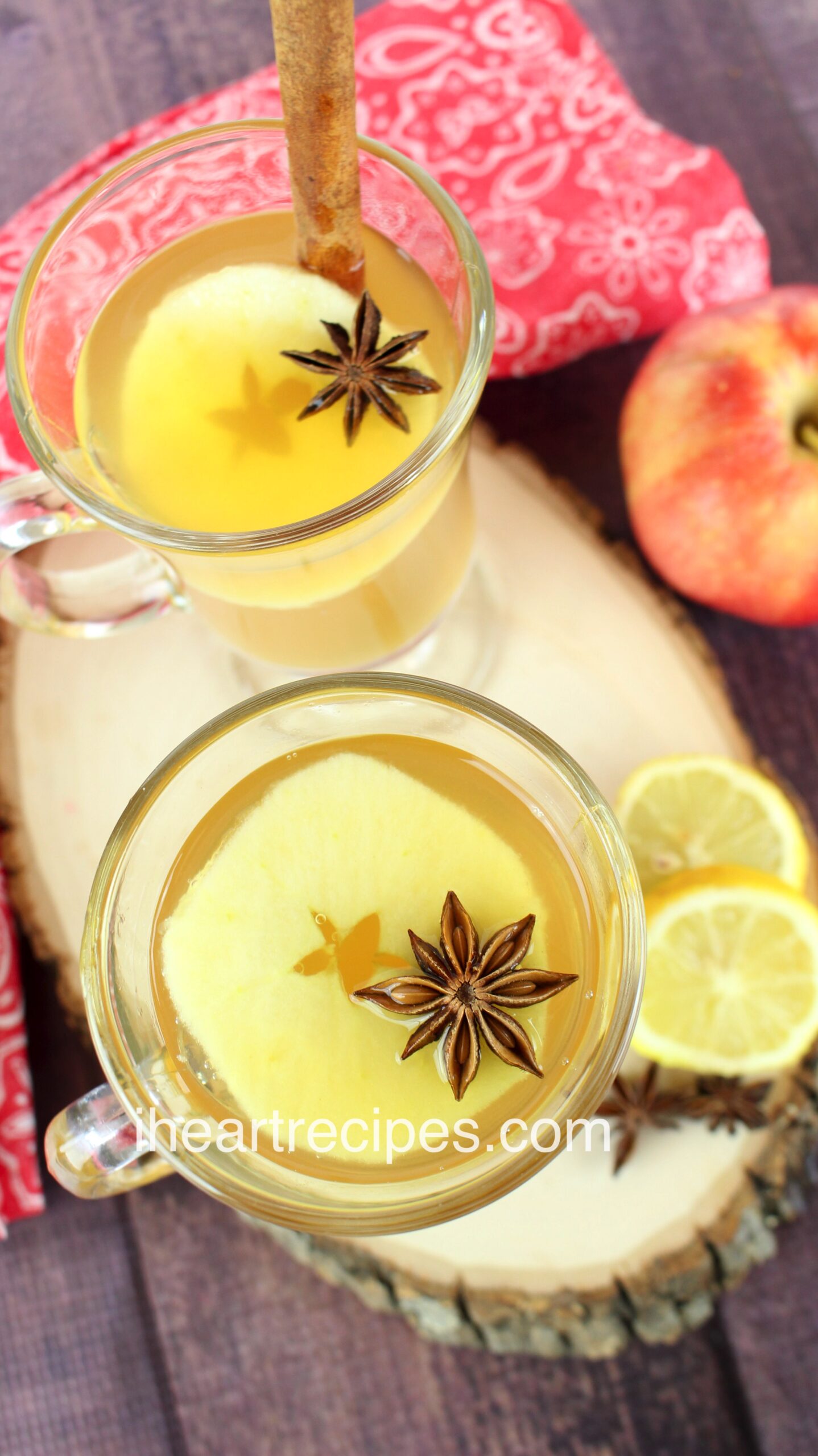 How to Make a Big Batch Hot Toddy Recipe
If you plan on serving hot toddies at a party, this recipe is super simple to scale up to serve a crowd. You could even set up a hot toddy bar so your guests can make their very own customized hot drink! Here are some ideas:
Big-Batch Hot Toddy Ingredient Measurements
For a larger "party size" batch of hot toddies, you'll need the following ingredients:
Hot Toddy Recipe Tips, Variations, and FAQs
Besides the warm and soothing nature of the cocktail, the best part about a hot toddy is how easy it is to make and tweak. You can't beat the classic recipe – soothing honey, healing lemon, and warm liquor to calm your aches and pains.
Do hot toddies really help cure a cold?
The ingredients in a hot toddy have multiple health benefits, so while they may not completely cure your cold, they will definitely help make you feel better! Honey is a natural cough suppressant with anti-inflammatory properties that can soothe a sore throat. Lemon is packed with Vitamin C, which can help shorten the length of your cold. Warm spices like ginger and cinnamon are comforting when you're feeling chilled and sick on a cold night.
How can I make a non-alcoholic hot toddy?
Simply leave out the liquor! Add extra spices like ginger, cloves, cinnamon, and nutmeg to make up for the flavor of the bourbon. If you're serving to some adults who don't enjoy alcohol, you could always provide a non-alcoholic bourbon whiskey if you still want the flavor.
The best hot toddy recipe is one that's warm, comforting, soothing, and delicious on a chilly night. Whether you're making a large batch to enjoy with friends or a single serving to soothe a cold, it's a classic cocktail recipe that's perfect for the holiday season! Now, keep in mind, your Cousin Rosie is not a doctor! I can't promise any results – this is simply a recipe I like to use whenever I have a cold.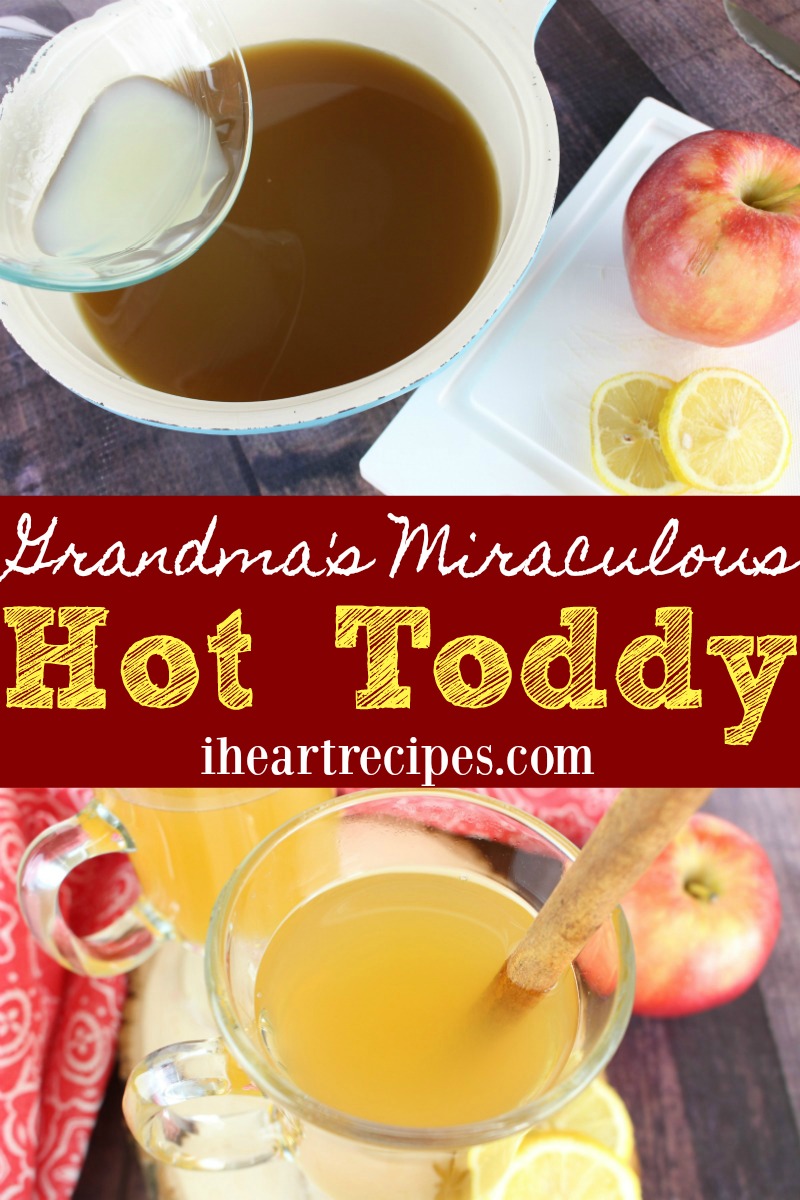 More Comforting Holiday Recipes
Loved this easy beef and vegetable stir fry recipe? Be sure to share + save on Pinterest! Don't forget to tag and follow me on Facebook, Instagram, and subscribe to I Heart Recipes on YouTube, and check out all my cookbooks!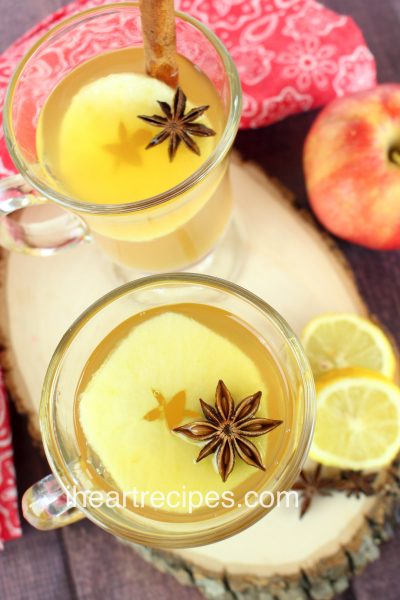 Grandma's Old Fashioned Hot Toddy Recipe
The classic hot toddy is the perfect prescription when you're feeling under the weather! Sleep it off and feel as good as new!
Print Recipe
Pin Recipe
Ingredients
2

cups

apple cider

2-3

tbsp

fresh lemon juice

one whole lemon

2

tbsp

pure honey

2

oz

bourbon

2

cinnamon sticks

2

apple slices

garnish

2

star anise

garnish
Instructions
Add the apple cider to a small saucepan and warm over medium heat.


Once heated, stir in the lemon juice from a freshly squeezed lemon.

2-3 tbsp fresh lemon juice

Pour the cider into your favorite serving glasses.

Add 1 tablespoon honey and 1 oz ofourbon (2 tablespoons) into each serving glass. Stir with a cinnamon stick.

2 tbsp pure honey,

2 oz bourbon,

2 cinnamon sticks

Garnish with an apple slice and star of anise

2 apple slices,

2 star anise
Notes
For a larger "party size" batch of hot toddies, you'll need the following ingredients: 
10-12 cups of apple cider (depending on how many guests you plan on serving). Plan for about 2-3 cups per person.
1 bottle of honey. Your average bear-shaped bottle of honey contains 12 ounces, which is enough for 16 servings. 
8-10 lemons. An average-sized lemon will produce about 2-3 tablespoons of lemon juice. Each hot toddy should have 1-2 tablespoons of lemon juice.
Bottles of liquor: a standard 750 ml bottle contains about 16 shots. If you want to provide multiple liquor options, I'd recommend getting pints (375 ml bottles) so you don't end up with too much left over.
Garnish: you can buy star anise and cinnamon sticks in bulk; these are great to have on hand for simmer pots and other recipes!
If you loved this recipe,
leave me a review below
. This helps future recipe makers and ensures continued high-quality recipes for years to come!
© 2023 I Heart Recipes