Easy traditional sugar cookies are sweet and simple and can be made with ingredients you already have in your kitchen! This same recipe can be rolled out to use with seasonal and holiday cookie cutters!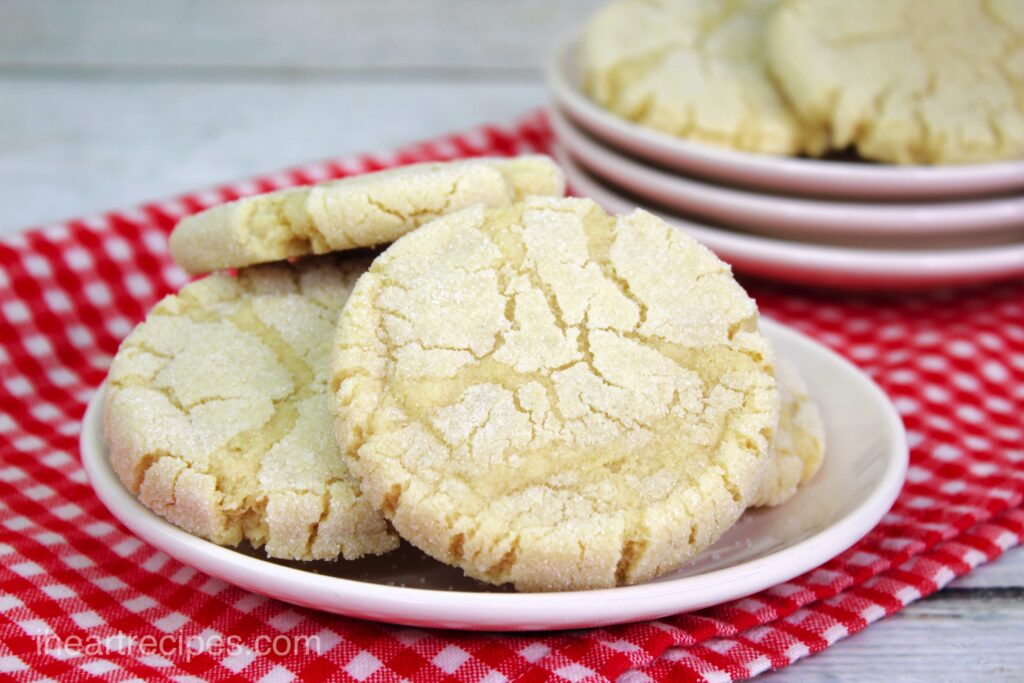 I don't know about you cousin, but sometimes less is more. While I enjoy flavor-packed desserts, I also enjoy the simple perfection of a sugar cookie. Often reserved for decorated seasonal cookies, it's easy to forget that these cookies are satisfying any time of the year.
Shopping List
Dry ingredients—plain white flour, baking powder, baking soda, Kosher salt, white sugar, and sanding sugar.
Wet ingredients—one large egg, vanilla extract, almond extract, and unsalted sweet cream butter, softened for 30 minutes on the counter.
Supplies
Measuring cups
Measuring spoons
Cookie sheet
Silicone baking mat or parchment paper
Standing mixer
Cookie dough scooper
Medium mixing bowl
Small mixing bowl
Oven mitts
What is the difference between butter and sugar cookies?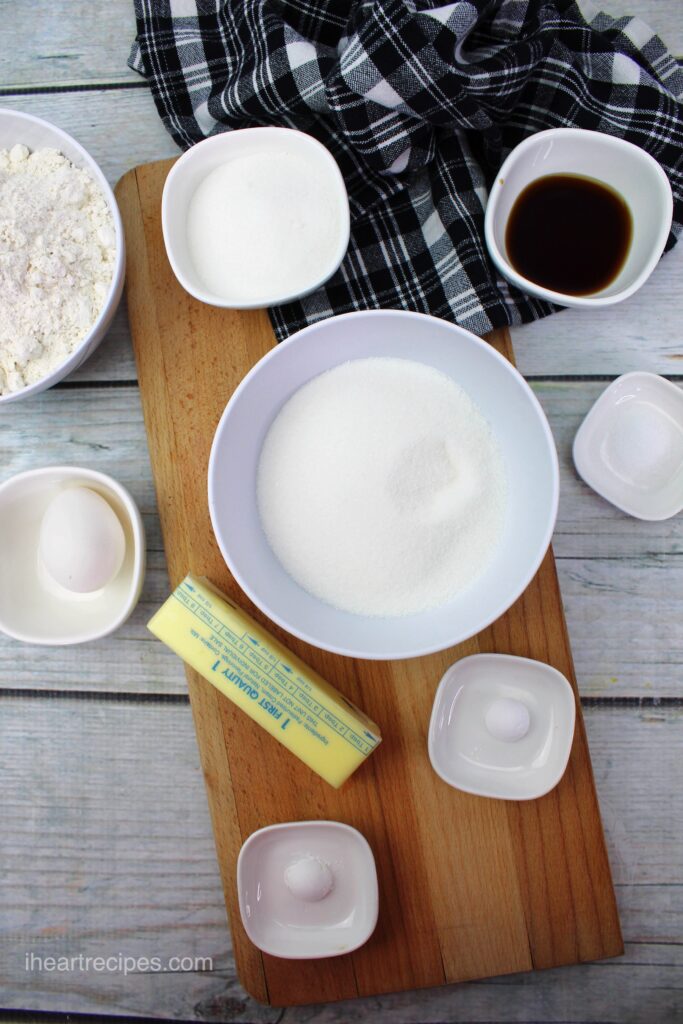 A similar mix of ingredients in different ratios can deliver an entirely different cookie or baked good! The sugar cookie is a close cousin to the cookies below, but they are distinctly different in flavor and texture:
Butter cookies: per their name, butter cookies contain more butter than sugar cookies, but also more flour. They are firmer in texture than sugar cookies and can be used with cookie cutters.
Sugar cookies: this recipe has a higher ratio of flour to butter. They are softer than butter cookies but can also be used with cookie cutters.
Shortbread cookies: shortbread has a higher ratio of butter to flour, making for a tender and crumbly cookie. Not ideal for cookie cutters.
Snickerdoodles: the recipe is very similar, but also contains cream of tarter and is rolled in a cinnamon sugar mixture. Not ideal for cookie cutters.

How thick should the sugar cookies be?
The ideal thickness is 1/4 to 3/4 of an inch thick. Instead of rolling these sugar cookies out, I have a hack to ensure uniform size and thickness every time!
Use a cookie dough scooper to ensure even portions.
Use your hands to roll each scoop into a uniform ball.
Press each ball flat inside English muffin rings.
What if I don't have a cookie dough scooper?
If you don't have a cookie dough scooper, you can:
Use a fruit scooper or a small ice cream scoop.
Use a large ice cream scoop and cut the scoop in half.
Eyeball it with a spoon.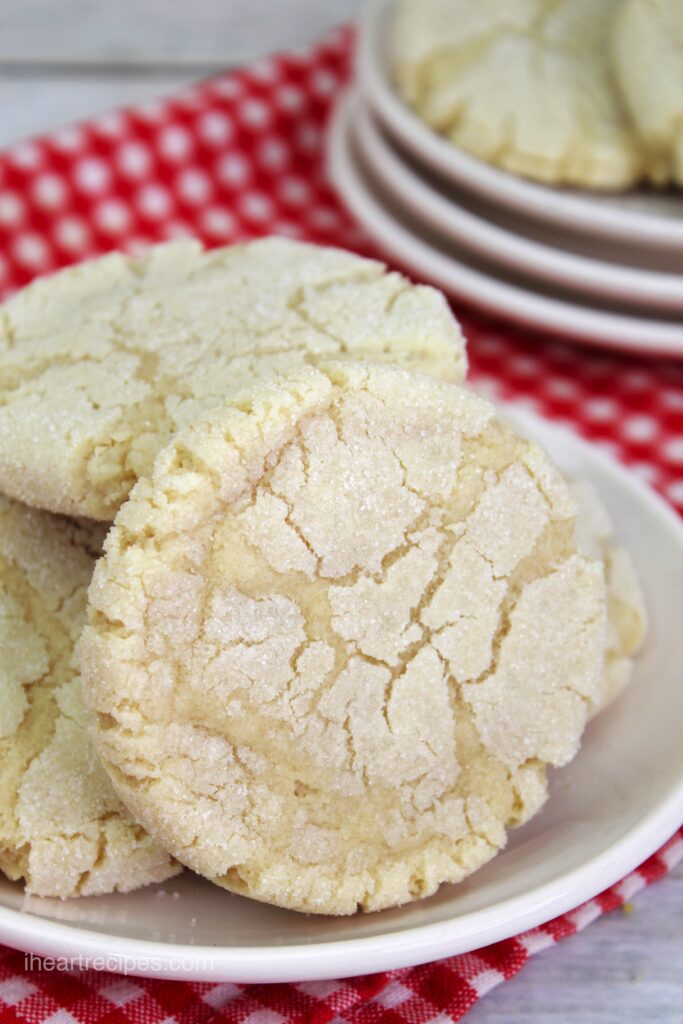 How to prevent making flat sugar cookies?
The reason I line the cookie sheet with a silicon baking mat or parchment paper is because it minimizes the spread that can happen when cookies bake.
Chilling the dough helps to minimize spreading.
Reduced spreading is more for visual appeal and doesn't impact the flavor.
If you'll be making multiple batches, cool your cookie sheets between batches.
If you only have a silicon cookie sheet or baking pan, place it on a metal sheet so that it is easier to transfer in and out of the oven.
What if I don't have a silicone baking mat or parchment paper?
If you don't have a silicone baking mat or parchment paper, use baking spray to grease your cookie sheet. They may spread a bit while they bake, but they'll still taste amazing.

Tips For Soft and Chewy Sugar Cookies
Not all cookie recipes call for chilling the dough before baking. While 15 minutes in the fridge doesn't sound like much, it ensures your cookies are soft and chewy. Pop them in the fridge while your oven is preheating.
Pro Tip—are your baked goods cooking too fast or too slow? It might be time to have your oven recalibrated. Place an oven-safe thermometer inside and see if it heats to the temperature you've set it to. Most ovens are 5 to 10 degrees off. Much more than that and it disrupts baking time and baking quality.
Can I use regular sugar instead of sanding sugar?
Yes! The granules of sanding sugar are a bit larger, which adds texture and visual appeal. No worries if you only have standard sugar, as it works too.
Can I double this recipe?
Yes! You can easily double this recipe but only put 2 cookie sheets in the oven at a time. If you put more trays in, they will have to be on different racks. The middle rack is best for even baking.
Tripling this recipe can interfere with the texture, so if you're feeding a crowd, mix in double batches.
How to store sugar cookies?
Sugar cookies have a longer shelf-life than most baked goods and are delicious and safe to eat for up to 2 weeks.
Pantry or countertop: once cooled, place them in plastic gift bags or in an airtight container. Separate each layer with wax or parchment paper. Keep them out of direct sunlight. Enjoy for 1 week.
Fridge: once cooled, place them in plastic gift bags or in an airtight container. Separate each layer with wax or parchment paper. Enjoy for up to 2 weeks.
Freezer: consider making multiple batches to freeze. Once cooled, put them in a labeled freezer-safe container, separated by freezer paper. Freeze for up to 3 months. Defrost overnight when you are ready to enjoy. If you plan on icing your sugar cookies, wait till they are defrosted to ice.
Can I use this recipe for cutout holiday cookies?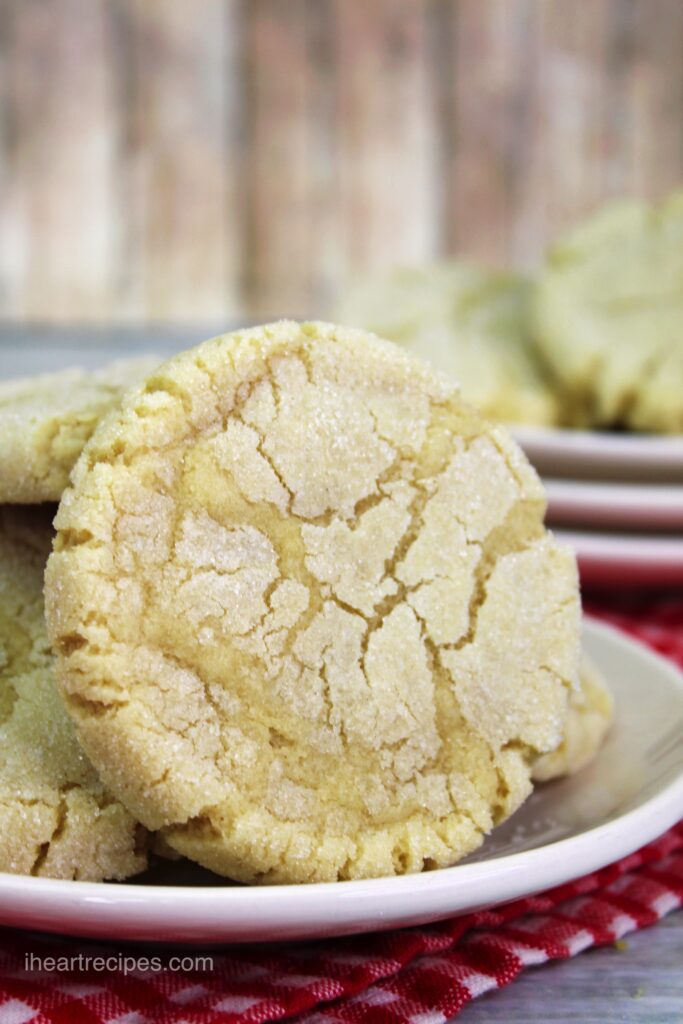 Yes! This recipe is designed for baking round cookies. If you want to use your cookie cutters, skip scooping them into balls and rolling the dough in sanding sugar.
Instead, roll the dough out on a floured surface to about 1/4 of an inch thick. Then, cut the dough with cookie cutters.
Bake and cool fully before decorating.
No time to decorate? Another way to make these cookies a little more festive for holidays and special occasions is to use colored sanding sugar instead of plain white sanding sugar. Feel free to mix a variety of sugar colors for the holiday or occasion.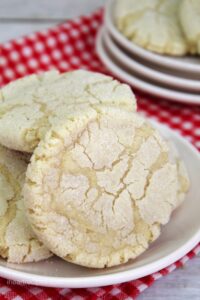 Easy Traditional Sugar Cookies
easy traditional sugar cookies made with basic ingredients.
Print Recipe
Pin Recipe
Instructions
Line one cookie sheet with a silicone baking mat or parchment paper.

Place the 8 English muffin baking rings onto the cookie sheet.

Using a standing mixer, beat together until creamy the butter and 1 cup sugar.

Mix in the egg until combined and smooth.

Mix in the vanilla and almond extract until combined.

In a medium bowl, combine the flour, baking powder, baking soda, and salt.

Gradually beat in the dry ingredients into the wet.

Once the ingredients have formed a dough, using the cookie scooper, scoop out some dough, and using your hands, roll into balls.

Combine the ¼ cup sugar and sanding sugar in a small bowl.

Roll each cookie dough ball into the sanding sugar mixture until fully covered.

Place one cookie dough ball into each English muffin ring. Gently press the cookie dough into a thick disk.

Place the tray into the fridge for 15 minutes.

While the tray is in the fridge, preheat your oven to 350 degrees.

Once the oven is preheated, bake the cookie sheet for 12-14 minutes or until the edges seem slightly firm but the center is still soft.

Remove from oven and allow to cool for 5 minutes before removing cookies from tray.

Repeat this process until all cookies are baked.

Let the cookies cool to room temperature.
If you loved this recipe,
leave me a review below
. This helps future recipe makers and ensures continued high-quality recipes for years to come!
© 2023 I Heart Recipes