Herb cornbread dressing with collard greens, and smoked turkey meat. This amazing holiday southern style dressing is seasoned with fresh garlic, bell peppers, onions, celery, and turkey broth!
Every Thanksgiving it seems like the same old dishes are served. You know: Stuffing, Turkey, Mashed Potatoes, and Green Bean Casserole. Although I love all of the dishes that I mentioned, I like to spice up my menu. I like to take traditional thanksgiving recipes, and give them a twist. In this post, I'm going to make a far from traditional Thanksgiving cornbread dressing. I'm going to show you how to make my easy Smoked Turkey & Collard Greens Cornbread Dressing.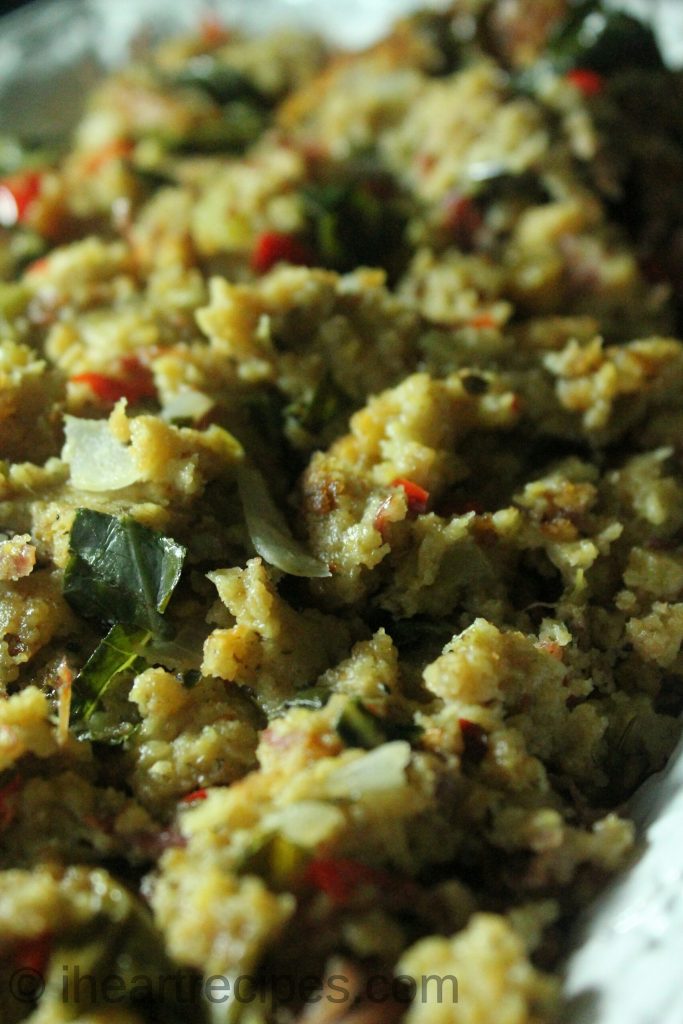 If you're a lover of collard greens & cornbread, you are going to LOVE this dressing recipe! Just like a big ol' pot of southern style collard greens, this dressing is packed with flavor. Most of the flavor comes from the smoked turkey drumstick used in this recipe. I simply take a smoked turkey leg ( or wing) and slow cook it in turkey broth for 3 hours. I then shred the meat from the bone, and toss it into my dressing… Yes, cooking the smoked turkey takes a while, but it is so worth it. As mentioned, I slow cook my turkey leg. However, you can also cook the turkey leg on the stovetop if you'd like..
Just remember to reserve the broth that you cook the smoked turkey in, because you will need it for the actual dressing later on!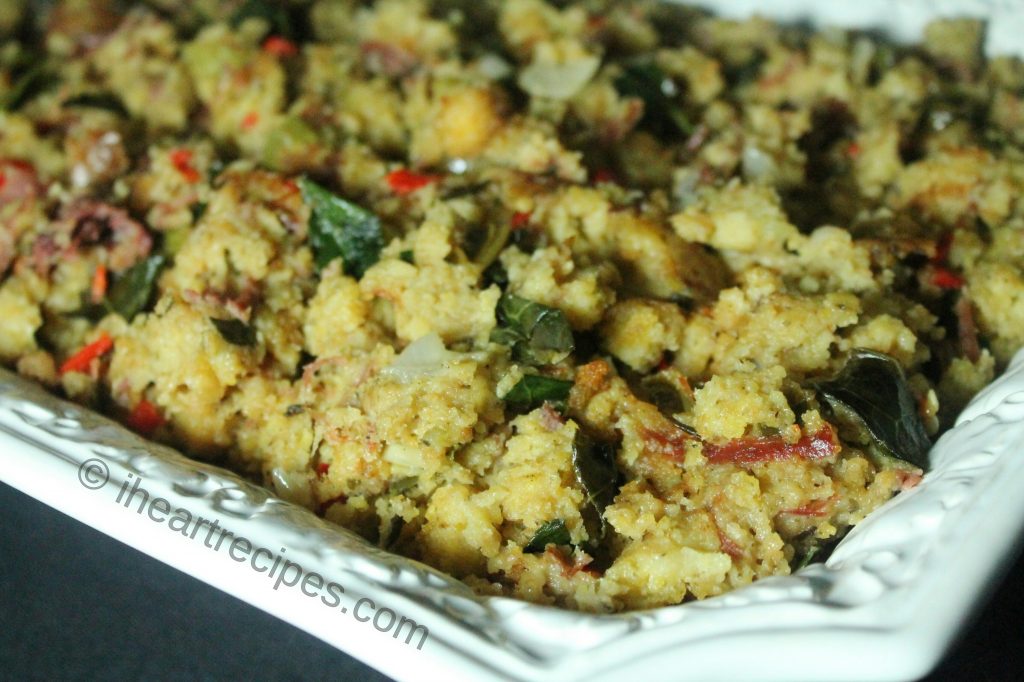 For this dressing, I used herb cornbread dressing mix. Why? Because It saves time. If you want to go the old fashioned route, and make some homemade cornbread, I have plenty of cornbread recipes available. Just be sure to make the cornbread a day in advance.
I won't talk your ear off too much about this recipe, but I do want you to just look at this amazing dressing y'all!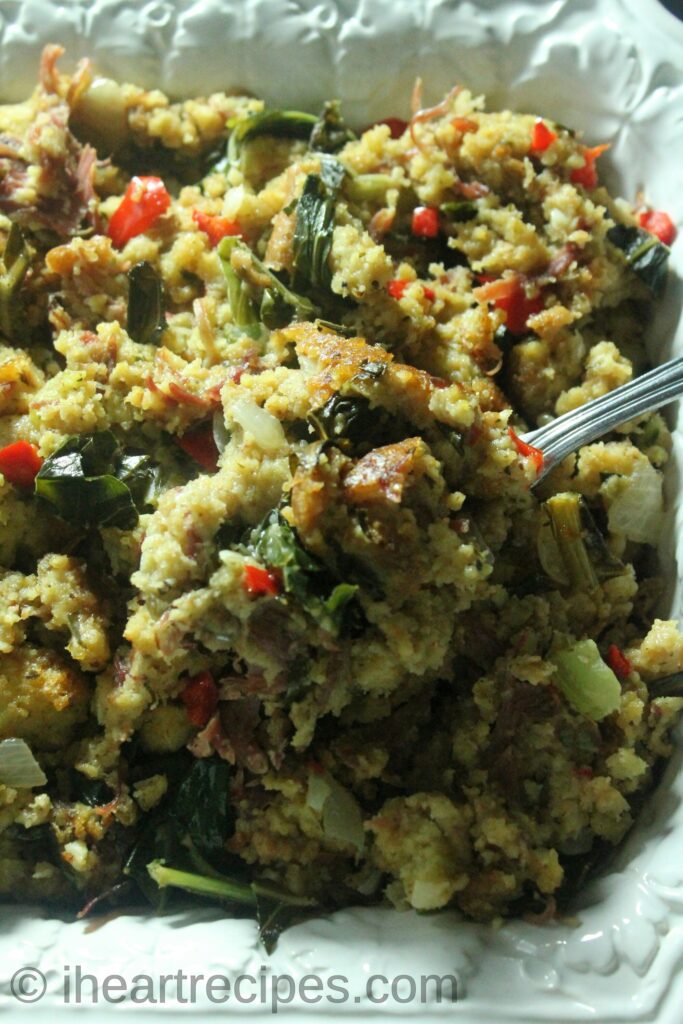 Ready to try it out for yourself?
Check out my video tutorial
(
I forgot to add the footage of me adding sage & thyme in the video, however I did include them in the steps below

)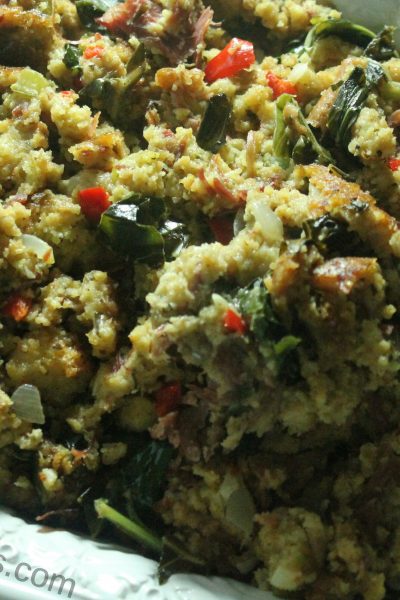 Smoked Turkey & Collard Greens Dressing
Cornbread dressing with herbs, collard greens, and smoked turkey meat. This amazing holiday southern style dressing is packed with veggies and is the perfect addition to your holiday dinner table.


Watch Video
Print Recipe
Pin Recipe
Ingredients
2 24 oz bags of herb cornbread dressing

1

stick unsalted butter

plus more for buttering the bake dish

6

cup

turkey broth

1.5

lb

smoked turkey leg or wing

2

stalks of celery

diced

1

medium sized red bell pepper

diced

1

medium sized onion

diced

tbsp

fresh minced garlic

10

oz

bag of collard greens

cut & stems removed( clean greens thoroughly!)

1

tsp

salt

1

tsp

dried thyme

1

tsp

ground sage
Instructions
Place the turkey wing or leg in the slow cooker, along with 6 cups turkey broth.

Let the turkey cook on high for 3 hours.

Remove the turkey from the broth ( but reserve the broth), and shred the meat, then set aside.

Next, melt down 4 tbsp of salted butter over medium heat, then toss in the chopped veggies, and minced garlic.

Season with the salt & pepper, then cook until translucent.

Remove the veggies from the pan, and set aside.

Next toss in the collard greens, and cook until tender.

Remove the greens from the pan, and melt down the 4 more tbsp of butter.

Add the cornbread dressing mix into a large mixing bowl, then pour in 6 cups of broth, and the melted butter.

Let sit for 15 minutes to soak up all the flavor.

Next, add in the minced veggies & garlic, collard greens, and smoked turkey.

Fold the ingredients.

Sprinkle in the sage, thyme, and red pepper flakes, then fold the ingredients some more.

Butter up a 9x13 bake dish, then add in the dressing.

Cover the dish with foil, and bake on 350 F ( make sure the oven is preheated!) for 50 minutes.

Once done, remove from the oven, and let sit for 10 minutes before serving.

Serve & enjoy!
Video
If you loved this recipe,
leave me a review below
. This helps future recipe makers and ensures continued high-quality recipes for years to come!
© 2023 I Heart Recipes