Homemade Shepherd's pie, made with ground beef, chicken, frozen mixed vegetables, and creamy potatoes.
My Best Shepherd's Pie Recipe!
A little over a month ago I asked my subscribers on YouTube, which recipes they wanted. A lot of people said shepherd's pie. Although, I had previously uploaded a shepherd's pie recipe on my blog, I think that a lot of my readers, and YouTube subbies wanted more of a "traditional" shepherd's pie. You know the kind with ground beef, mixed vegetables, tomato sauce, and etc.
I personally am getting pretty tired of the same old traditional recipes these days, so I spiced things up. Instead of using just ground beef, I decided to use chicken as well.
While you're here, check out some of my other recipes!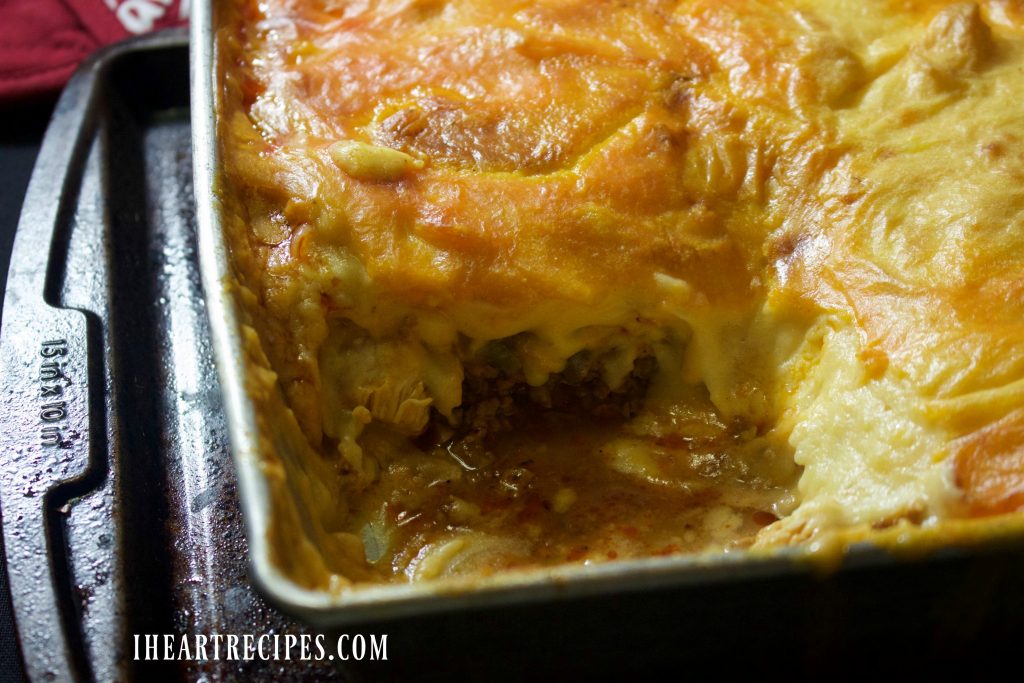 Also, I jazz up the potatoes a bit by whipping them with a combination of cream cheese, and sharp cheddar cheese. The potatoes always come out super creamy, and flavorful!
Print the recipe below and subscribe to my mailing list for more recipes! Follow me on Facebook, Instagram, Pinterest and YouTube!
Check out this video tutorial for my fabulous shepherds pie recipe!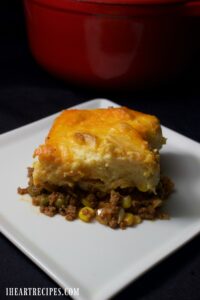 Best Shepherd's Pie Recipe
Homemade shepherd's pie made with savory ground beef, tender chicken breast, colorful mixed vegetables, and more!
Watch Video
Print Recipe
Pin Recipe
Instructions
Boil the potatoes until softened, then drain.

Place the cooked potatoes in a large mixing bowl, and mix until creamy.

Add in the cream cheese, and cheddar, then mix until well combined. Then set the bowl to the side.

Drizzle the vegetable oil into a large pan or dutch oven.

Turn the heat to medium.

Once the oil is hot, add in the chicken breast, and cook until done.

Once the chicken is done, remove it from the pan/ or pot, and pour out the liquid as well.

Next add in the ground beef, and brown.

Add in the vegetables, onions, and garlic.

Now add the chicken back into the pot, and stir.

Pour in the tomato paste, then sprinkle in the seasonings.

Stir all the ingredients until well combined, then let cook for another 15 minutes, then turn the heat off.

Preheat your oven to 350 F.

Grease a 9x13 bake dish, then add in meat & vegetable mixture, and smooth it out into a even layer.

Top the meat & veggie mixture with the creamy potato mixture and smooth out.

Leave the shepherds pie uncovered, and bake in the oven for 45-55 minutes.

Remove from the oven, and let sit for 20 minutes.

Serve & enjoy!
Video
Notes
This shepherds pie can be frozen. Simply use aluminum pans, follow all of the steps before baking, cover, label, and freeze!
You can use both chicken & beef, or one or the other.
Russet potatoes can be used instead of the yellow potatoes.
If you loved this recipe,
leave me a review below
. This helps future recipe makers and ensures continued high-quality recipes for years to come!
© 2023 I Heart Recipes