Homemade beef pot pie is a comforting and flavorful dish featuring tender chunks of beef, a medley of vegetables, and a rich, savory gravy, all in a flaky, golden crust. This classic comfort food brings together the warmth of nostalgia and the satisfaction of a hearty, homemade meal.
There's nothing quite as satisfying as a warm and hearty beef pot pie, with its flaky crust, rich savory filling, and comforting aroma. This classic dish has been a favorite in many households for generations, offering a delicious way to use leftover beef and vegetables while creating a wholesome and indulgent meal. In this blog post, we will explore the history of beef pot pie, its key ingredients, a step-by-step recipe, and some creative variations to make this dish truly your own.
A Brief History of Beef Pot Pie
Pot pies, in general, have a long history that dates back to medieval times when they were considered a practical way of combining and preserving meats and vegetables. The first known written recipe for a pot pie dates back to 1390 in "The Forme of Cury," a medieval English cookbook. Since then, pot pies have evolved and become a beloved staple in various cuisines around the world.
Key Ingredients For Homemade Beef Pot Pie
1. Beef: Traditionally, beef pot pies were made with leftover roasted or braised beef, making it an excellent dish to repurpose any meat from previous meals. However, you can also use fresh beef, such as chuck roast or stew meat, for a more succulent and tender filling.
2. Vegetables: Pot pies are a great way to incorporate a medley of vegetables into your diet. Common choices include carrots, peas, onions, celery, and potatoes. These vegetables add texture, flavor, and nutrients to the filling.
3. Gravy: The heart of any pot pie is its rich, flavorful gravy. A combination of beef broth, butter, flour, and seasonings is used to create the luscious sauce that binds the beef and vegetables together.
4. Crust: The crust is what sets pot pies apart and gives them their characteristic charm. Whether you opt for a flaky puff pastry, a buttery pie crust, or a biscuit-like topping, the crust adds a delicious contrast to the savory filling.
 Homemade Beef Pot Pie – Step-by-Step Recipe
Ingredients For Beef Pot Pie:
2 lb beef, cubed
2 cups baby carrots, chopped
1 cup frozen peas
1 cup mushrooms, sliced
1 large yellow onion, finely chopped
3 cloves garlic, minced
3 tbsp butter
1/3 cup all-purpose flour
2 cups beef broth
1 cup half & half
3 – 4 tsp seasoning salt, I use Rosamae Seasonings
1 package of pre-made pie crust or puff pastry
Instructions For Making Beef Pot Pie: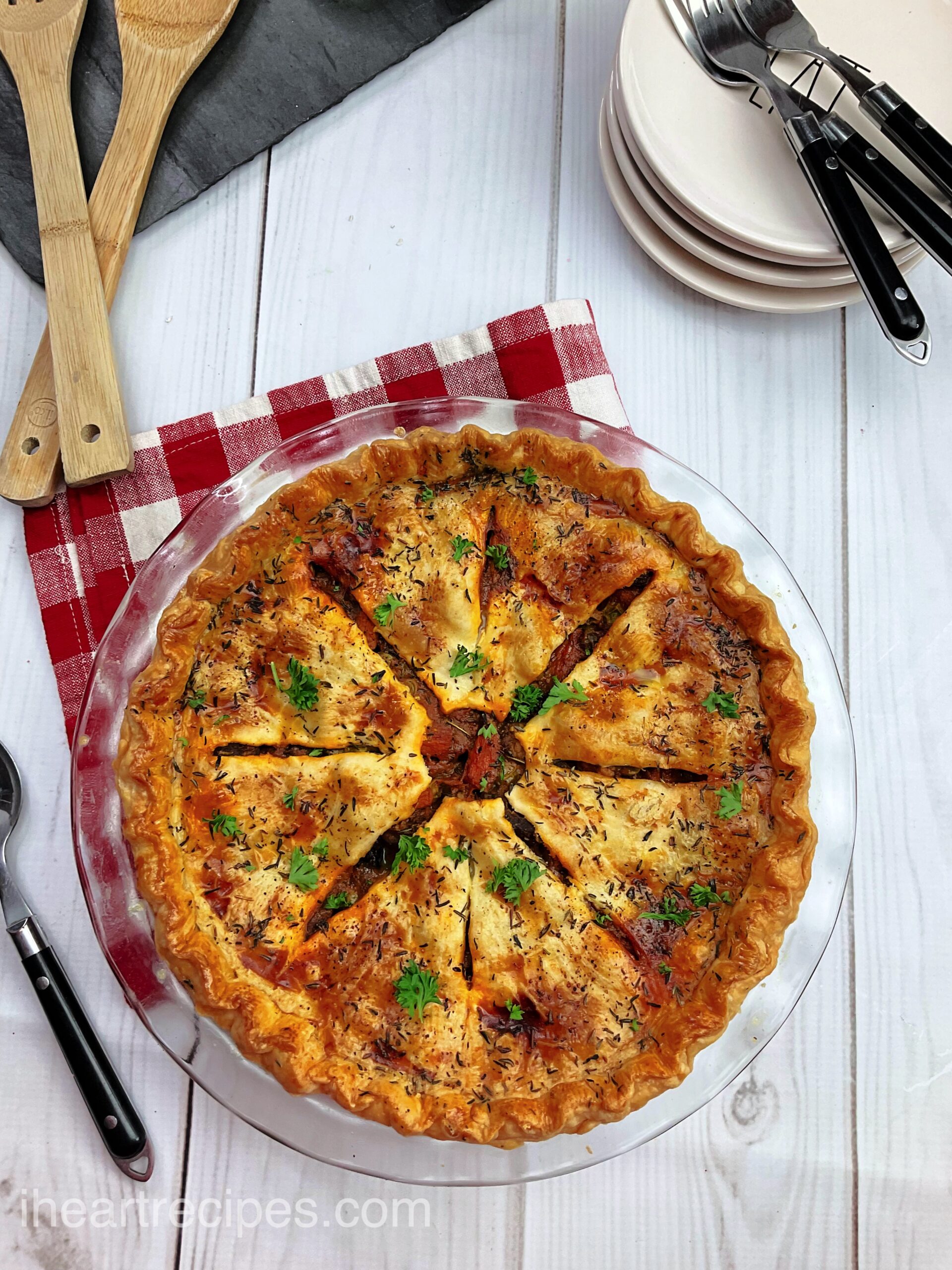 1. Preheat your oven to 375°F (190°C) and grease a pie dish.
2. In a large skillet or Dutch oven, melt the butter over medium heat. Add the onions and garlic, sautéing until translucent.
3. Add the beef cubes and cook until they are browned on all sides.
4. Stir in the carrots, peas, and celery, and cook for another 5 minutes.
5. Sprinkle the flour over the mixture and stir until everything is evenly coated. Cook for an additional 2 minutes to cook off the raw flour taste.
6. Slowly pour in the beef broth and milk while stirring constantly. Allow the mixture to simmer and thicken for about 5 minutes. Season with Seasoning Salt.
7. Remove the skillet from the heat and set it aside to cool slightly.
8. Roll out your pie crust or puff pastry on a floured surface to fit the top of your pie dish.
9. Pour the beef and vegetable mixture into the greased pie dish.
10. Carefully place the pie crust or puff pastry over the filling, pressing the edges to seal the pie.
11. Cut a few slits on the crust to allow steam to escape during baking.
12. Bake the pot pie in the preheated oven for 30-35 minutes or until the crust is golden brown and the filling is bubbling.
13. Let it cool for a few minutes before serving, as the filling will be very hot.
14. Serve and enjoy!
Beef Pot Pie Recipe Variations & Cook's Tips
While the classic beef pot pie is delightful on its own, don't hesitate to get creative and put your own spin on this comforting dish:
1. Cheesy Twist: Add a layer of shredded cheddar or gruyere cheese on top of the filling before adding the crust for an extra indulgent touch.
2. Herbs and Spices: Experiment with various herbs and spices like thyme, rosemary, or a pinch of cayenne pepper to elevate the flavor profile.
3. Sweet Potato Crust: Swap the traditional crust with a layer of thinly sliced sweet potatoes for a healthier, gluten-free option.
4. Beer Braised Beef: For an intense and rich flavor, braise the beef in a bottle of your favorite beer before assembling the pie.
Can I make beef pot pie ahead of time?
Without a doubt. You can actually make the filling ahead of time and then combine it to bake with the pie crust on the day that it is going to be served. After the filling has been prepared, it can be stored in the refrigerator for up to two days, or it can be put in an airtight container, placed in the freezer, and kept there for up to three months. On the day of assembly, there is no need to add any additional time to the baking process for the pie if the filling has been stored in the refrigerator. If you plan on freezing the filling, you should let it defrost in the refrigerator for at least 12 hours before proceeding with the pie assembly.
How To Store Beef Pot Pie Leftovers
Storing beef pot pie leftovers is essential to keep the dish fresh and safe to consume later. Here's how to do it properly:
Allow the Pot Pie to Cool
Before storing the leftovers, let the beef pot pie cool to room temperature. This helps prevent condensation inside the container, which can lead to sogginess.
Refrigeration
For short-term storage, transfer the beef pot pie into an airtight container or cover it tightly with plastic wrap or aluminum foil. Place the container in the refrigerator. Properly stored, the leftovers will stay fresh for up to 3 to 4 days.
Freezing
If you have more leftovers than you can consume within a few days, consider freezing them for longer-term storage. Wrap the beef pot pie tightly with plastic wrap and then aluminum foil, or place it in an airtight freezer-safe container. Label the container with the date for easy reference. Beef pot pie can be frozen for up to 2-3 months without significant loss of quality.
Thawing and Reheating
When ready to enjoy the frozen leftovers, transfer the beef pot pie from the freezer to the refrigerator and allow it to thaw overnight. Once thawed, reheat it in the oven at 350°F (175°C) until heated through, or microwave individual portions until piping hot.
Beef pot pie is the epitome of comfort food, offering a warm embrace on a chilly evening or a source of joy during a family gathering. Its versatility allows for endless adaptations, making it a staple that can suit any taste or dietary preference. Whether you follow the classic recipe or embark on a culinary adventure with creative variations, one thing is certain – beef pot pie will continue to be a beloved and cherished dish for generations to come.
More Savory Dinner Recipes to Try
If you loved this homemade beef pot pie, try some of these other savory dinner ideas from I Heart Recipes!
Loved this recipe? Be sure to share + save it on Pinterest! Don't forget to follow along with everything Rosie and I Heart Recipes on social media—you can find me on Facebook, Instagram, and Pinterest!