This luscious Skillet Red Velvet Cookie melds the deep, chocolatey essence of red velvet with smooth white chocolate chips, baked exquisitely in a cast iron skillet. It serves as a warm, melt-in-your-mouth delight, perfect for communal enjoyment, especially when garnished with ice cream and a ribbon of chocolate syrup.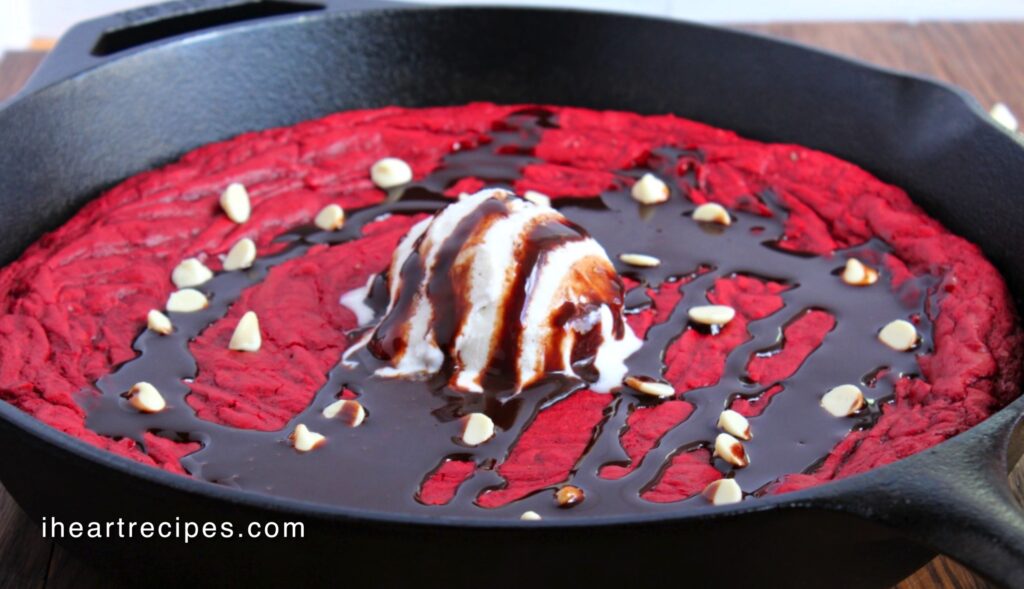 This Skillet Red Velvet Cookie. This ain't just any cookie, honey; it's like a big, warm hug in a skillet. Imagine biting into a soft, rich, red velvet cake but with the crunch of white chocolate chips that just melt right in your mouth. And the best part? It's super easy to make. You just mix your basic ingredients like red velvet cake mix, eggs, and butter, toss in those white chocolate chips, and bam – into the skillet it goes. The oven does the rest, filling your kitchen with a smell so good, you'll be dancing while you bake!
Now, let's talk about how this cookie looks. Picture it coming out of the oven, all warm and gooey, with those white chocolate chips looking like little pearls against the deep red velvet. It's not just a treat for the taste buds, but for the eyes too. You put this beauty on the table, and it's gonna be the center of attention, no doubt. It's perfect for those cozy nights in, a family get-together, or just when you feel like treating yourself because, honey, you deserve it.
Lastly, let's not forget the finishing touch – ice cream and chocolate syrup. Now, this is optional, but why would you skip it? Imagine a scoop of creamy ice cream melting over the warm cookie, with that rich chocolate syrup drizzling all over. It's the kind of dessert that makes you close your eyes and just savor every bite. So go on, treat yourself and your loved ones to this Red Velvet Skillet Cookie. It's simple, scrumptious, and sure to make your heart and belly full.
How to Make a Skillet Red Velvet Cookie
Shopping List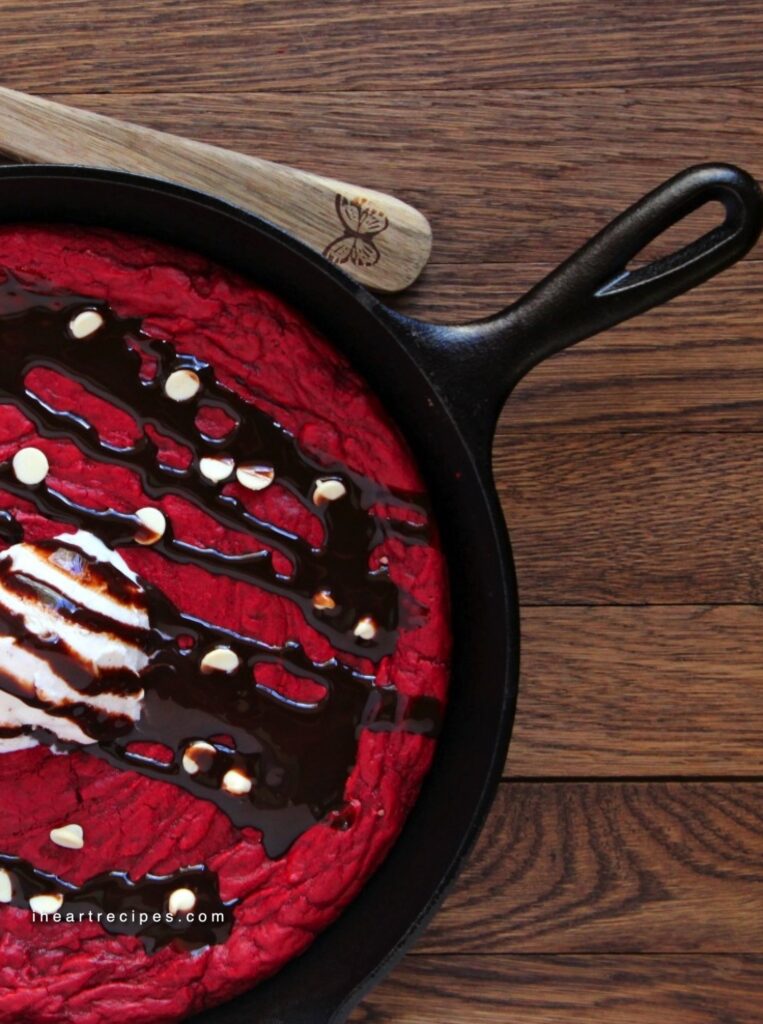 Red Velvet Cake Mix: This is your main ingredient, darling. It gives that classic red velvet flavor and color to your cookie. It's a sweet mix that usually has a hint of cocoa in it.
Eggs: These are like the glue that holds everything together. They help to bind the ingredients and give your cookie a nice, rich texture.
Butter: You're going to want this softened. Butter adds moisture and richness, and it also helps to spread the dough evenly in the skillet. Plus, it adds that irresistible buttery flavor.
White Chocolate Chips: These little morsels add pockets of creamy, sweet goodness to your cookie. They balance out the rich flavor of the red velvet and add a nice texture contrast.
Optional – Ice Cream: If you're feeling fancy, grab your favorite ice cream to serve on top. It adds a cool, creamy element that contrasts beautifully with the warm cookie.
Optional – Chocolate Syrup: For an extra touch of sweetness and decadence, chocolate syrup is the way to go. Drizzle it over the top for a beautiful finish and an extra chocolatey kick.
Instructions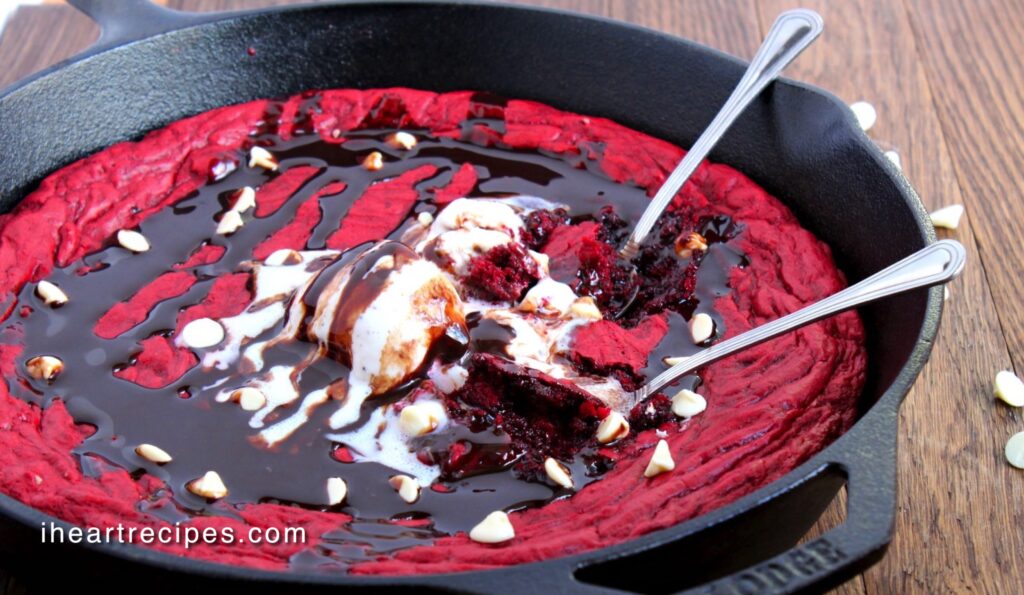 Start the Oven: Crank up your oven to 350°F (175°C). This is where the magic begins. You want it nice and hot for when your cookie is ready to bake.
Prep the Skillet: Grab your 10-inch cast iron skillet and give it a light greasing. This step's crucial so your cookie doesn't stick and slides right out, looking as pretty as a picture.
Mixing Time: In a big bowl, start by blending your softened butter, eggs, and about a cup of that red velvet cake mix. You're aiming for a smooth and lump-free mix. Think of it like creating a velvety red canvas for your masterpiece.
Add the Rest: Slowly mix in the rest of the cake mix. You want everything combined well, but don't overdo it. This ain't a workout session!
White Chocolate Magic: Here's where you add those dreamy white chocolate chips. Fold them gently into your dough. They're like little bursts of joy waiting to happen in every bite.
Into the Skillet: Transfer your cookie dough to the skillet. Spread it out evenly with love and care. Remember, this is the heart of your creation.
Bake It Beautiful: Slide your skillet into the oven and let it bake for about 18-22 minutes. You're looking for a set cookie, but still a bit gooey in the middle. It's that gooeyness that's the soul of this cookie.
Cool and Serve: Let it cool just a bit after taking it out of the oven. If you're going all out, top it with a scoop of ice cream and a drizzle of chocolate syrup. It's like the crown on your royal treat.
Tips and tricks
Room Temperature Ingredients: Make sure your butter and eggs are at room temperature. This helps them blend better, giving you a smoother, more even dough. Nobody wants lumpy dough, honey!
Don't Overmix: When you're mixing your dough, just stir until everything is combined. Overmixing can make the cookie tough, and we're aiming for soft and gooey, not chewy like a rubber tire.
Skillet Size Matters: If you use a skillet smaller or larger than 10 inches, adjust your baking time. A smaller skillet means a thicker cookie that needs longer in the oven, and a bigger skillet means a thinner cookie that'll bake quicker.
The Toothpick Test: To check if your cookie is done, stick a toothpick in the center. If it comes out with a few moist crumbs, it's perfect. If it's wet with batter, give it a few more minutes.
Let It Rest: I know it's tempting to dive right in, but let your cookie rest for about 10 minutes after taking it out of the oven. This lets it set and makes it easier to slice without falling apart.
Go Crazy with Toppings: Ice cream and chocolate syrup are classic, but don't be afraid to get creative. Try caramel sauce, sprinkles, or even fresh berries. It's your canvas, darling, paint it how you like!
Store It Right: If you have leftovers, store them in an airtight container to keep them soft. You can even reheat them in the microwave for a few seconds to bring back that fresh-from-the-oven taste.
Have Fun: Most importantly, have fun with it! Baking is all about experimenting and enjoying yourself in the kitchen. So put on your favorite tunes, dance around a bit, and bake with joy.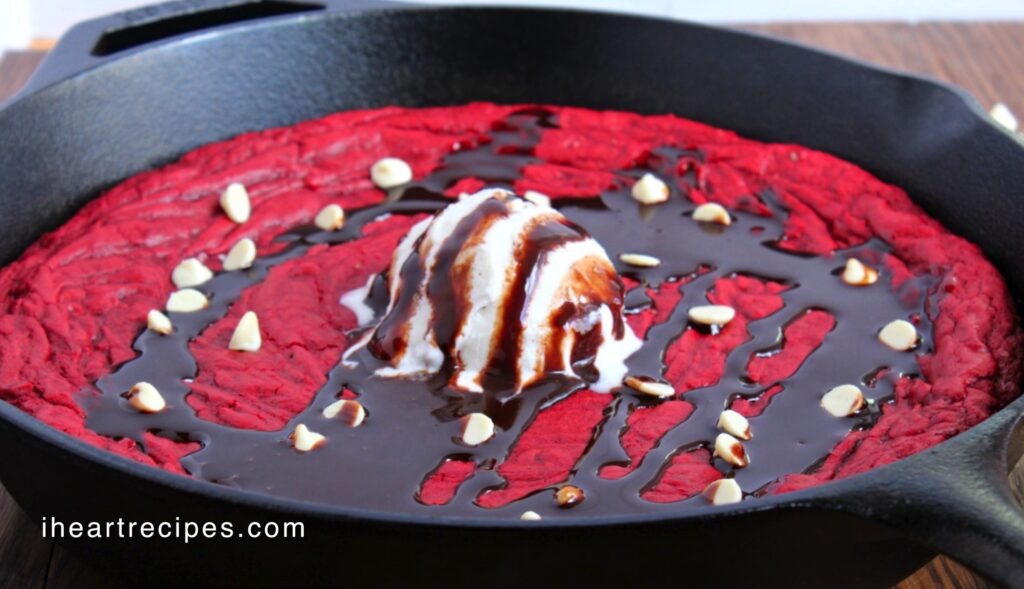 If you enjoyed this Skillet Red Velvet Cookie, here are more cookie recipes to try!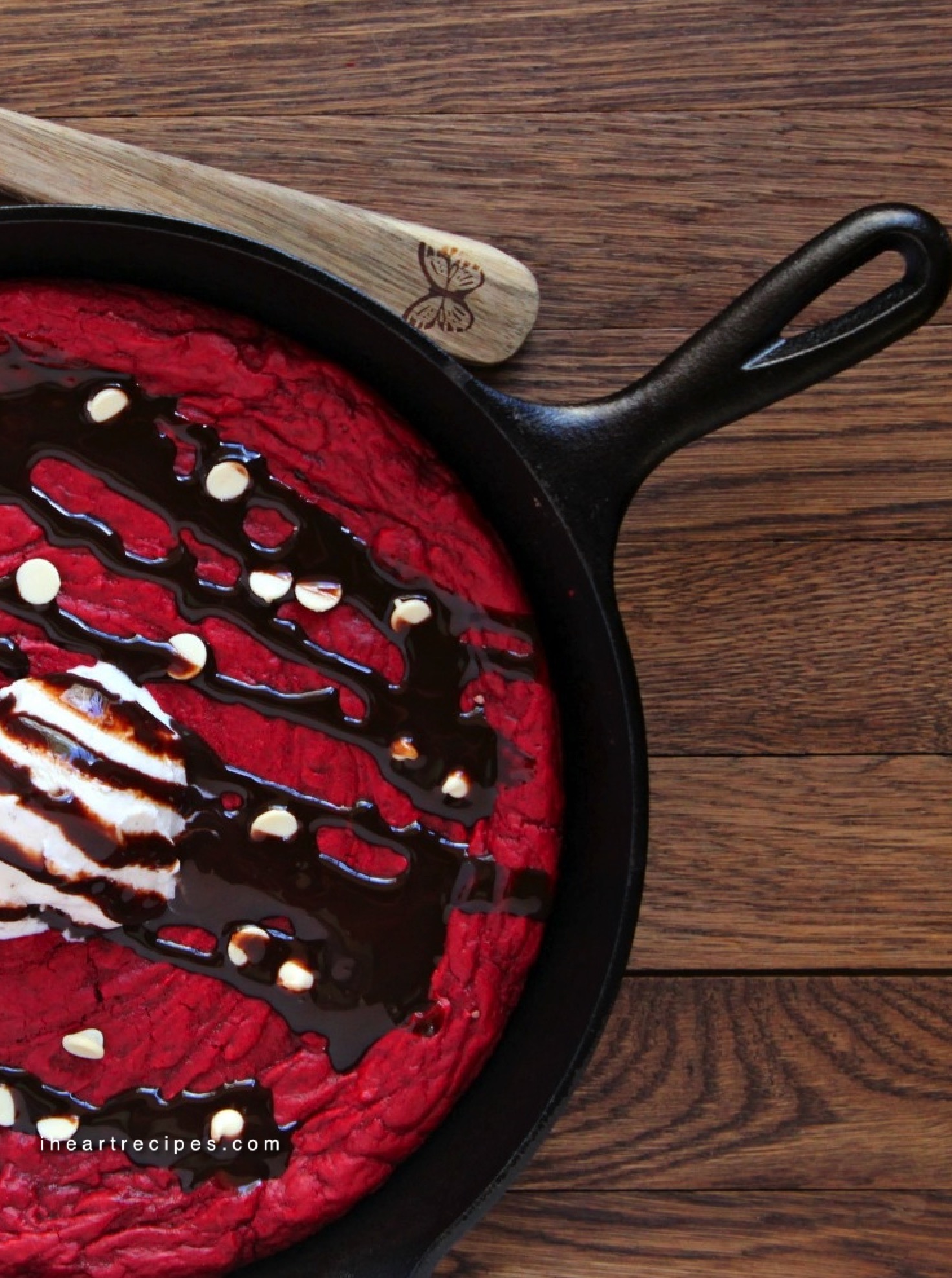 Skillet Red Velvet Cookie
This Red Velvet Cookie is a decadent delight, combining the rich, cocoa-infused flavor of red velvet with creamy white chocolate chips, all baked to perfection in a cast iron skillet. It's a warm, gooey treat that's ideal for sharing, and even better when topped with a scoop of ice cream and a drizzle of chocolate syrup
Print Recipe
Pin Recipe
Ingredients
1

box red velvet cake mix

6

tablespoons

butter

softened

1

cup

white chocolate chips

Optional: Ice cream

chocolate syrup for serving
Instructions
Preheat your oven to 350°F (175°C). Lightly grease a 10-inch cast iron skillet.

In a large mixing bowl, blend the softened butter, eggs, and approximately one cup of the red velvet cake mix. Whisk until the mixture is smooth and free of butter lumps.

Gradually incorporate the remaining cake mix into the bowl, stirring continuously.

Fold in the white chocolate chips.

Transfer the dough to the prepared skillet, pressing it evenly across the bottom.

Bake in the preheated oven for 18-22 minutes, or until the cookie is just set.

Allow to cool for a brief period before serving. Optionally, pair with ice cream and a drizzle of chocolate syrup for an extra touch of indulgence.
If you loved this recipe,
leave me a review below
. This helps future recipe makers and ensures continued high-quality recipes for years to come!
© 2023 I Heart Recipes
Don't forget to tag and follow me on Facebook, Instagram, and Pinterest, subscribe to I Heart Recipes on YouTube, and check out all my cookbooks with many recipes you can't find anywhere else.