Dive into this easy-to-make Red Velvet Swirl Fudge that turns simple ingredients into a tasty and eye-catching treat. It's both delicious and beautiful, perfect for any occasion.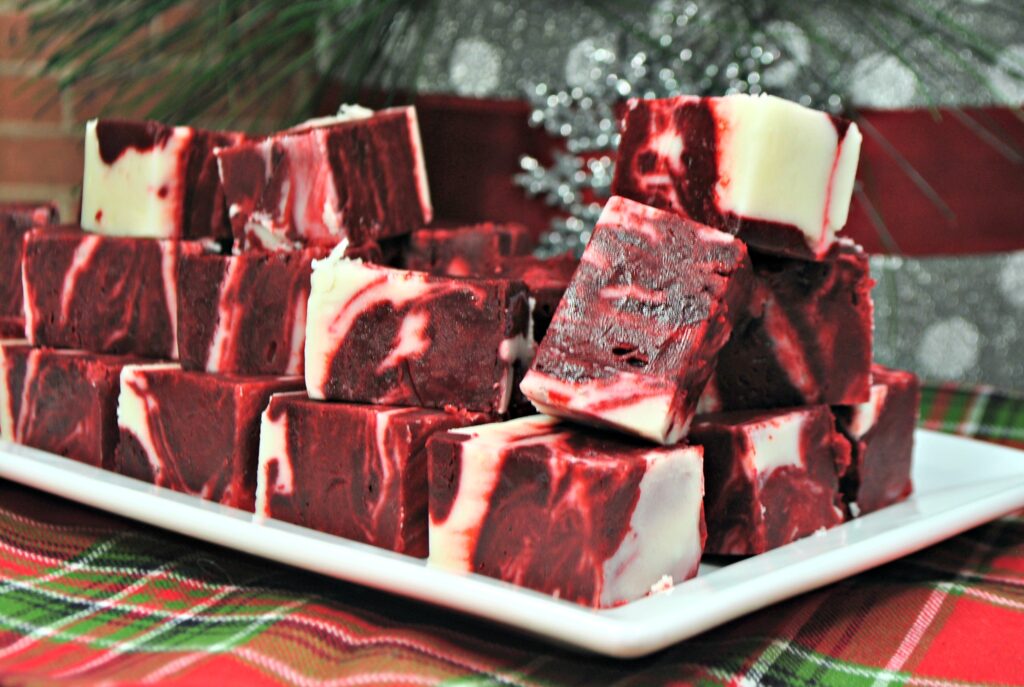 This Red Velvet Swirl Fudge is a treat you can't pass up. It uses simple stuff you probably already have in your kitchen. But don't let that fool you. When all these ingredients come together, they make something really special. The white chocolate and marshmallow give it a creamy taste, while the red swirls make it pop. It's a looker and a taster, all in one.
Making this fudge is a piece of cake. You start by melting butter and mixing in sugar and cream. Then you add white chocolate and marshmallow. For the red swirls, you mix red food coloring with some chocolate chips. You blend the two mixtures in a pan, swirl them together, and let it cool. That's it—no fuss, no mess.
What you get is a pan full of awesome fudge that's great for any get-together. Cut it into squares and watch it vanish from the plate. Whether it's a holiday, a family event, or just because, this Red Velvet Swirl Fudge is sure to be a hit. So go ahead, give it a try. You won't be sorry!
Shopping list for this fudge recipe
Ingredients:
Granulated Sugar (3 cups): The sweet backbone of your fudge. This is what's gonna make it irresistible.
Unsalted Butter (¾ cup): Adds that creamy, melt-in-your-mouth feel. Make sure it's unsalted so you can control the flavor.
Half-and-Half Cream (⅔ cup): This is half milk, half cream and it's all about adding richness and smoothness to your fudge.
White Chocolate Chips (2 cups): The key to your fudge's creamy texture and sweet flavor.
Marshmallow Crème (7-ounce jar): This adds fluffiness and a hint of vanilla. It also helps your fudge set.
Vanilla Extract (2 teaspoons): A splash of this brings all the other flavors together.
Semi-Sweet Chocolate Chips (1 cup): Adds the chocolatey element to your red swirls.
Red Food Coloring (3 tablespoons): Gives the fudge its eye-catching red swirls. Make sure it's food-grade!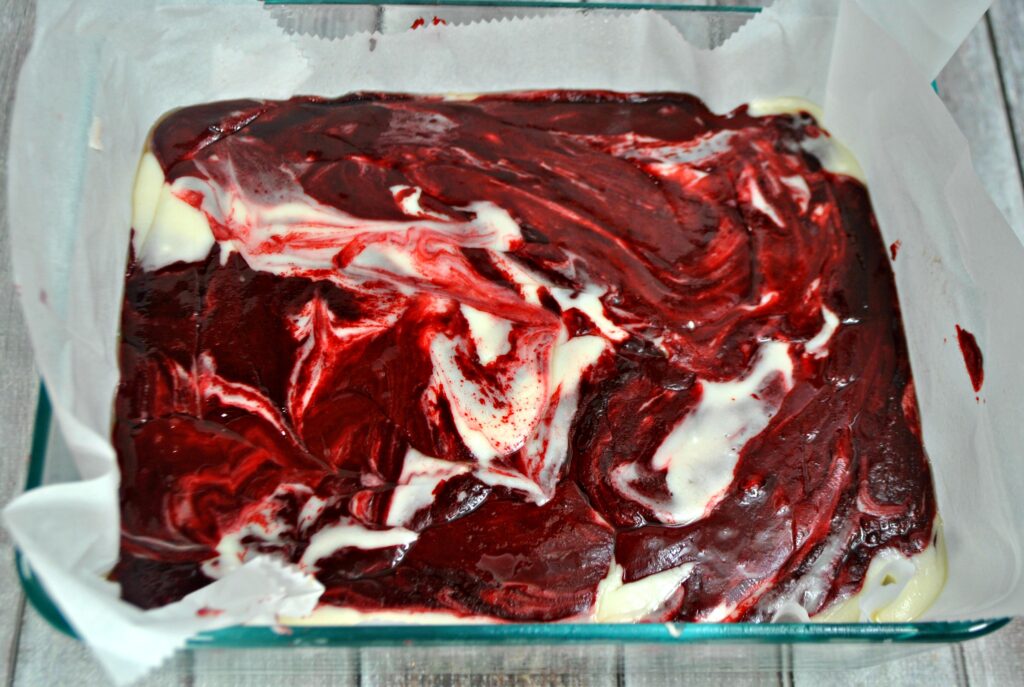 Tools:
9×9-inch Baking Pan: Where your fudge will take shape. This size is perfect for getting the thickness just right.
Parchment Paper: You'll line your baking pan with this so you can easily lift out the fudge later.
Large Saucepan: This is where the magic happens. You'll mix most of your ingredients here.
Wooden Spoon or Silicone Spatula: To stir your fudge mixture. Either works, as long as it's sturdy.
Separate Bowls: For holding the chocolate chips and food coloring mixture, and for the white chocolate and marshmallow crème.
Small Knife: For making those captivating swirl patterns in the fudge.
Measuring Cups and Spoons: You'll need these to make sure you're using the right amount of each ingredient.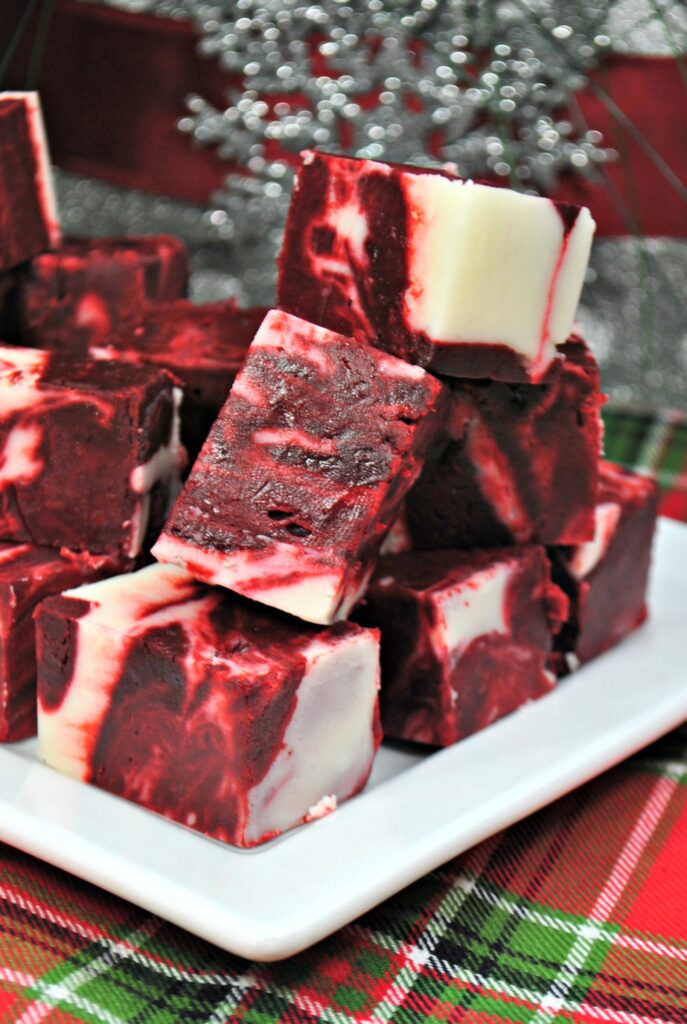 Tips and tricks to make this fudge
Quality Ingredients: Even though we're using everyday stuff, go for the best quality you can afford. It makes a difference, trust me.
Room Temperature Butter: Make sure your butter is at room temperature for easier and more even melting.
Stir, Don't Whisk: Use a wooden spoon or silicone spatula to stir the mixture. Whisking can introduce too many air bubbles, and we don't want that.
Low and Slow: Keep your stovetop on medium to low heat to prevent burning or quick setting of the fudge mixture.
Test for Doneness: Drop a tiny amount of the sugar and butter mixture into cold water. If it forms a soft ball, it's ready.
Pre-mix Red Swirls: Have your red food coloring and chocolate chips mixed and ready to go before you start cooking. That way, you can add it in quickly when it's time.
Swift Swirls: Once you pour the two mixtures into your pan, act quickly to get your swirls in. Fudge starts to set as it cools.
Non-Stick Magic: A lining of parchment paper in the pan will save you a lot of grief when it's time to lift the fudge out.
Cutting Strategy: Use a sharp knife to cut the fudge into squares. Wipe the blade clean between cuts for more precise lines.
Storage Smarts: Store your fudge in an airtight container to keep it fresh. Separate layers with parchment paper to prevent sticking.
Freeze for Later: Yes, you can freeze fudge! Just wrap it well in plastic wrap and then in aluminum foil before putting it in an airtight container.
Personal Touch: Feel free to add some nuts or dried fruits if you want to give the fudge your own twist. Just keep the additions to about a half cup to maintain the fudge's texture.
More red velvet recipes to try
Well, there you have it, Cousin—a foolproof guide to making the most delicious Red Velvet Swirl Fudge you've ever tasted. We've gone through the steps, dished out the pro tips, and even given you a handy shopping list. All that's left is for you to don that apron and make some fudge magic happen in your kitchen. This recipe is the perfect blend of simple and stunning, and it's guaranteed to win over any crowd—or just make your own day a whole lot sweeter. So go ahead, make a batch or two (or three, I won't judge). Until next time, keep it tasty and fabulous!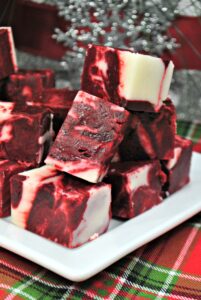 Red Velvet Swirl Fudge
Indulge in a symphony of flavors with this Red Velvet Swirl Fudge, where velvety layers of white chocolate meld seamlessly with vibrant red swirls. It's not just a treat; it's a culinary experience that transforms humble ingredients into a decadent masterpiece.
Print Recipe
Pin Recipe
Instructions
Line a 9×9-inch baking pan with parchment paper, letting the edges extend over the sides.

In a separate bowl, combine the semi-sweet chocolate chips and red food coloring. Set aside.

Melt the unsalted butter in a large saucepan.

Add the granulated sugar and half-and-half cream to the saucepan, mixing until well combined.

In another bowl, combine the white chocolate chips and marshmallow crème.

Stir the vanilla extract, white chocolate chips, and marshmallow crème into the butter and sugar mixture until smooth.

Quickly transfer about half of the white chocolate mixture to the bowl with the red-tinted chocolate chips, stirring until the chocolate is fully melted.

Spoon dollops of both mixtures into the prepared pan.

Level the surface by giving the pan a gentle shake.

Use a small knife to create swirl patterns in the fudge.

Allow the fudge to cool completely.

Lift the fudge from the pan using the overhanging parchment paper and cut into squares.
If you loved this recipe,
leave me a review below
. This helps future recipe makers and ensures continued high-quality recipes for years to come!
© 2023 I Heart Recipes