These Christmas Oatmeal Cookie Sandwiches combine the chewy goodness of quick oats with festive fillings and a dreamy vanilla cream center. Perfect for holiday gatherings, they're a delightful twist on the classic cookie!
Hey there, Cousin! Ah, the holiday season! Twinkling lights, frosty windows, and of course, the heavenly aroma of cookies baking in the oven. Now, I've got a recipe that's bound to make you the talk of the family reunion (in a good way, of course!). Let me introduce you to the Christmas Oatmeal Cookie Sandwich. These aren't just any cookie sandwiches; they're festive, they're flavorful, and dare I say, a bit fabulous. Ready to dive in? Let's do this, Cousin!
How to Make Christmas Oatmeal Cookie Sandwiches
Grocery List
Cold Unsalted Butter – 1 1/2 cups
Brown Sugar – 1 ¼ cups
Granulated Sugar – ½ cup
Eggs – 2 (room temperature)
All Purpose Flour – 2 cups
Cake Flour – ½ cup
Quick Oats – 1 ½ cup (the quicker, the better!)
Cornstarch – 1 tsp
Baking Soda – ¾ tsp
Salt – ½ tsp
Cinnamon – ½ tsp (for that warm hug feeling)
White Chocolate Chips – 1 ½ cups
Mini M&Ms (red and green) – 1 cup
Holiday Sprinkles – ½ cup
Unsalted Butter – 1/2 cup (room temperature)
Powdered Sugar – 1 1/2 cups
Vanilla Extract – 2 tsp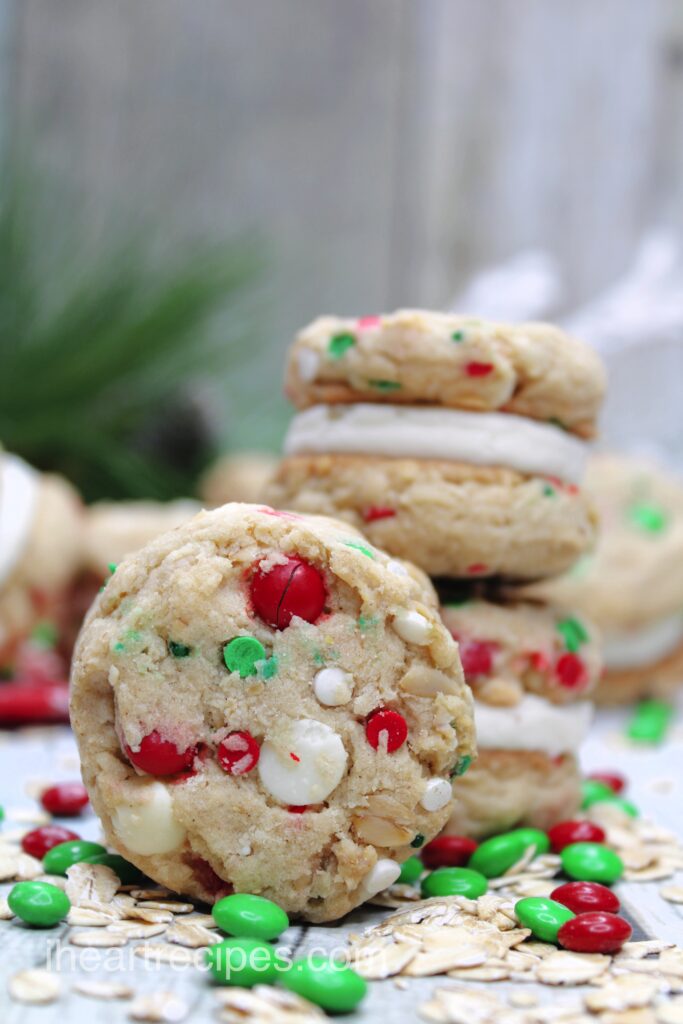 Directions
In your trusty mixer bowl, unite that butter and sugars. Whisk 'em on medium till they're living their best fluffy life (about 4 minutes).
Crack in those eggs, one at a time. Go slow and steady, Cousin!
In another bowl, mix the flours, quick oats, cornstarch, baking soda, salt, and cinnamon. Then, sneak this mix into your buttery sugary blend on a low speed.
Bring on the festive vibes! Toss in the white chocolate chips, sprinkles, and M&M's on low till they're partying together.
Show that dough some love by wrapping it up and letting it chill in the fridge for about 15-20 minutes.
While the dough's chilling, warm things up and preheat that oven to 410°F.
Time for some cookie yoga! Roll out the dough on a floured mat till it's a neat ½ inch thick.
Craft out 24 cookie circles with a medium-sized cookie cutter and lay them out on a parchment-covered baking tray.
Pop them in the oven for about 10 minutes, or until they've got that golden crown.
After their oven stint, let them cool for 5 minutes, then transfer them to wire racks to chill out completely.
For the Icing on the Cookie:
Mix butter, powdered sugar, and vanilla in a bowl till it's dreamy and fluffy.
Pipe this magic onto half the cookies. Cap them with the remaining cookies to seal the deal!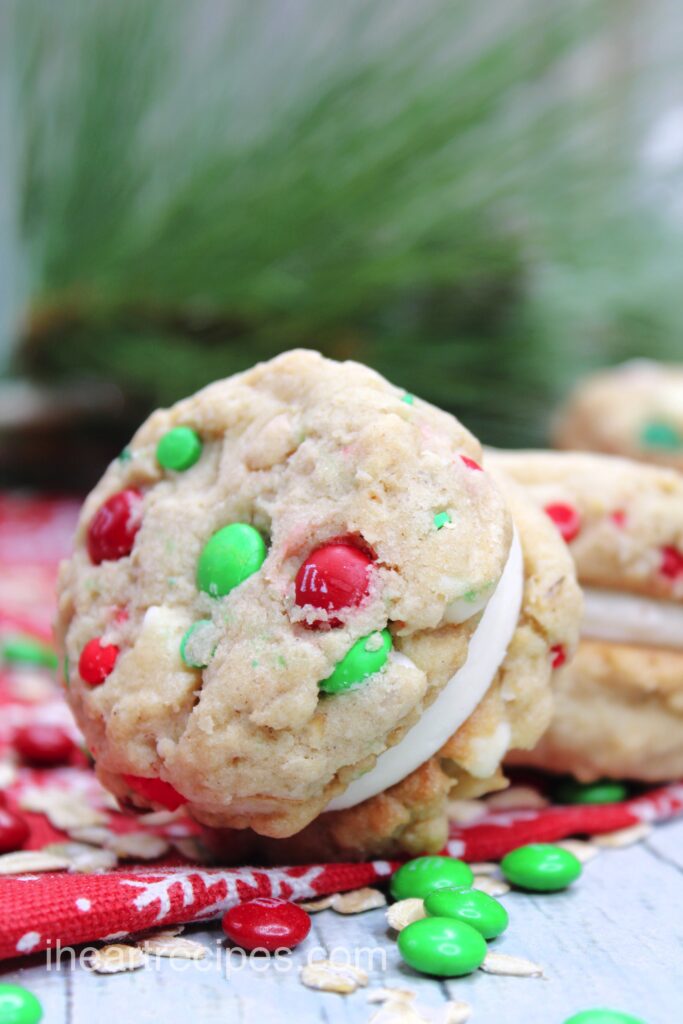 Tips & Tricks from Your Fav Cousin:
Quick Oats vs. Rolled Oats: Quick oats absorb moisture faster, giving a slightly softer texture. Perfect for our sandwich cookies.
Chill Out: Always allow the dough to chill. It prevents spreading and helps with shaping.
Storage Pro Tip: To keep these beauties fresh, store in an airtight container. If you've got extras (which I doubt you will), they can be frozen for up to 3 months!
And there you have it, Cousin! My top-secret (well, not so secret anymore) Christmas Oatmeal Cookie Sandwich recipe. Whip up a batch, enjoy every bite, and make sure to save one for me!
Print and save this Christmas Oatmeal Cookie Sandwiches recipe for later!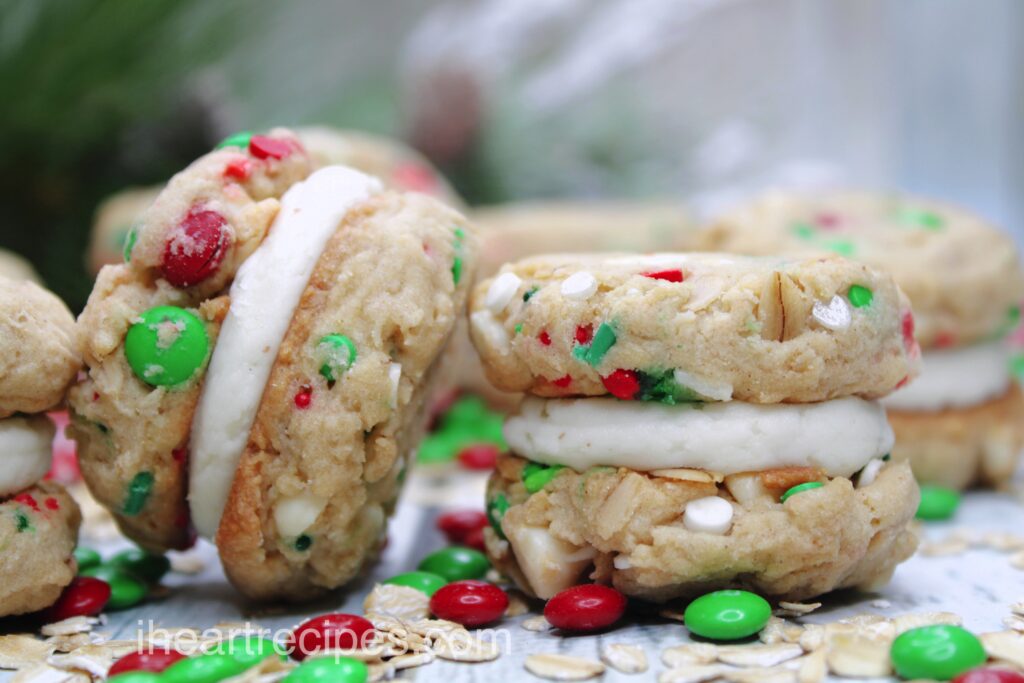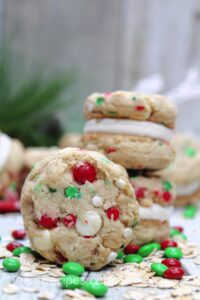 Christmas Oatmeal Cookie Sandwiches
These Christmas oatmeal cookie sandwiches feature a luscious vanilla cream center, festive fillings, and the chewy comfort of quick oats. These charming holiday-themed cookies are the ideal addition to celebrations!
Print Recipe
Pin Recipe
Instructions
In a mixer bowl, combine butter and both sugars. Mix on medium until you achieve a light and fluffy consistency, which should be around 4 minutes.

Introduce eggs into this sugar mixture, ensuring the mixer speed is set to low, until well combined.

In a separate spacious bowl, blend cake flour, all-purpose flour, quick oats, cornstarch, baking soda, salt, and cinnamon. Once mixed, gradually integrate this dry mix into your sugar mixture on low speed.

Add the festive touch! Incorporate the white chocolate chips, holiday sprinkles, and M&M's on low speed until evenly distributed.

Cover your dough with plastic wrap and let it chill in the refrigerator for 15-20 minutes.

Preheat your oven to a toasty 410 degrees Fahrenheit.

Roll out your dough on a floured surface until it's about ½ inch thick.

Using a medium circle cookie cutter, create 24 cookie circles. Arrange them on a parchment-lined baking tray.

Bake for 10 minutes, or until they have a golden brown top.

Give them a 5-minute break before placing them on wire racks to cool.
For the Vanilla Cream Icing:
In a mixing bowl, combine butter, powdered sugar, and vanilla extract.

Use a hand mixer to whip until the mixture is pale and fluffy.

Fill a piping bag with a round tip with the vanilla icing.

Flip half of the cookies over.

Gently squeeze the vanilla icing onto the cookies.

Top with another cookie to create the sandwich. Ensure the icing reaches the edges. Repeat for all the cookies.
If you loved this recipe,
leave me a review below
. This helps future recipe makers and ensures continued high-quality recipes for years to come!
© 2023 I Heart Recipes
Don't forget to tag and follow me on Facebook, Instagram, and Pinterest, subscribe to I Heart Recipes on YouTube, and check out all my cookbooks with many recipes you can't find anywhere else.